Are you looking for the best morning routine for you?
Most successful people have figured out a morning routine that allows them to make the most of their days…
This is because how you spend your morning affects how you spend the rest of your day!
So what does your morning routine look like right now?
What is the Best Morning Routine For You?
Do you have a lazy, chaotic morning or are you already working towards a more productive and healthy start to the day?
Well, if you dread getting out of bed in the morning & end up dragging your heels for the rest of the day whilst wishing you had more time & energy to go out and achieve all your dreams & successes… then you need a better morning routine…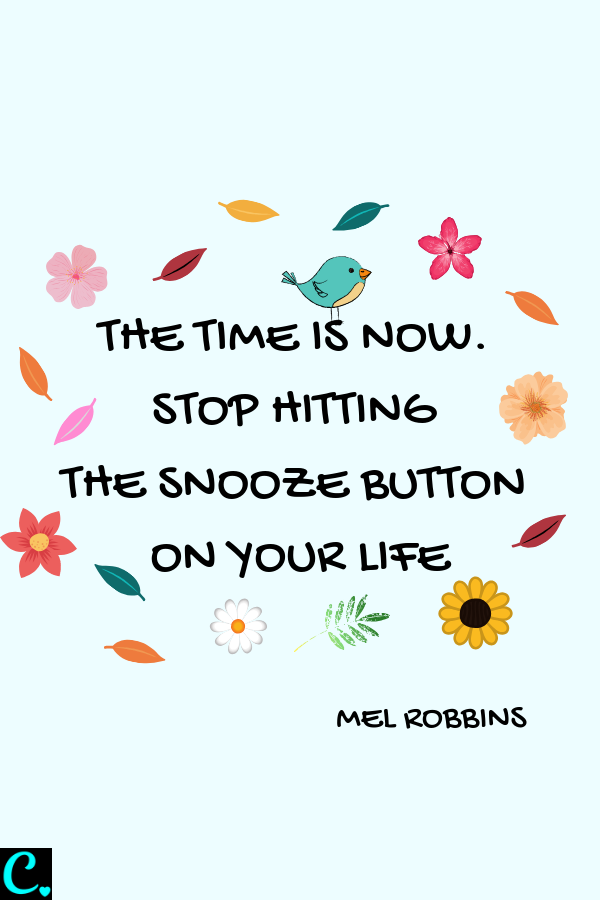 Your perfect morning routine might be totally different from someone else's morning routine & that's ok… this post will give you some good ideas for a morning routine that fits with you and your life.
All you have to do is choose from the list of things to do before 8 am… you can choose to do them all, or just do a couple… whatever works for you is best!
The goal is to work out a routine that you enjoy doing because if you don't enjoy it then you won't stick at it & that's not going to help you achieve your goals or have a productive day.
So, without further ado… Here are some great tips on how you can have the best morning routine ever & start enjoying a more productive & successful life!
P.S. You can click here to quickly & easily save these ideas to Pinterest so you don't lose them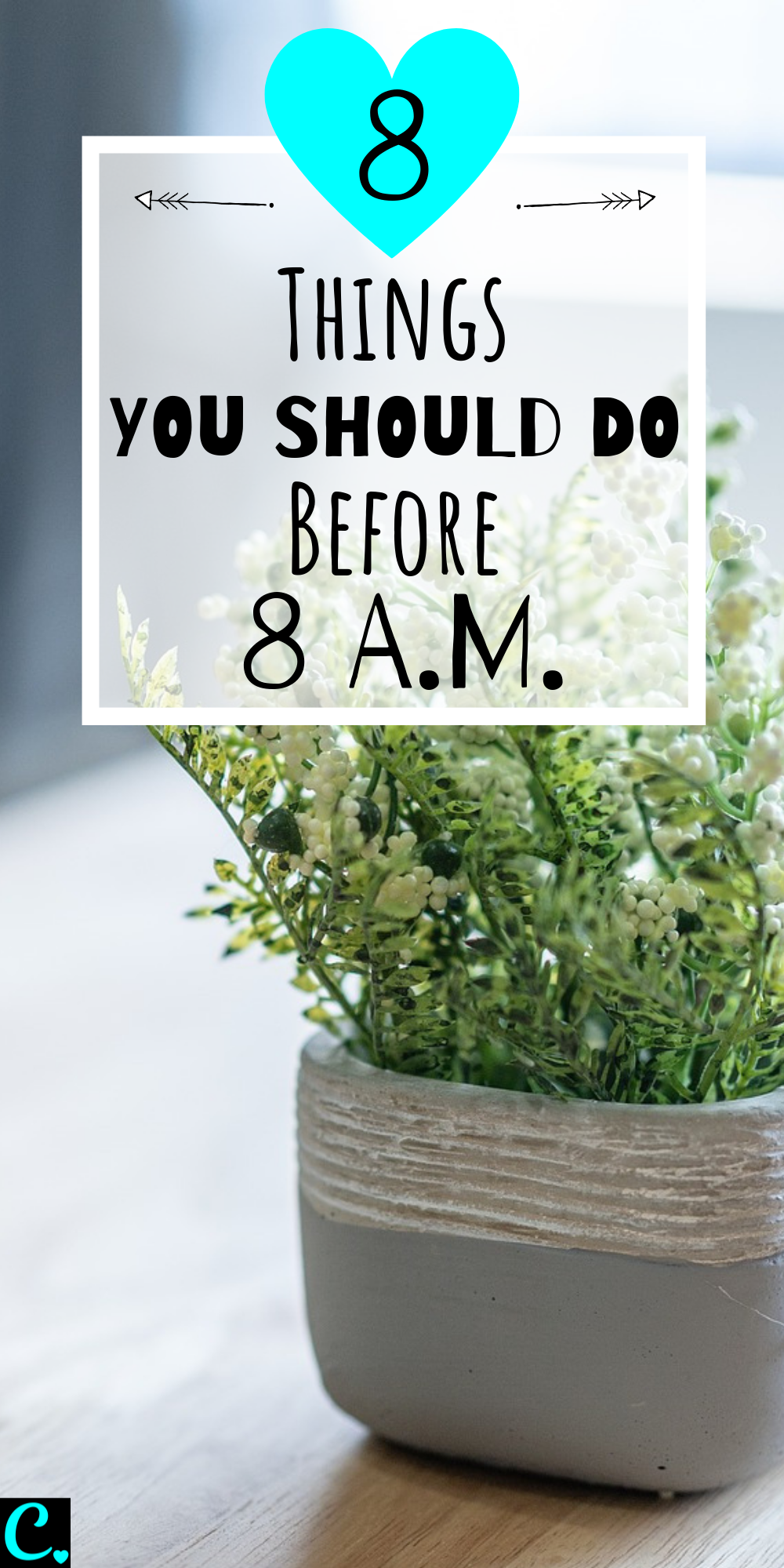 The Best Morning Routine: 8 Things To Do Before 8 A.M.!
Preliminary Tip: Get Up Straight Away
Time: 6 am
When your alarm goes off in the morning you probably won't feel like getting up… But it's important to throw the cover straight off and get out of bed quickly!
I know, I know…
Staying in a snuggly warm bed is much more appealing… but it's not going to help you change your life!
I never thought it would be possible for me to get out of bed willingly.
But I found this video from Mel Robbins and it was a total game-changer… not just for helping me to get out of bed before my kids dragged me out… but in many other areas of my life too.
You can watch it here…
1. Have a glass of water
Time: 6:05-6:15 am
Having a drink of water as soon as you get up is vital as part of a good morning routine for better health.
Prepare a bottle of water the night before & keep it in the fridge ready to drink as soon as you get up.
The water will help you to flush out toxins, rehydrate you, improve your digestive system and get your brain going too.
2. Black Gold
Time: 6:15-6:55 am
This step is really simple… Make a coffee and sit down to enjoy it in peace and quiet.
Getting into a good morning routine for a more productive day doesn't mean you have to get up & go, go, go.
In fact, self-care is really vital to your success & productivity levels… so don't neglect it!
For this reason, I make my morning coffee & enjoy it whilst doing the next two steps in this list.
3. Appreciate
Time: 6:15-6:35 am
Roy T. Bennett once quoted that 'what is focused upon will grow'. So, write down a list of at least 10 things you appreciate right now in your life.
It will really help you to feel happier & motivated for your day ahead. Your list can include anything & everything from being thankful for your health to being thankful for the pen in your hand that allows you to write your list…
All that matters is that you FEEL that sense of appreciation.
4. Get Intentional
Time: 6:35-6:45 am
It's really stressful & difficult to focus on your priorities when you're holding everything you need to do in your brain.
Ease your stress by writing down the top three to five things you want to achieve in your day.
Writing them down will also help you to be more intentional & focused on how you will achieve those tasks too!
That doesn't mean you can't do more than those three to five things… Anything else you do on top will be a bonus.
5. Write Your Goals
Time: 6:45 -6:55 am
Write out your long term goals every morning for exactly the same reason as the step above… getting intentional & focused on achieving them!
Try to visualize how you'll feel when you achieve your goal as you write them… Close your eyes and imagine you already have achieved your goal. It will really help you to feel fired up & ready for a productive day!
I write my goals out every day… But there's nothing better than missing one off once I've achieved it!
6. Meditate
Time: 6:55-7:10 am
Meditation has so many benefits for your life but how often do you get to just sit in silence & be alone with your thoughts?
Meditating as part of your morning routine will help you to become more mindful & self-aware.
You'll also develop a clearer perspective as you go through the rest of your day.
I meditate for 30 minutes but you can really feel the positive effects of meditating after just 10 minutes.
You can find calming music to meditate to on YouTube or you can even just choose to sit in silence & focus on your breathing.
7. Take A Light Workout
Time: 7:10-7:30 am
A quick workout in the morning as part of your morning routine can help you to feel happier & more energized throughout the day.
It's a well-known fact that exercise releases endorphins into your body.
If you're really not a fan of exercising then do a simple yoga session or some easy stretches for 10 minutes instead.
8. Take a Shower
Time: 7:30-7:45 am
Finally, it's time to freshen up & get ready for the day. I don't know about you but if my hair is freshly washed I feel like I can achieve anything!
Make a point of getting showered & dressed even if you're not going out anywhere. You'll feel like being far more productive & ready for the day.
Want to take your shower to the next level? Try giving yourself a James Bond-style blast of cold water just before you get out… Apparently, this will keep you feeling energized throughout the day!
Before you go…
If you follow these tips for the best morning routine you'll soon find that your days are far more productive & you're no longer dragging yourself through the day feeling tired & unmotivated.
Remember that you probably won't feel like getting out of bed in the morning, especially in the beginning…. but be consistent with these steps for a perfect morning & you'll soon find that you've developed some new positive habits.
Did you find these tips useful? Please consider sharing this post to Facebook or Pinterest so others can benefit from it too.
Choose Your Fave Pin To Save…