A bullet journal habit tracker is one of the most effective ways to develop good habits, live a better lifestyle & to keep yourself motivated towards achieving all of your goals!
Habit trackers are particularly good on those days when you need a little pick me up!
Why?
Well, they're a great reminder of how much you can achieve & will help you to feel empowered!
You can use a bullet journal habit tracker to track pretty much anything you want… from your daily tasks, health & fitness, finances & more… the possibilities are endless!
P.S. If you haven't got time to read this right now you can click here to quickly & easily save these ideas to your Pinterest for later!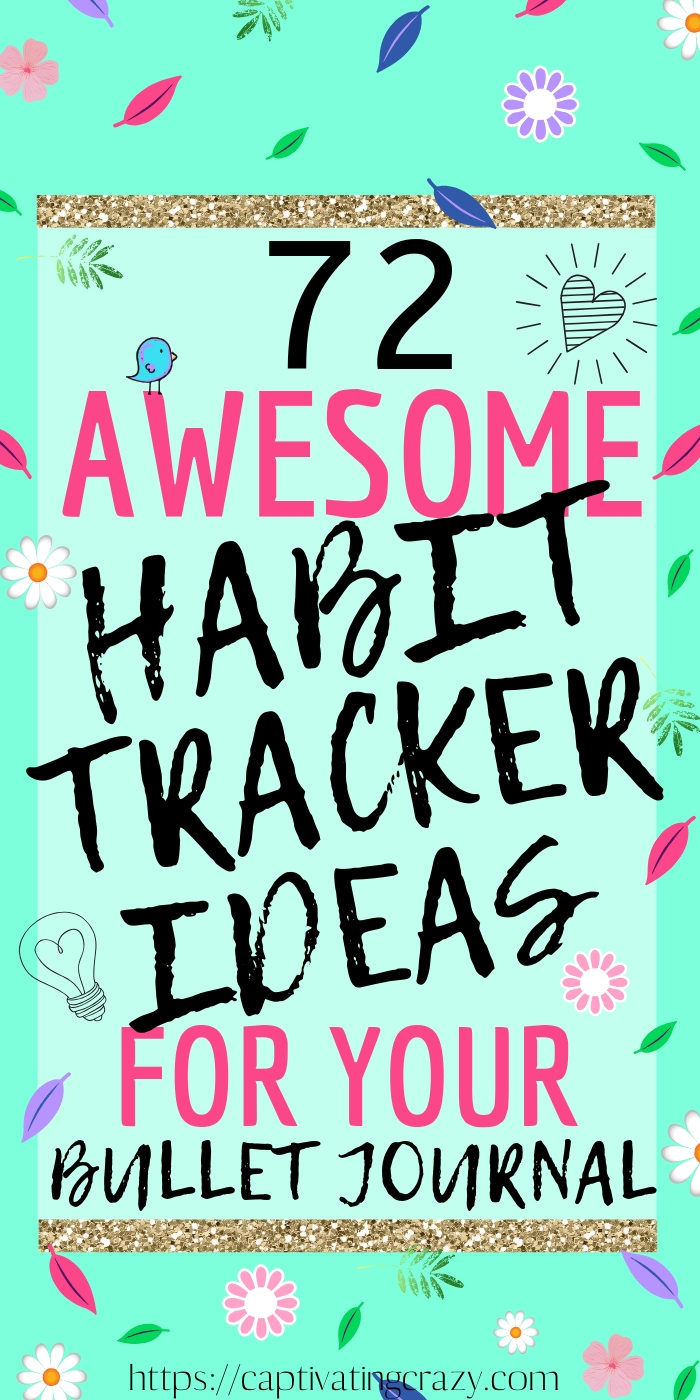 What is a Habit Tracker?
A habit tracker is a simple bullet journal spread that helps you to keep track of anything & everything in your life…from your daily tasks, health & fitness, finances & more… the possibilities are endless!
Tracking your habits will help you to gain awareness of both your positive & sabotaging behaviors & help you to make changes where you need to.
Maybe you spend more money than you have each month or maybe you forget to drink enough water on a daily basis?
If so, you can improve these habits by using a habit tracker!
Without a habit tracker, changing your habits can be really hard to do because habits are hard to break… especially the bad ones!
But by using a habit tracker you will be able to form new habits much easier because it's a way to hold yourself accountable whilst keeping track of your progress… which is motivating in itself!
Reasons To Use A Habit Tracker
keep on top of daily tasks
bring habits that you don't notice into your awareness
track how often you do certain things
to motivate yourself towards reaching for your goals
to introduce new healthy habits into your life
better time management
to help you stay productive on a daily basis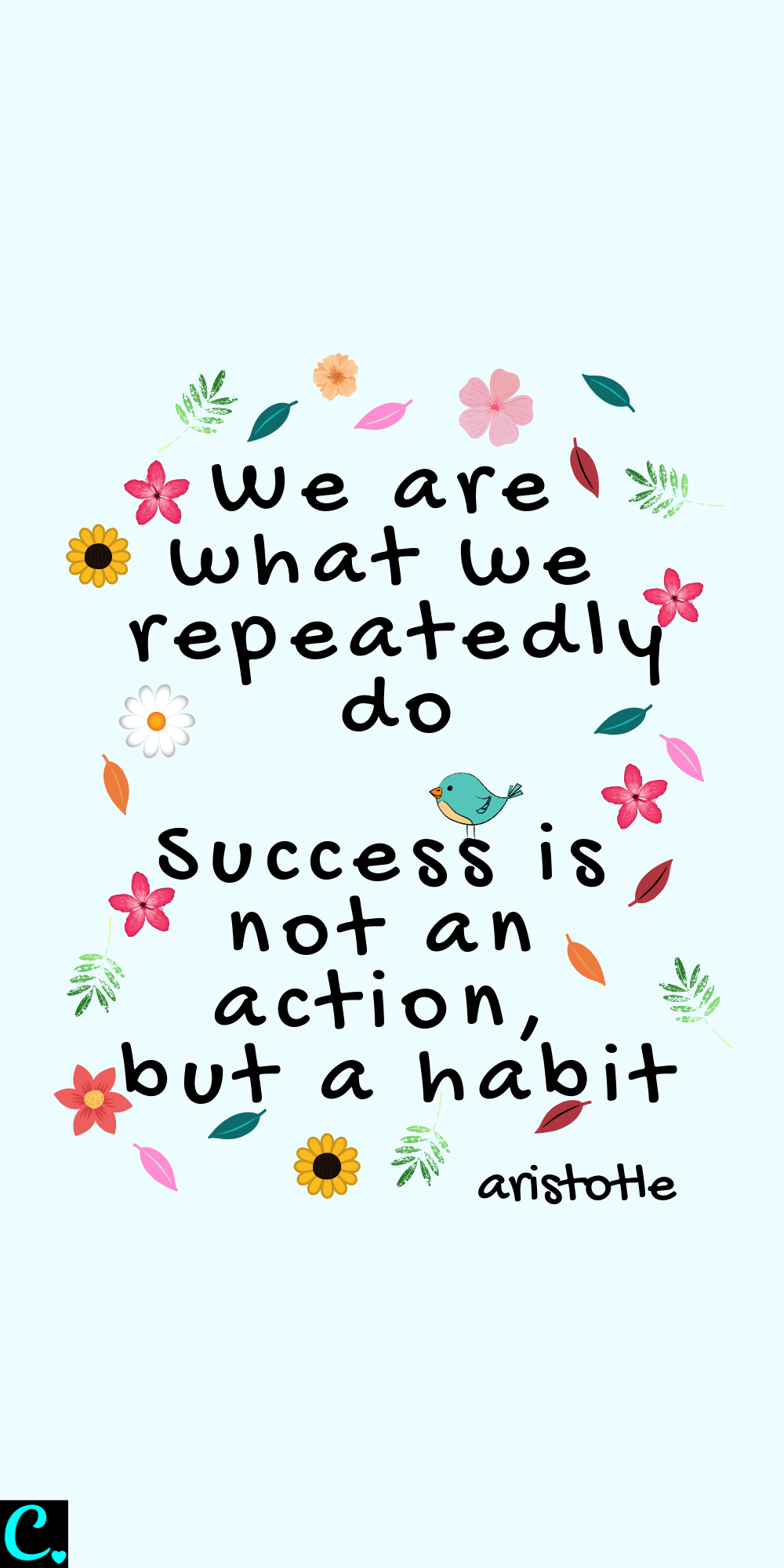 Why You Need Good Habits
You might be thinking a few bad habits here & there is nothing to worry about, right?
And you're right! We all have bad habits & it's true that nobody is perfect!
But many of our habits are automatic & out of our awareness!
Therefore, it makes sense that you could easily find yourself with many patterns of behavior that aren't really helping you!
It's important to be aware of your habits because your habits form your daily routine…. and your daily routine has a direct impact on all areas of your life!
By creating a habit tracker spread in your bullet journal you start to bring your behavior & choices (including the ones that previously went unnoticed) into full focus… consequently, you can change your behavior & make decisions that are going to improve your life!
How To Layout Your Habit Tracker
There are endless ways you can design your habit tracker layout!
Some popular tracker layouts include…
circle habit tracker
traditional monthly tracker
mini tracker
Circle Trackers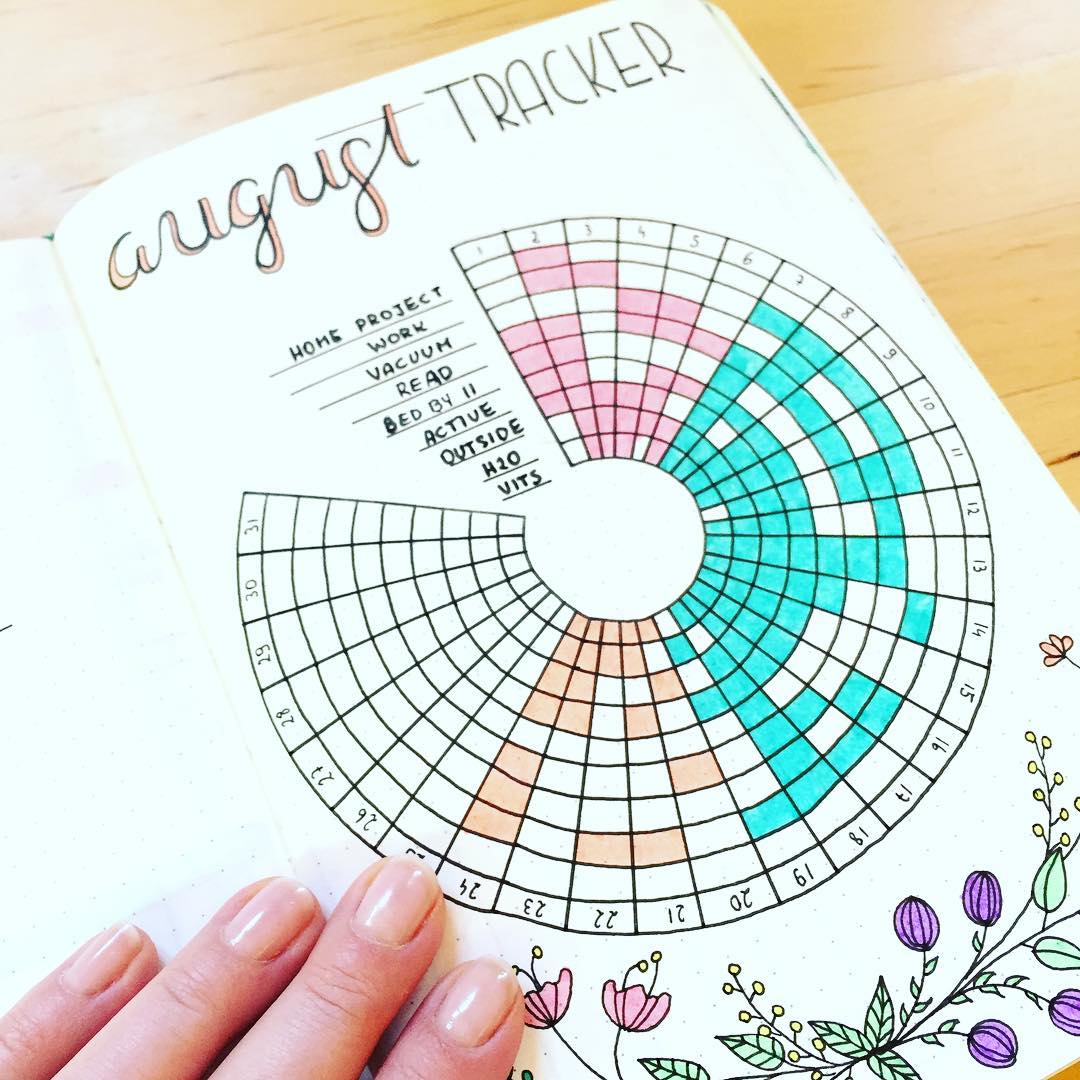 Circle habit trackers are a great way to keep everything looking compact & pretty on the page. Here is a great circle tracker as an example…
Traditional Monthly Trackers
This is a simple & effective habit tracker layout that's great for keeping all your habits easy to track at a glance. This simple rectangle grid is great for you if you're just starting out with a bullet journal…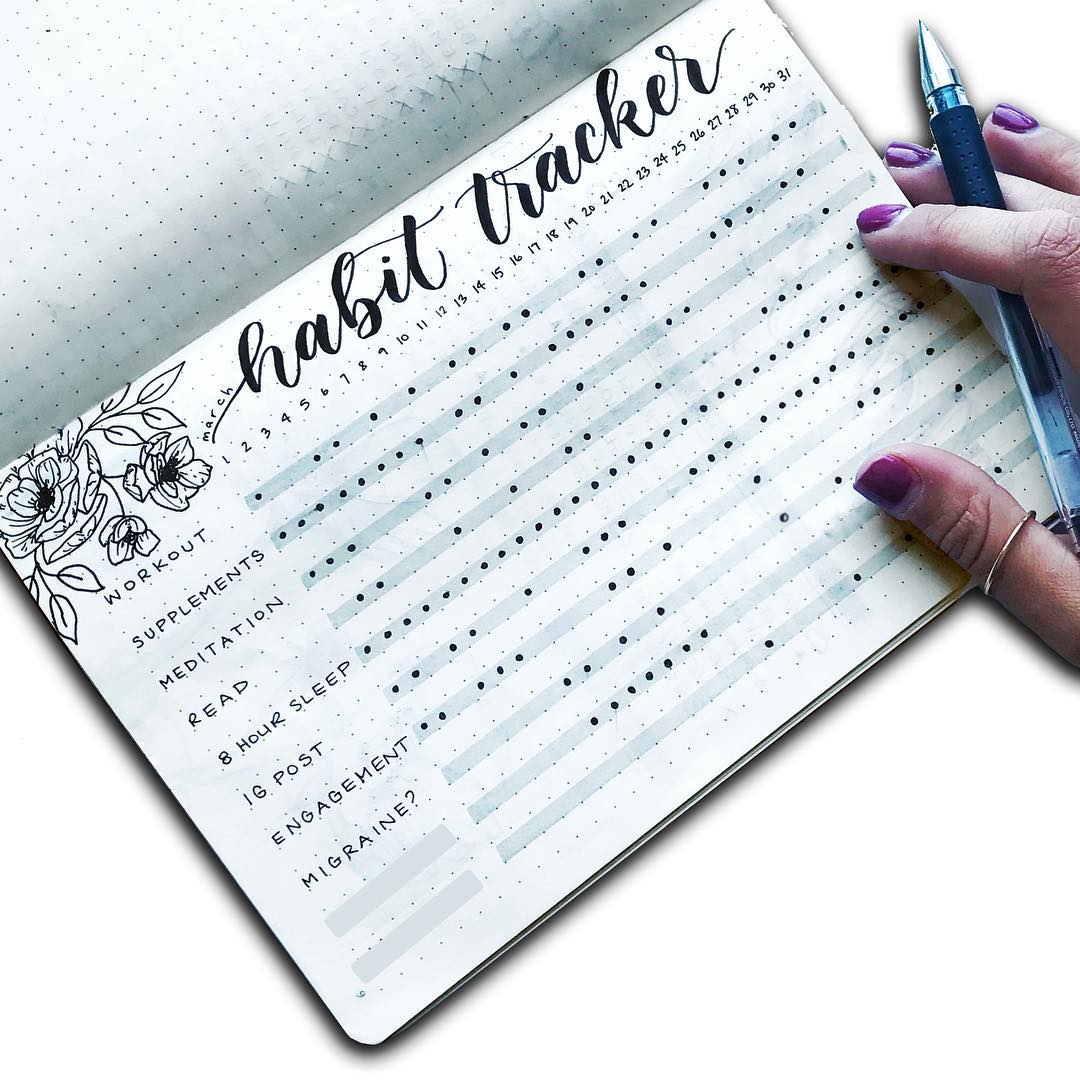 Mini Trackers
Mini trackers are a great way to keep track of the habits you want to change the most! Consistency is the key to successfully changing your habits so therefore you want to avoid overwhelming yourself with too many changes at once. These mini trackers are a really cute example…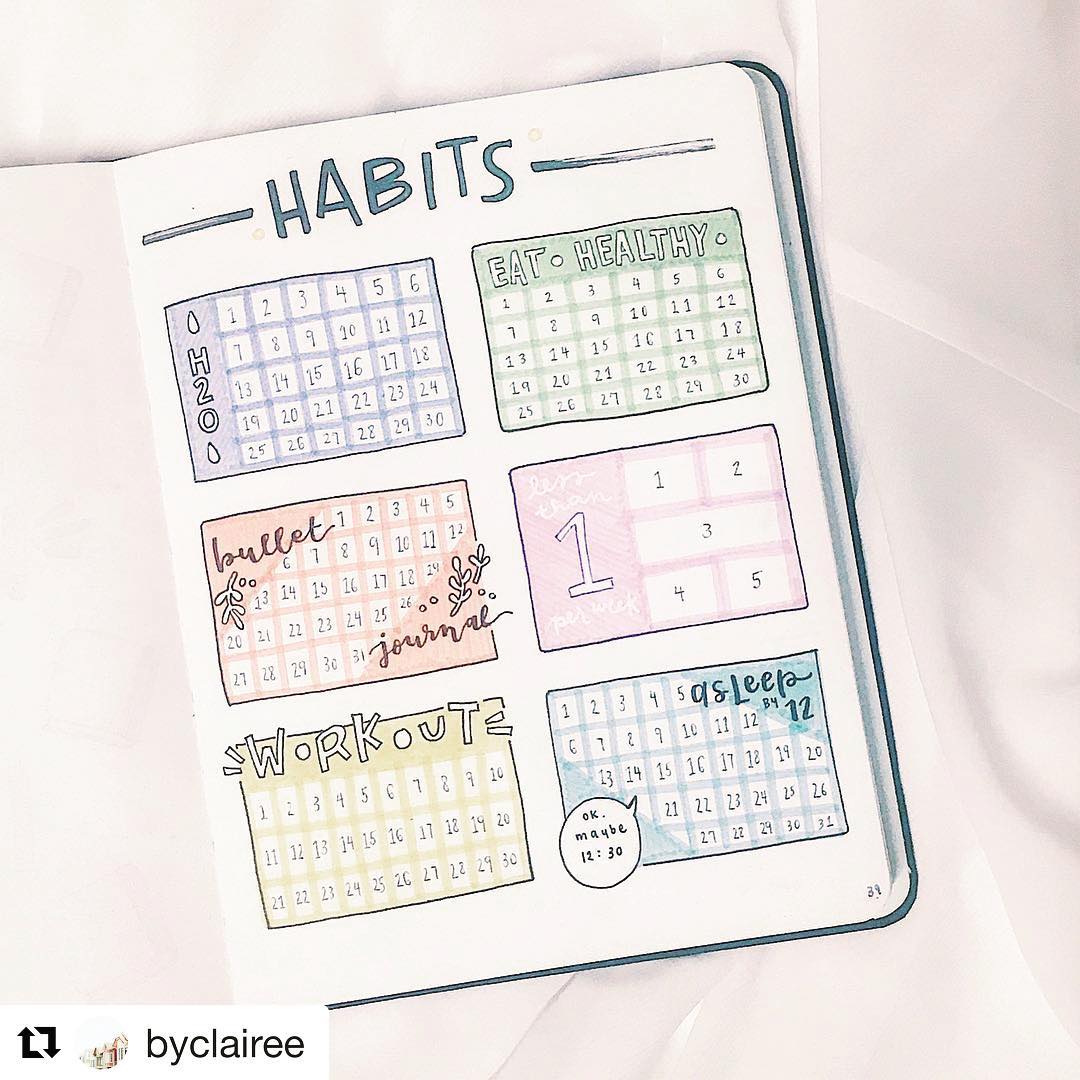 Steps To Setting Up Your Habit Tracker
Decide what habits you want to track
Check out Pinterest & Instagram for habit tracker inspiration
Decide which tracker layout is best for you & sketch it out in your journal
Draw up in neat & write in your habits
Check & fill in your tracker every morning & evening (don't panic if you forget a day or two, it happens to everyone)
Stay motivated by appreciating all your progress, no matter how seemingly small!
Write up inspirational & motivational quotes on your tracker page to keep you motivated to reach your target
Things To Track In Your Bullet Journal Habit Tracker
One of the greatest things about habit trackers is that you can literally track anything & everything!
But wait!
Just because you CAN track anything & everything does it mean that you should?
Nope!
You see, a habit tracker is meant to give you incremental & doable steps to make changes in your life… So don't try and track habits that are unrealistic!
For example, if you try & track doing 600 push-ups a day you'll quickly feel overwhelmed & resentful which is the opposite of what a habit tracker should be doing for you… empowering & encouraging you!
So, Make sure that the habits you're tracking are your priorities & that they're actually helping you to improve areas of your life that are important to you…
To give you some inspiration for your own habit tracker I've put together a list of some of the best things you can start tracking today…
Habit Tracker Topics
Health
workout
veggie servings
fruit servings
water consumption
period & ovulation
medication
no sugar
no caffeine
no smoking
no alcohol
floss
Relationships
read to kids
spend quality time with your partner
date night
random act of kindness
smiled at strangers
call a friend or family member
compliment someone
sex
Self-Care
reading
relaxing
bath
go to bed on time
no phone time
manicure
pedicure
washed hair
styled hair
spent time outside
skin care routine
wake up on time
listened to music
no T.V. time
Financial
budget
savings
no-spend days
no-spend weeks
things to uplevel
paid bills
Daily Routine
ate breakfast
ate lunch
packed lunch for work
cooked dinner
tidied house
pet care
watered plants
chores
Personal Development
meditation
journaling
affirmations
gratitude journal
learn something new
reading
relaxing
written goals
visualization
complimented yourself
listened to a podcast
Business
wrote blog post
scheduled social media posts
cleared emails
created a product
provided value to your audience
Hobbies
sewing
knitting
sport
crafts
blogging
coloring
creative project
home renovation
practiced instrument

More Habit Tracker Inspiration
So now you know what a habit tracker is, why you need one & the habits you can track… so let's take a look at a few beautiful habit tracker layouts for more inspiration to get you started…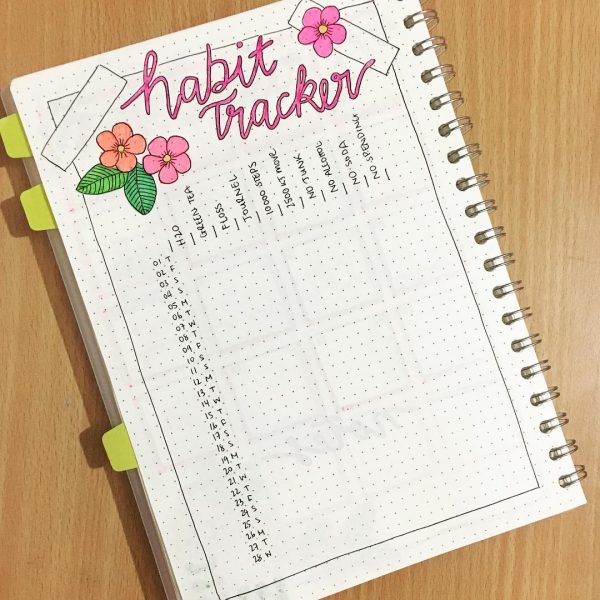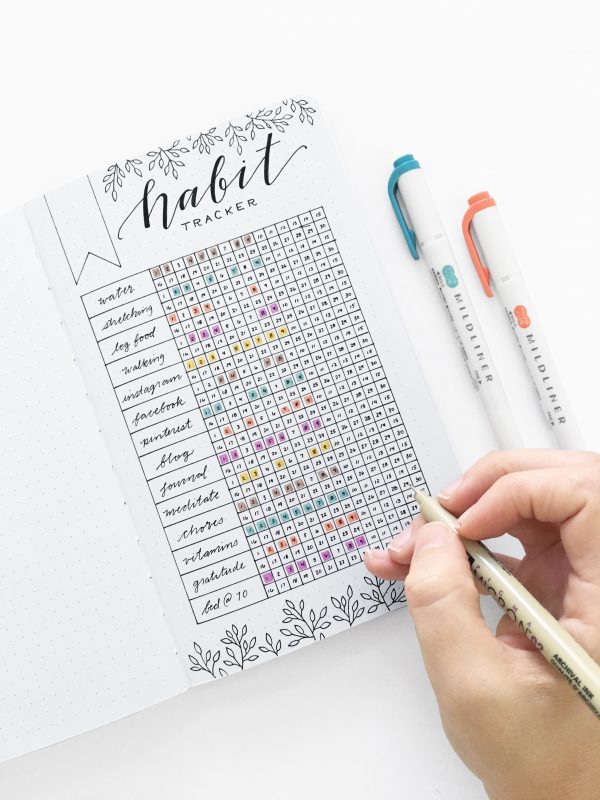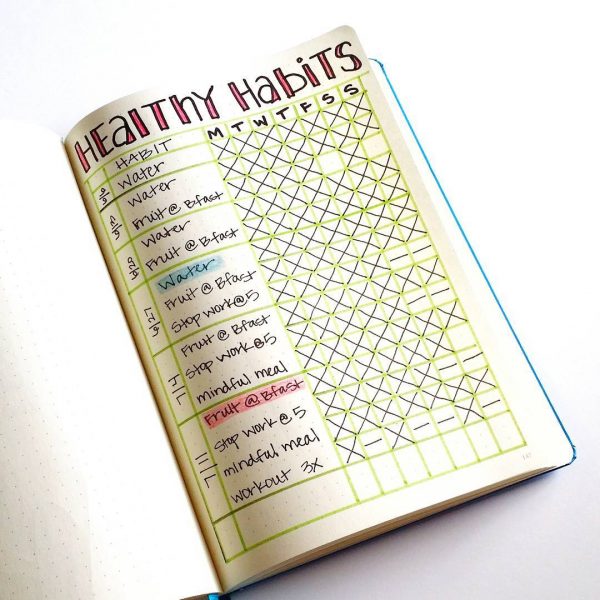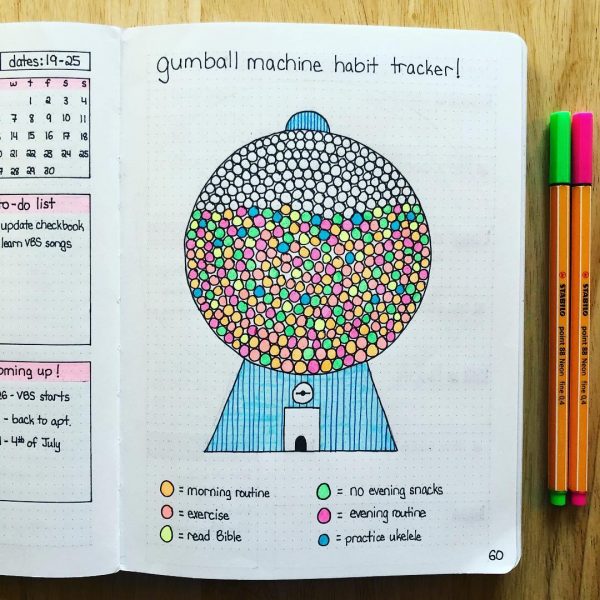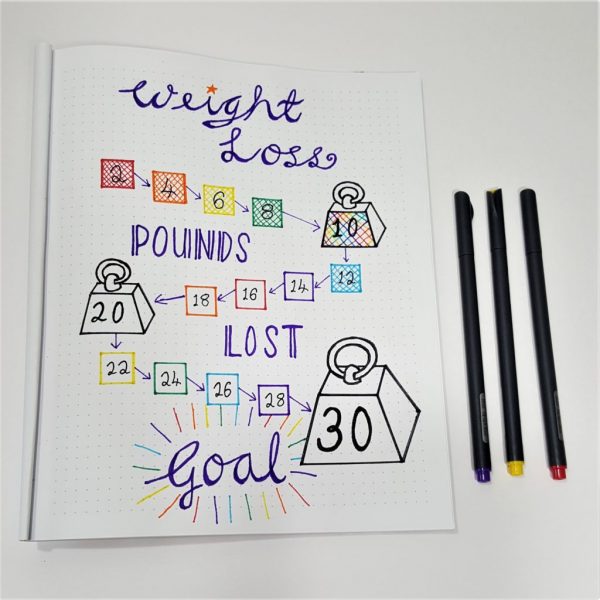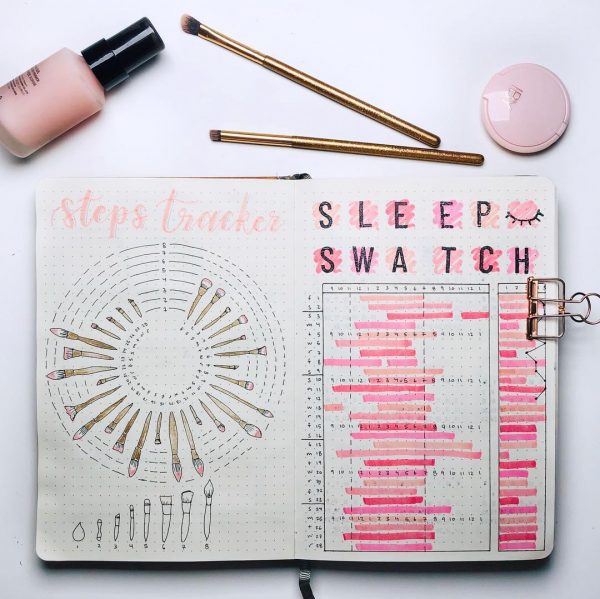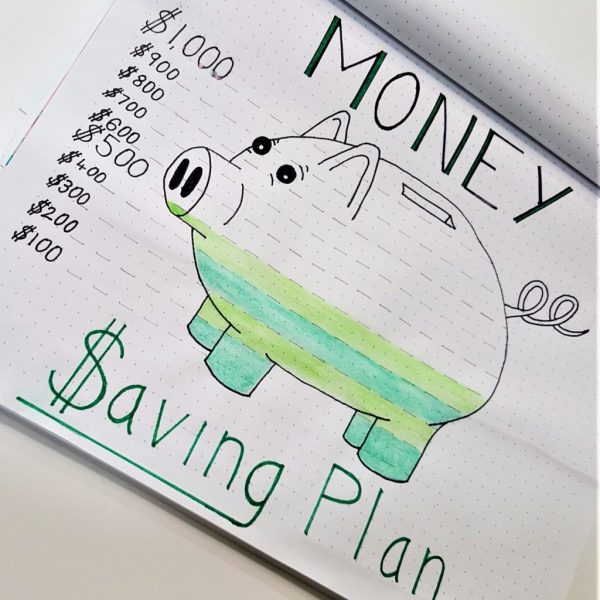 Let's stay in touch…
To sum it up, keeping track of your habits with a bullet journal habit tracker is going to help you make better decisions, improve your lifestyle & help you to achieve your goals!
If you loved these ideas please go ahead & share them on Pinterest by Clicking here… You should also come over & follow me on Pinterest! I'm hanging out there all day sharing the best ideas that will help you create a meaningful life you love.