Starting a blog is easy, but so many people don't do it in the right way… which makes it harder down the line.
So, if you want to grow a blog that is successful and makes money and feels easy too… then you have to follow the right steps!
And that means knowing what to do, and when to do it!
Here's why I mention it…
After starting 3 blogs with zero experience & building them up to be successful, I know what it takes to ensure your experience of starting a blog is easy, exciting & fun… even if you're a total beginner!
Grab your 'starting a blog' checklist now…
This post contains affiliate links, Find out more here. 
Start a Successful Blog: Step by Step
♥ First Steps
#1

Find Your Niche
Establishing your niche is an important part of building a successful blog.
It's easy to think that by casting a wide net & appealing to all the people that you would have more chance of success…
But actually, the opposite is true.
When you niche down, you give your blog a focus that allows you to help people more thoroughly.
#2

Choosing Your Domain
Brainstorm a list of domain names that you would love for your blog.
Choosing a domain name can feel like a lot of pressure but it's also such an exciting part of creating a blog.
You'll want to bear a few important points in mind when thinking up the perfect name:
short & memorable
tells people what your site is about
encompasses the personality & brand of your blog
no complicated spellings
ends with .com or .co
Once you have a list of blog names you love, try them out in the box below to see if they're available…
#3

Write Your Tagline
Your tagline should instantly tell people about what you do & how you can help them.
For example, my tagline is: create a life & business you love… without the confusion.
Most of us these days have a really short attention span… we want results fast!
So, if your visitors can't immediately get a good sense of what your site is about… chances are they won't stick around to find out…. make it clear by including your tagline in your header image (we'll get to that in a second)
#4

Register Your Domain & Hosting
Once you've found a domain name that you love & that is available… it's time to make it yours!
When you're just getting started you'll need hosting that is both reliable & affordable.
Although I know FREE is always tempting… don't do it.
When you get a free blog you'll have an unprofessional looking domain name & you won't be able to make money from your blog… but don't worry, starting a blog is one of the cheapest business startups!
After all, all you need is hosting, a domain name, a laptop and an internet connection
So, I recommend Bluehost for your hosting needs as I have used them myself & the service has always been excellent.
Bluehost has given a special discounted price for my audience which you can claim right here.
#5

Install WordPress
Now here is another reason why I just love Bluehost… they install WordPress for you!
WordPress is the platform that you will use to build your blog… think of it like this…
Domain- Your home address
Hosting- The land your home sits on
WordPress- The walls of your home
Theme- The decorations & furniture of your home
When you get your blog with Bluehost they'll install WordPress for you within the step-by-step setup…
So you really won't need any techie knowledge at all.. whoop whoop!
♥ Blog Design
#6

Choose A Theme
During the Bluehost set up guide, you'll be given the option to choose a FREE theme…
With hundreds to choose from in all different styles & designs, you'll find one that you love for sure!
It's totally fine to get started with a FREE theme, especially in the beginning while you're learning to navigate WordPress!
Eventually, however, you'll want to invest in a paid theme.
I spent a long time trying to make a free theme work but eventually, I got super frustrated with the limited customizations available so invested in a paid theme.
#7

Design Blog Header
Your blog header is one of the first things your readers will see when they come to your blog so you're gonna want to make the right impression!
A great tool for making your blog header is Canva… I use it for literally ALL my blog images!
And the best part?
It's completely Free!
#8

Design Logo
You can also use Canva to create your Logo… if you want one.
Whether you're going for just a symbol (think Apple's apple) or an emblem (think Starbucks) or even a simple wordmark (think HP)… your logo can be a good tool for building up your brand awareness!
#9

Choose Color Palette
It took me over a year to realize the importance of using a consistent color palette for my websites…
Why's it important?
Because it builds in effortless consistency and cohesion so that people instantly recognize your designs & site.
Now, you might think this is one to skip…. but don't.
You see, when I see a Pin with a design and color palette that I recognize as being from a Blogger that I know is awesome… I pin it straight away!
If it wasn't for the familiar color palette & design then I'd likely scroll straight past that Pin.
♥ Admin Tasks
#10

Setup Social Media Accounts
Set up social media profiles under every social media platform you can think of…
BUT…
Don't waste time trying to master all the social media platforms at once.
Just pick one to work on first… preferably one where you know your ideal audience is hanging out.
Once you have mastered getting traffic from that platform, then begin to build on another if you think it will be good for your blog.
#11

Add Social Media Icons To Blog
Social media icons allow people to easily navigate to your social profiles where they can follow you.
You can have the social icons in your sidebar, footer & even header of your blog.
Usually, your theme will come with the social icons ready to go.
If not there are Plugins you can use… I use Powerkit!
#12

Set Up Google Analytics
It's probably time someone set up a Google Analytics Anonymous support group… once you have Google Analytics you'll know what I mean by that!
But for now, just know that Google Analytics is ADDICTIVE!
When you see numbers like this…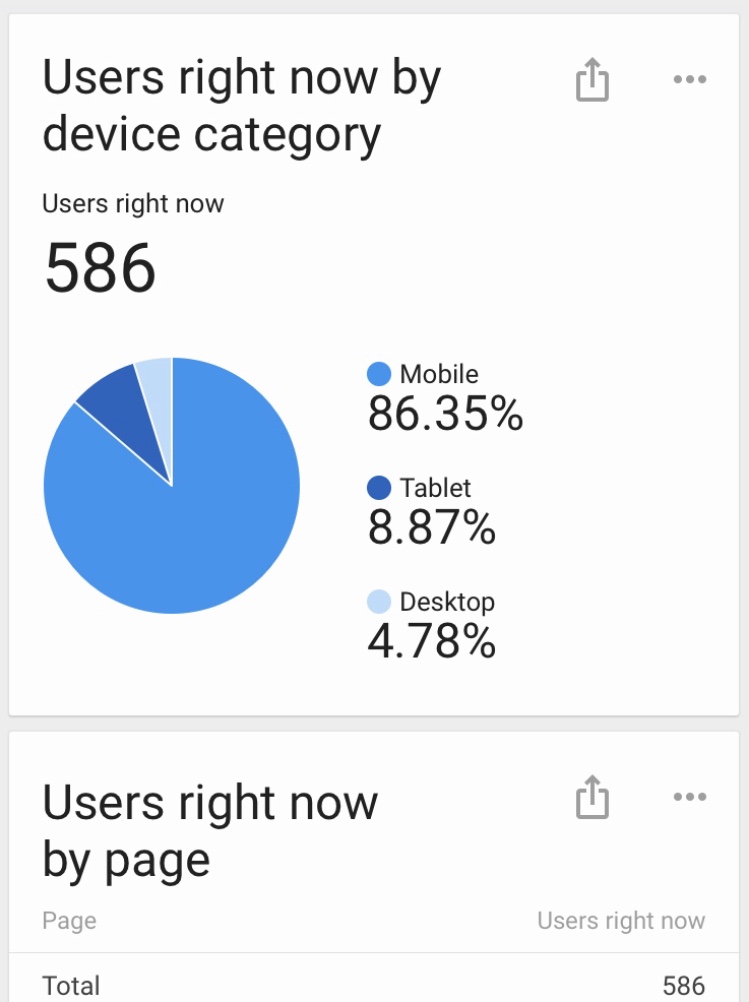 It's so hard not to keep refreshing the page like crazy!
It's exciting, overwhelming & everything in between!
But, aside from all that…
You need Google Analytics to see how many people are on your site, where they are from, how they found you… and a whole other bunch of helpful stats that will help you grow your blog.
#13

Set Up Google Search Console
Once you have your blog up & running you need to install Google Search Console.
This is how you tell Google that your blog exists & is ready to be crawled by the Google spiders… meaning you can begin to show up in search results on Google.
#14

Add a Privacy Policy Page
You'll need a privacy policy to keep your blog legal… especially since the introduction of the new GDPR laws of 2018.
A simple way to get your Privacy Policy page up & live on your blog is to use a plugin called GDPR framework.
#15

Add Cookie Consent Banner
Another GDPR must-have is a cookie consent banner.
To stay on the right side of the law you need to give anyone who visits your blog the chance to explicitly accept or deny cookies & any other data that you collect about them!
You can also use the GDPR Framework plugin for getting your cookie banner too!
#16

Write An About Me Page
Your about me page is an excellent way for your visitor to get to know more about you & your values & most importantly, how you can help them!
#17

Publish A Contact Me Page
A contact me page is the best place for people & brands to be able to reach out to you!
♥ Blog Content
#18

Brainstorm First 10 Post Ideas
Now you know your niche, think about 10 first blog post ideas.
You could start with the first question that someone in that niche may be asking and go from there…
For example,
If you were starting a blog in the Yoga niche, you could start with a post that answers the question 'what is yoga'.
Your second post might then answer 'what equipment do I need to start yoga'… and so on.
The idea is to turn your blog into a thorough resource that helps people in your niche.
#19

Write First 5 Posts
You can write just one post & start promoting it, but I recommend writing at least 5 before you start promoting.
As you'll soon find out… promoting your content can take up more time than actually writing your content so it's a great time saver to have a few great posts ready.
Not to mention… having several posts published will allow your visitors to click around & explore your site.
#20

Create Social Media Images For Each Post
Have at least 5 shareable images ready to go for each post you write.
You may think this is a little excessive but it's good for 3 main reasons…
It will save you time when it comes to promoting your content
ensures that you have a lot of different images to share… meaning you don't look spammy!
gives you the opportunity to discover which images appeal most to your audience
♥ Grow Your Blog
#21

Choose Email List Provider
You should start building your email list from day one… I cannot stress this enough!
The people who take the time to give you their email addresses are your true fans.
You see, you can build up your following on social media but remember…
You don't own that list of people… Instagram, Pinterest & Facebook can shut you down or close their platforms at any time!
So make sure you choose an excellent email provider to start building your tribe.
I use both Drip & Constant Contact… but if you're looking for a simple & effective FREE service then MailChimp will have everything you need!
#22

Create A Helpful Freebie For Audience
Giving your audience a great FREE resource is not only a great way to help them solve a problem…
But it's a great value exchange too… they give you their email, you give them the freebie… win, win!
#23

Add An Opt-in Form
If you use MailChimp to email your audience then I recommend using the MailChimp Forms By MailMunch plugin to create nifty opt-in forms where your readers can sign up.
You can have an opt-in form in the sidebar, as a popup or even as an embedded form within your content.
Either way, Mailmunch forms are free & very easy to customize to your liking!!
#24

Write An Email Welcome Sequence
You'll want to create a nice welcome email for your subscribers to not only give them a warm welcome but to also let them know a bit more about what you can do for them.
You'll need to email your list at least 2 times a month to ensure they don't forget who you are.
A lot of bloggers struggle to email their list…
But remember… nobody forced the people on your list to sign up.
They wanted to give you their email & they can always unsubscribe if they're no longer interested.
#25

Promote New Posts On Social Media
Now you have your legal pages, contact page, about me page, relevant content & a great email opt-in… it's time to start promoting your blog on your social media platforms of choice.
Be sure not to spam anyone at any time & make an effort to connect & engage with other bloggers in your niche.
Building connections is a great idea, not only because blogging can be quite a lonely job… but because it's great to build up your network & help other bloggers out too!
♥ Make Money Blogging
#26

Sign Up For Amazon Affiliates
The Amazon affiliate program is the perfect program for new bloggers to start making money.
You simply sign up for their affiliate program & then use your special links to recommend products to your audience that they love.
When someone purchases through your link, you earn a commission.
Remember, you have to tell people before any affiliate links in a post that your post contains affiliate links.
I use a plugin called Shortcoder for this as it allows me to instantly display my affiliate disclosure without having to type it every time.
#27

Create A Media Kit
A media kit is a page where you can showcase your talents, stats and anything else that you can offer to brands that may want to work with you.
You can get creative & create your media kit in Canva.
#28

Offer Services, Digital Products Or Courses
The definition of a business is an organization that sells products & services that solve people's problems to earn a profit.
So, if you're intending to run your blog as a business then you need to start thinking ahead to something you can offer your audience for purchase in the future.
This could be printables, online courses, ebooks, services and more!
As you're building your traffic, you'll be able to identify the problems that your audience wants solving.
When you know those issues… you'll be able to figure out what you can sell.
#29

Be Helpful & Consistent
One of the most important ways to ensure your blogging business grows to be successful is to ensure that everything you do is helpful to your audience.
With anything you do, ask yourself… 'how is this going to help them' and strive to give them your best!
Being consistent & posting on your blog regularly will also be a huge factor in your success… After all, no one wants to come to a blog that looks like it's been abandoned.
Don't forget to pin this…