It's December, and you know what that means – it's the holiday season and time for an adorable December bullet journal cover page!
To help make your December bullet journal cover page more festive, we've compiled a list of December bullet journal cover page ideas for you to try out.
Be inspired by designs with snowflakes, Christmas trees, Santa Clauses, candy canes, and even an adorably festive gingerbread house!
No matter what festive design you chose to celebrate the end of the year with, these December bullet journal covers are guaranteed to get you into the holiday spirit!
This post contains affiliate links, Find out more here. 
Bullet Journal Cover Page Supplies
At the very minimum, you'll need a nice bullet journal and a set of coloring pens to design a stunning Christmas-themed cover page.
But if you feel like getting super creative you can also use other art supplies too.
Here are some of our recommended supplies…
So are you ready to be creative?
Well then, let's go…
P.S. Don't forget to click here to save these December bullet journal cover page ideas to Pinterest first

33 December Bullet Journal Cover Page Ideas You Need To See!
1. Christmas Gifts Cover Page
Presents decorated with festive paper look wonderful under the tree… and on a December cover page too!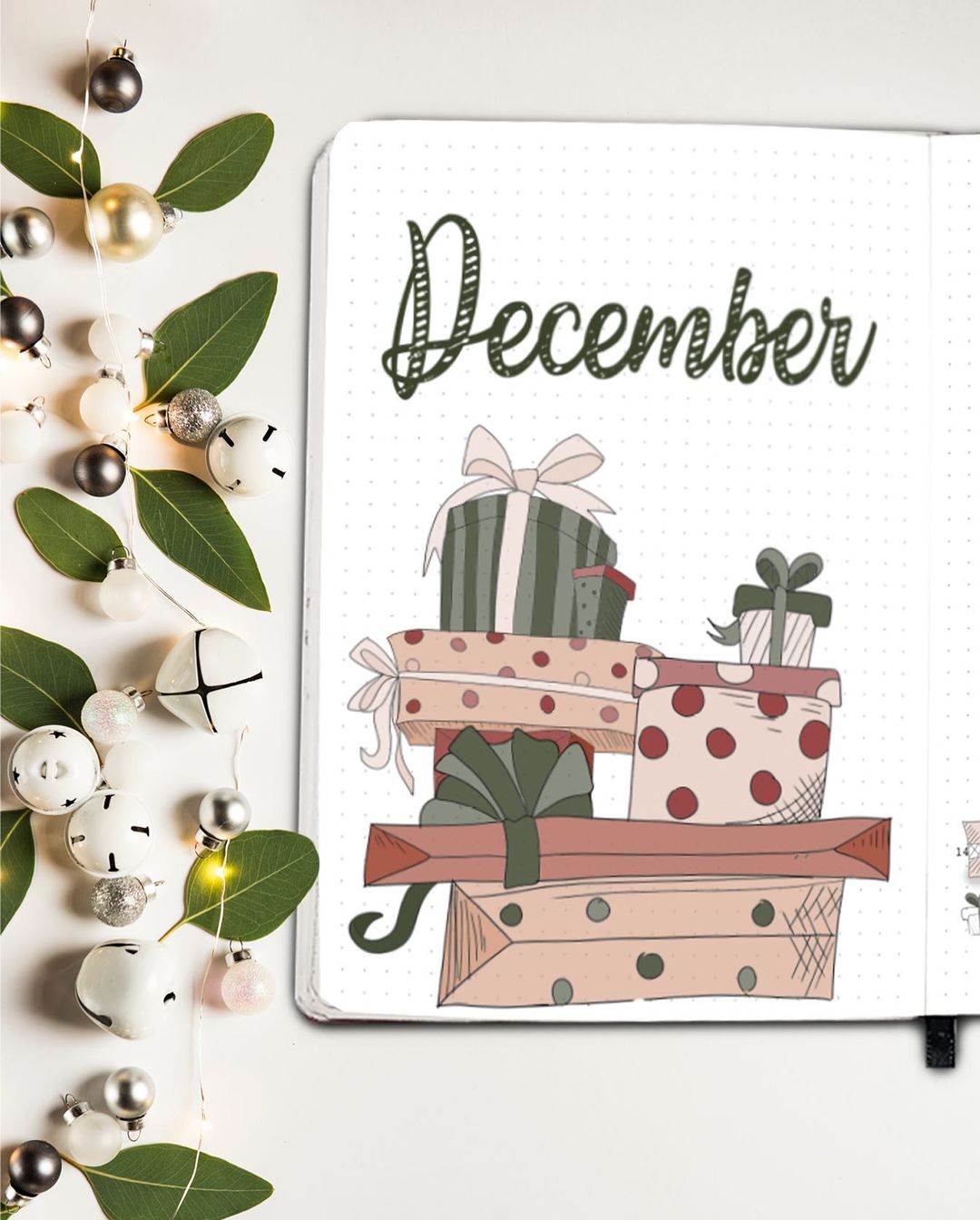 2. December Cover Page With Snowflakes
Delicate snowflakes are easy to draw and look really stunning on a Christmas-themed page.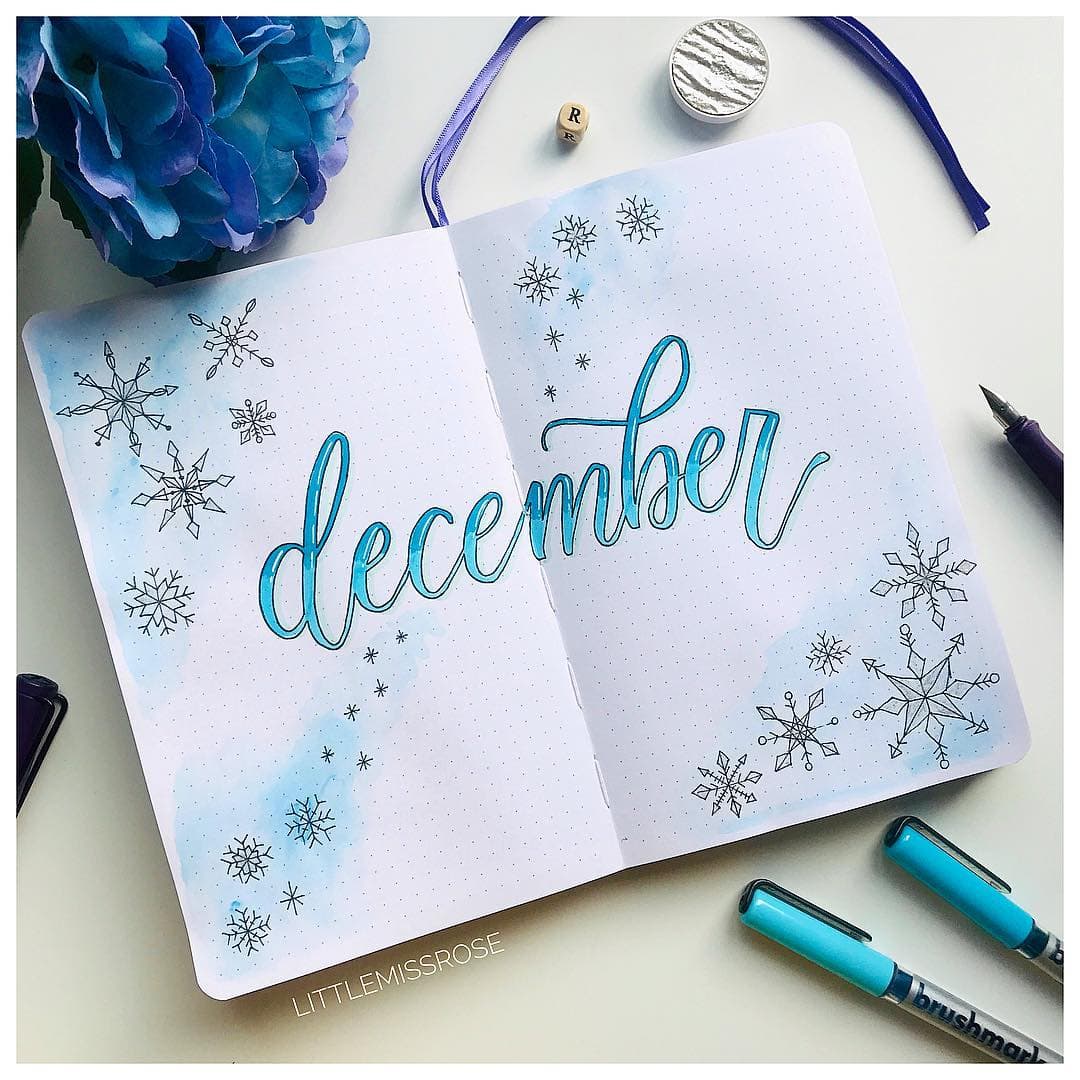 3. Adorable Reindeer Wearing A Cozy Sweater Cover Page
What could be more adorable than this reindeer wearing an adorable Christmas sweater?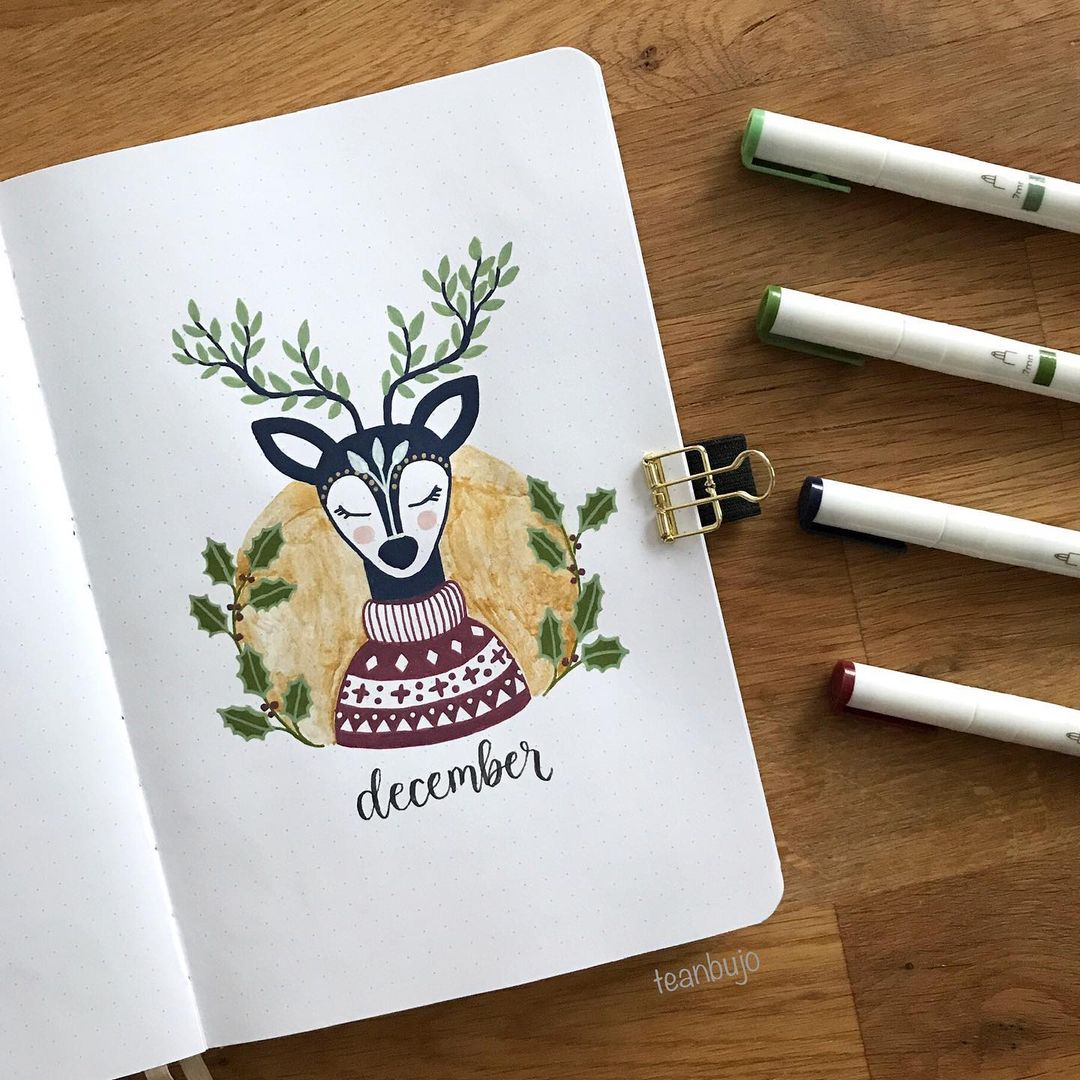 4. Christmas Doodles
This December cover page is packed full of adorable Christmas-themed doodles that will fill you with happiness and joy this holiday season!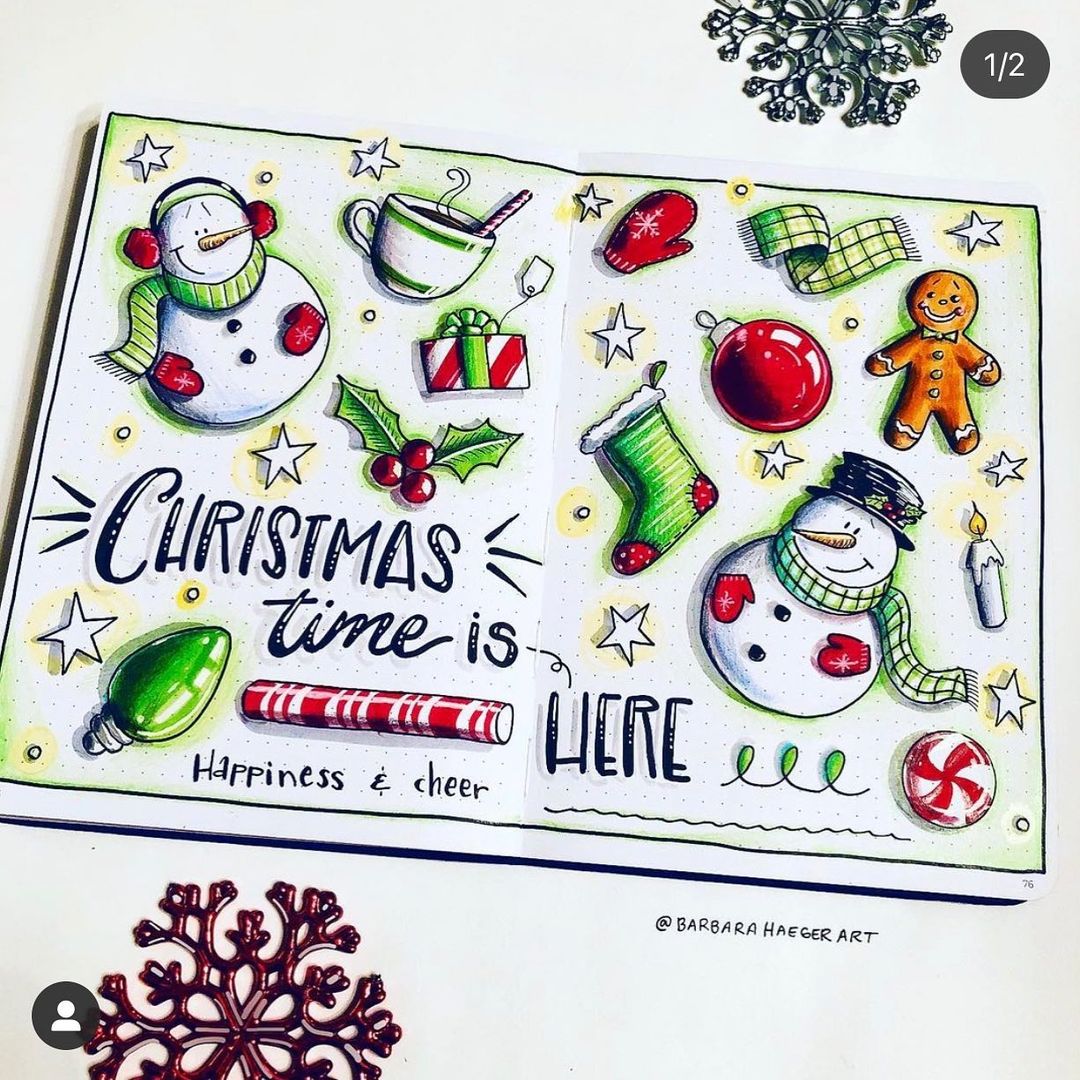 5. Christmas Lights Cover Page
Adding fairy lights to your December cover page is a great way to make your bujo festive… fairy lights are also perfect to add throughout your December pages.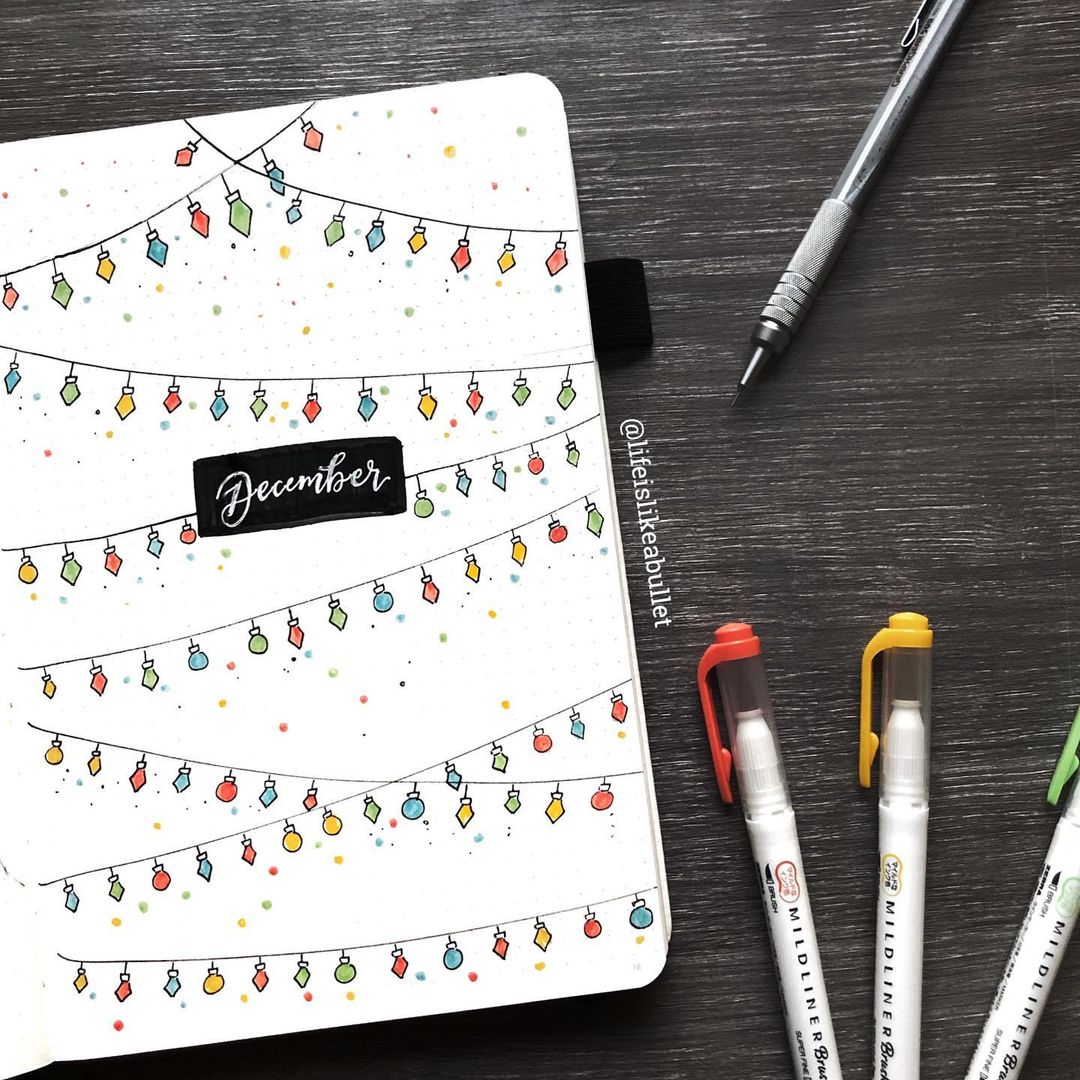 6. Christmas Robin December Spread
Keep things classic and cozy with this adorable Christmas robin!
7. Gingerbread House Cover Page
Or why not decorate your cover page with a colorful gingerbread house?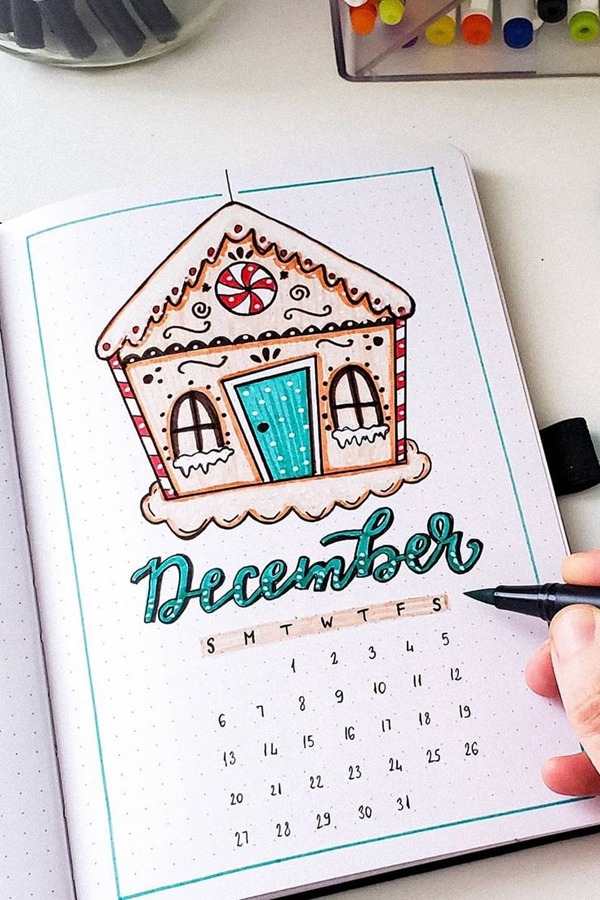 8. December Hygge Doodles
This hygge inspired design will fill you full of the Christmas spirit!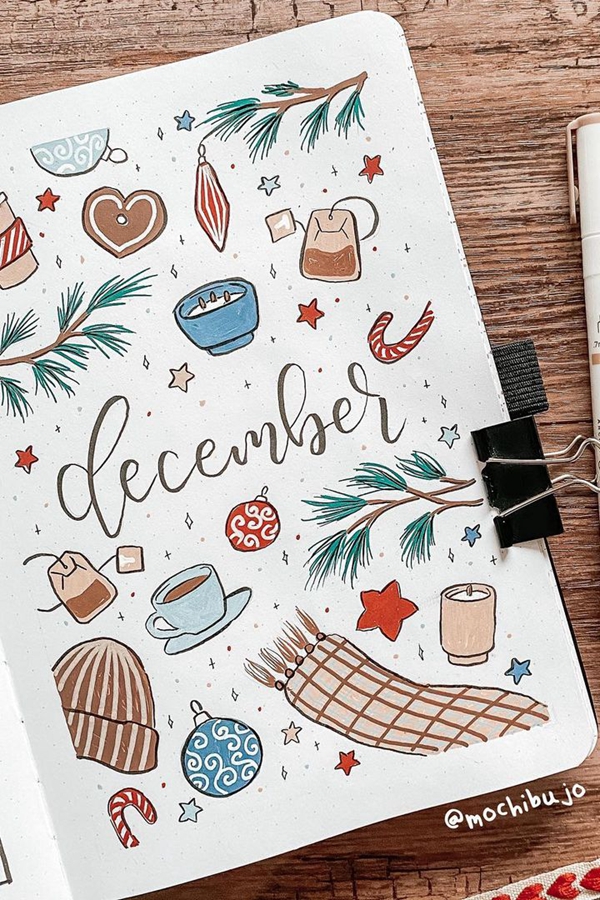 9. Holly And Mince Pies Cover Page
If mince pies are good enough for Santa Claus then they definitely pass the bujo Christmas vibe check too!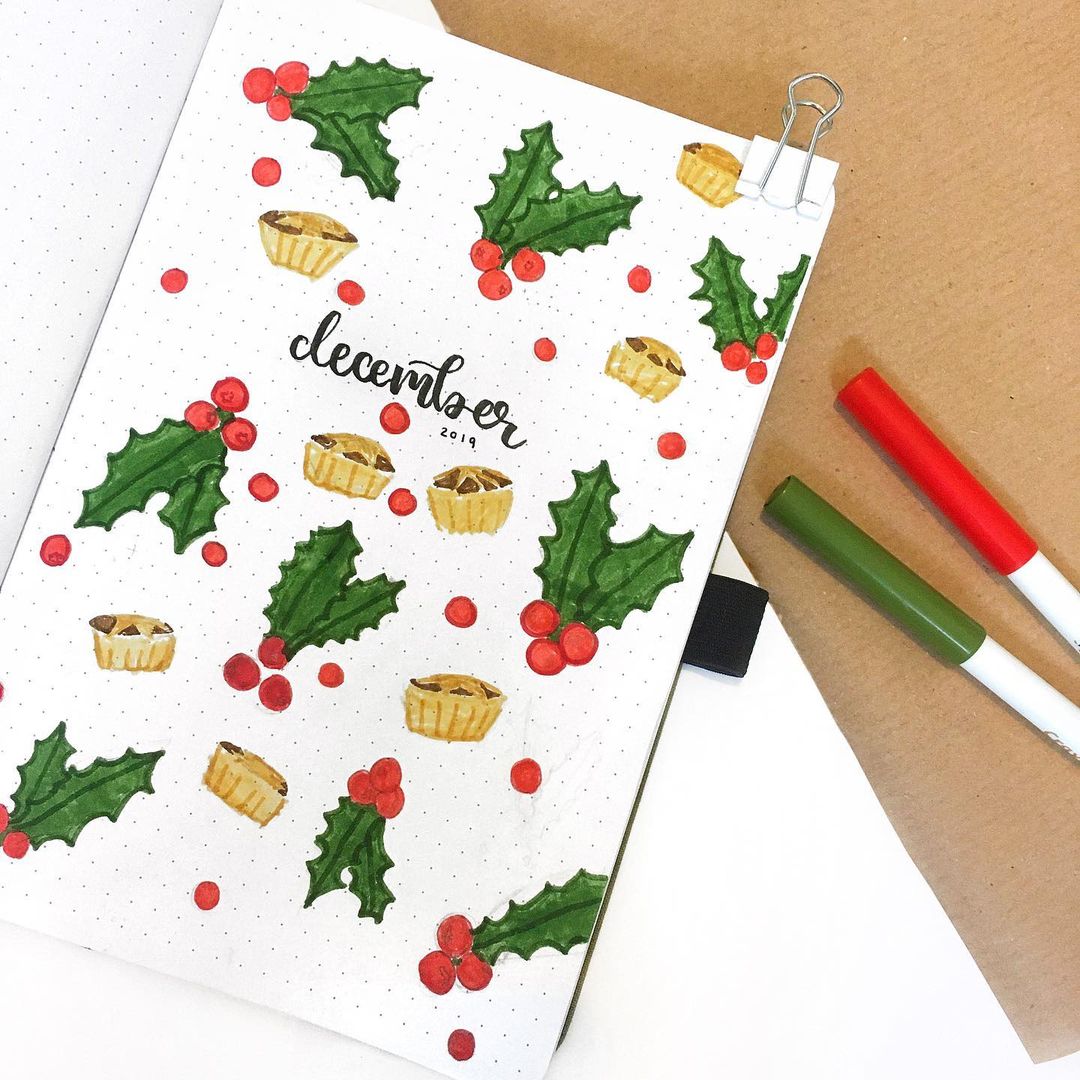 10. Christmas Cookies December Cover Page
Dream of warm, freshly baked cookies while decorating your bujo with this delicious design!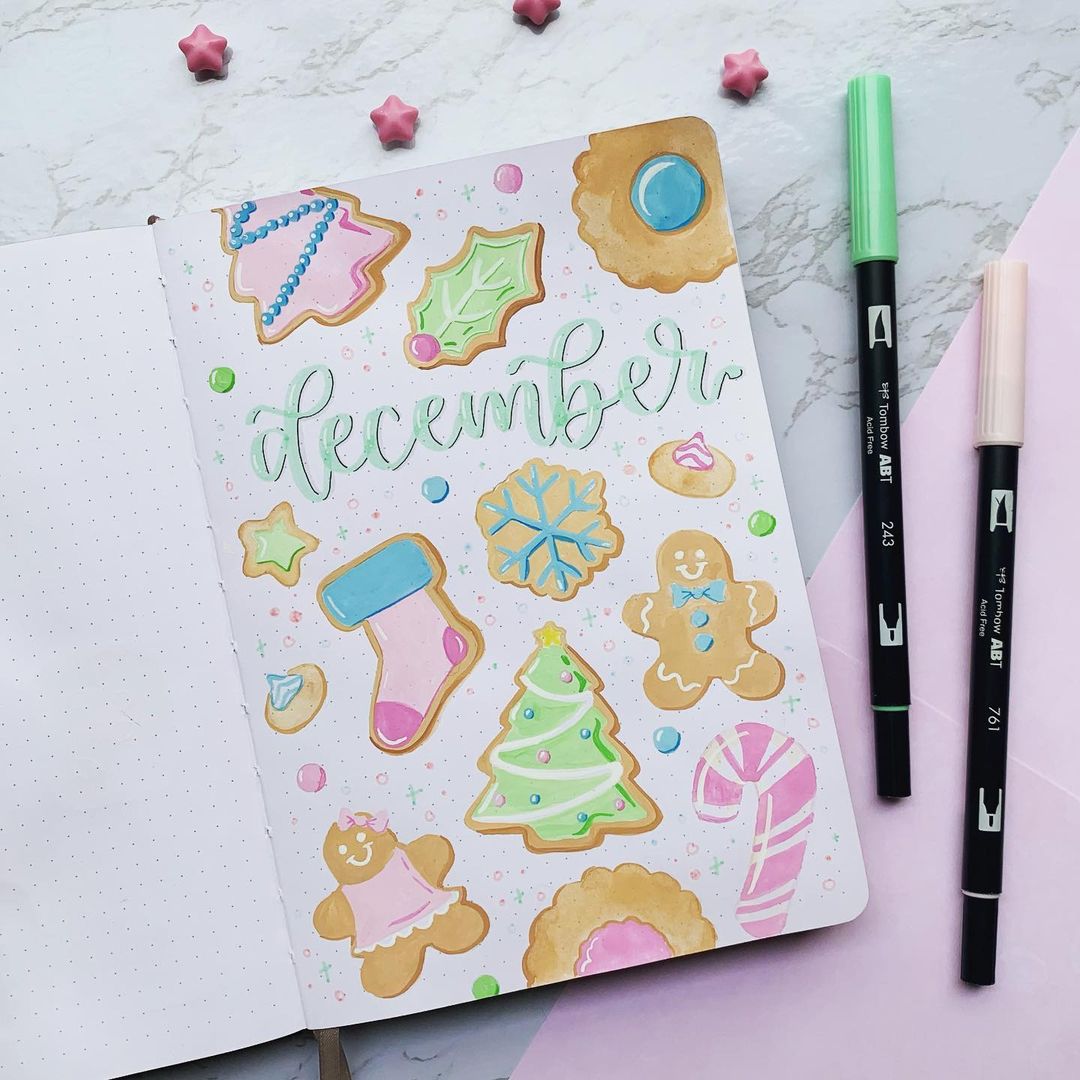 11. Gingerbread Man December Monthly Spread
A monthly spread can make a great cover page that will give you a quick glimpse of the month ahead too!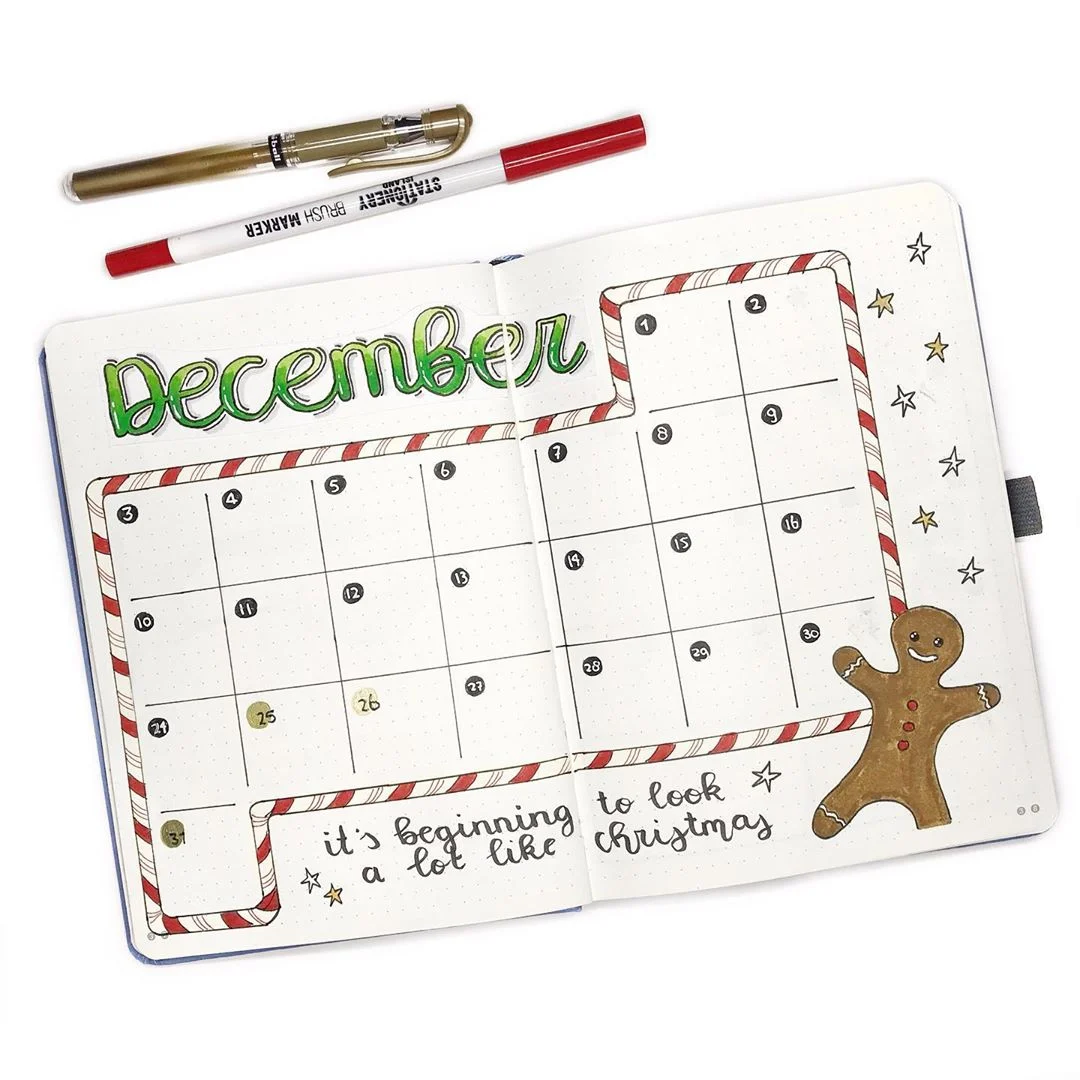 12. Cover Page Inspired By Vintage Letters
Don't you just love the vintage inspiration behind this December cover page?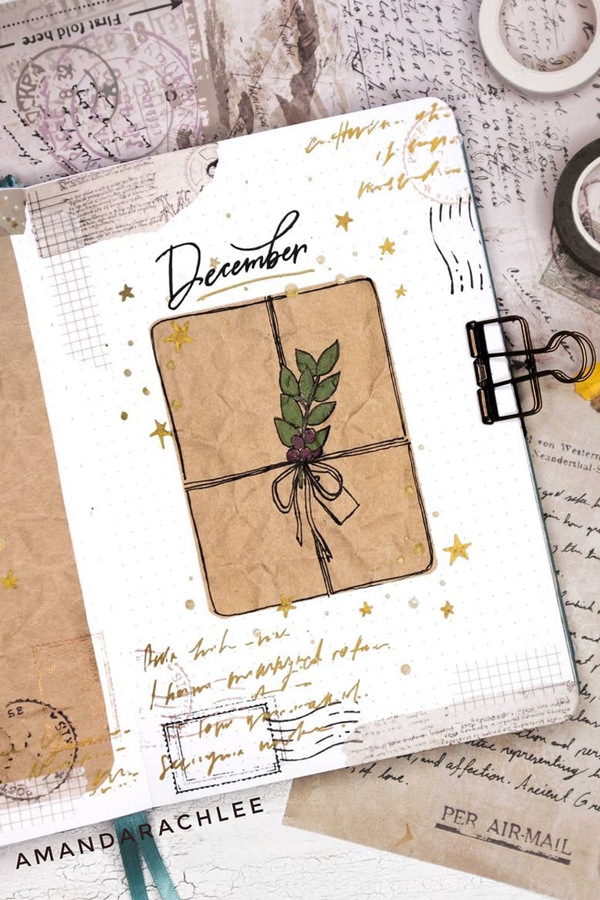 13. Reindeer Silhouette and Ripped Paper Design
Torn paper is a great way to add interest and texture to any page inside your bullet journal and looks simply stunning!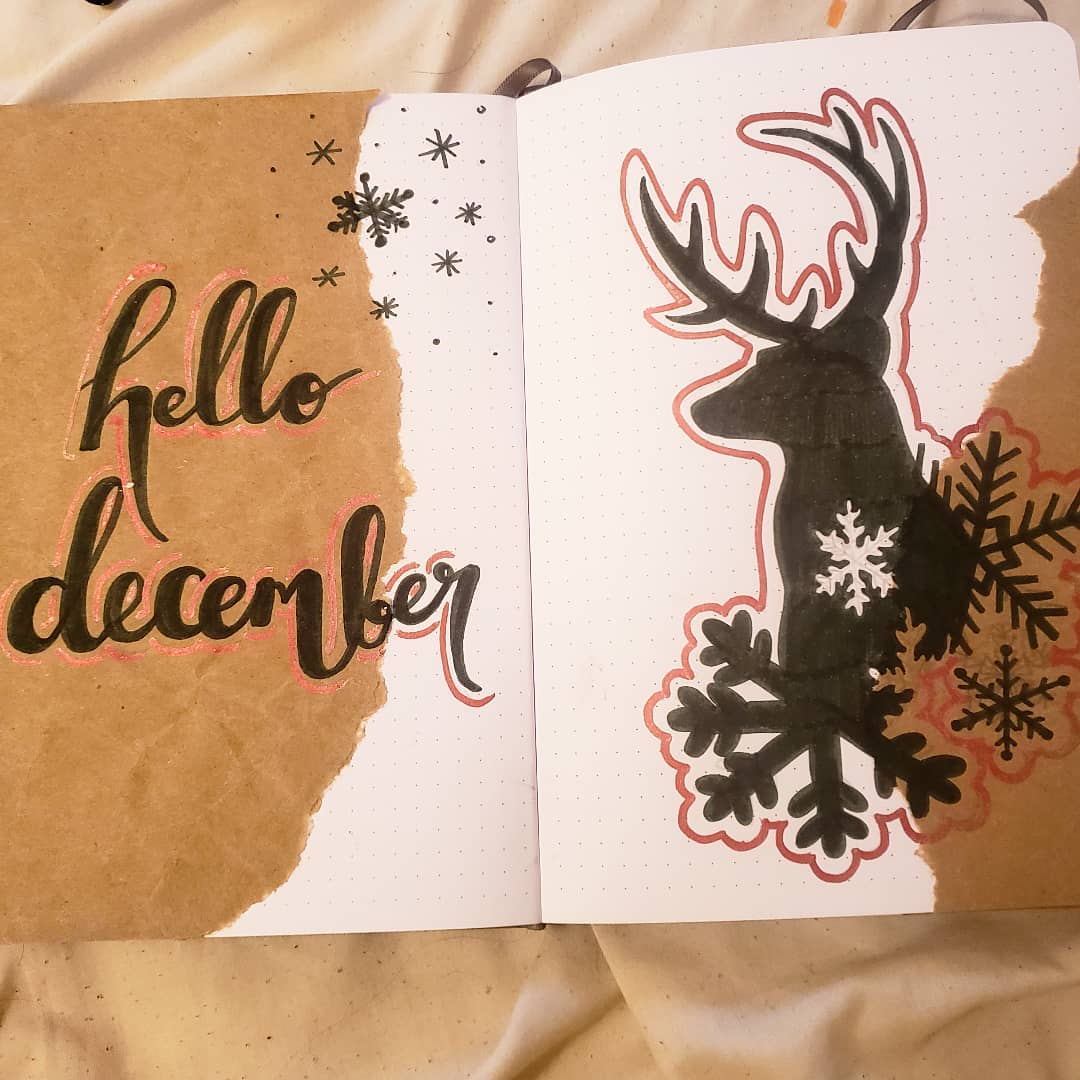 14. Candy Cane Doodles Cover Page
Candy canes are an easy doodle that anyone can do inside their bullet journal…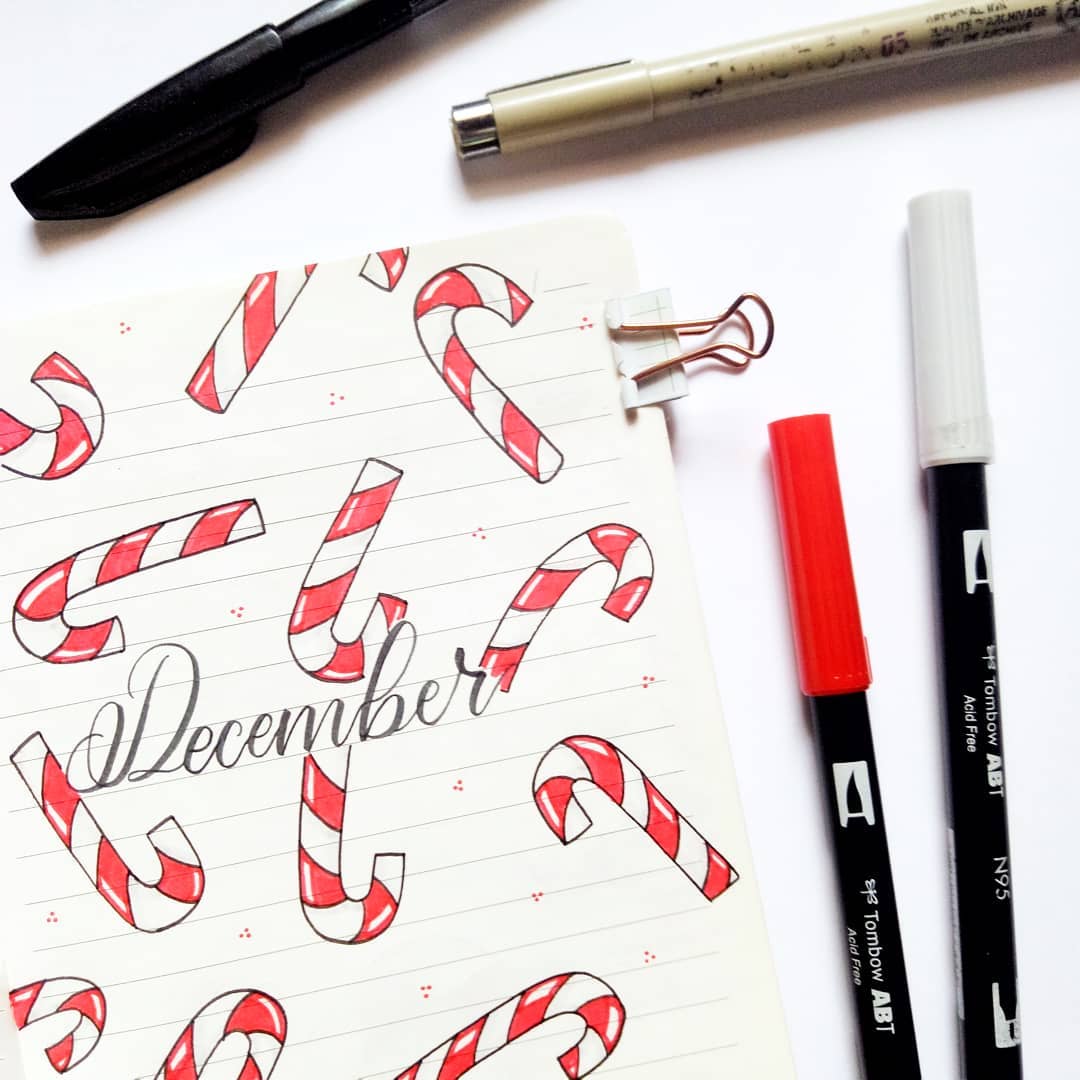 15. Red Car Loaded With Gifts Design
This festive design will give you all the feels of a classic Hallmark film…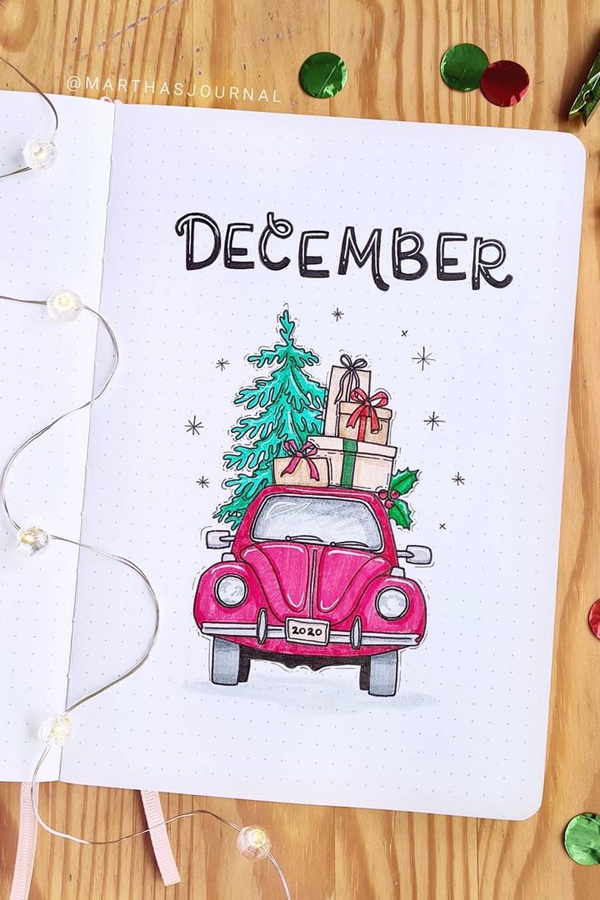 16. Red Letter Box With Christmas Letters Cover Page
This design is both simple and charming… why not give it a go this year?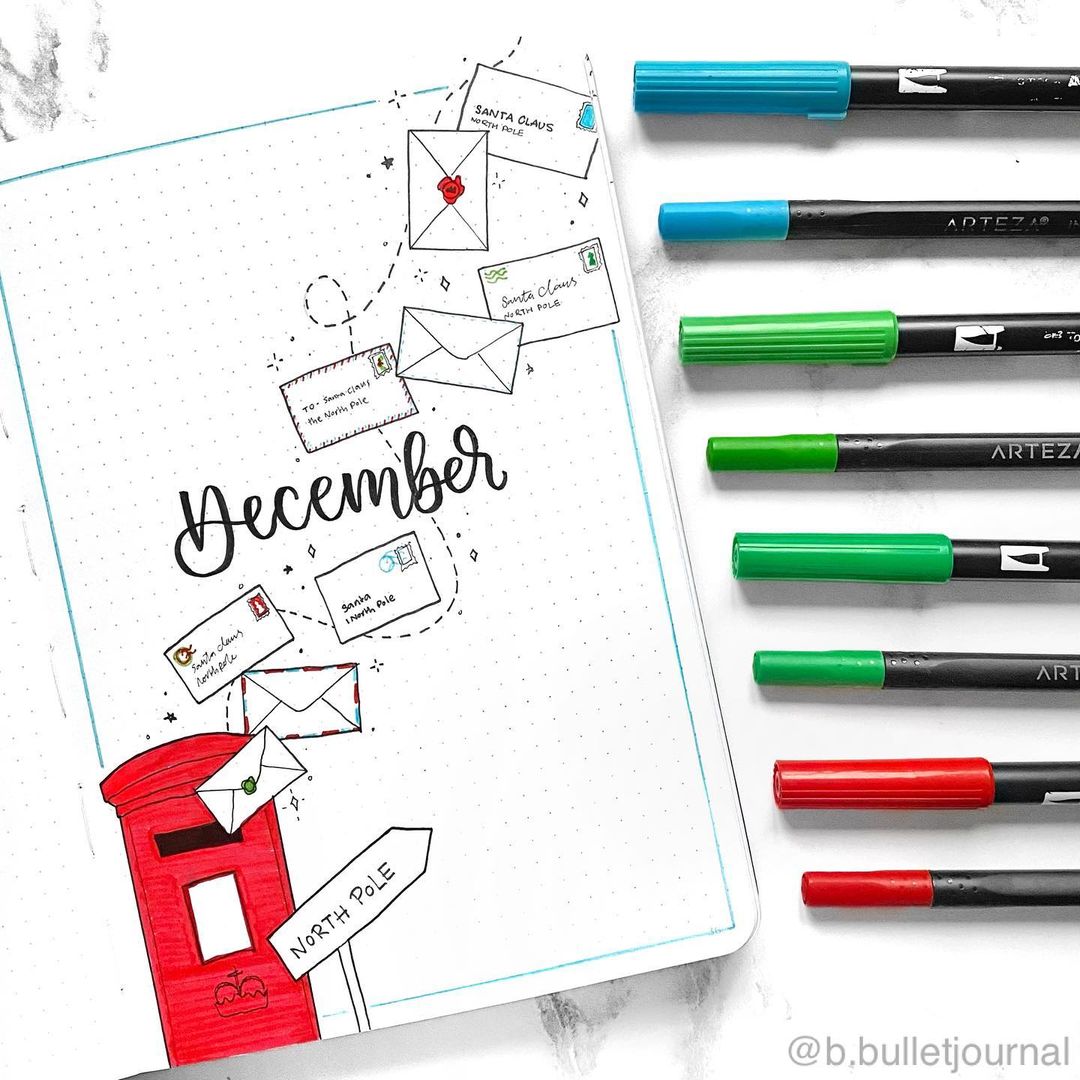 17. Festive Wreath December Cover Page
Beautiful wreaths aren't just for the front door… they also make pretty December cover page designs too!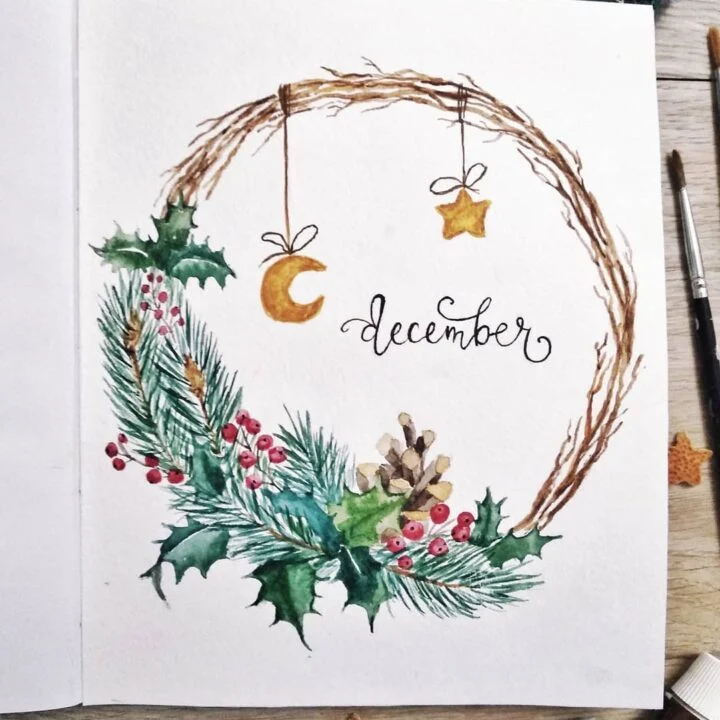 18. Adorable Gingerbread House
Here's another festive gingerbread house we think you'll love to recreate inside your bujo.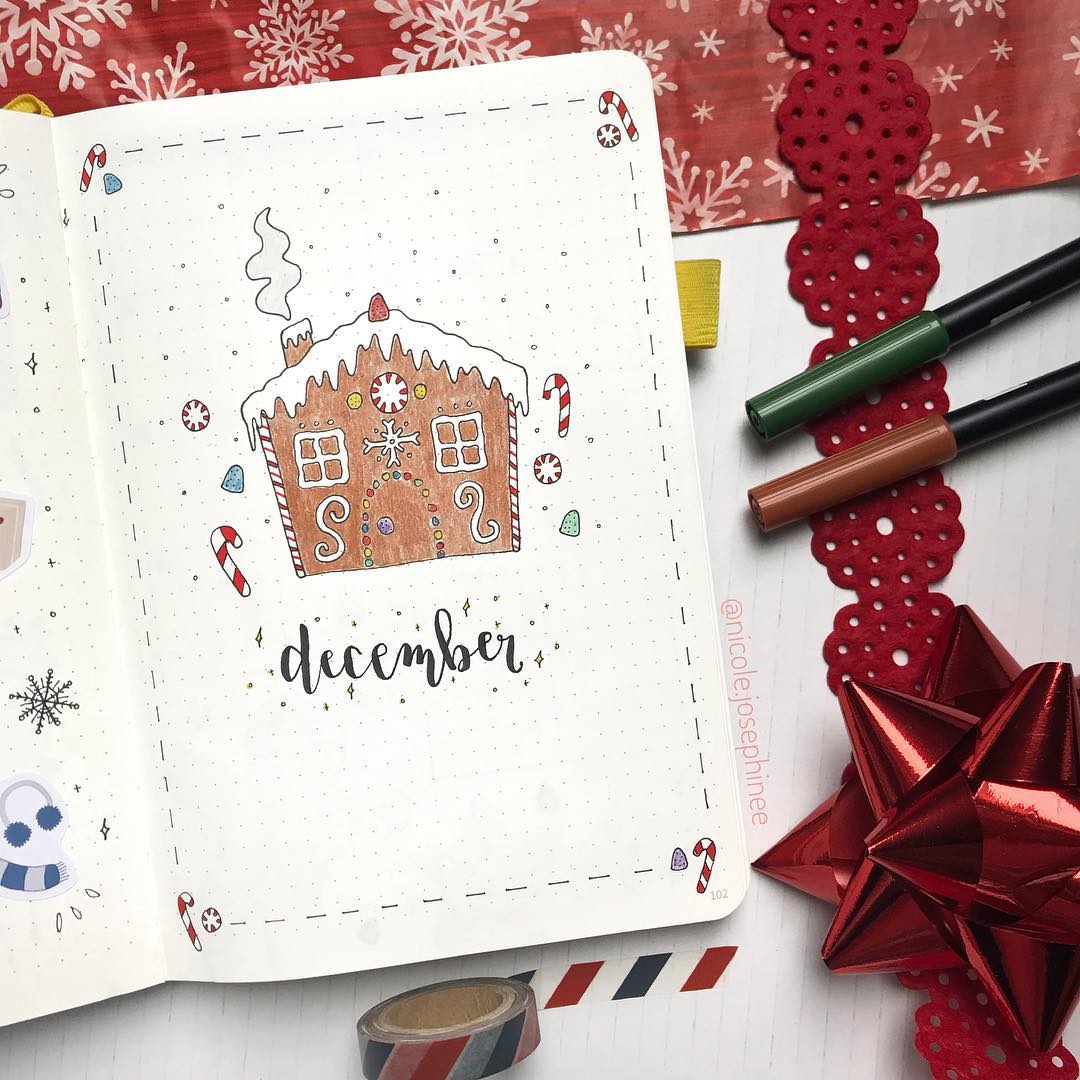 19. Simple Christmas Tree Design
Sometimes the most simple designs are the best… and this is one you've just got to try!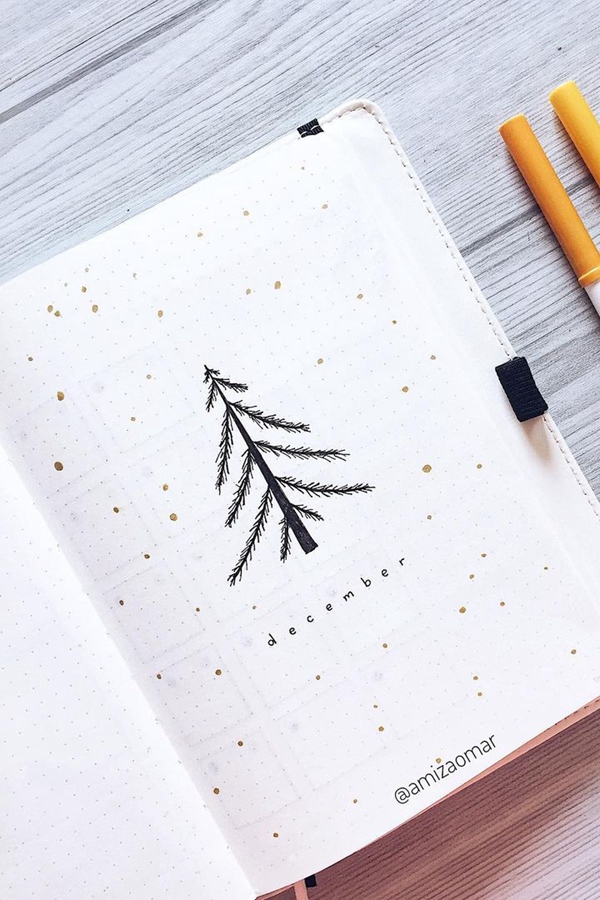 20. Cozy House Surrounded By Christmas Trees
Who wouldn't want to spend Christmas cozied up in this charming house surrounded by Christmas trees?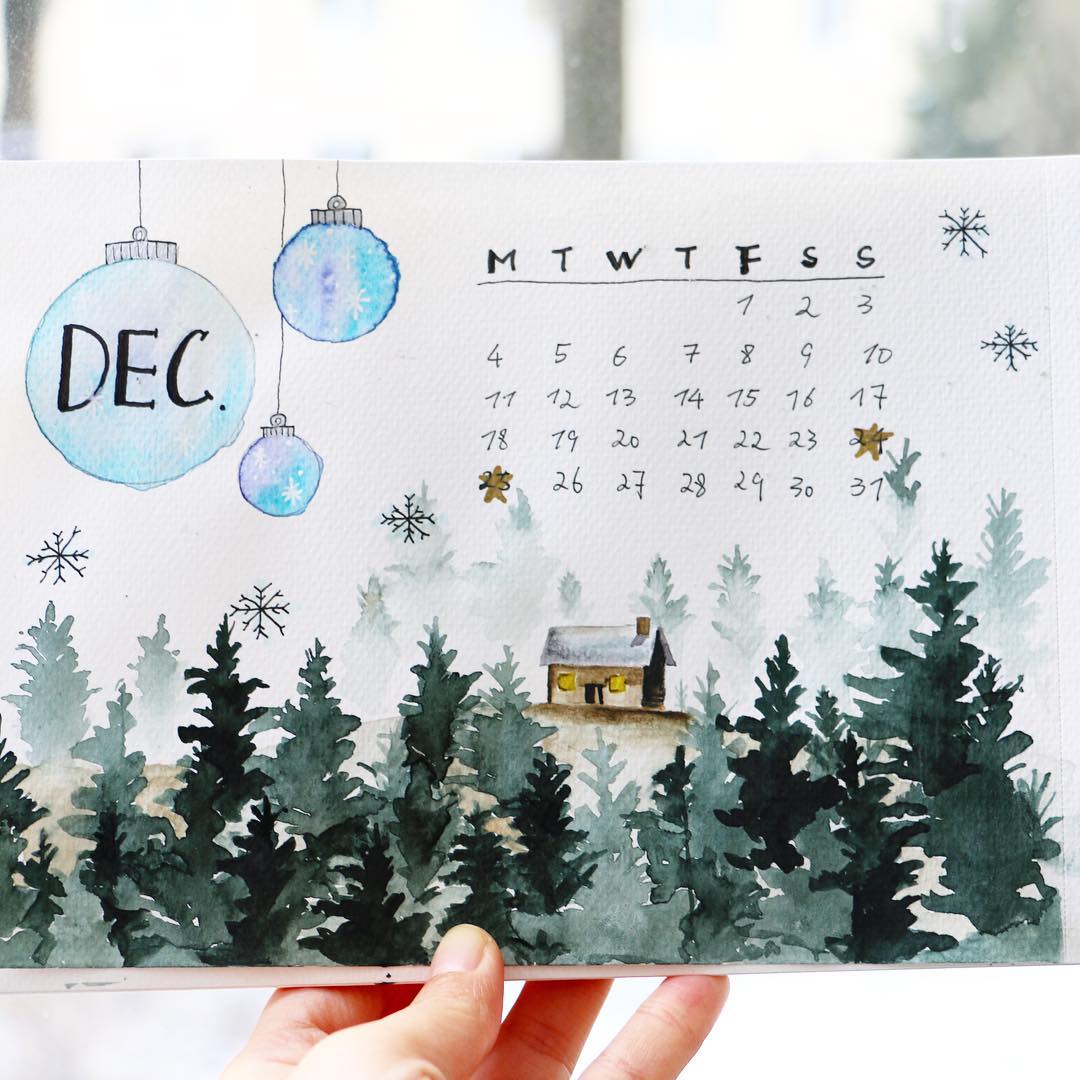 21. Christmas Cake Cover Page
We love this simple cupcake design with pretty snowflakes… although it does make us feel hungry!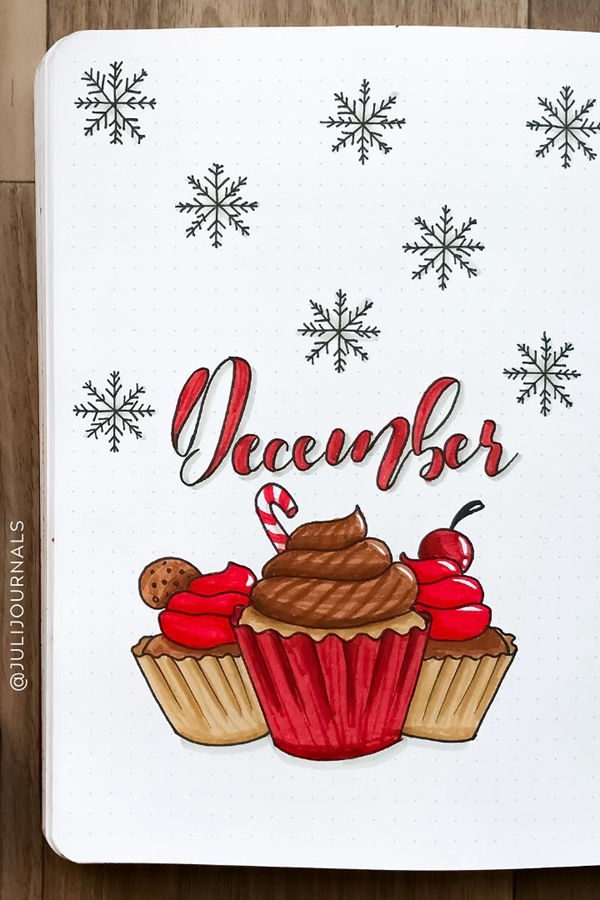 22. Cute Gingerbread Cookie Cover Page
Can we just take a moment to appreciate the creativity of this cover page? Who could resist dipping that adorable gingerbread man into a hot cup of tea?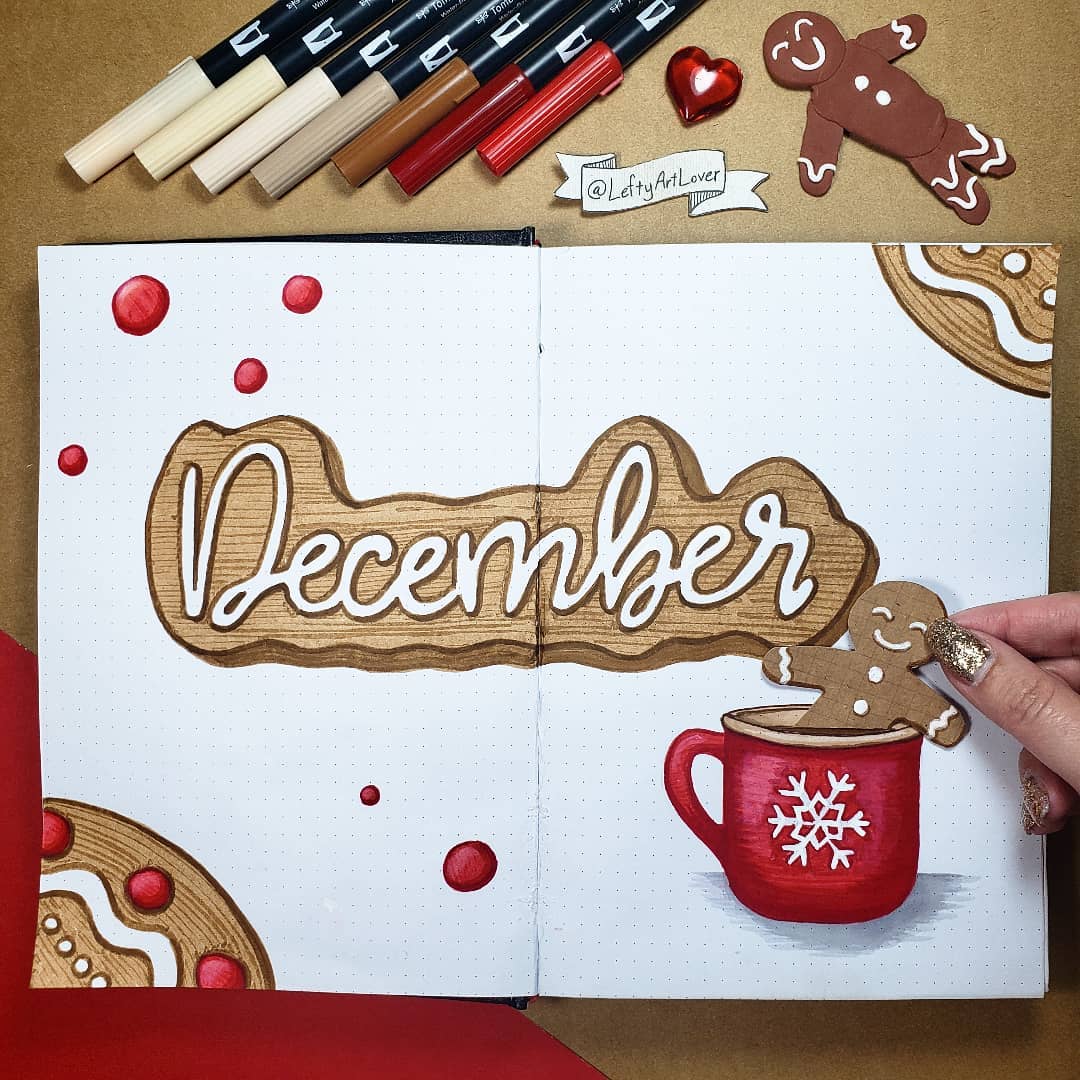 23. Watercolor Mistletoe Cover Design
Watercolors are perfect to use in your bullet journal and will help you to create some truly pretty designs…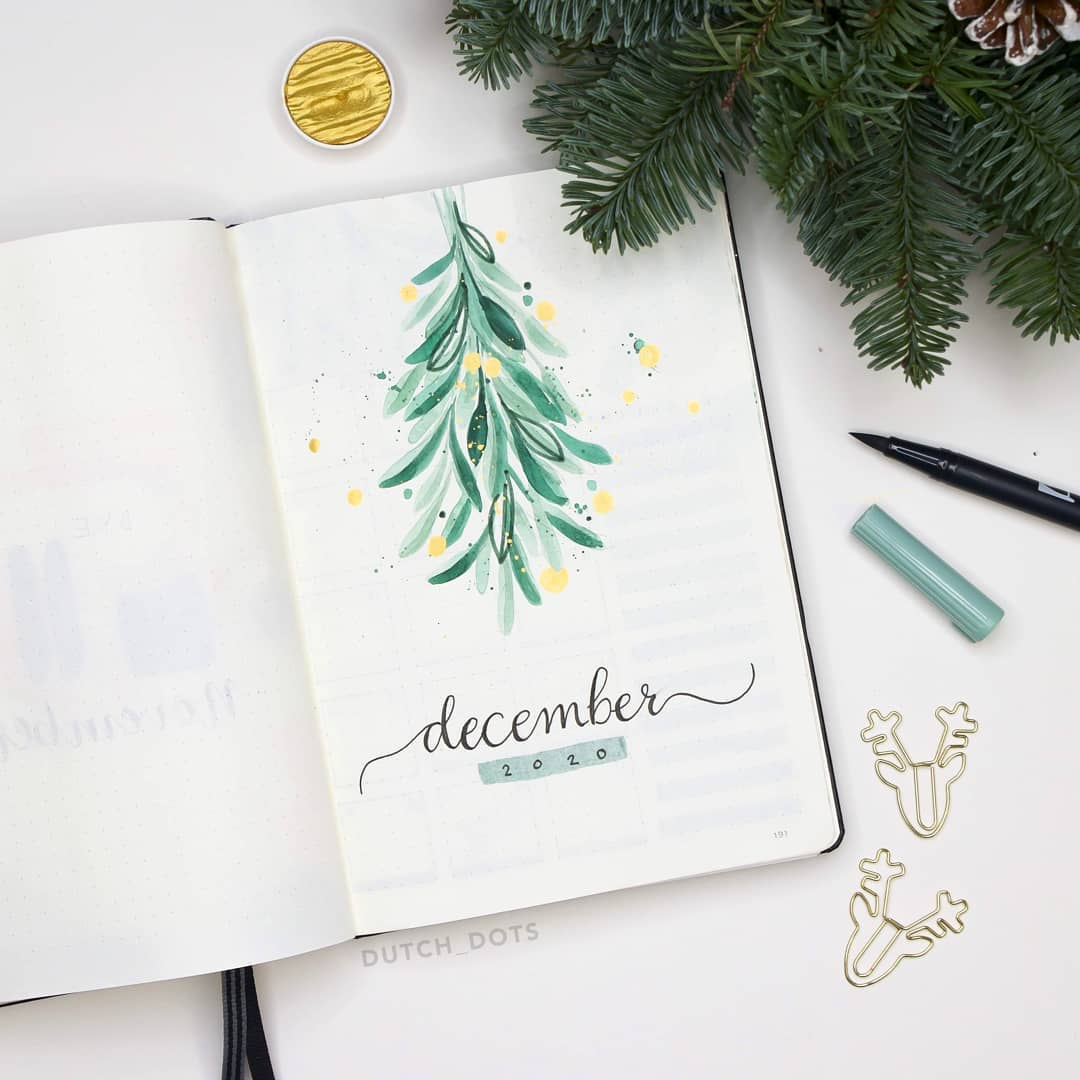 24. Christmas Fireplace December Cover Page Idea
A cozy village scene, some adorable stockings just waiting to be filled with little gifts, and a cozy fireplace… looks like the perfect Christmas to us and would look awesome in your bujo!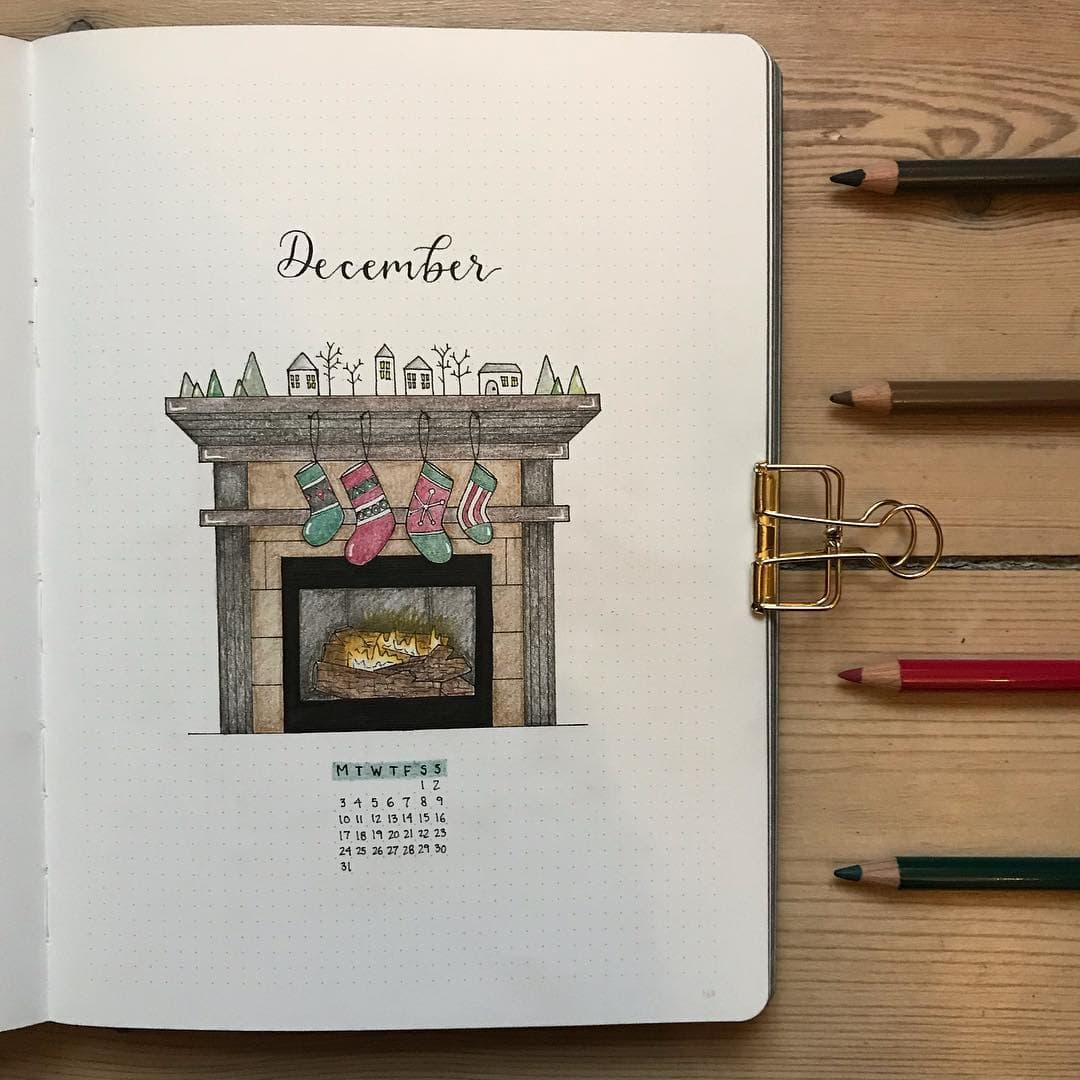 25. Christmas Ornaments December Cover Design
Grab your gold pens and add some cute and shiny accents to your design like this stunning one here… it is Christmas after all!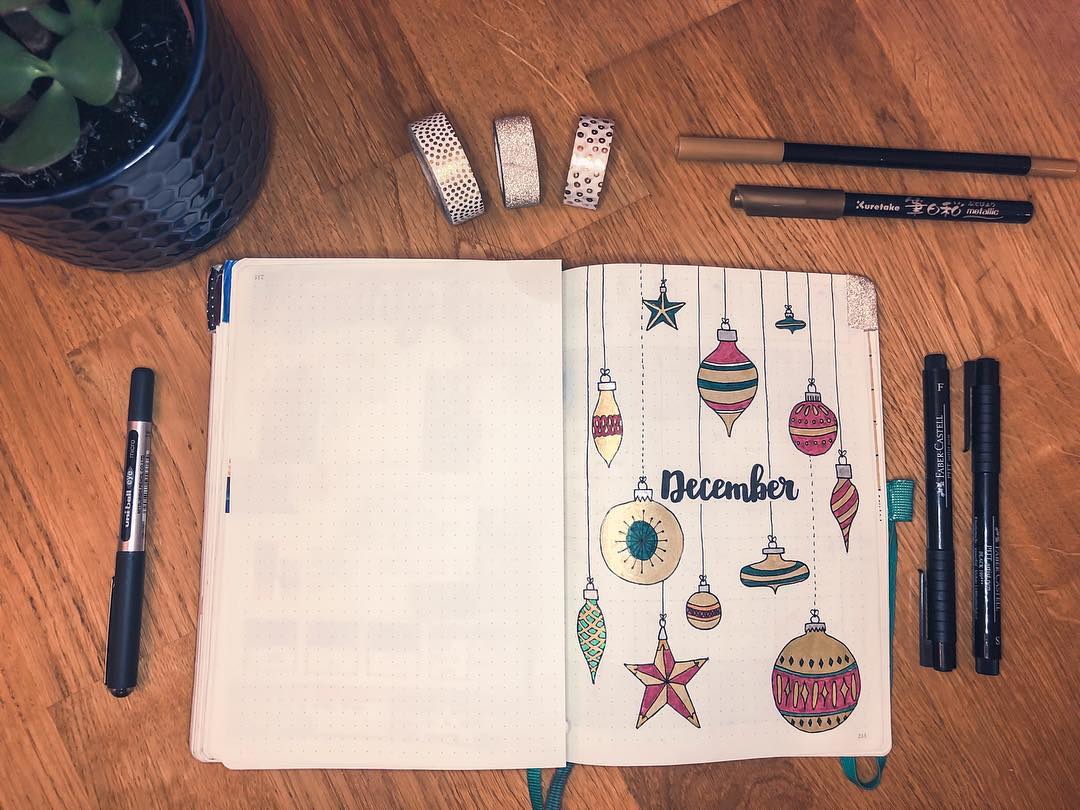 26. Festive Window Scene Cover Page For December
This festive window scene will make for a wonderful Christmassy design in your bullet journal. We love the glowing of the fairy lights too!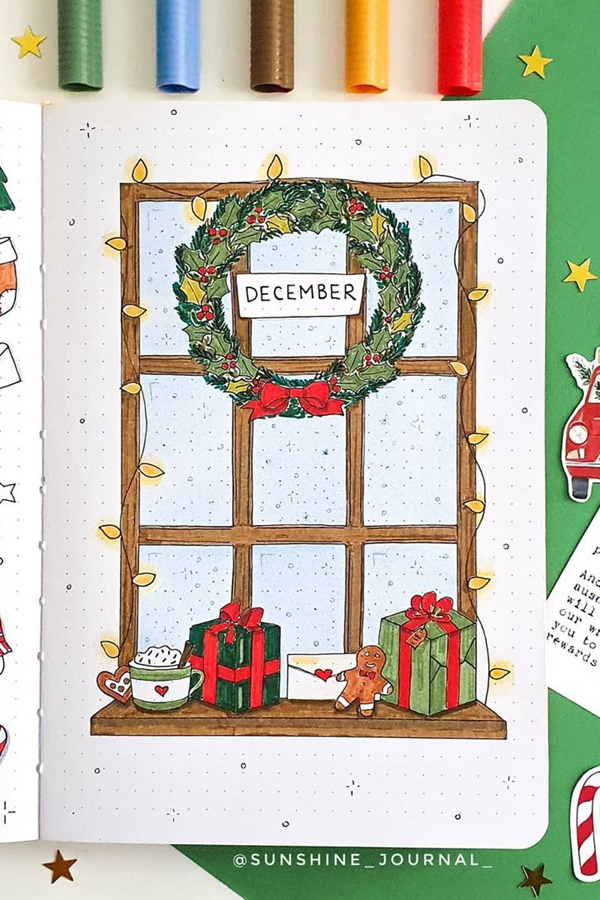 27. Festive Car With Christmas Tree On Top
More Hallmark movie vibes with this charming red car carrying a perfect Christmas tree.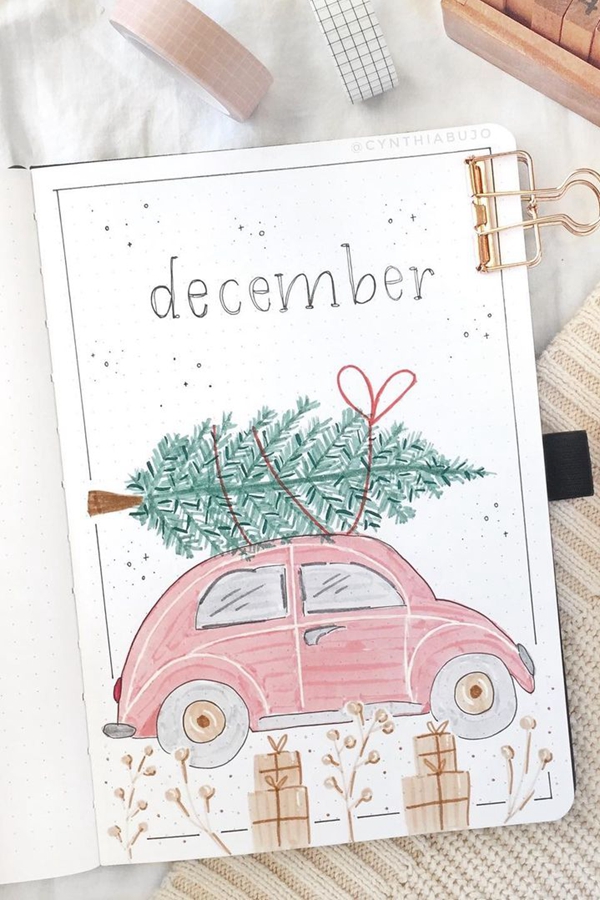 28. Colorful Christmas Tree December Cover Design
Oh Christmas tree, oh Christmas tree… how lovely do you look on this December cover page? Definitely give this one a go if you want something that's very festive but simple to do…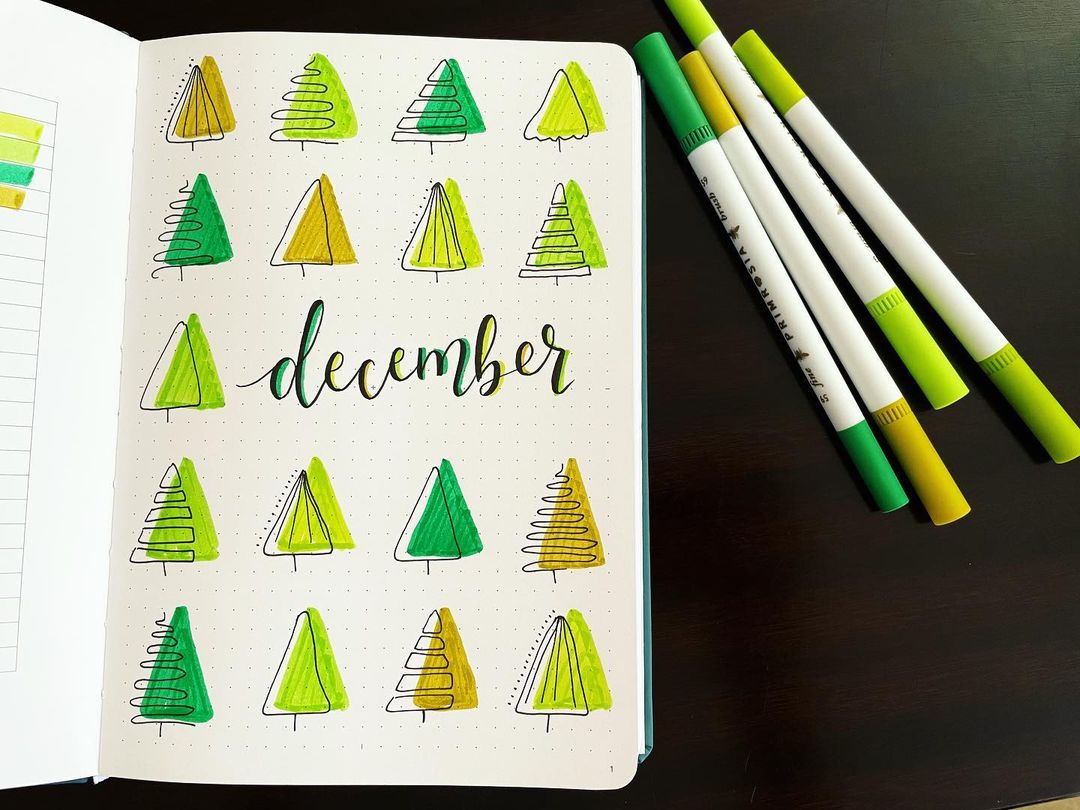 29. Colorful Festive Wreath Cover Page
This unique festive wreath is perfect to use as a monthly log too!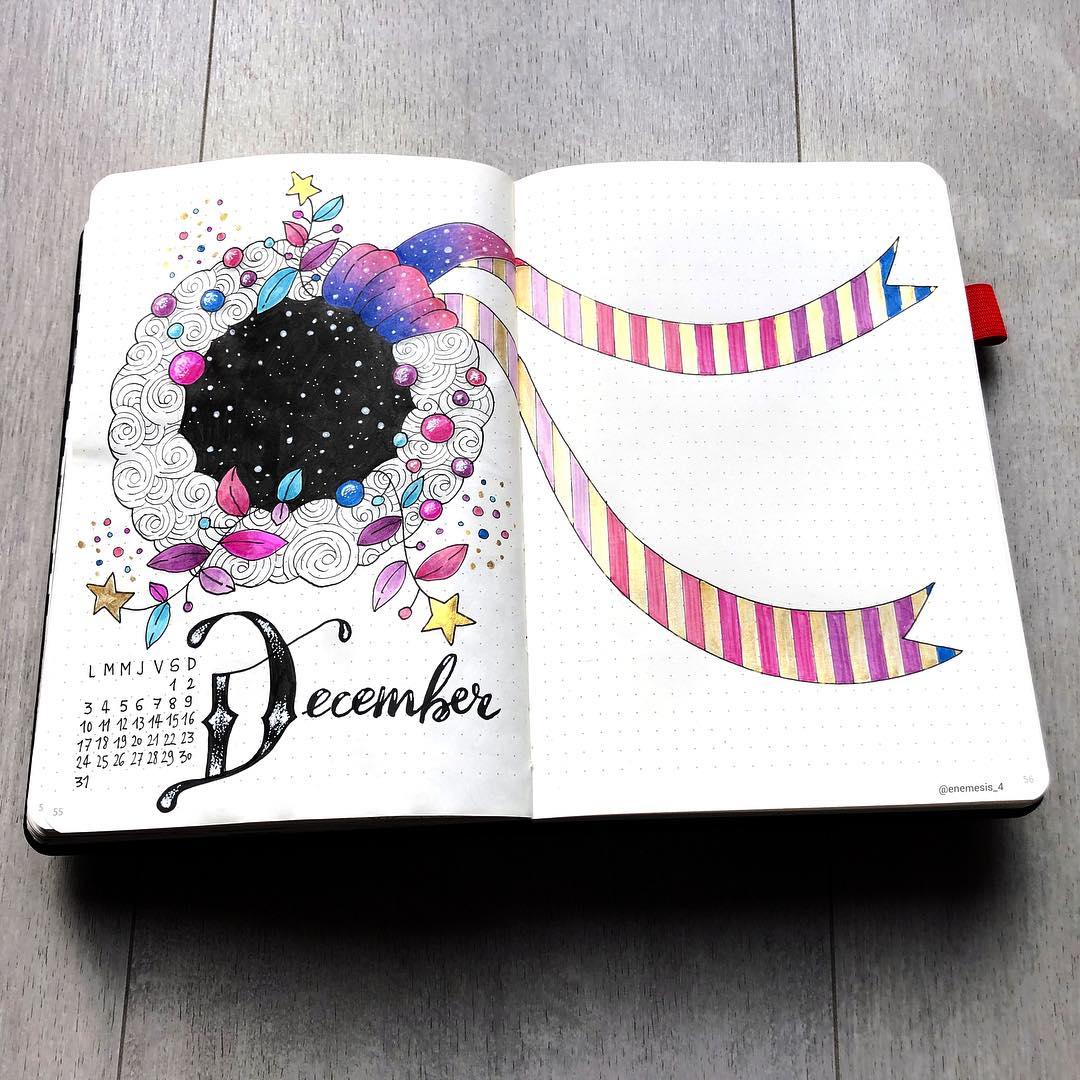 30. Rainbow Gnome December Cover Page
Who knew rainbows could be so festive?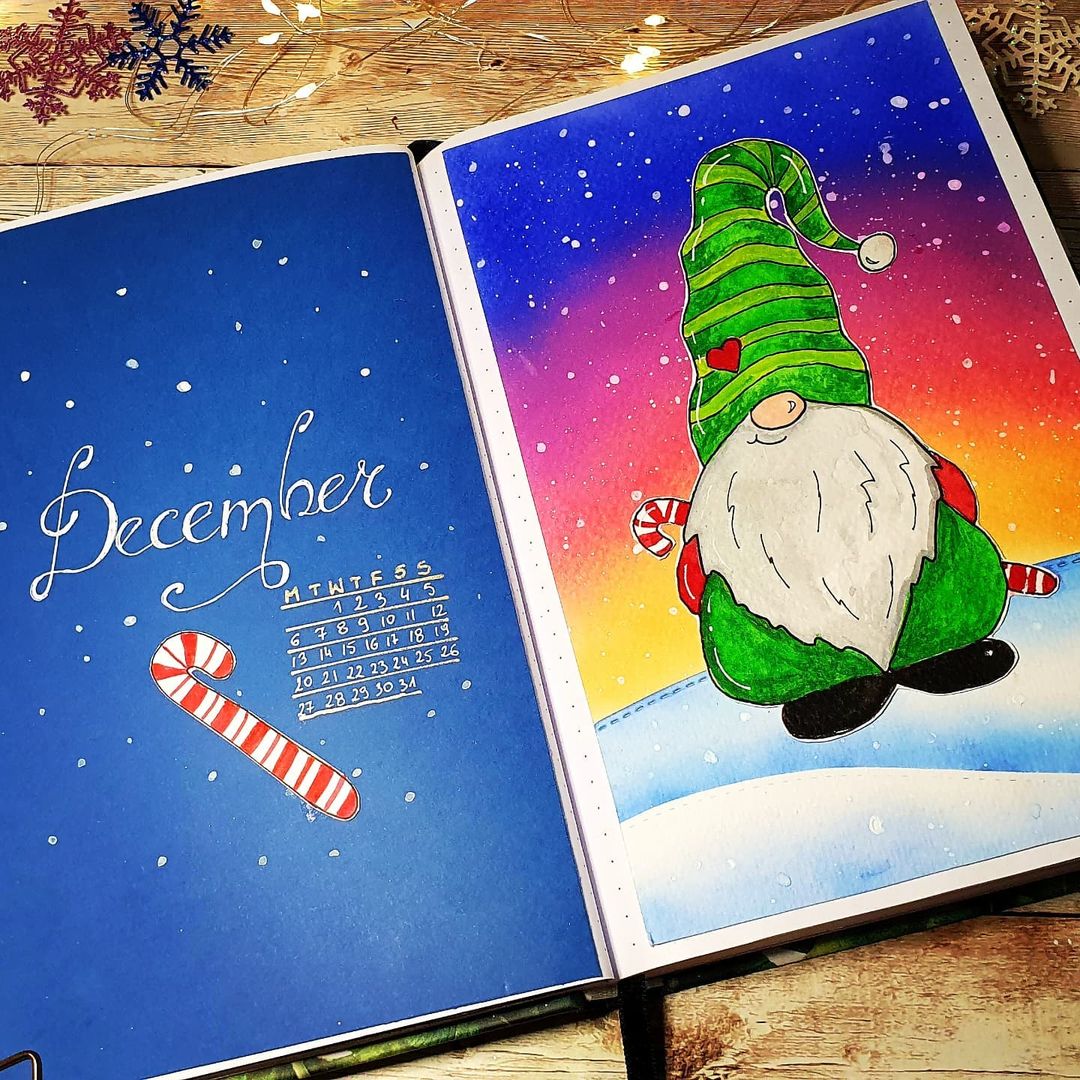 31. Candy Canes and Mistletoe December Cover
We love these festive doodles in traditional Christmas colors of red and green.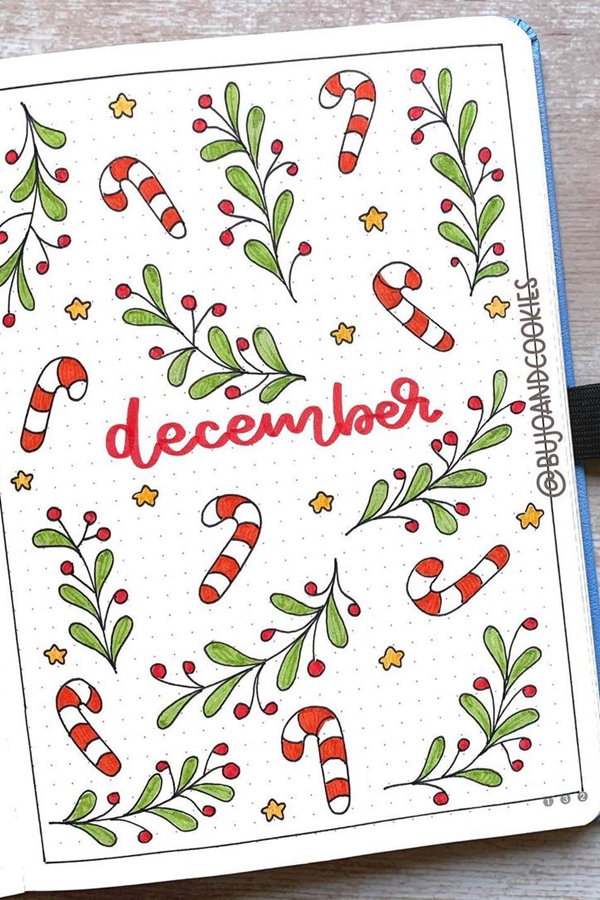 32. Advent Calendar Spread
How adorable is this advent calendar December spread? We think this is the perfect cover page if you're looking for something a little different.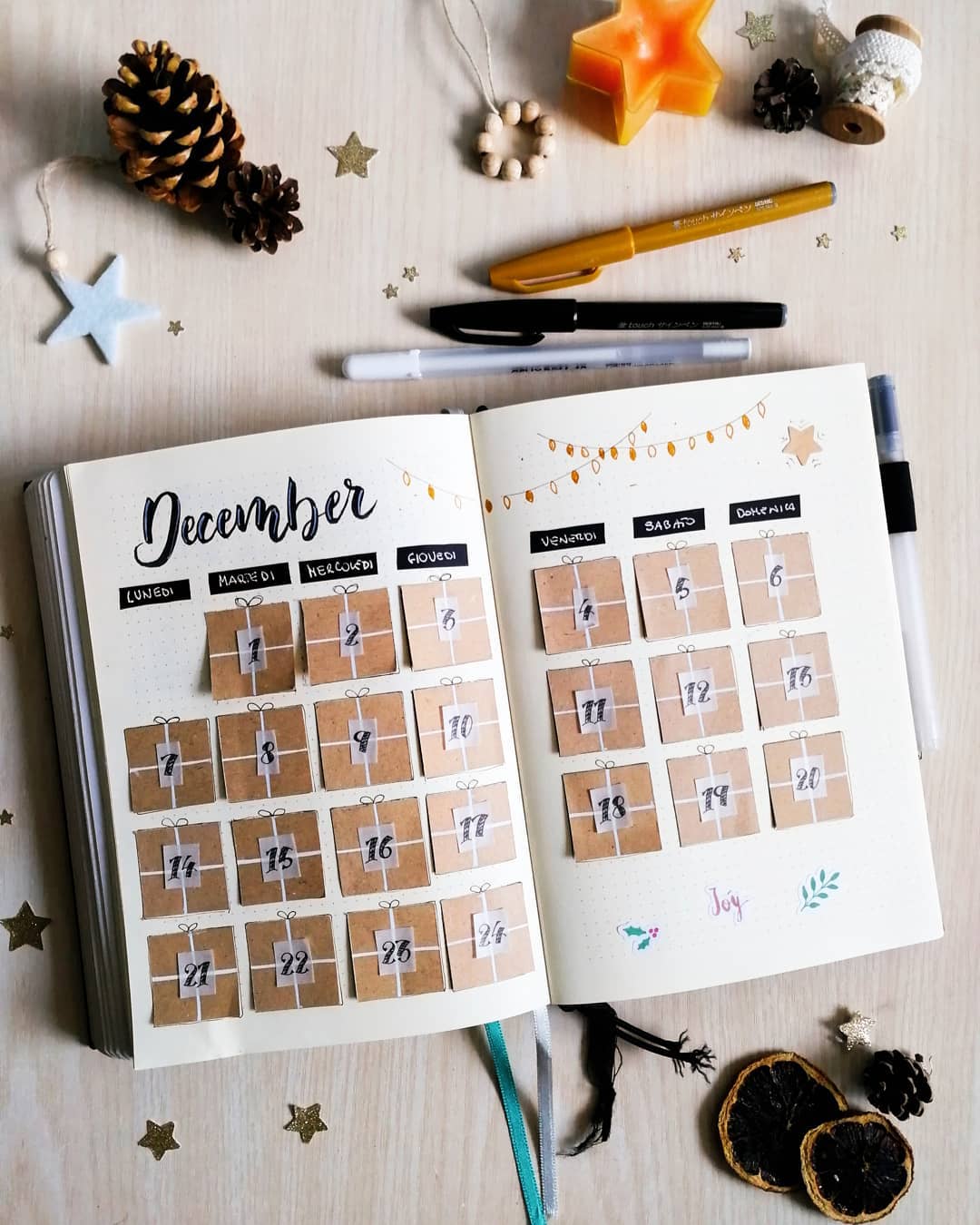 33. Cute Mini Ornaments Design
Mini anything equals maximum cuteness factor and we think you'll agree that this December cover page decorated with mini ornaments is no exception…