Use these incredible bullet journal inspiration ideas to help you achieve your best year yet!
Whether you're looking for habit tracker inspiration or different bullet journal spreads for tracking savings, moods, periods and more… this post will help you to be successful & live your best life!
P.S. I am always adding new bullet journal inspiration to this page so be sure to click here to quickly & easily save this post to Pinterest so you can easily come back time & time again to see what's new!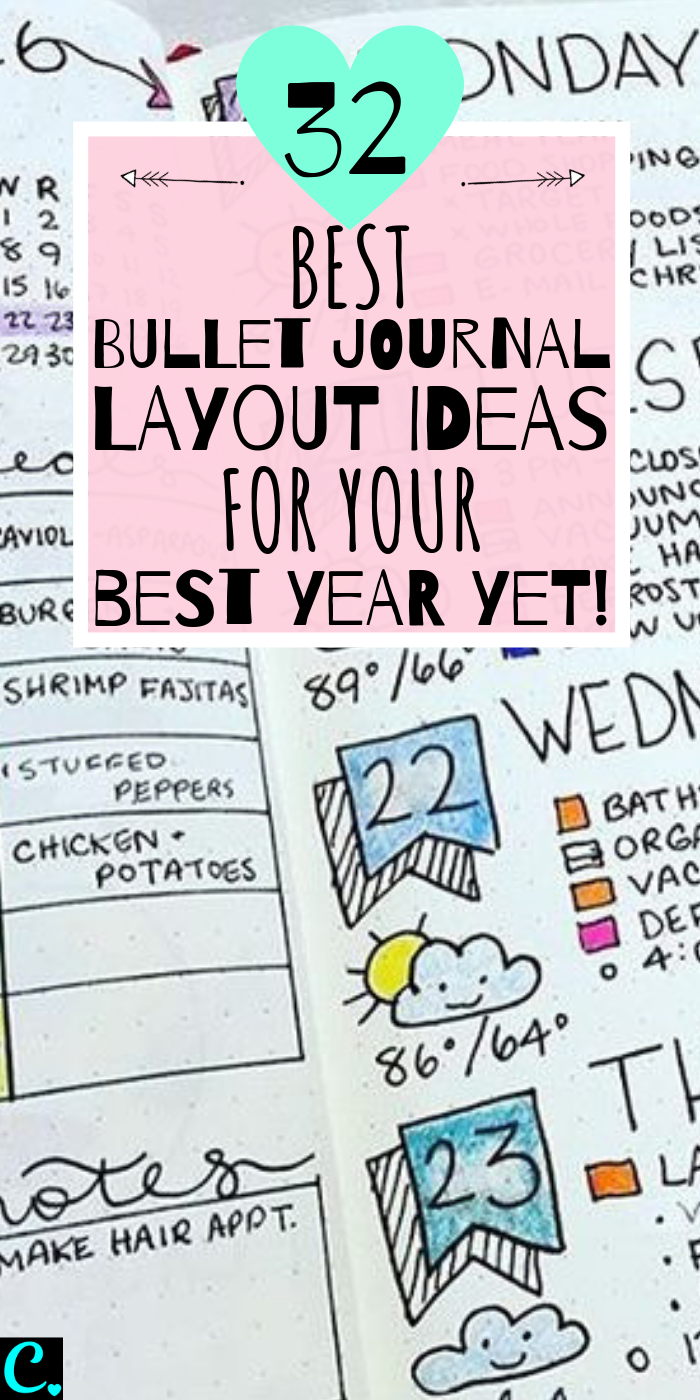 #1

Polaroid Themed Mood Tracker
Use this polaroid themed mood tracker to take a snapshot of how you've felt during the month. I love using mood trackers because they serve as a great reminder on really rough days that every day won't be as bad.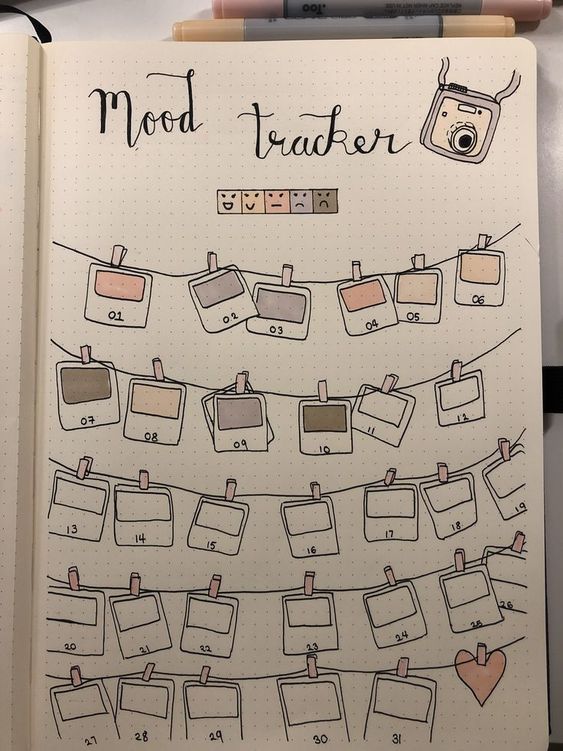 #2

Places To Travel Layout
There are so many places to explore in this world that it makes sense to use a page in your bullet journal to remind you of the ones you want to visit most. This page is a great way to visually remind yourself of why you want to travel to these countries.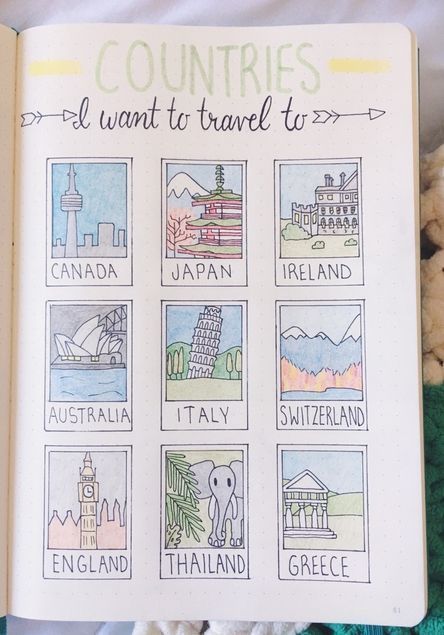 #3

Things You Can Control Bullet Journal Page
This is one of my favorite ways to refocus on what I am in control of and have the ability to influence in my life. The simple design of this page will really help you to focus on the key points.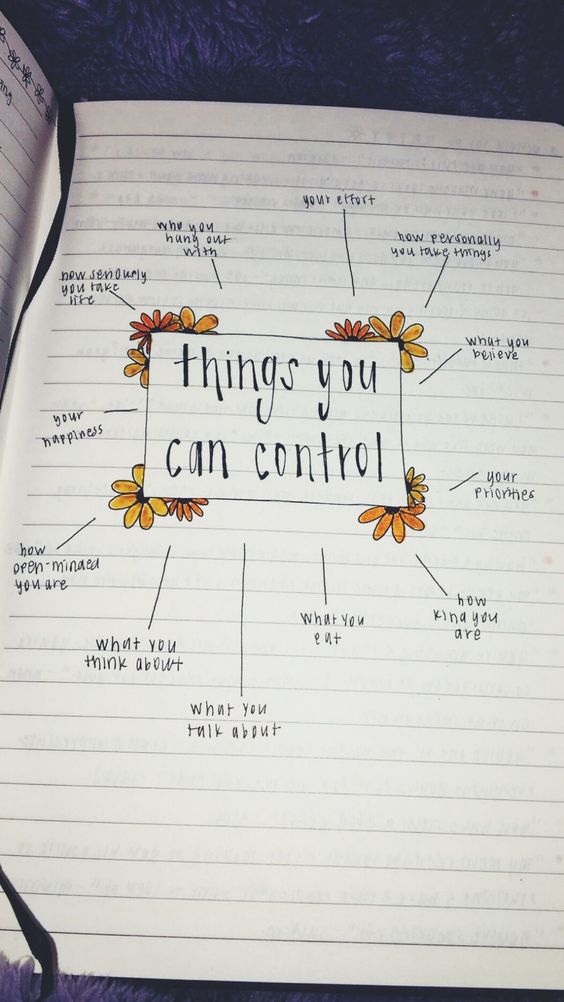 #4

Sleep Log Page Layout
Ever wonder why the day seems to be dragging or you're having issues with your focus and productivity? I find as a mum of 3 that sleep is always playing a big part in this! However, with this colorful effective layout, you can easily see if you need to catch up on a few more zzzzz's!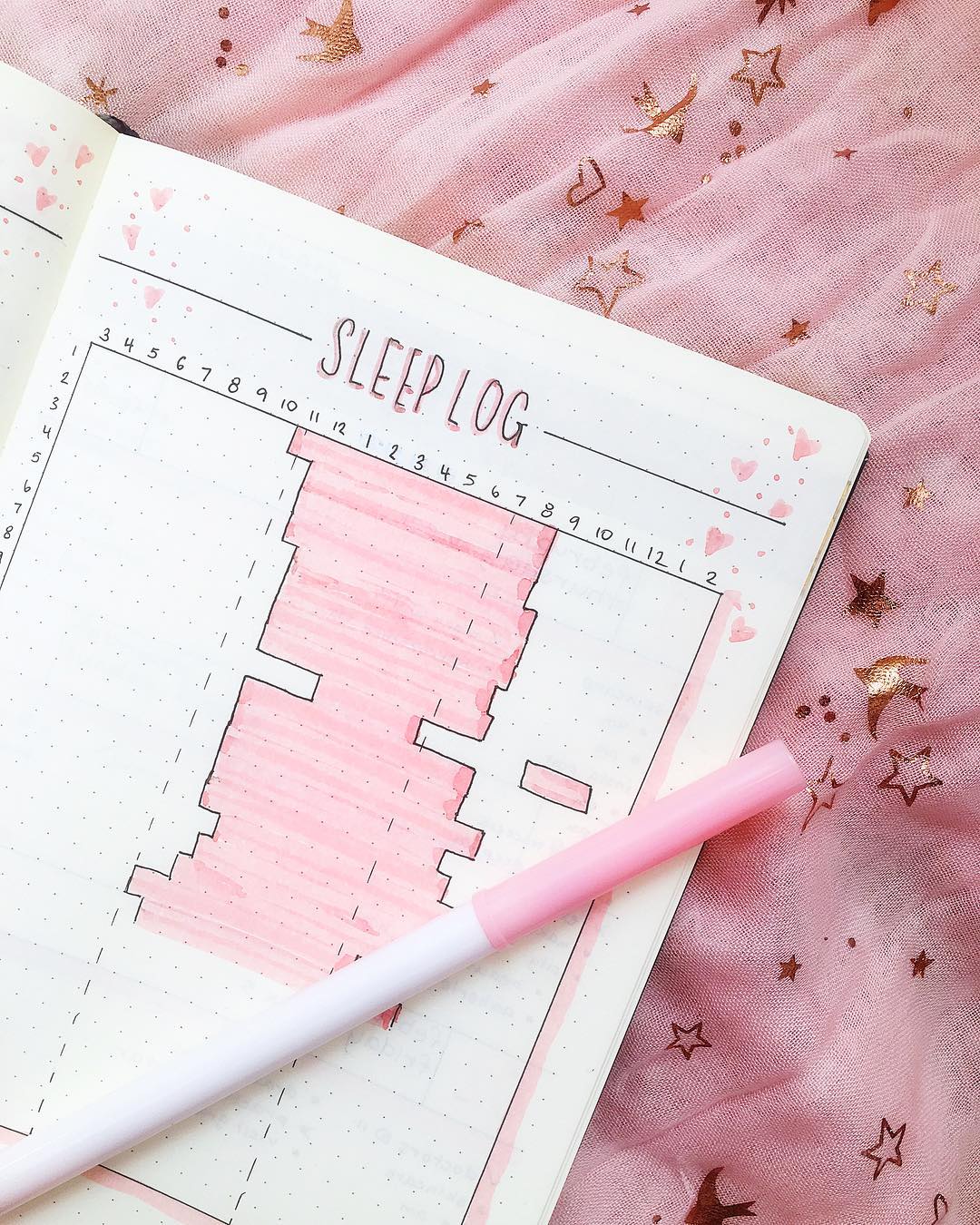 #5

Gumball Machine Habit Tracker Layout
Who doesn't love a gumball machine right!? I have issues when it comes to tracking where my time has gone and what exactly I've done with it. This vibrant design is right up my street and super popular for people wanting to track their habits.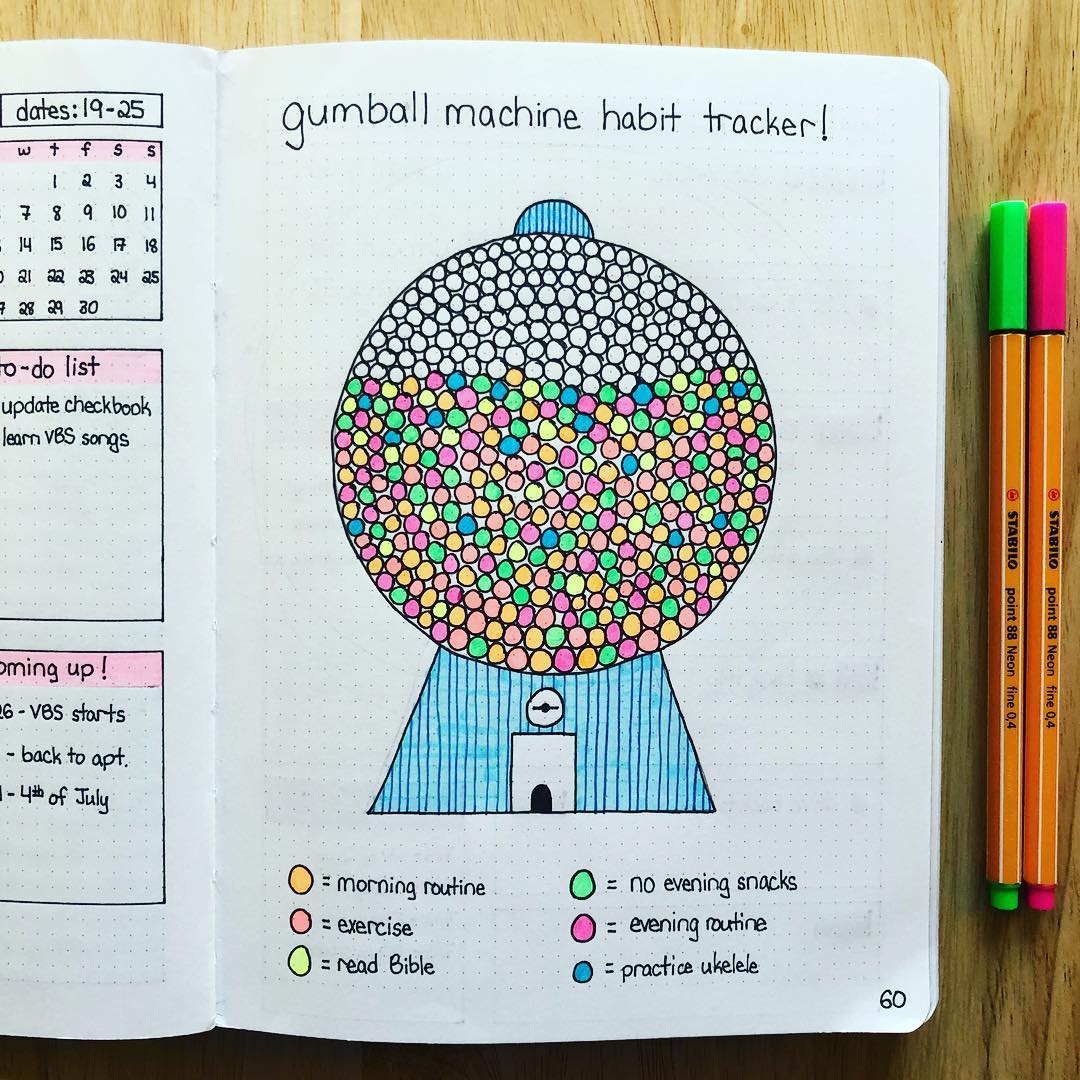 #6

Bubble Gum Mood Tracker
Very similar to the one above, this mood tracker is my go-to method when recording my moods! It is so simple but gives a very powerful illustration to me of those happy and not so happy days throughout the month.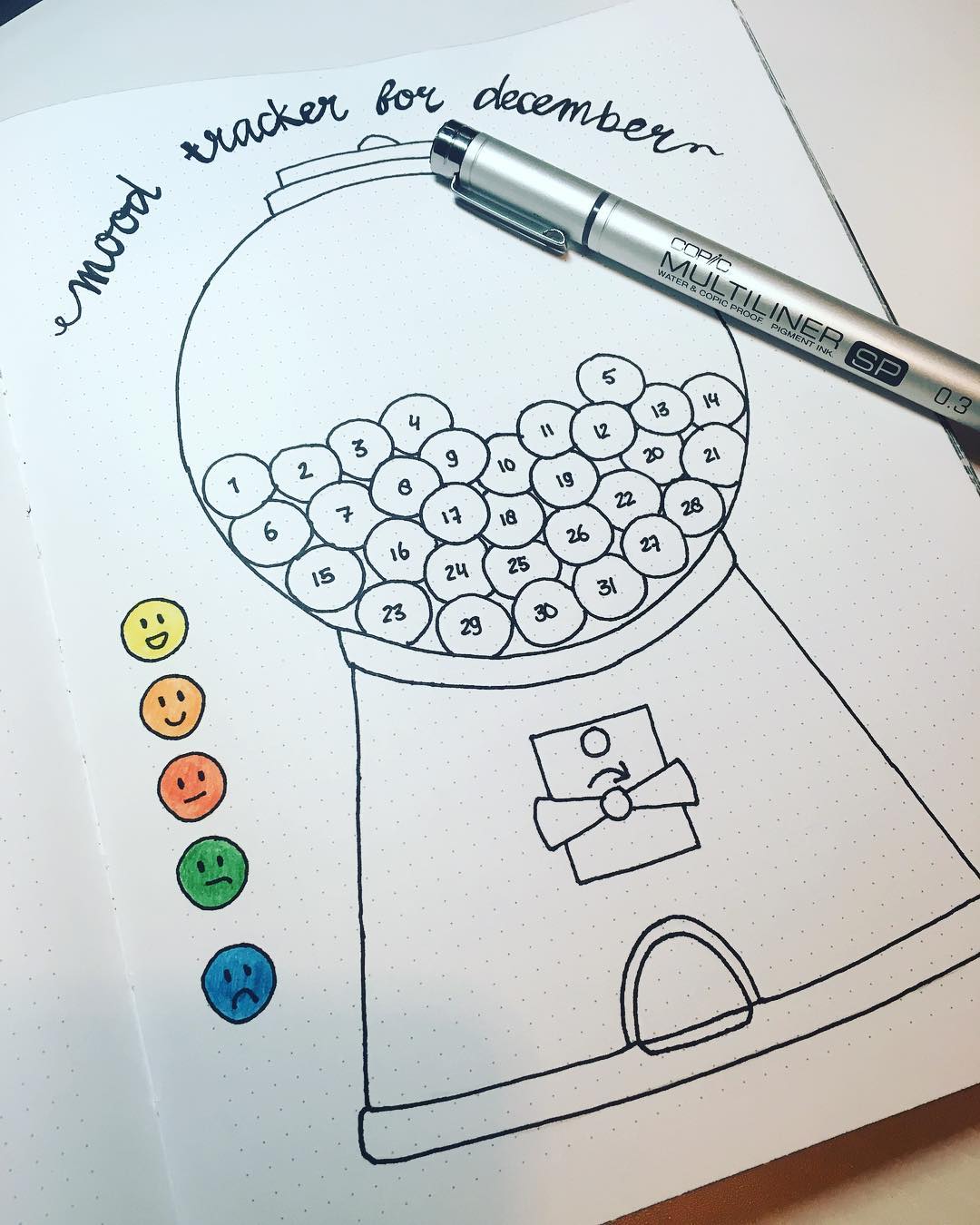 #7

Period Tracker
Now if you're as scatty as me you may feel this uncontrollable rage build up inside or this overwhelming need to jump in that fluffy cloud of a bed and shut out everything and everyone. I suddenly realize I am due one and all then all makes sense. A period tracker like this one is a lifesaver (for my family) and acts as an early warning system for me and lets me prepare the week ahead.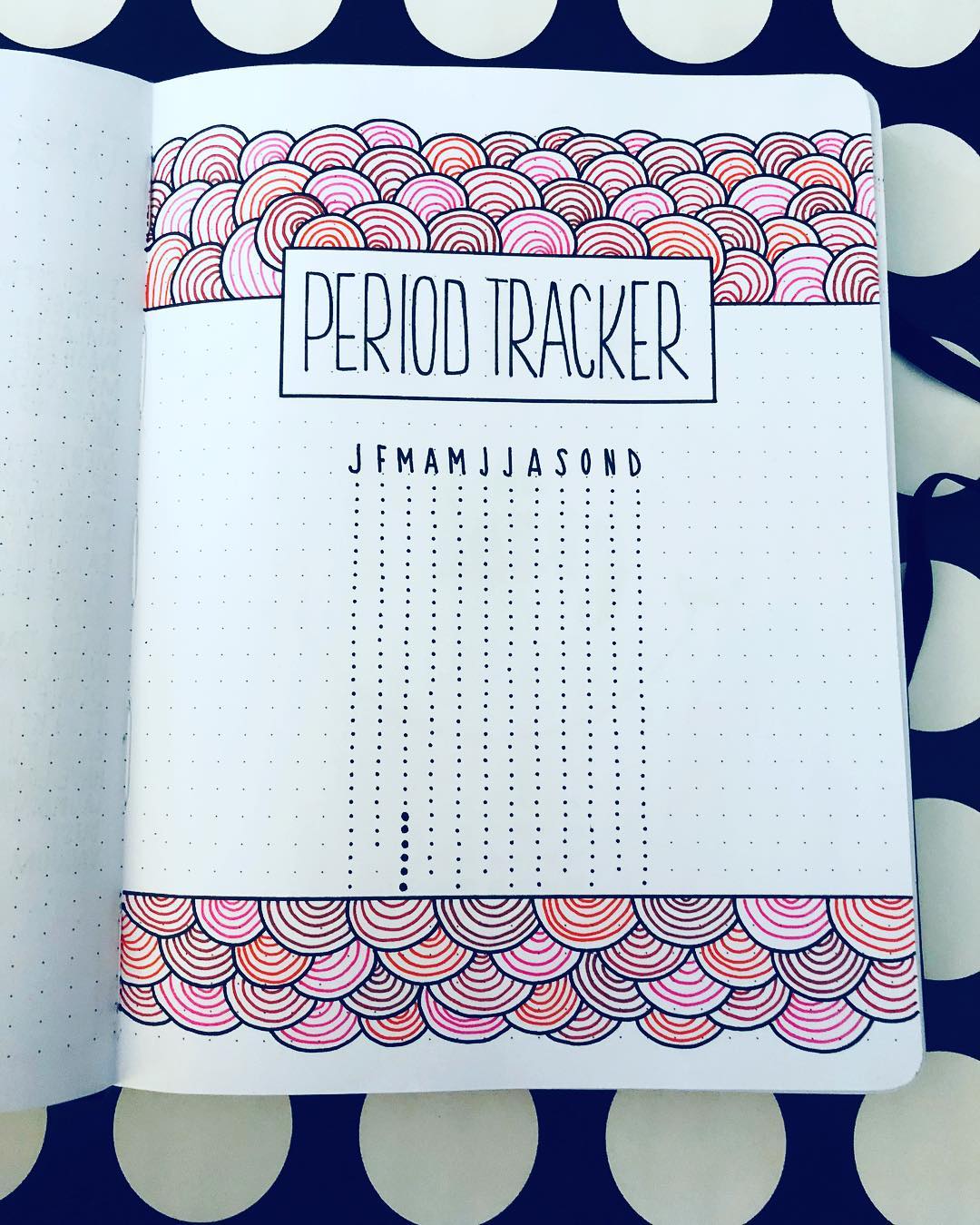 #8

Self Care Page
One of the most important ideas on this list and usually the one everyone overlooks. Take some time for self-care and use the tracker to make sure you stick to it! You deserve some you time and 30 minutes is more than justified. These tips will get you in the swing of a little TLC time and give you some inspiration when your not sure how to do that.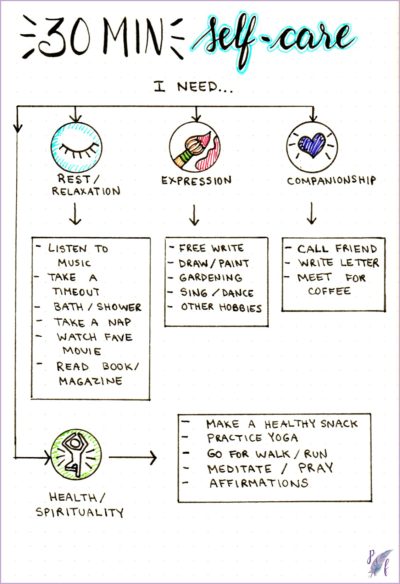 #9

Things That Make Me Happy Page Layout
Just writing out a list of things that make you happy will be all you need to feel happier… the best part about a page like this in your bullet journal is that you can look back over the list whenever you need a little reminder of little things in life that always make you smile.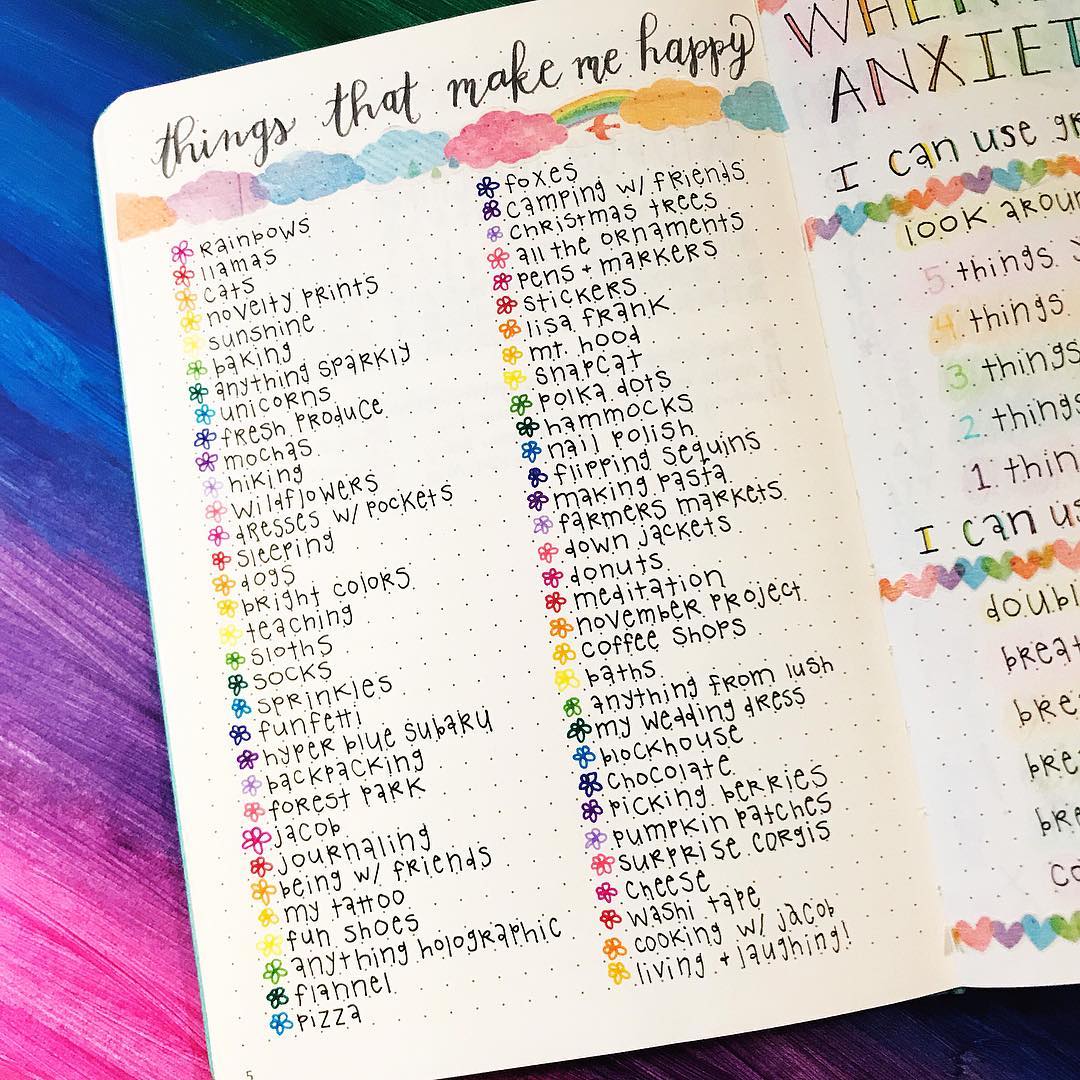 #10

Succulent Themed Habit Tracker
Here is another really popular habit tracker that will be perfect to use if you're a lover of all things green & succulent! The hexagonal shape is perfect when you want to fit a lot of information on the page as it's really compact.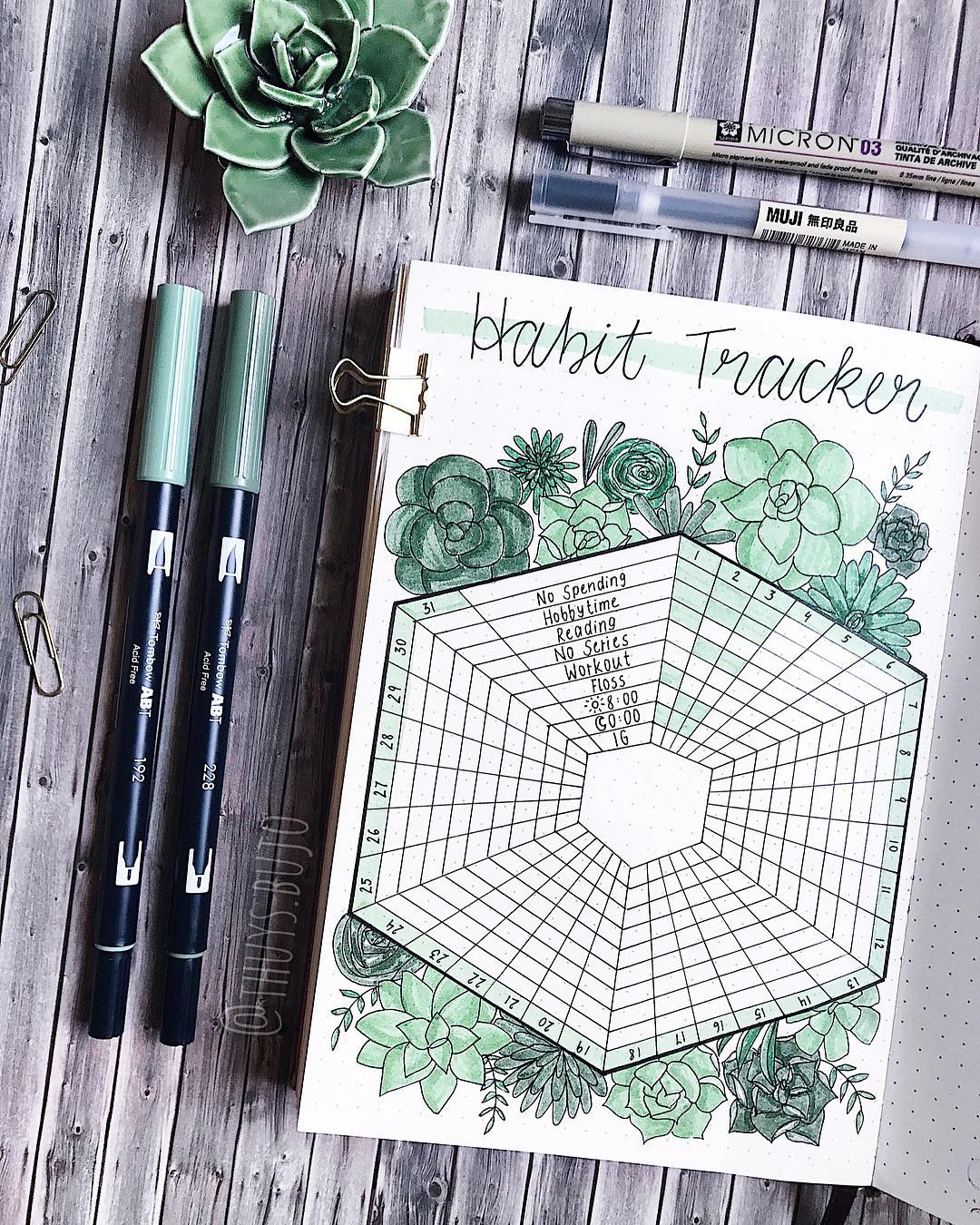 #11

Simple Daily Habit Tracker
Before I used a daily habit tracker my days were all over the place! A habit tracker like this one is a really simple way to be able to see instantly the areas in your life that you need to improve!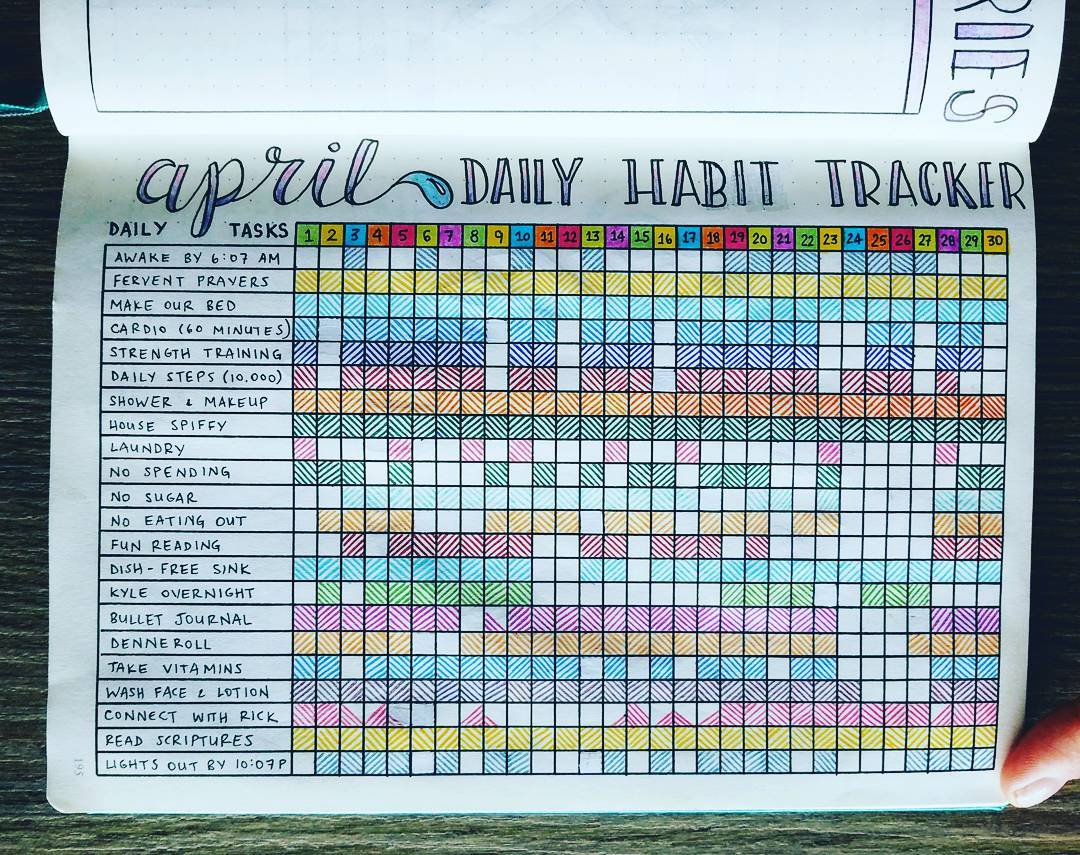 #12

Tips For Thriving Page
If you often find yourself struggling to stay on track with achieving your goals then this Thrive page is an absolute must-have for you. It's a simple way to remind you of what you expect for yourself & hold you accountable for living your best life… you deserve it!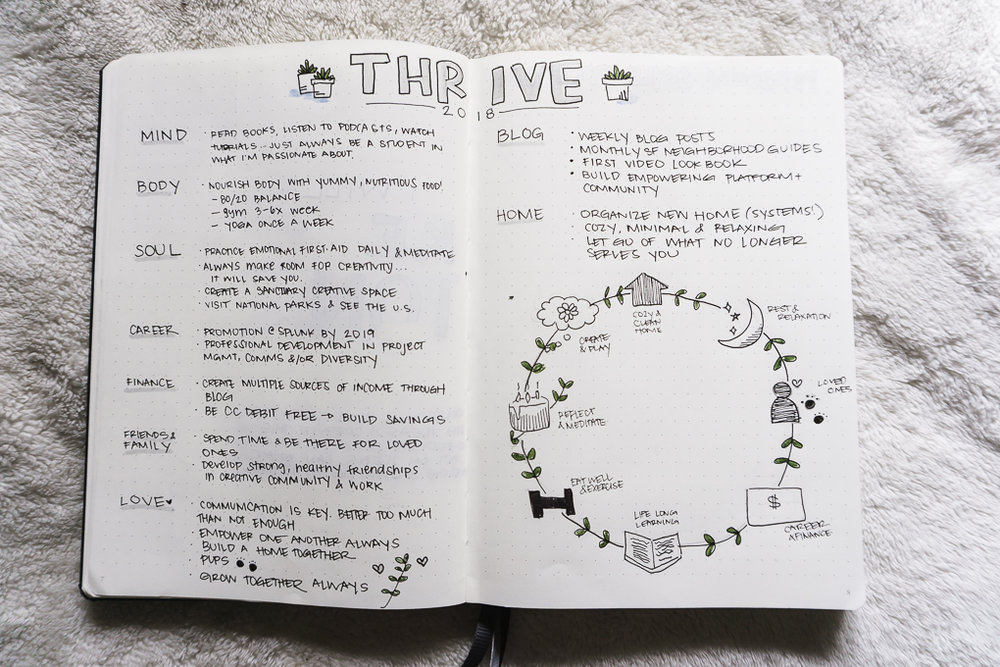 #13

Balanced Life Page Layout
A balanced life is really hard to achieve when you're trying to do everything for everyone & yourself. This simple page is a great way to gain awareness of what it will take for you to achieve a healthy balanced life!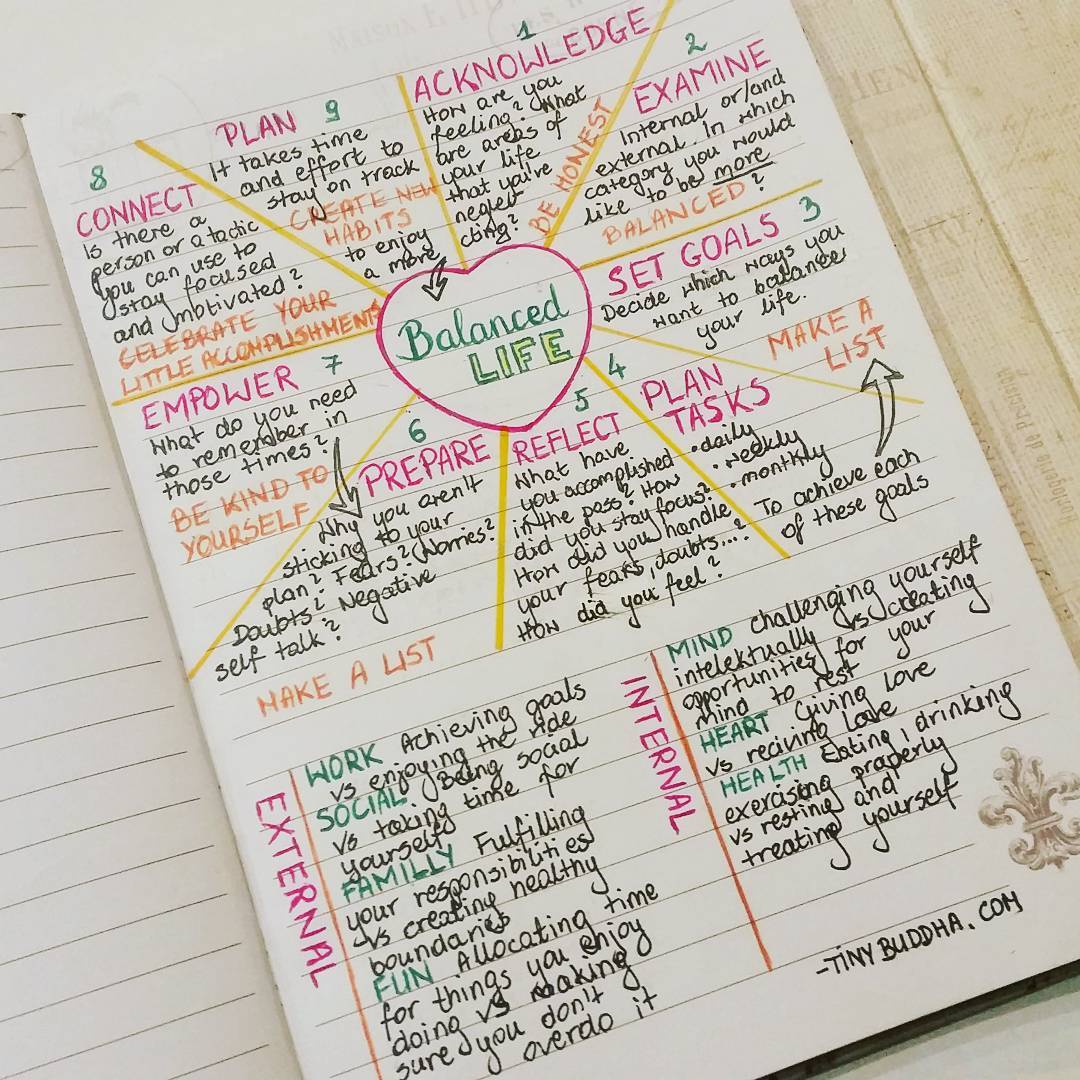 #14

Living Intentionally Bullet Journal Page
Sometimes, it's almost too easy to lose your focus and find yourself slipping into habits that leave you out of control in your life. When this happens, use an Intentional living page to get yourself quickly back on track & back in control of your life!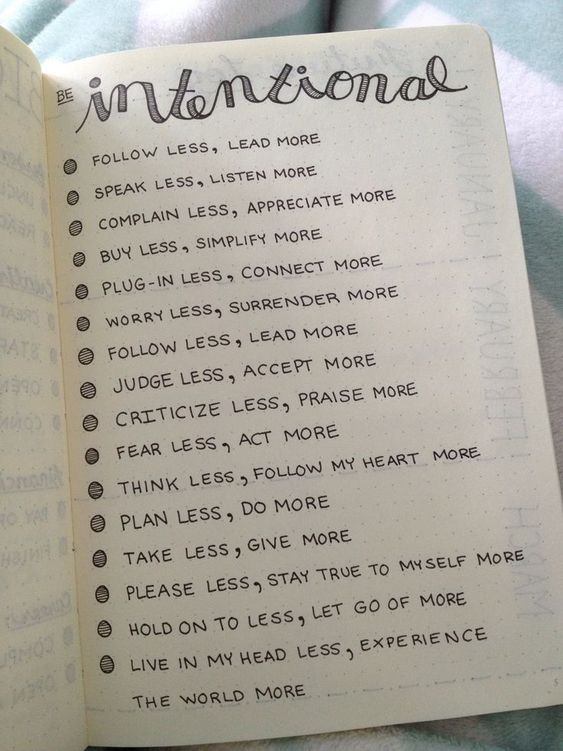 #15

Inspirational Bullet Journal Quote Page
There's nothing quite like a motivational quote to make you feel better! This one is so pretty & would be super easy to copy into your own bullet journal.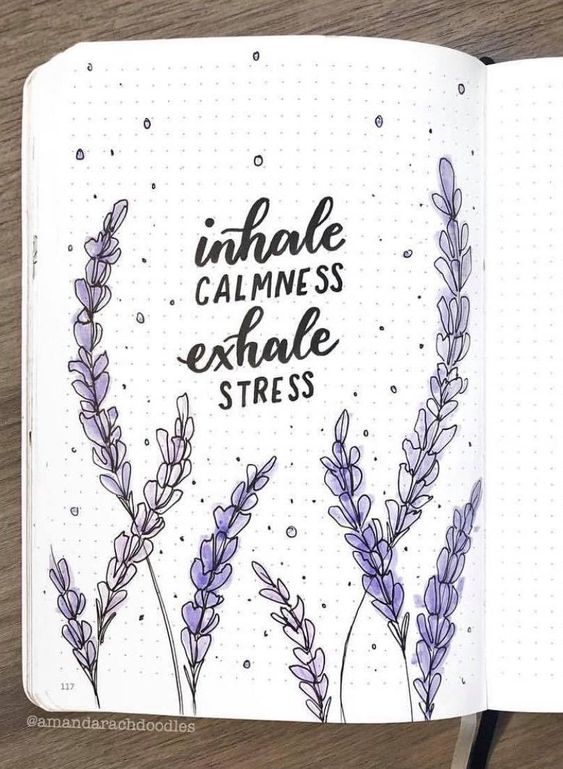 #16

Rainbow Themed Mood Tracker
I'm not that good at art so when I see a mood tracker like this easy rainbow one I get all excited because I know this is one I can definitely use for myself! Don't you just love how bright & vibrant this page is? I don't know about you but I'd seriously struggle to color in a negative day as this page instantly lifts my mood!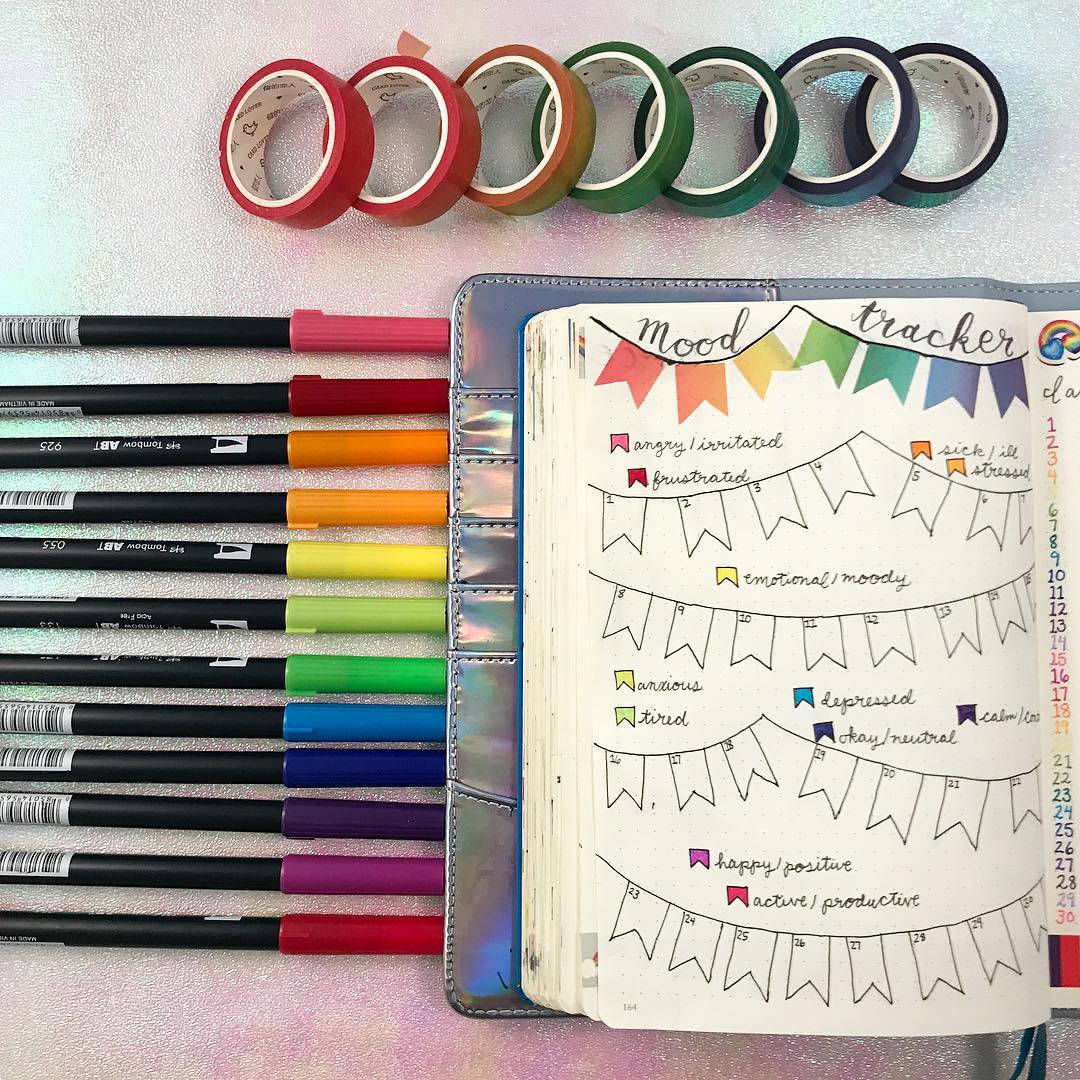 #17

Colorful Weekly Planner
Do you feel like you're chasing your tail every day when it comes to the daily routine? Washing clothes Monday, dishwasher Tuesday, grocery list Wednesday, whose bath turn is it today? What day is that school meeting? Bujo gods, please save me! Enter this ultra-effective weekly planner and say goodbye to the weekly stresses of chasing that tail.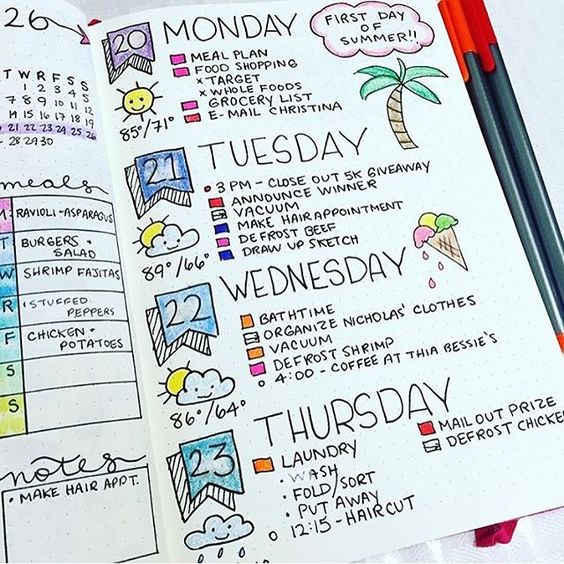 #18

Elegant Habit Tracker Idea
I really love the minimalist look of this habit tracker. The clean design makes it super easy for you to be able to instantly find the habits you need to work on most. Sometimes simple is effective.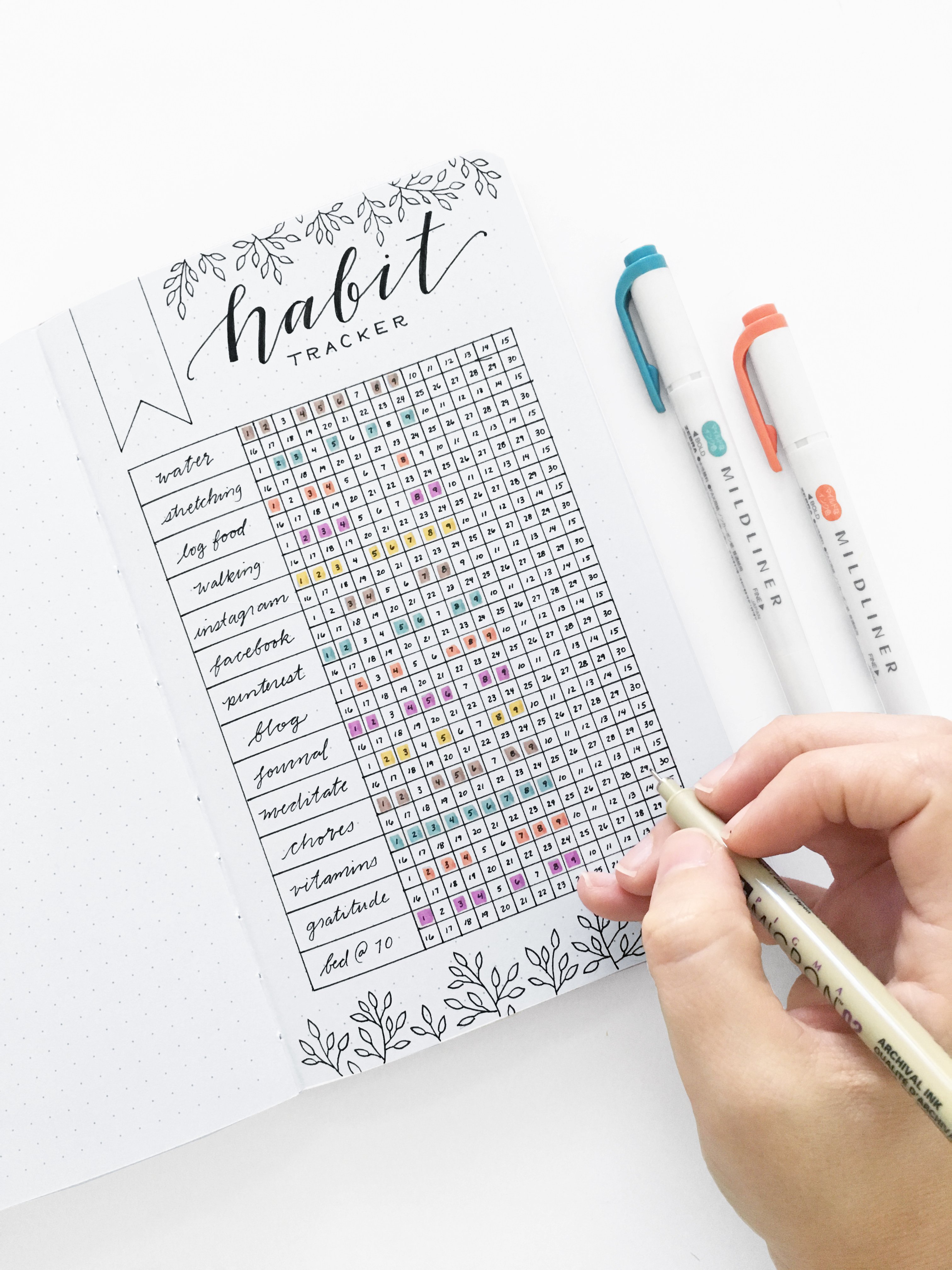 #19

Unicorn Themed Mood Tracker
Unicorns are everywhere right now & for good reason! They're all the colors of the rainbow & covered in glitter making them the perfect decoration for your bujo! Just imagine how pretty this unicorn habit tracker will look once all the colors have been filled in!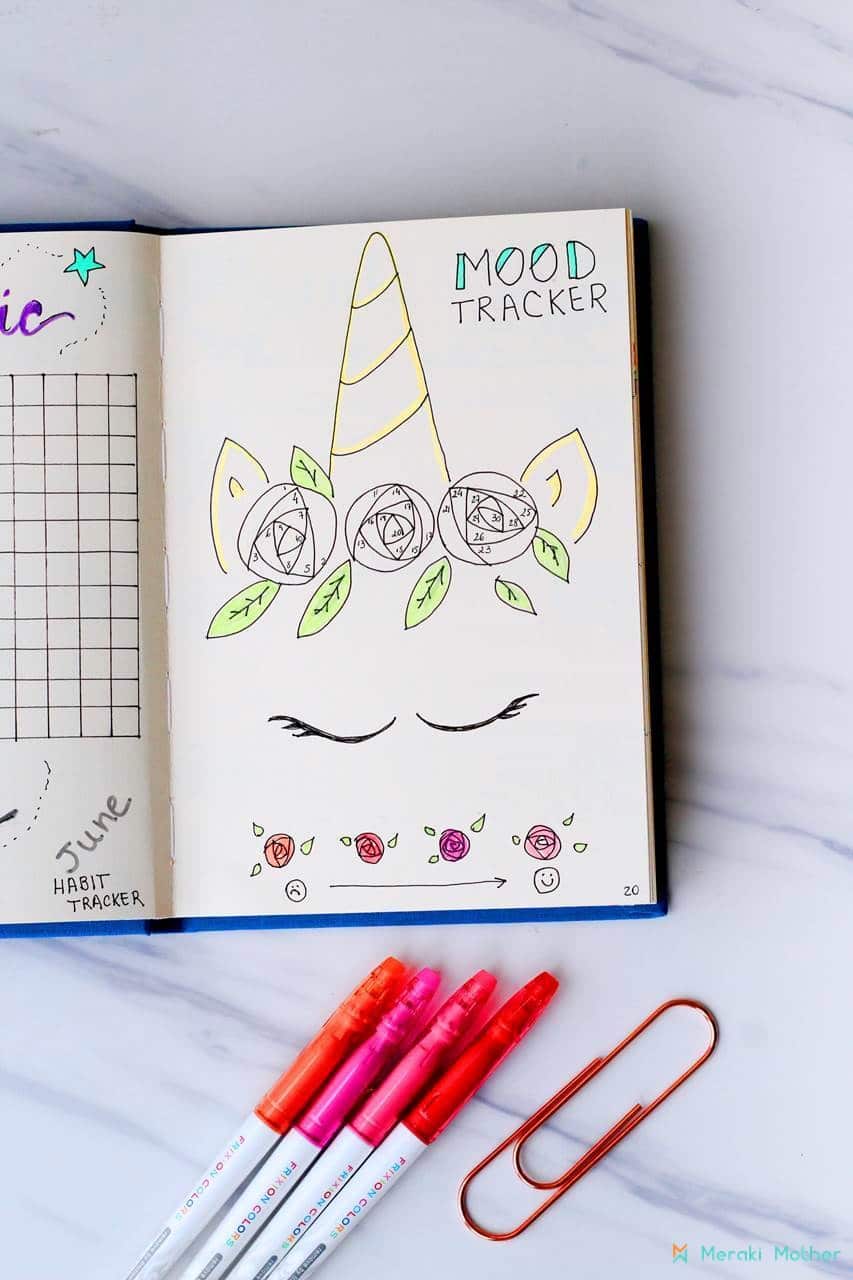 #20

Password Keeper Page
We literally live our lives online these days so it makes perfect sense to keep a track of all your passwords and login information…we keep all of the crazy in our head secured away in our Bujo so why not your passwords too?!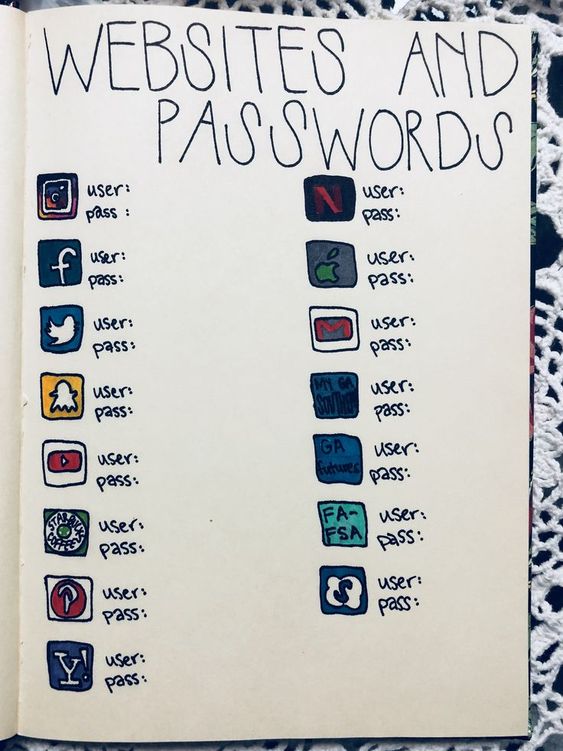 #21

Watermelon Theme Weekly Spread
What a juicy thought this one is. There's something special about an image of a cut watermelon that brings me joy. Bring a smile to your face with this weekly spread.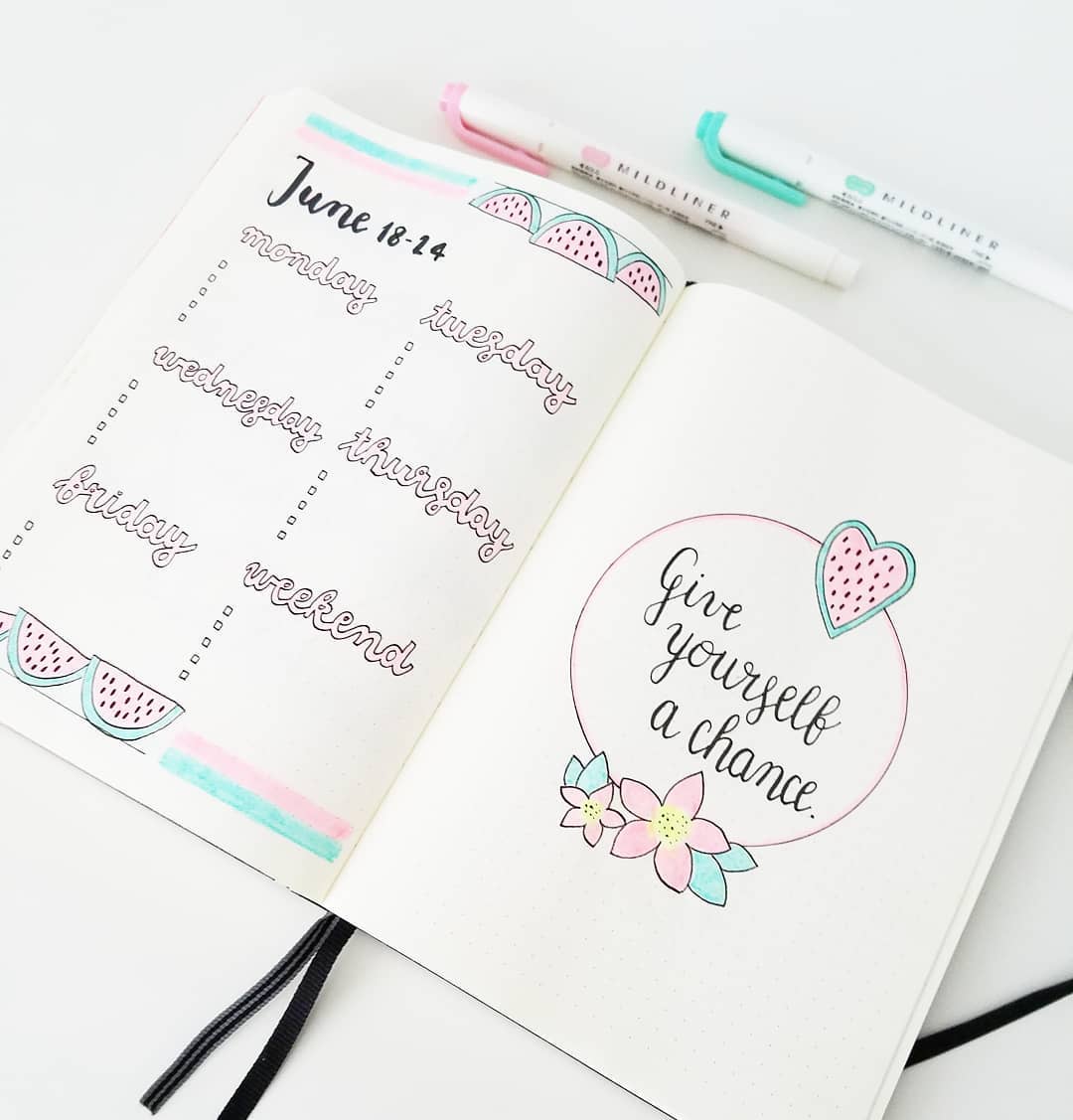 #22

Watermelon Weekly Layout Page
O.K so if you were not sure, I do love Watermelon images…so just one more fruity idea on how you can plan your week…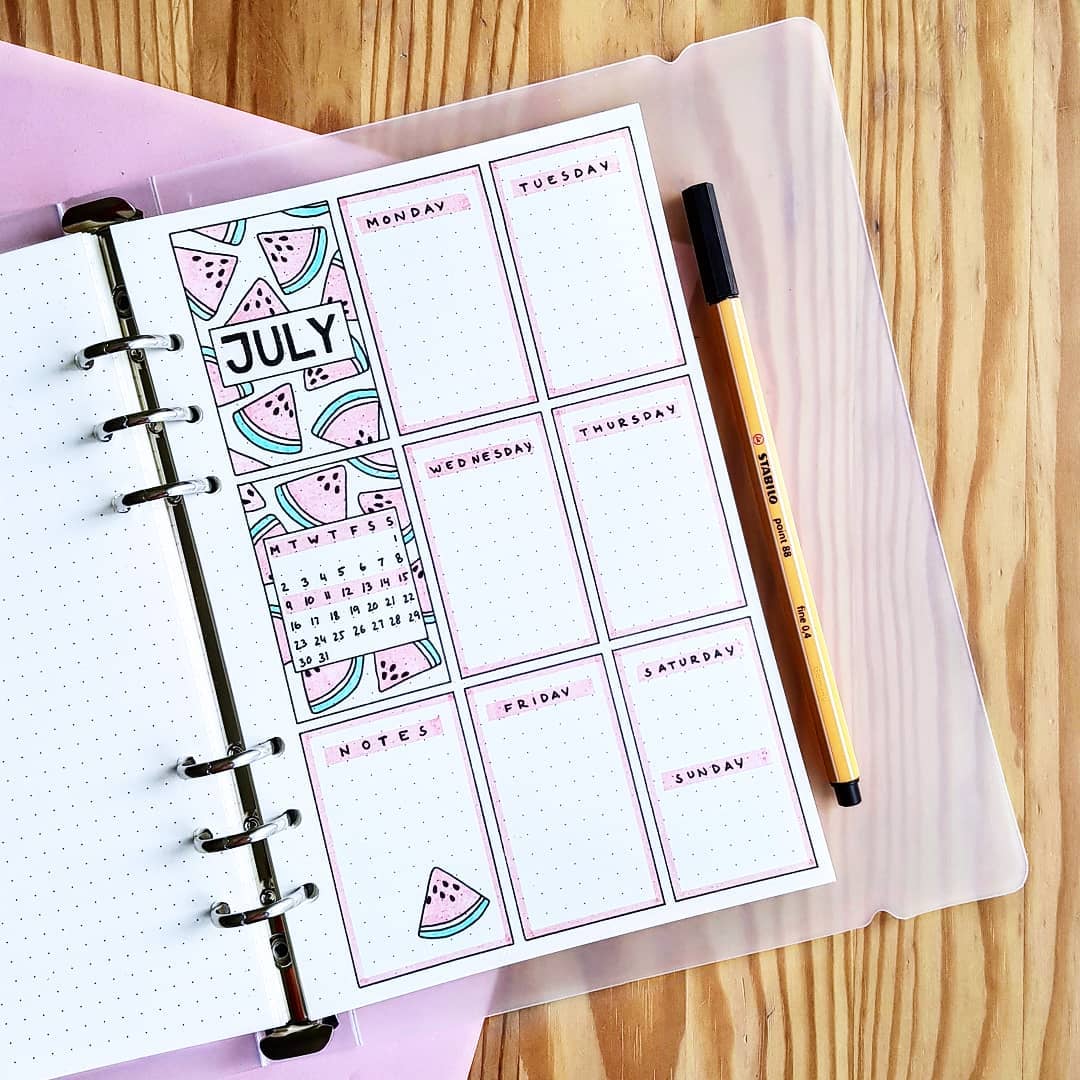 #23

Bullet Journal Page Ideas List
If you're always getting great ideas coming to you for bullet journal pages only to forget them later then please know that I feel your pain! This is a really good page idea that will help you keep all your bullet journal inspiration in one place! Just remember to write them down as they come to you!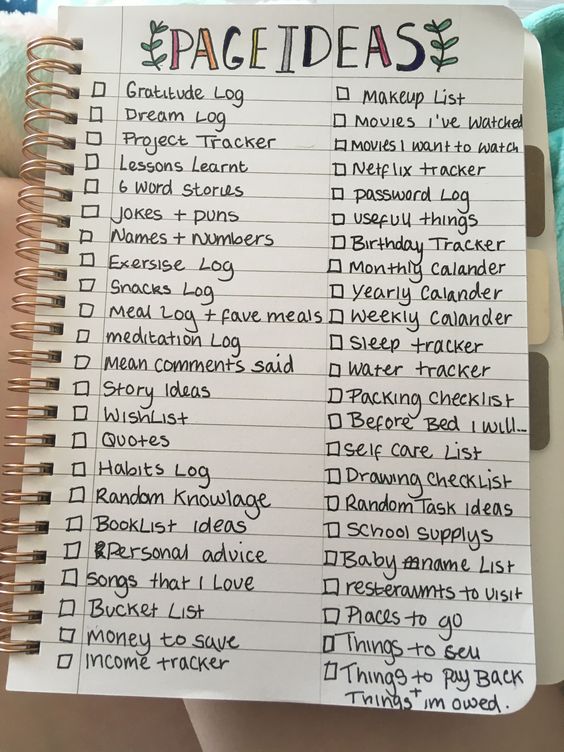 #24

Cute Monthly Spread
Can't doodle? No worries! Using little stickers in your bujo is a really easy & beautiful solution that will make your journal look awesome… especially if you're like me & you can't doodle to save your life!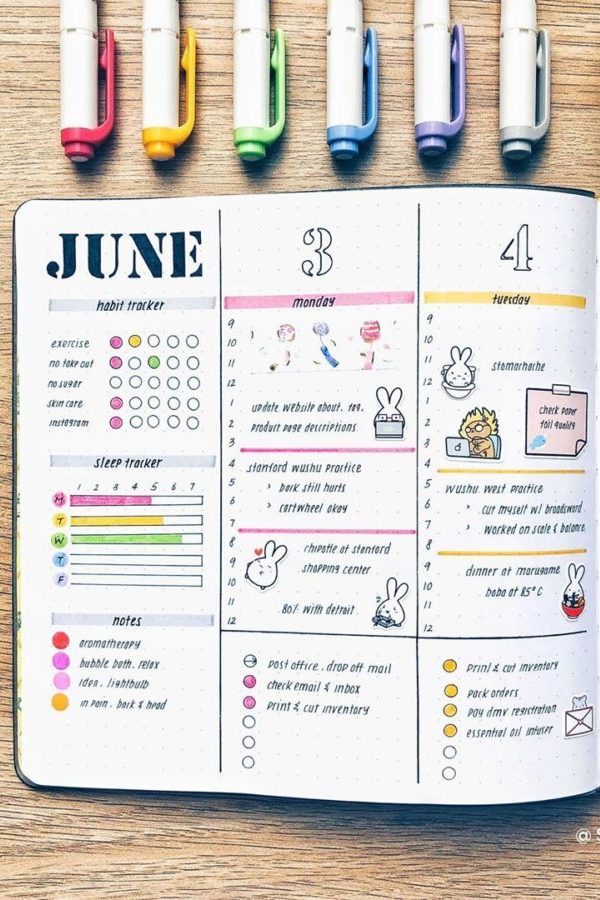 #25

Music Playlist Page
Songs are one of the best ways to re-live old memories & bring back good feelings! You can draw up an easy playlist page that will ensure you never forget the songs that meant something to you during the month.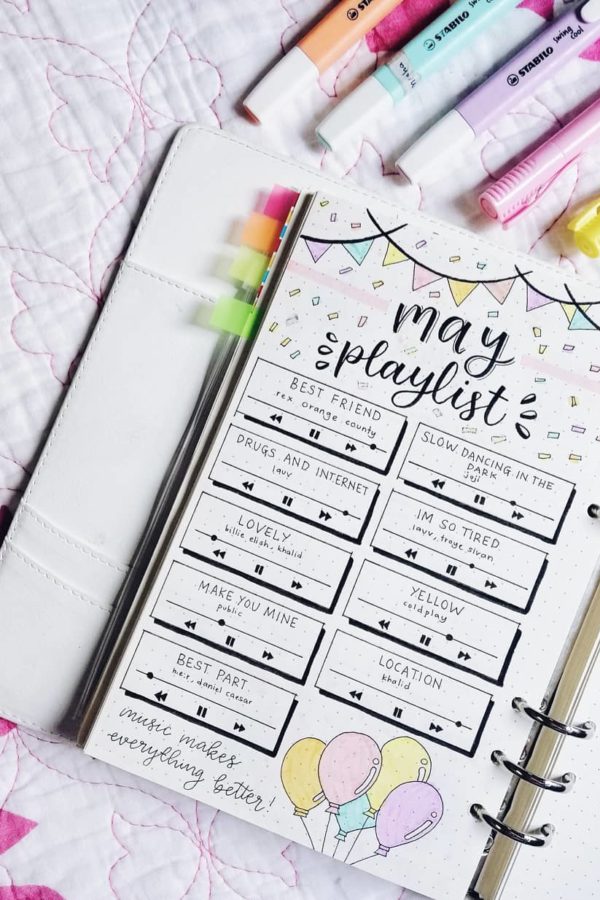 #26

Balloon Theme Weekly Spread
Check out the balloon themed quote on this page. I love sneaking some inspirational quotes into my bullet journal, they just seem to pop into my head! I do always have a few quotes floating around and I can always string some together. Fine, I'll stop before you blow up at me!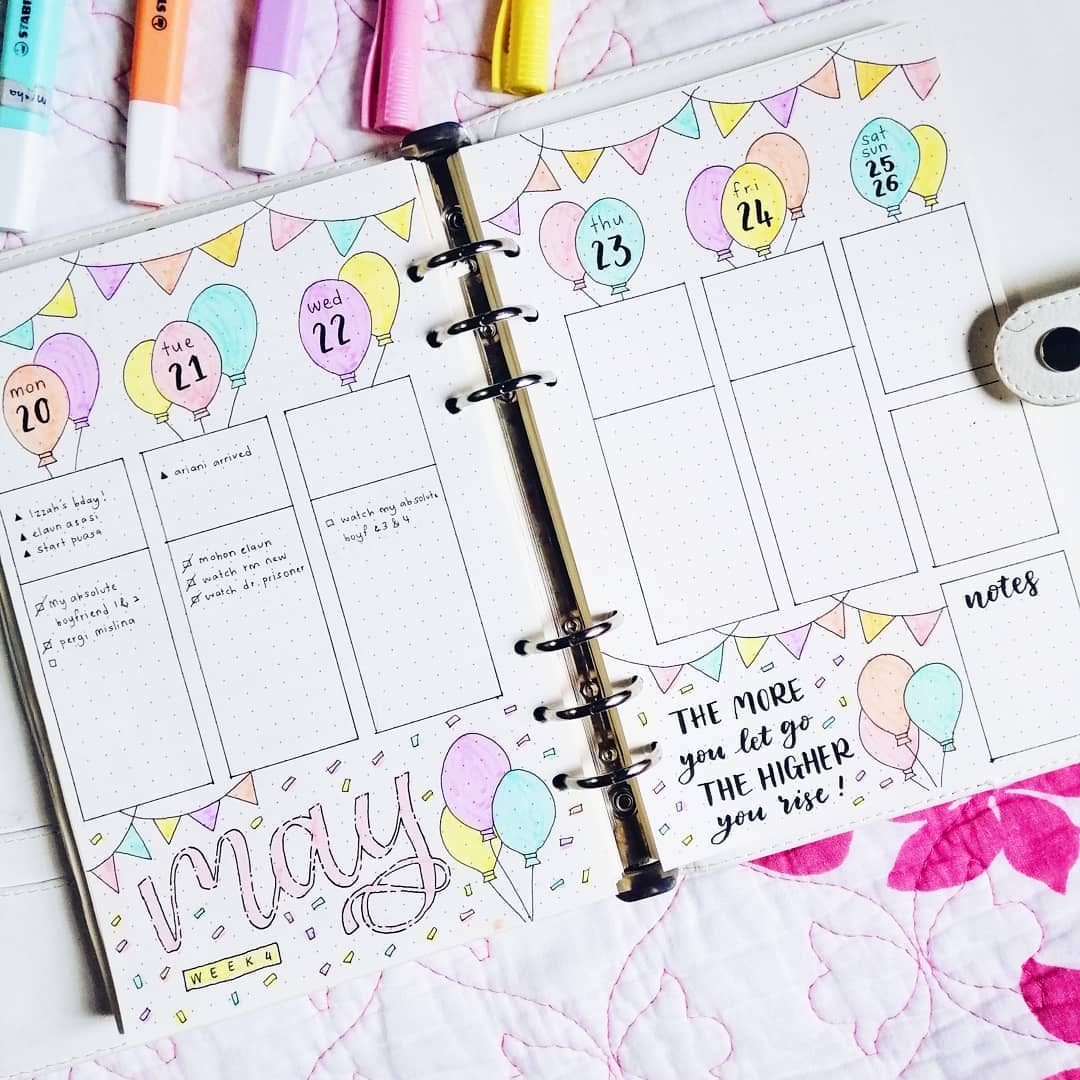 #27

Floral Monthly Calendar
Floral designs are everywhere and why not when they can look like this. You can really brighten up planning your month and if you're like me you need all the help you can get when planning anything.
#28

Lightbulb Mood Tracker
Here is a bright idea to brighten up your darkest day. Keep a track of your highs and lows with this fantastic lightbulb mood tracker. I find it hard not to be happy when I'm filling out my journal in some bright and cheery shades.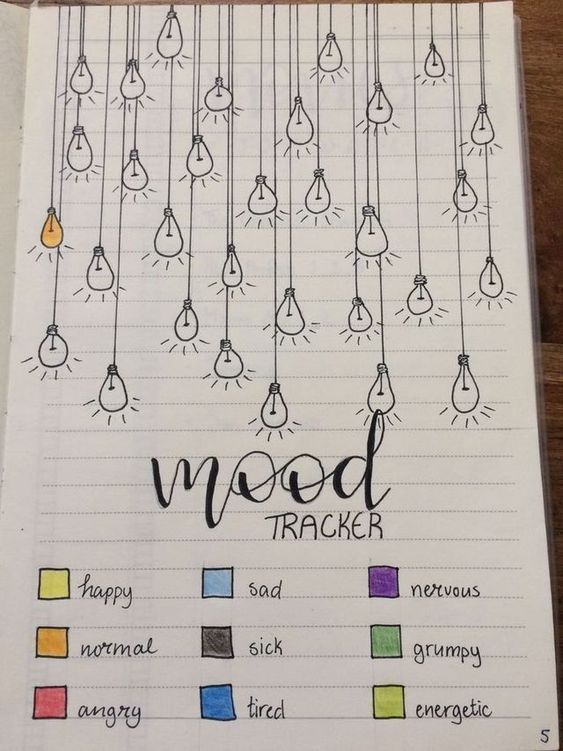 #29

Bucket List Page
We all have them, most peoples are kept in their head but why not list them and list them in style with this bucket list creation. I've also found that a written wish has so much more momentum behind it that a wish kept in your head. Try it and see what happens, you could be very pleasantly surprised.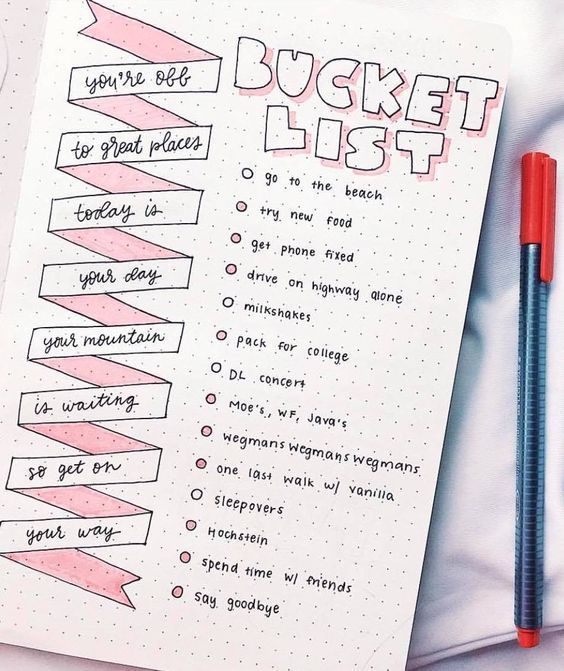 #30 Savings Tracker
Watching your savings grow is one of the most powerful ways to ensure that you keep saving. I use a savings tracker just like this one & I love watching in anticipation & excitement as the amount creeps up towards my goal!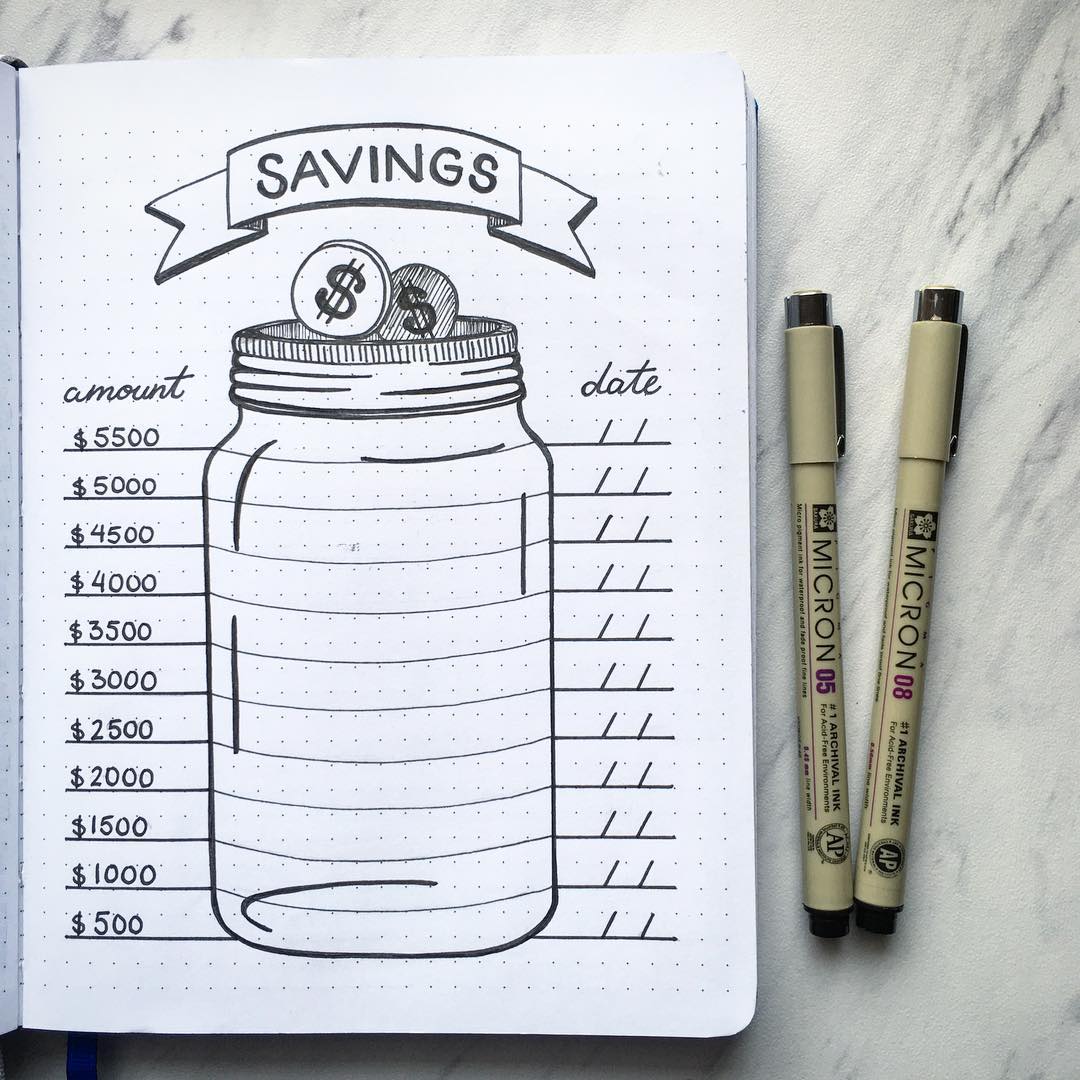 #31 Healthy Habits Tracker Page
This is a really simple habit tracker idea that anyone can do! I cannot stress enough how beneficial it is to track your habits if you want to improve them & this style of habit tracker makes it really easy to do!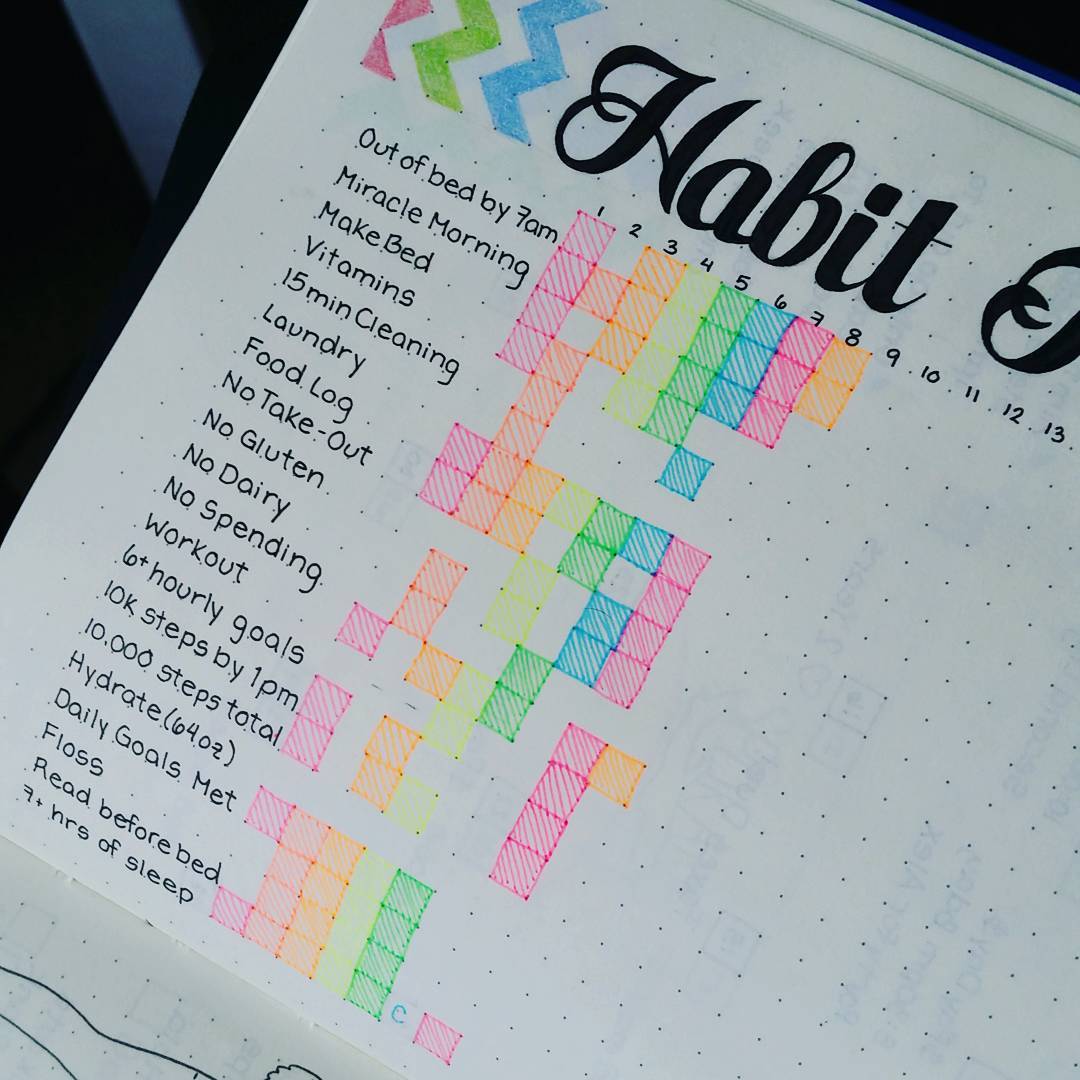 #32

Books To Read Journal Page
There are so many benefits to reading including increasing your knowledge, opening your mind and feeling that sense of achievement when you finish a good book. You can use a book tracker to track the book you want to read or to track the books you've already read this year.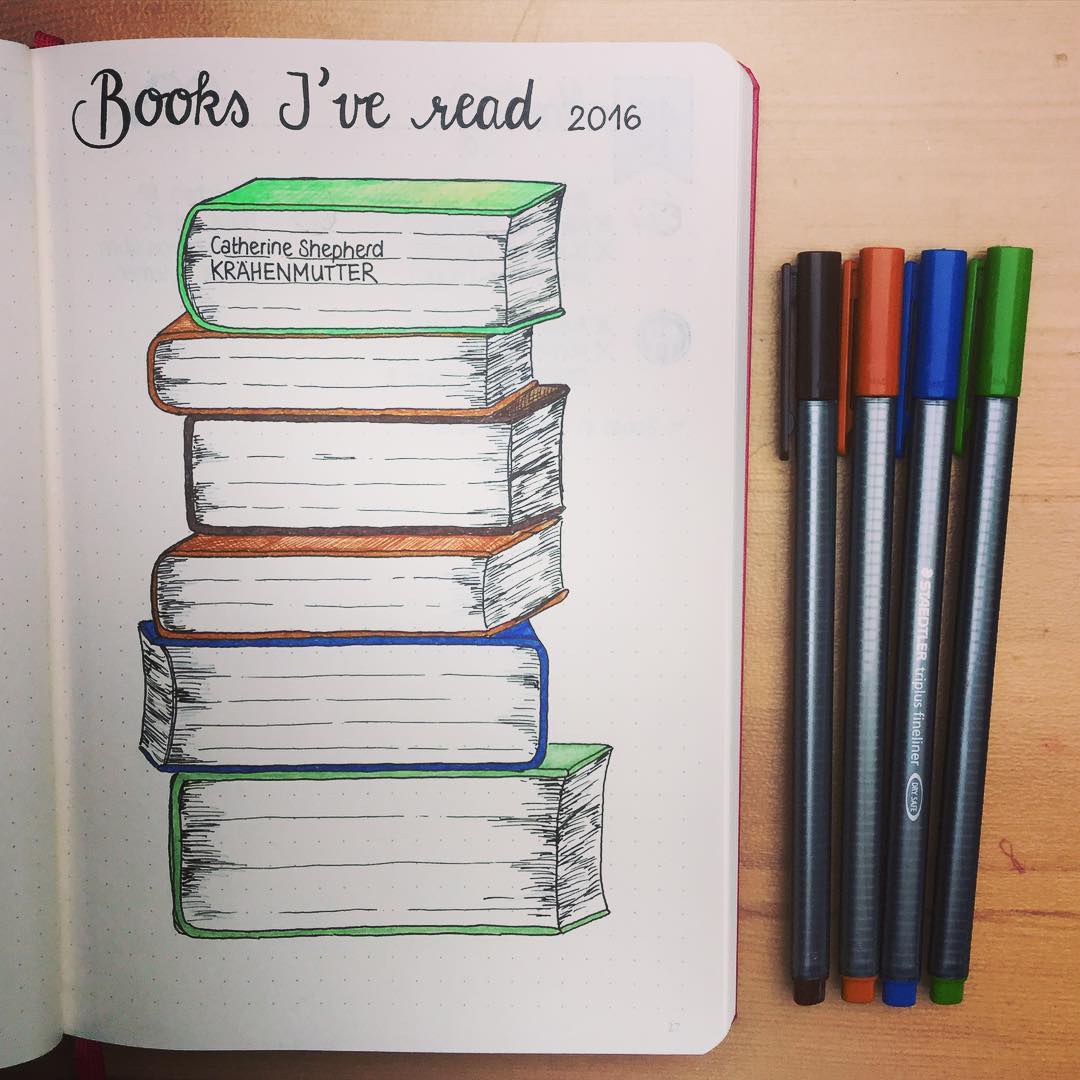 Let's keep in touch…
I hope you've found all the bullet journal inspiration you need in this post!
Do you already have a bullet journal or are you thinking of starting one? I'd love for you to let me know!
In the meantime, you'll find me hanging out on Pinterest, come and follow me there for daily inspiration & tips that will help you create a life and business you love!