Do you want to know how to grow traffic to your website?
If so, I get it…
Increasing the traffic to your website IS really important!
But for many bloggers and online business owners, it can be a real struggle…
…especially in the beginning!
In fact, it can almost become an unhealthy obsession.
So I thought I would share with you the exact strategies that have grown my blog to over 180k page views per month & landed me several viral days…. one of which that brought me in over 74k pageviews in one day…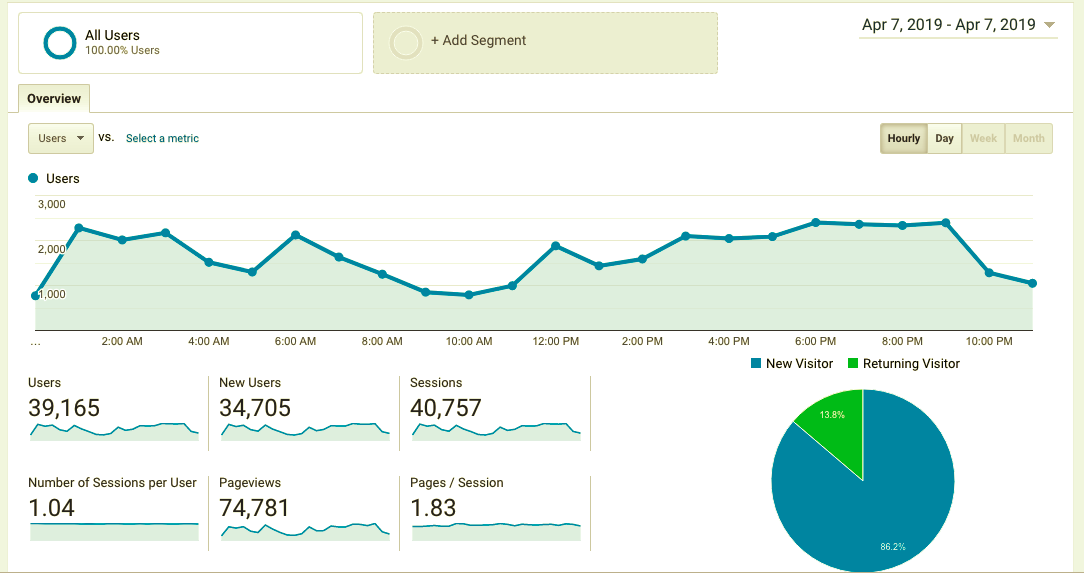 You'll be able to implement these easy strategies immediately to start growing your blog traffic… without the stress!
How To Grow Traffic To Your Website With Pinterest
Pinterest is one of the best platforms to be on when you want to grow your website traffic quickly.
I've spent a long time trying to understand everything I can about Pinterest & how to make it work for my blogs…
Once I figured out how to make the best use of Pinterest, my blog traffic on both my blogs, The Mummy Front & this one you're reading now… EXPLODED!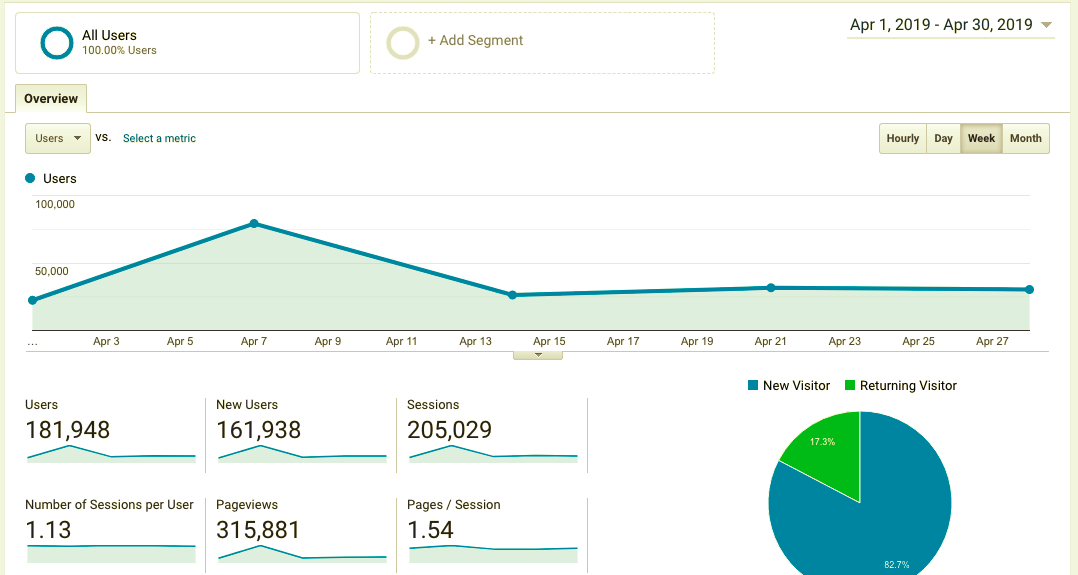 I can't put into words how exciting it is when you see over 500 people are live on your blog in one moment… it's something that I never thought possible for me until I discovered the magic of Pinterest…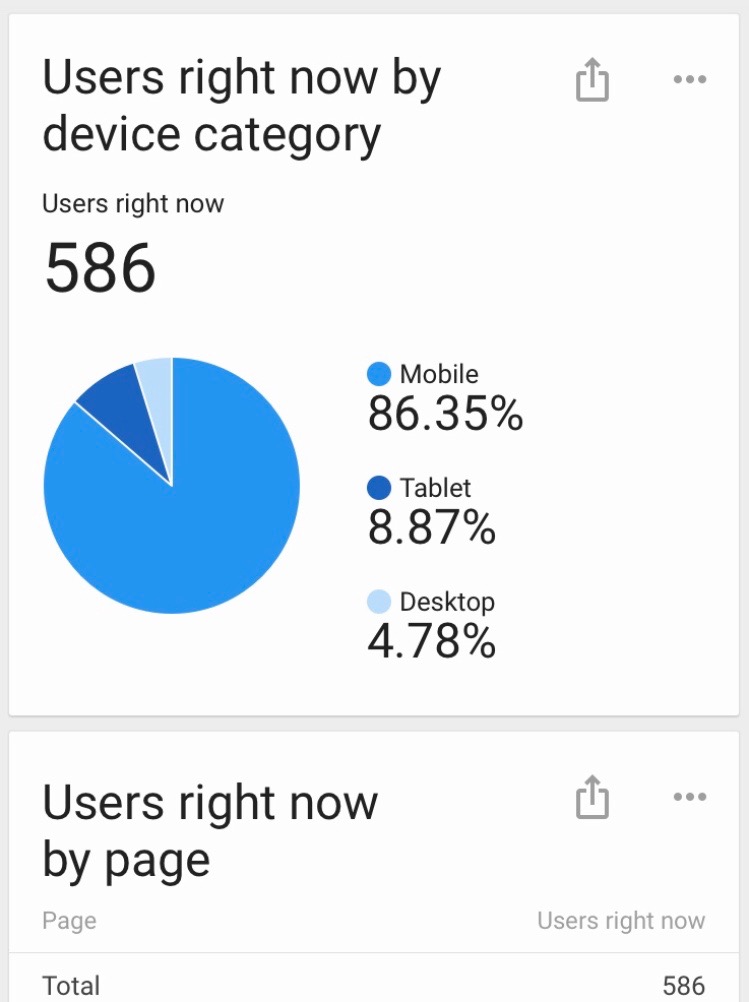 Just imagine what you could do with that amount of traffic or even just a tenth of that?
Well here's the good news…
I give you permission to get excited!!
Because I know that you CAN increase your blog traffic with the following strategies & even have some awesome viral spikes too… so let's dive in!
This post contains affiliate links, Find out more here. 
How To Grow Traffic To Your Website In 4 Easy Steps
#1
Find Awesome Content
Finding content that's popular is the first step to increasing your blog traffic.
Because once you know what content is doing well… you can publish similar content on your own blog.
But how to find such content?
Well, actually it's really simple.
Visit Pinterest and look for other bloggers in your niche.
Take a look at their pins & find out which ones are getting great repins.
If you've already followed a ton of bloggers in your niche then scrolling through your smart feed & clicking on pins is a great way to find out what is doing well on Pinterest.
When you find a Pin that's dated within the last two months or so, with high repins then you've found a great content idea for your own blog.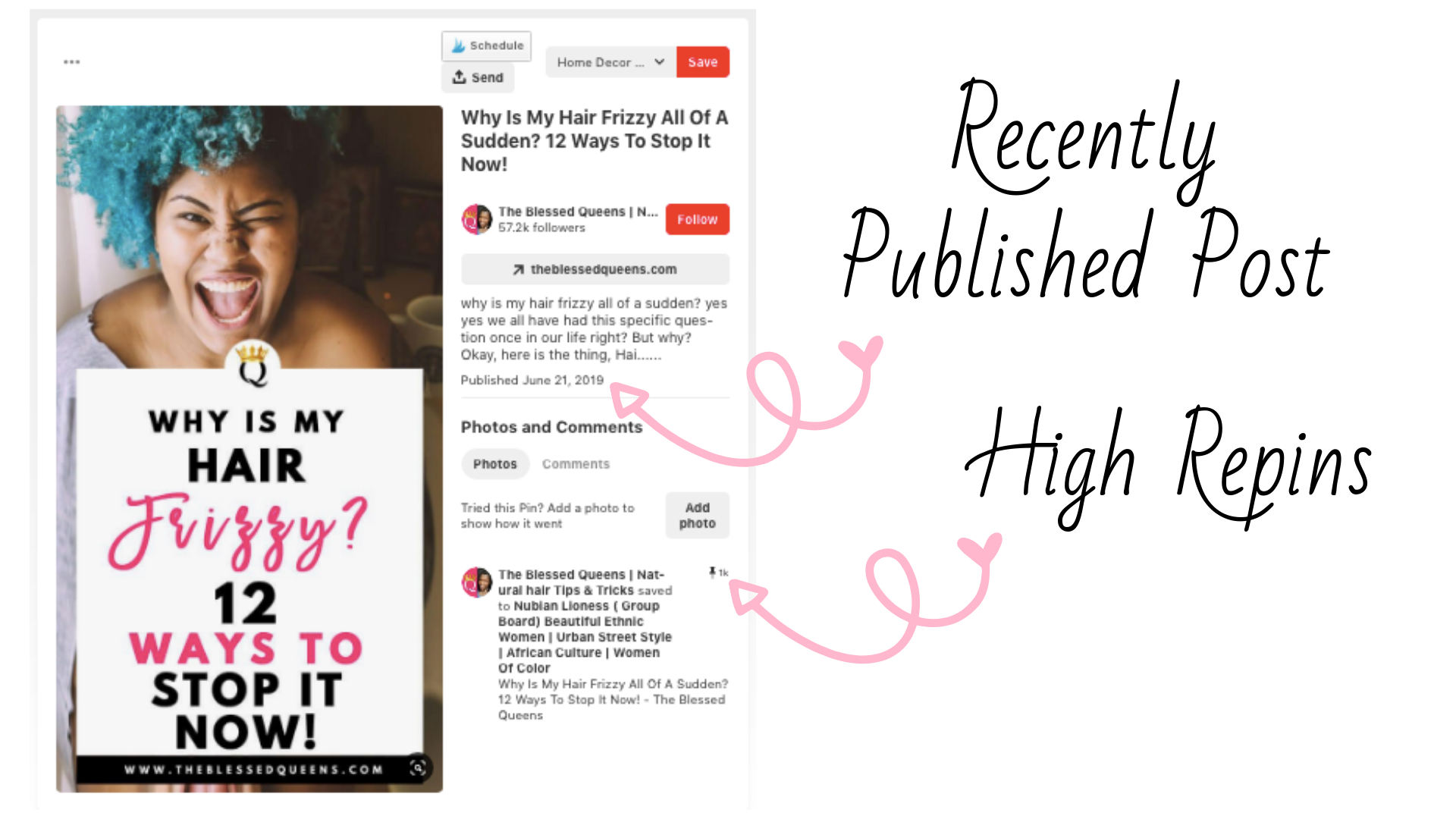 Always remember that repin rates will be dependant on niche. For example a great pin in a small niche like 'fishing' will have lower repins than a great pin in a larger niche like home decor.
Take Inspiration… Don't Copy
A word or warning…
When you find content that's doing well for another blogger, take inspiration for sure!
BUT…
Whatever you do… don't copy them! It's just not a nice way to play.
About a year ago, another blogger copied & pasted my content into their own blog & replicated my Pin… The pin was so similar in style that I thought it WAS my pin.
How did I feel? Violated, hurt, panicked, short-changed and everything in between.
Some say that when another blogger copies you that it's a compliment, but it's really not a great idea to give those kinds of compliments to other bloggers.
#2
Make Sure Your Content Delivers
So now you've got a great content idea for your blog… it's time to deliver it in your own style to your audience.
You need to make your content awesome!
How?
By always considering the intent of your reader & giving them what they are looking for!
So… whenever you're writing a post, always think about the problem you're solving for the reader to keep you on track… & to keep them on your page!
For example, this post is about solving the problem of how to grow your blog traffic…
So I better make sure that I give you all the info you need to solve that problem or a few things will happen…
I'll lose you pretty quickly
You'll feel like I wasted your time
You won't feel like saving or sharing this post
My traffic won't grow
So to avoid any one of those four issues popping up… you need to make sure your content is…
Actionable… give your reader tips that they put in place to solve their problem
Focused… keep your content focussed on solving the problem of your reader… without straying onto other topics
Scannable… many readers like to just scan down the page to see what you have in store for them & to decide whether your post is worth reading… so make your headlines catchy & to the point!
Sharable… make sure you have share buttons readily available and prompt your readers to save your post.
#3
Promote Your Content In The Right Places
It's a common misconception among new bloggers that you just simply have to write the content & people will come in their droves!
Unfortunately, I learned the hard way that this just wasn't the case!
The truth is, a lot of time is spent every day promoting your own content so that you can get it in front of the right people!
My favorite place to promote my content is on Pinterest!
Why?
Because unlike other platforms like Facebook, Twitter & Instagram…
Pinterest doesn't display pins chronologically!
This means that your pins can still be showing up in peoples smart feeds & driving traffic to your blog for many months and even years after you pinned it!
How Many Pins Should You Be Sharing Daily?
I prefer to give hard and fast answers but with the question on 'how many pins should you be sharing daily' there is no right answer!
For my first blog, I share anywhere between 60-100
For my second I share between 20-30
The best thing to do is use common sense.
For example…
If you've had your Pinterest account for a long time & you've got 60+ posts on your blog then you'll be able to pin more content to Pinterest per day than if you have a brand new Pinterest account with only 10-20 posts on your blog.
So although I can't tell you exactly the number you should be pinning, I do have some top tips that will help you grow your blog traffic using Pinterest…
Create and pin 2-3 new pins per week
Share your new pins to your most relevant boards first
Don't spam the same Pin over & over
Give thoughtful descriptions on your Pins… always keep in mind the Pinterest user experience
Follow people in your niche & like & comment on pins that inspire you & are relevant to your business.
Don't make any sudden & drastic changes to your pinning habits… so if you've been pinning 10 a day don't suddenly jump to 100 a day… build it up gradually!
Design Pins That Get Clicks
So now you've created an incredible piece of actionable content that you know does well on Pinterest…
It's time to create a stunning Pin that will be used to drive traffic to your blog.
Here are my top tips
Create pins with the recommended pin size ratio of 2:3… I use 600 x 900 px, 700 x 1050 px with great success.
Use large & easy to read fonts... yes, I know script fonts are pretty but 80% of Pinterest users are on mobile devices & script fonts can become difficult to read.
Green...I don't know why but ALL my best pins are predominantly green… it could be that green is the most pleasing color to the human eye but who knows… just add green (especially plants… just sayin)
Pins with faces don't do as well apparently… & I have to say after conducting my own tests that I can confirm that none of my pins with faces did well.
Try to maintain consistent branding… I cannot tell you how many times I pin stuff that I immediately recognize as belonging to certain bloggers that I know are awesome… eventually, other bloggers & your audience will get to know you & your pin style & they'll be more likely to pin your stuff when they recognize it.
Be cohesive… Pinterest loves cohesion right now because it improves their user experience. You can be cohesive by displaying the pin that you share to Pinterest within your post & using the same title for your post on your pin image too.
#4
Explode Your Growth With Tailwind
Tailwind has accounted for 42% of my entire traffic within the last year alone!
That's 529,783 people in the last year thanks to Tailwind!
Here check out the stats…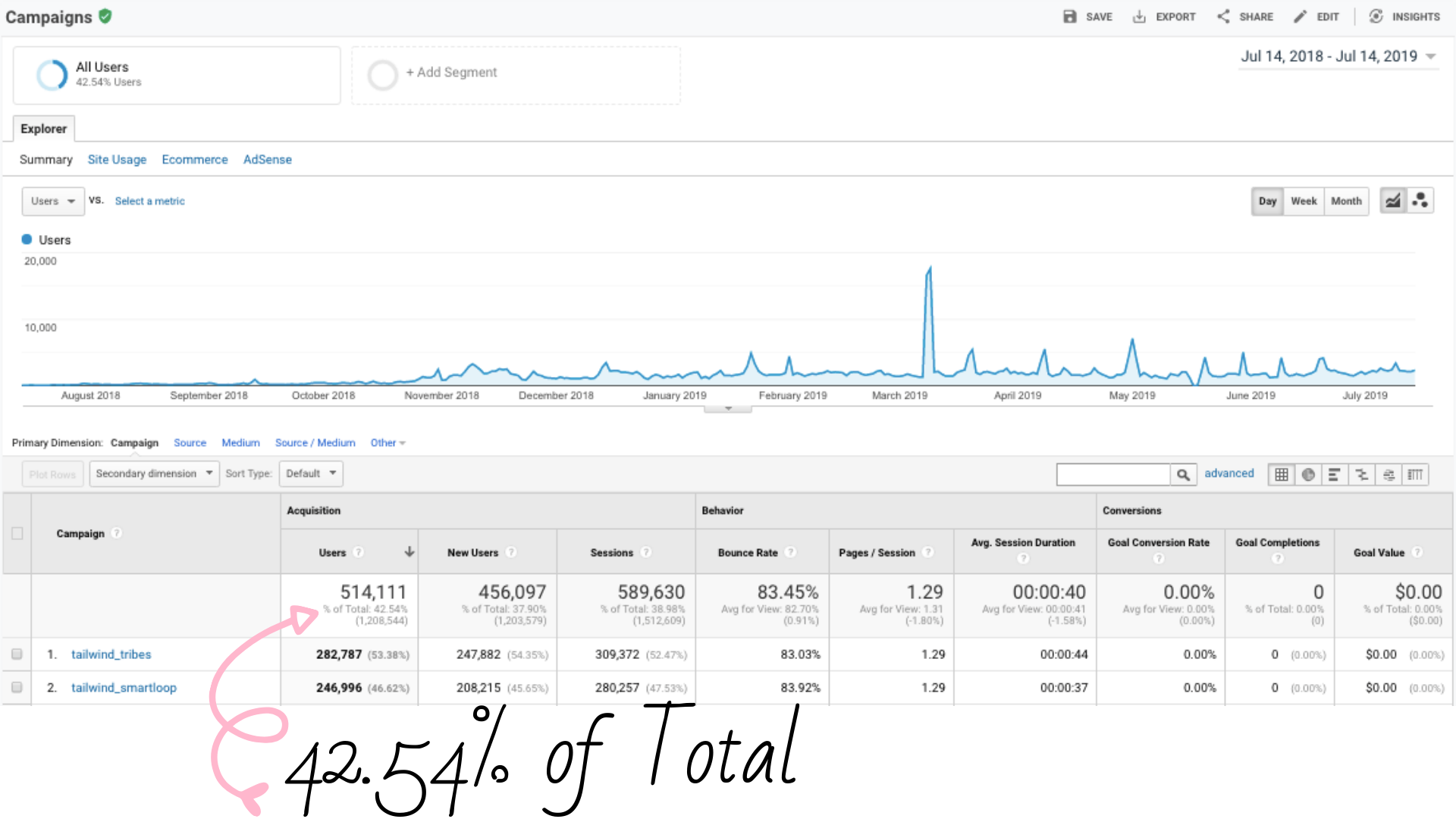 These are my personal results, but Tailwind does publish the Typical Growth in Repins and Followers of everyone who uses their tool if you're curious.
So, I'm going to show you exactly how I use Tailwind to get these incredible results in one hot second…
But first… I want to tell you what I did BEFORE I had Tailwind just in case you're wondering if manually pinning will work for you.
Can You Get Results Manually Pinning?
The short answer is yes…
But here's the longer answer…
When I first started my blogging journey I didn't have a lot of money…
But I was determined to make my blog work on a budget and so I made a promise to myself that I would only invest in what I NEEDED to invest in!
So for me, this meant a domain name & hosting!
I saw so many top bloggers who were raving about Tailwind & what it had done for their traffic… but I decided I could get by manually pinning…
And, I did for about 4 months!
Pinning regularly not spamming boards was a real concern of mine so I developed a system for tracking my manual pinning that was totally awesome!!
Ok, I lied…
It was ridiculously tedious & complicated!
My Not So Awesome Manual Pinning System
My manual pinning system consisted of two large folders…
One folder with a Pinterest board name per page and a list of numbers down the side of the Pins that could go in that board…
When I pinned a pin to that board I would write the date alongside that particular pins number…
How did I know which number belonged to which pin?
Well, my second folder had a list of every pin I had ever created, identified by description & then numbered…
Lastly, I had another few pages with just the numbers of my pins so I could put a tick beside each pin that I had pinned… this way, I could make sure every pin was being shared regularly.
Annnd… yes, my traffic was growing!
But… IT. WAS. TEDIOUS!!!
I already knew I was one of life's extreme people… so I couldn't even imagine how other people would manage a system like this!
Needless to say, pinning had become a huge chore & eventually I began to skip days.
And yep… this caused my traffic to start a downward trend.
How Tailwind Transformed My Traffic… & My Life
So, having all but given up on trying to keep up with manual pinning… I decided to give Tailwind a try…
And I never looked back!
The amount of time I saved using Tailwind was more than worth the investment I was going to make for it after my free trial!
But, not only did Tailwind save me a ton of time…
My traffic went up & up beyond anything I could have ever dreamed.
Want to get started with Tailwind? Grab a FREE month by clicking here!
How To Use Tailwind To Grow Your Traffic
So, Tailwind has been the pivotal tool that has allowed me to scale my blog traffic & give me so many awesome Viral days… so I wanted to break down each part of Tailwind for you & how I use it to maximize my success
Use Tailwind Tribes For Incredible Reach
Tailwind Tribes was the very first feature I used within Tailwind because I knew that having other bloggers share my pins would increase my reach beyond anything I could do myself.
And I wasn't wrong!
It only takes one blogger to pin your pin in the right place & your traffic will increase.
You can help increase your chances of your pin being shared by your fellow tribemates by following my advice above on maintaining a consistent brand!
Whenever you make a new pin you can immediately share it within tribes to give your pin the best chance!
When Pinterest sees your new pin being shared by many other bloggers, it will show it in more smart feeds & more search results than if you just pinned it yourself…. there's nothing Pinterest loves more than a fresh pin with high engagement!
Use SmartLoop For Pinning At The Optimum Times
One thing I definitely wasn't doing with my manual pinning system was pinning at the optimum time for my audience… I mean, how would I ever know when the best time to pin would be?
Tailwind, however, does know!
Tailwind knows when your audience are online & most engaged & will publish your pins at those times.
This means that your pins have a higher chance of being immediately engaged with… which again is a great positive in the eyes of Pinterest!
Another benefit of Smartloop is that Tailwind will share your pins out evenly over a set time period so you never run the risk of spamming your Pinterest feed!
How I Use SmartLoop
I have tried a couple of ways to set up my Smartloop.
As I have a lifestyle blog with a few different topics, I started off with one Smartloop per niche.
This was ok for a while but eventually, I wanted some of my individual posts to be looped more frequently than others…
To achieve this I started a new looping system where I had one Smartloop per post!
Now I can set exactly how frequently I want each individual post to be published based on how many pins I have created for that post!
Whenever I make a new Pin for an old post, I simply add it into that post's Smartloop!
Tailwind will prioritize any new pins within a loop so I never have to worry that my new pin won't be shared for a long time!
Use Tailwind Smart Scheduler To Launch New Pins
The other tool you can use within Tailwind is the scheduler.
This is what I used to schedule out my content before Tailwind introduced Smartloop in 2018.
You can use the scheduler to load in your pins & from there you can select which boards they will go to & what interval you would like between each pin.
The schedule is also where the pins that you share from your tribemates will be queued up ready for Tailwind to automatically publish.
I use the Scheduler to launch off new pins as I want to make sure my new pins get published frequently over the first few days…. remember how much Pinterest likes new pins with high engagement?
Key Takeaways
I've given you all my best tips for growing your blog traffic consistently & giving you a great chance of having some viral days!
Here's what you've learned:
Find content you know does well for others
Create a piece of actionable, focused, scannable & shareable content inspired by the content that you know already does well
Promote your content on Pinterest by creating stunning pins that convert
Use Tailwind to get your content seen at the best times, by the right people
Don't forget you can claim your Free month of Tailwind using this link here!
I would love to know in the comments below what you found most helpful within this post & whether you have any more questions related to growing your website traffic.