When asking 'should I start a blog' the first thing you need to know is why you want to start one…
Do you want to blog to make money?
Or would you prefer a hobby blog as a way to be creative in your spare time?
Both are legitimate reasons to start a blog…
And you can even combine your hobby with a money-making blog…
But a money-making blog will require a different strategy & amount of effort than a hobby blog.
So, if you want to start a blog to make an income then it's important to know if blogging is right for you first…
In this post, you'll discover the 3 crucial things you need to know BEFORE you decide to start a blog…
Should I Start A Blog? The 3 Things You Need To Know Before You Decide!
Many people believe that being a full-time blogger involves relaxing on a beach in Bora Bora with a cocktail in your hand, a smile on your face along with a #gifted pair of sunnies & a Macbook on your lap… seriously?
Surely the last place on Earth you would take your Macbook is a sandy beach… that's just asking for trouble.
And what about when it runs out of battery?
You'll be in close proximity to a pineapple or two… but that kinda juice just isn't gonna cut it!
So, unless you've already tried blogging before, the chances are you'll need some REAL insight from people who have! (like me)
Especially if you're the realistic type of gal who wants to know what it REALLY takes to start, grow & maintain a successful blog!
So without further ado, let's take a look at the top 3 things you need to know before you make your decision…
P.S. Don't forget to click here to Pin these tips to your favorite Pinterest board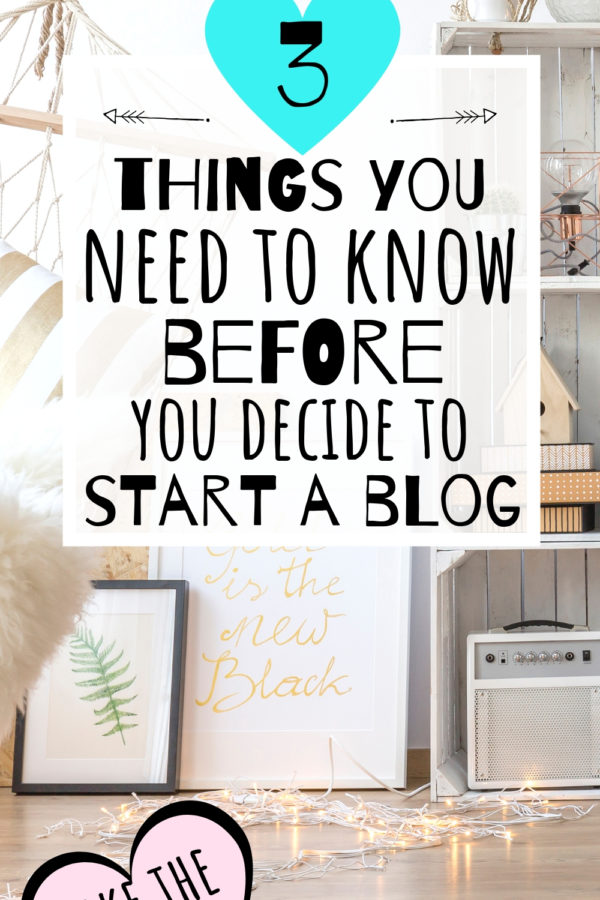 #1
You need to be prepared to work hard before you see results
Blogging is a legitimate way to make money but oftentimes, you'll see many bloggers telling you how easy & fast it is to make money blogging in an attempt to get you to start a blog using their affiliate link (a link that makes them money when you purchase).
While affiliate links are an awesome & very legitimate way to make money as a blogger, the idea that you can have your own money-making blog up & running in ten minutes flat is misleading.
The truth is, initially you will be putting in a lot of work to build your blog without seeing any financial gains…
And it's during this time that many blogs fail…
Disappointed that their blogs aren't making megabucks within the first month, bloggers give up & just brush it all off as a bad idea.
It's not their fault…
They were sold an unrealistic expectation of how blogging works & weren't prepared for the long game.
Had they have held on just that little bit longer & kept up with being consistent in their approach… they would have eventually seen the results come flying in.
So How Long Does It Take To Make Money Blogging?
The answer to this question is…
It varies!
Some bloggers earn money within the first few months while others can take longer…
It took me 4-6 months to earn my first 3p blogging… yep 3p!
And let me just tell you how amazing that 3p was to earn.
Ok yes, it might be hard for you to share in my excitement of getting 3p but here's the thing…
That 3p was the moment I knew that all my hard work was starting to pay off.
This is not my saying but:
Patience + Consistency = Results
Blogging can feel like a thankless task in the beginning but once you get the ball rolling you'll be able to take your foot off the gas slightly & enjoy the rewards of your hard work.
#2
You need to be willing to learn
Many people don't ever start blogging because they fear all the tech involved is going to be too difficult for them.
If that's you then read on!
Because here's the truth…
No one dropped onto the planet with all the skills necessary to start a blog… they had to learn them.
In fact, everything you have ever achieved in your life required you to learn something new & blogging is no different.
It will seem confusing if you're just looking at it… but once you take action & start your blog you'll realize that it's much easier than you expected!
Especially since there are a lot of good resources & tutorials out there to help you.
My advice is to learn the first step FIRST… which is researching & deciding upon your niche and take the next steps one at a time.
It's no good trying to learn ALL THE THINGS at once… you'll end up overwhelmed, more confused & unable to make progress.
#3
You don't have to be an expert to help people & change lives
Before you start a blog you'll likely be filled with a ton of self-doubt about your ability to help people.
Any of these sound familiar?
I'm not expert enough
My life isn't interesting enough
I'll never be as good as everyone else
If you've experienced any of these feelings then you'll have concluded that no one will want to listen to what you have to say & it's no wonder you have been thinking about starting a bog rather than taking action & actually starting one…
But here's the thing…
You really don't need to be an expert or a guru to start your blog.
You just have to be one step ahead of your readers.
The key is to make sure that your content solves a problem or pain point for your reader.
An easy way to achieve this is to decide your niche from the beginning & stick to it…
Because when you decide upon a certain niche, a few things will happen…
You'll be able to come up with content ideas that will solve your readers' problems much easier… simply start at step one of what they need to know & build on your content from there.
Your blog will be a helpful resource that serves your niche meaning you will gain trust!
Building a tribe of fans who love what you have to say will be easier
You can become an expert in that niche while learning as you go… Remember, you just need to know the first step
Monetizing your traffic is a lot easier when you have a specific niche because you'll be able to give them exactly what they need.
So, Is Blogging Right For You?
Now you have a realistic expectation of what it takes to start a blog have you decided to go for it?
If you've taken the quiz then you'll have an email from me waiting for you!
Inside you'll find the secret password to my VIP resource library.
The library is full of FREE goodies that will help you to create a life & business you love… without the confusion!
Starting a blog is by far the most fun & exciting thing I have ever done which is why I highly recommend it to you too!
If you're a creative & ambitious woman who has something to share with the world & wants to make a positive difference to people's lives then…
Go For It!
Don't forget to access the resource library here.