These amazing Halloween bullet journal ideas just go to show that Halloween decorations are not only great for your home… they're perfect for your bullet journal too!
These spooky bullet journal spreads are great for your bujo but are also the perfect inspiration for scrapbooking, doodling, and just getting creative too!
Simply add one of these Halloween spreads to your bujo for an instant holiday fix that will have you organizing your October like a boss!
Whether you're looking for some cute and creepy doodles, scarily good weekly spreads, Halloween-themed mood, and habit trackers, or even a fall bucket list page… you'll find the perfect spooky bujo inspiration right here!
So grab yourself a pumpkin cinnamon latte (because what else would you drink on Halloween, right?) and let's get to it…
P.S. Be sure to Click Here to quickly save all these Halloween bullet journal ideas to Pinterest!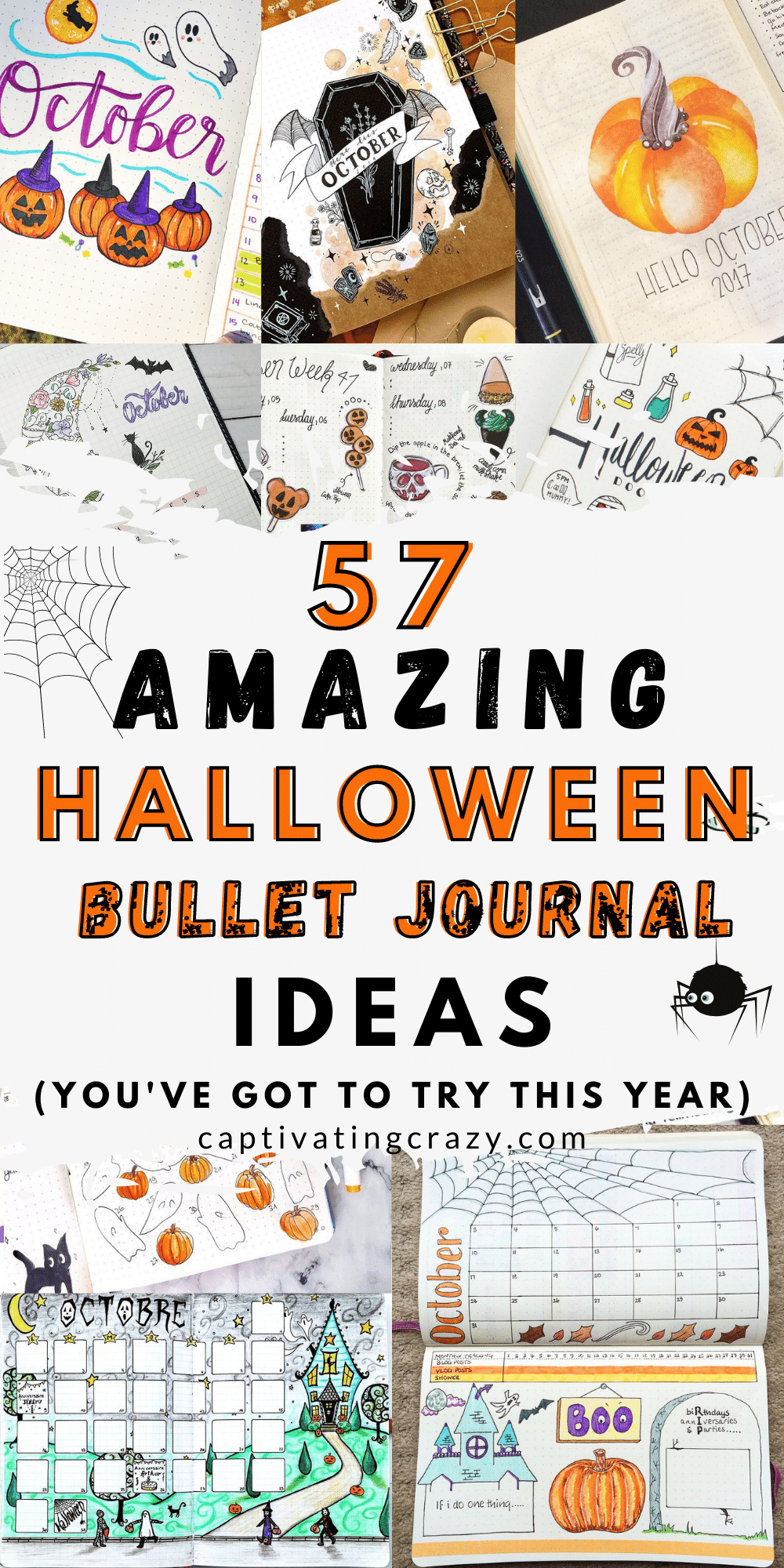 This post contains affiliate links, Find out more here. 
Halloween Bullet Journal Doodles
Bullet journals are the perfect place for doodles any time of the year but even more so on Halloween…
1. If you want to keep things simple then a ghost is a great way to get started!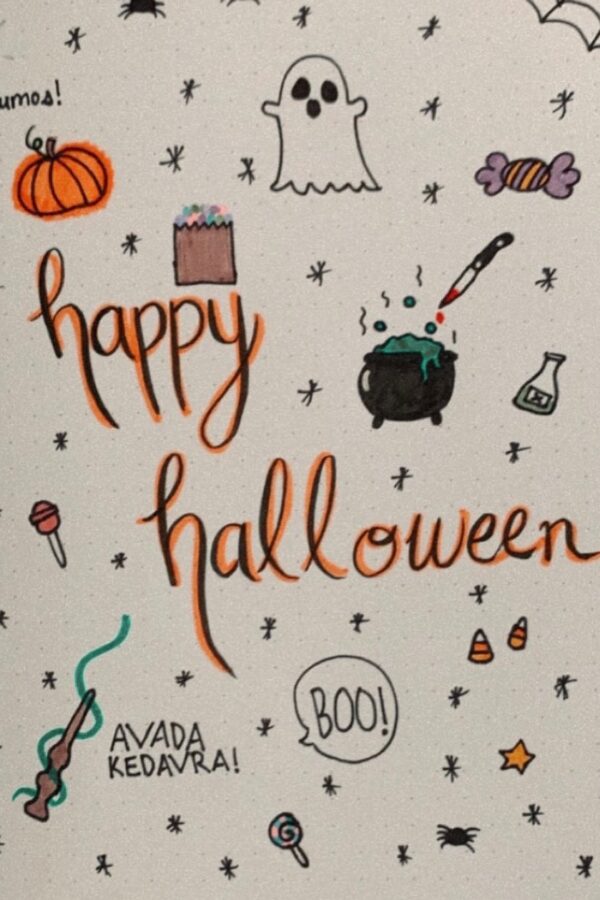 And did you notice those adorable little candy corns?
2. Step by step Halloween doodles are great for beginners and pros alike! How adorable is this pumpkin?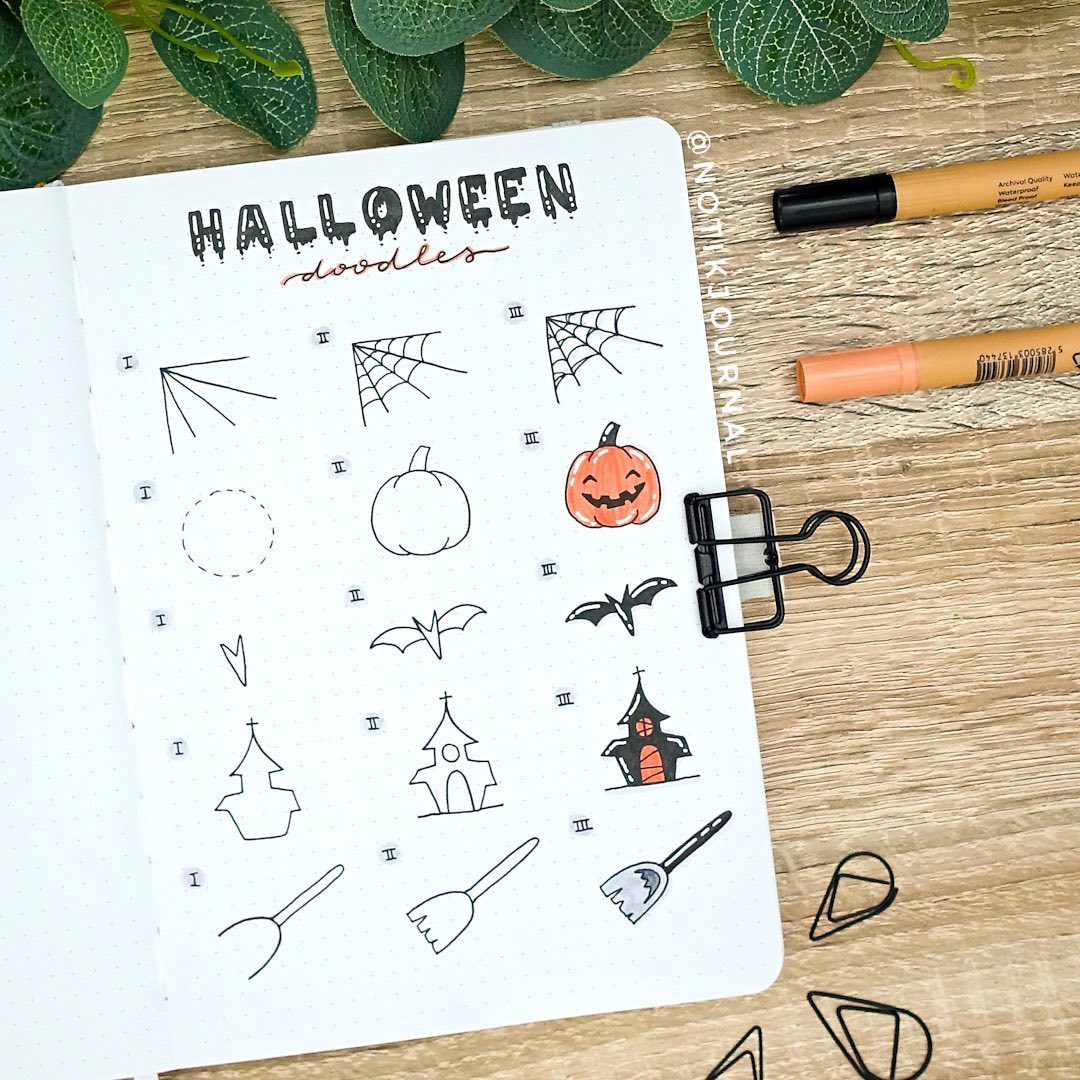 3. Watercolors are perfect for adding a burst of color to your bullet journal spreads!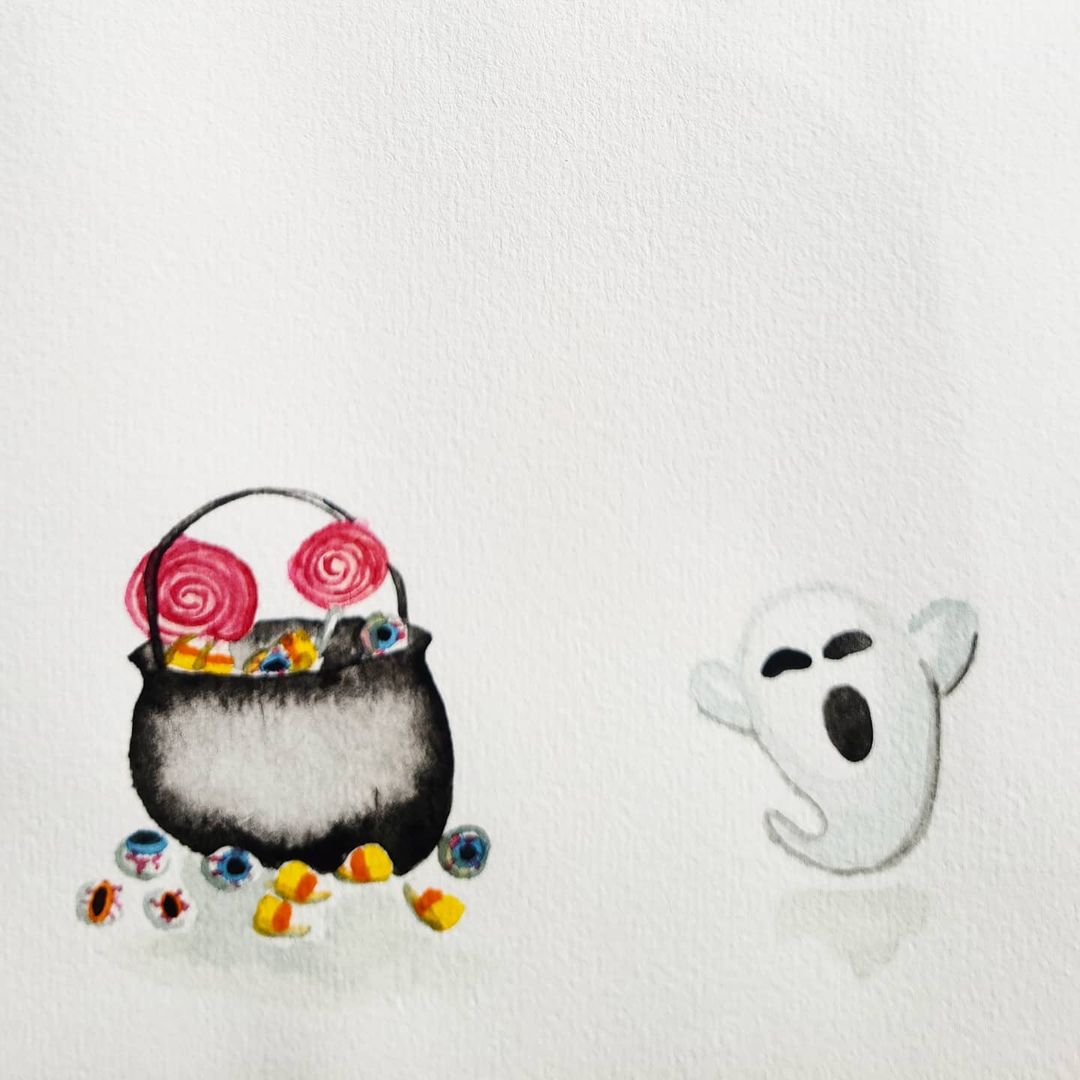 Grab yourself a handy watercolor pallet here to give it a go yourself!
4. Every Halloween doodle you could think of is included on this beautiful page!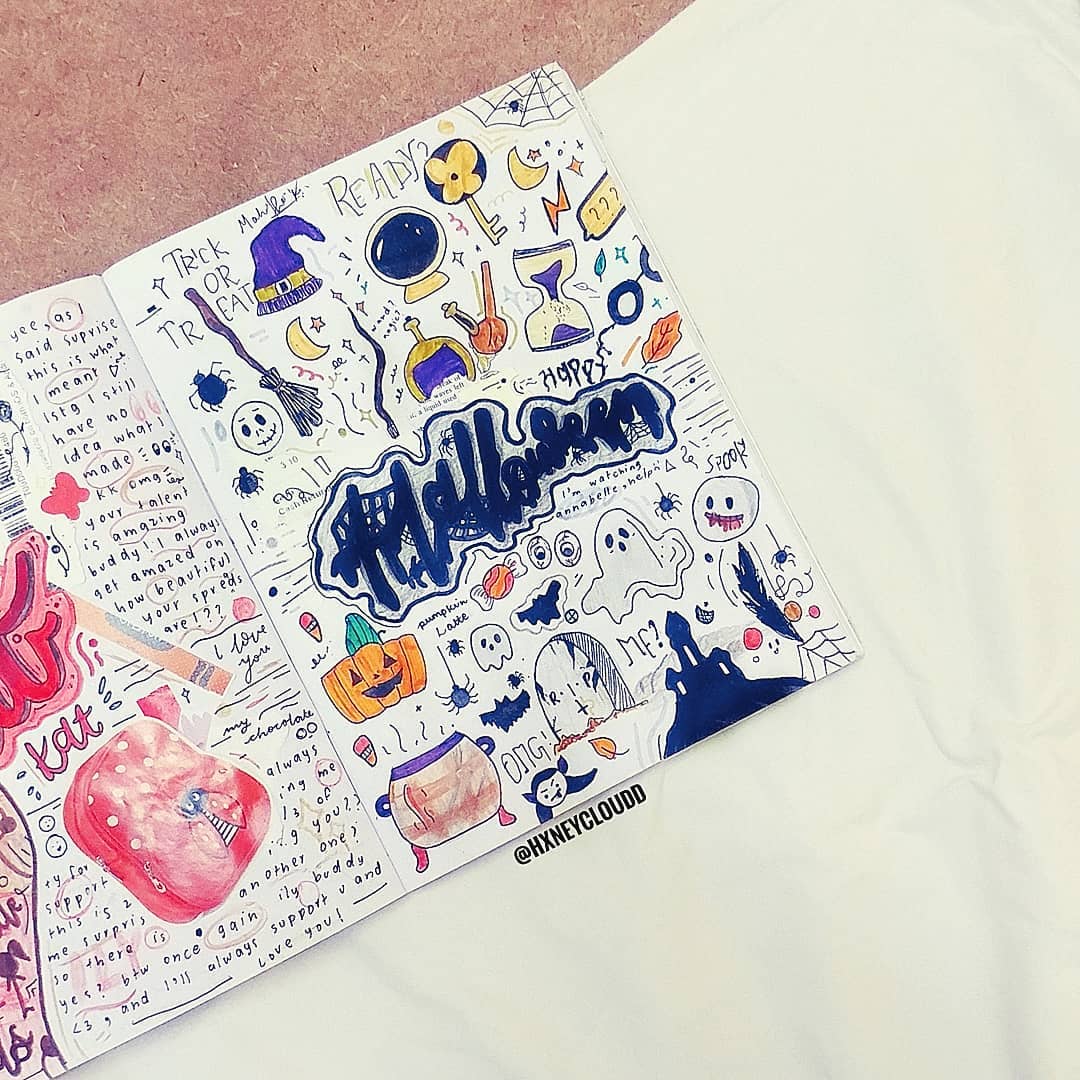 5. Halloween stickers bring effortless spooky style to your Bujo!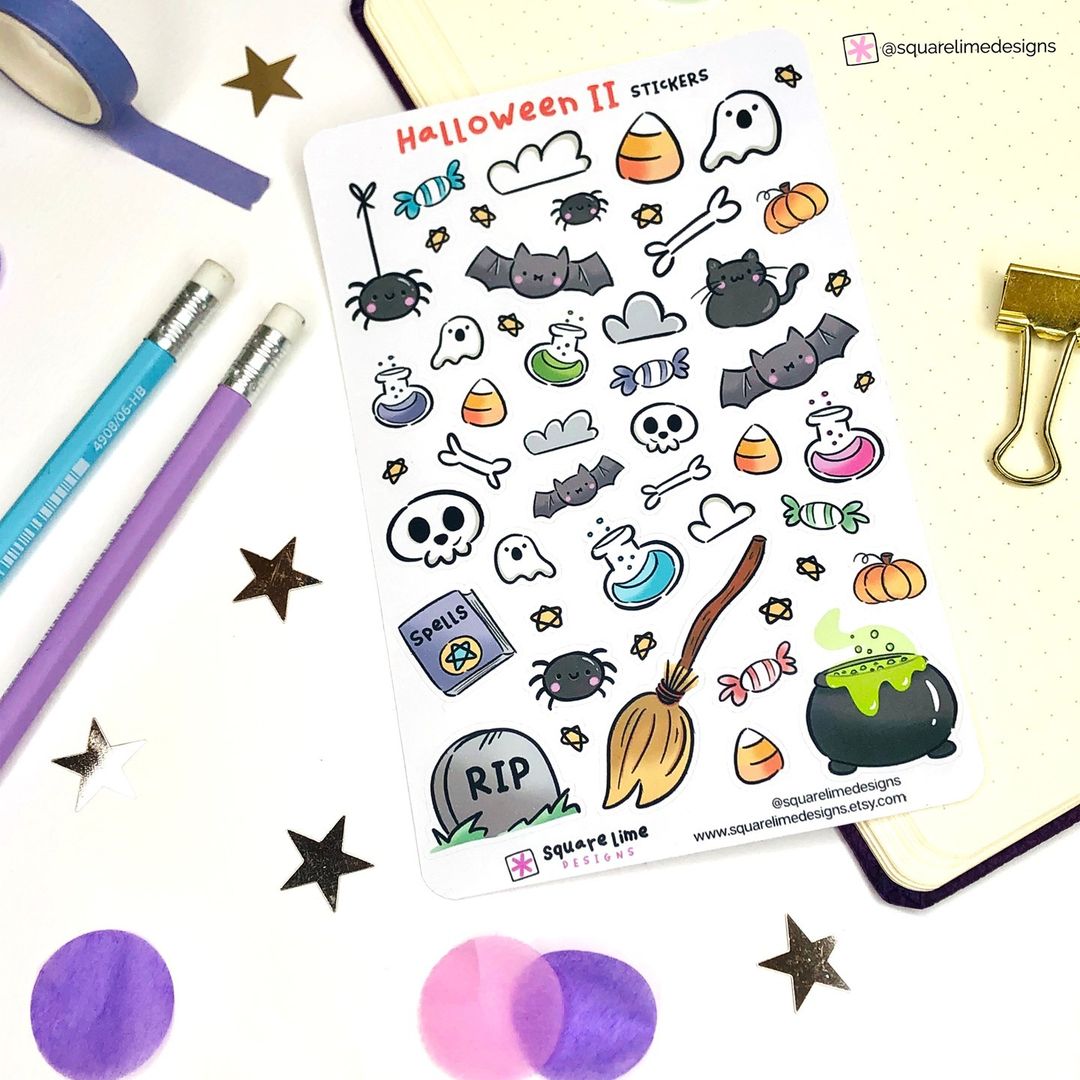 And make excellent doodle inspiration too!
6. From a spooky house on the hill to owls, pumpkins, and witches' hats… we think you'll have a hard time choosing which doodle to draw first!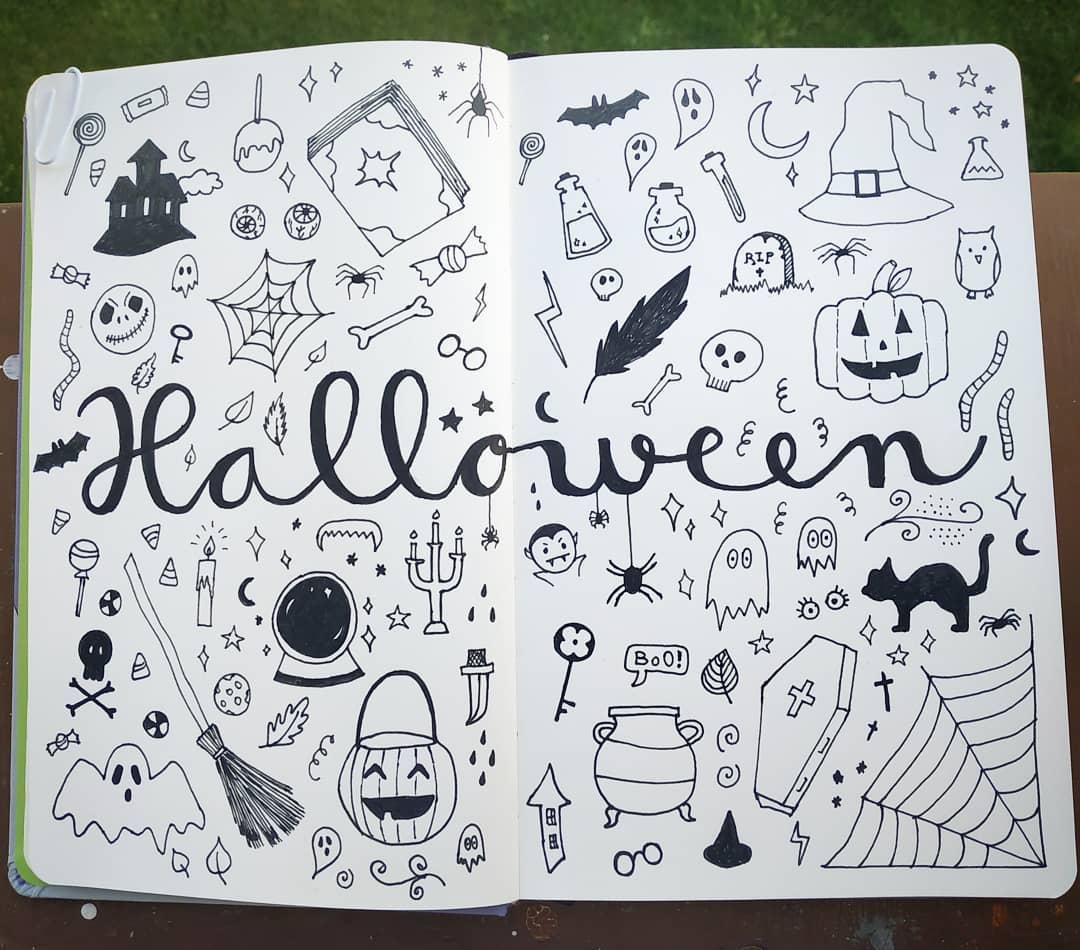 7. We love how these spooky doodles are used as cute reminders too!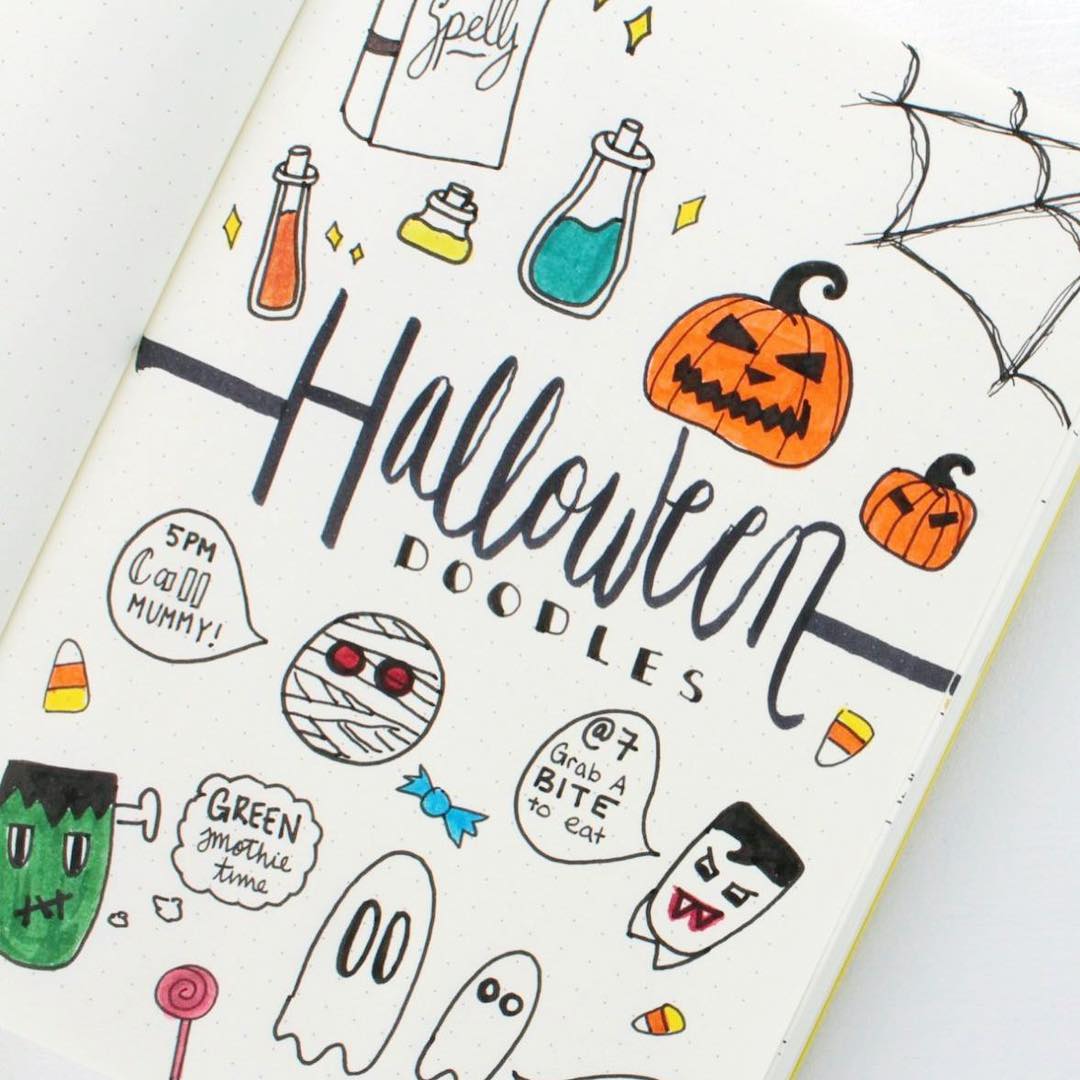 8. This Autumn-inspired page shows how brilliant Halloween doodles look in simple black and white!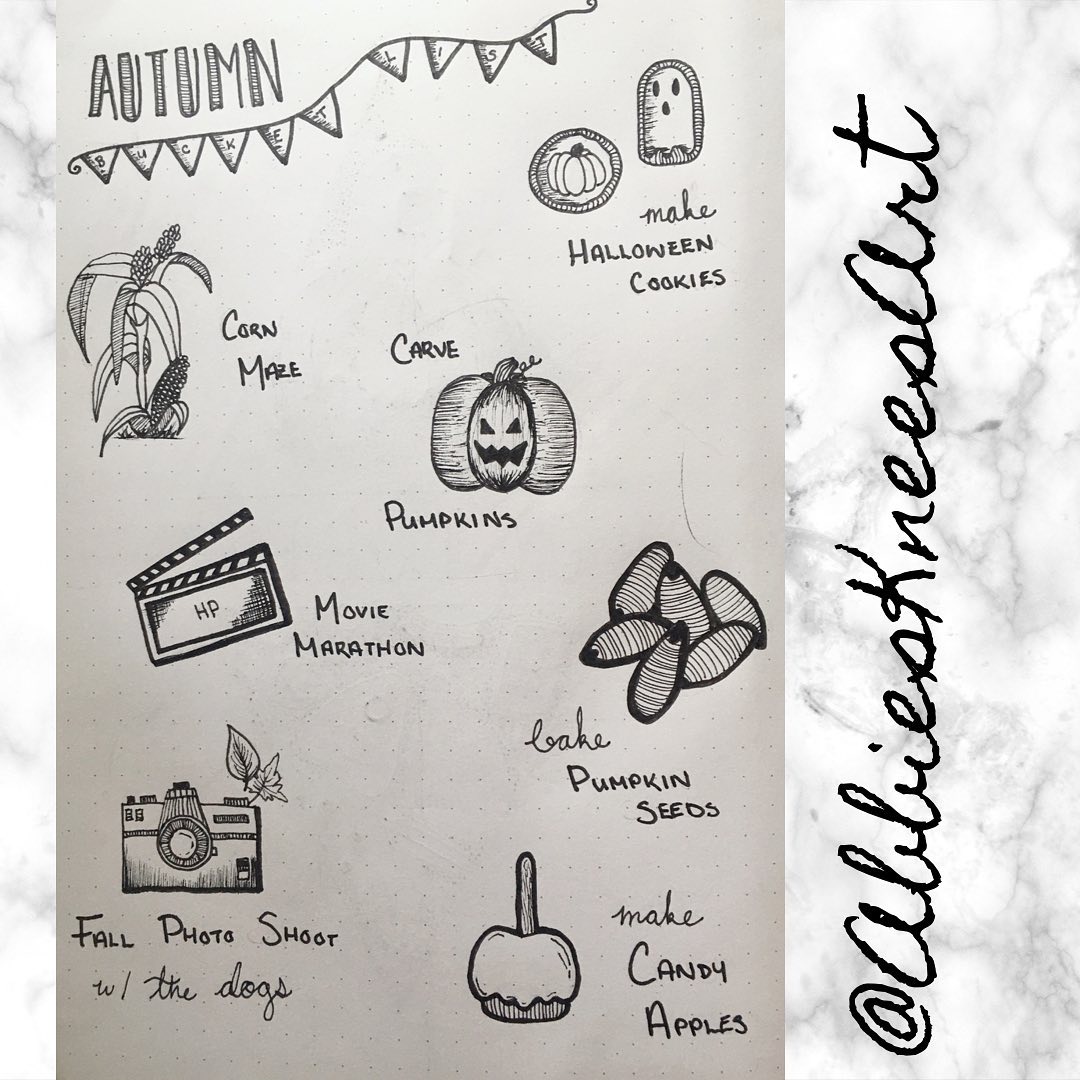 9. How about a doodle-a-day challenge for October like this one?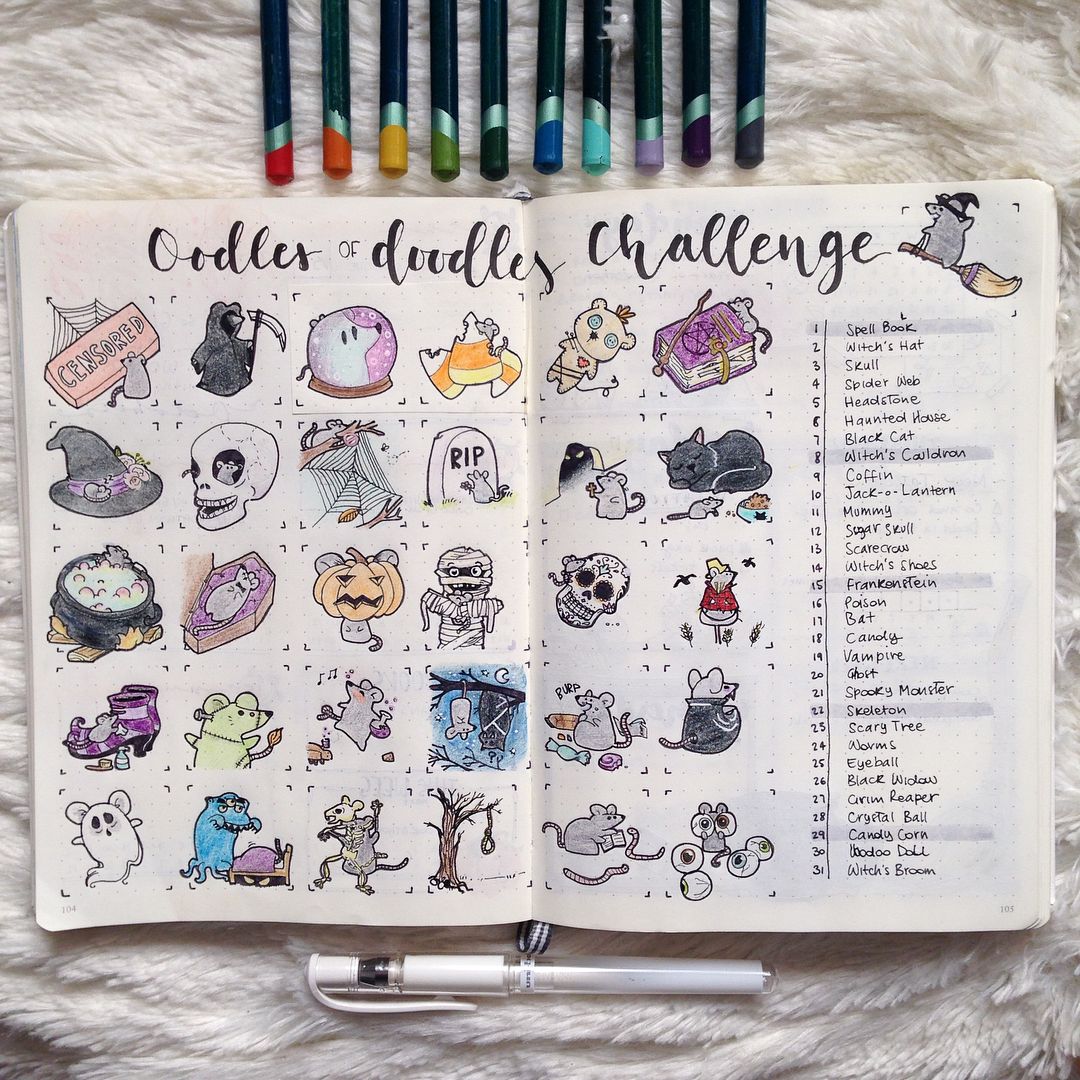 The idea here is to draw one Halloween-inspired doodle per day in the run-up to October 31st!
10. Keep things clean and simple with these bright and colorful doodles!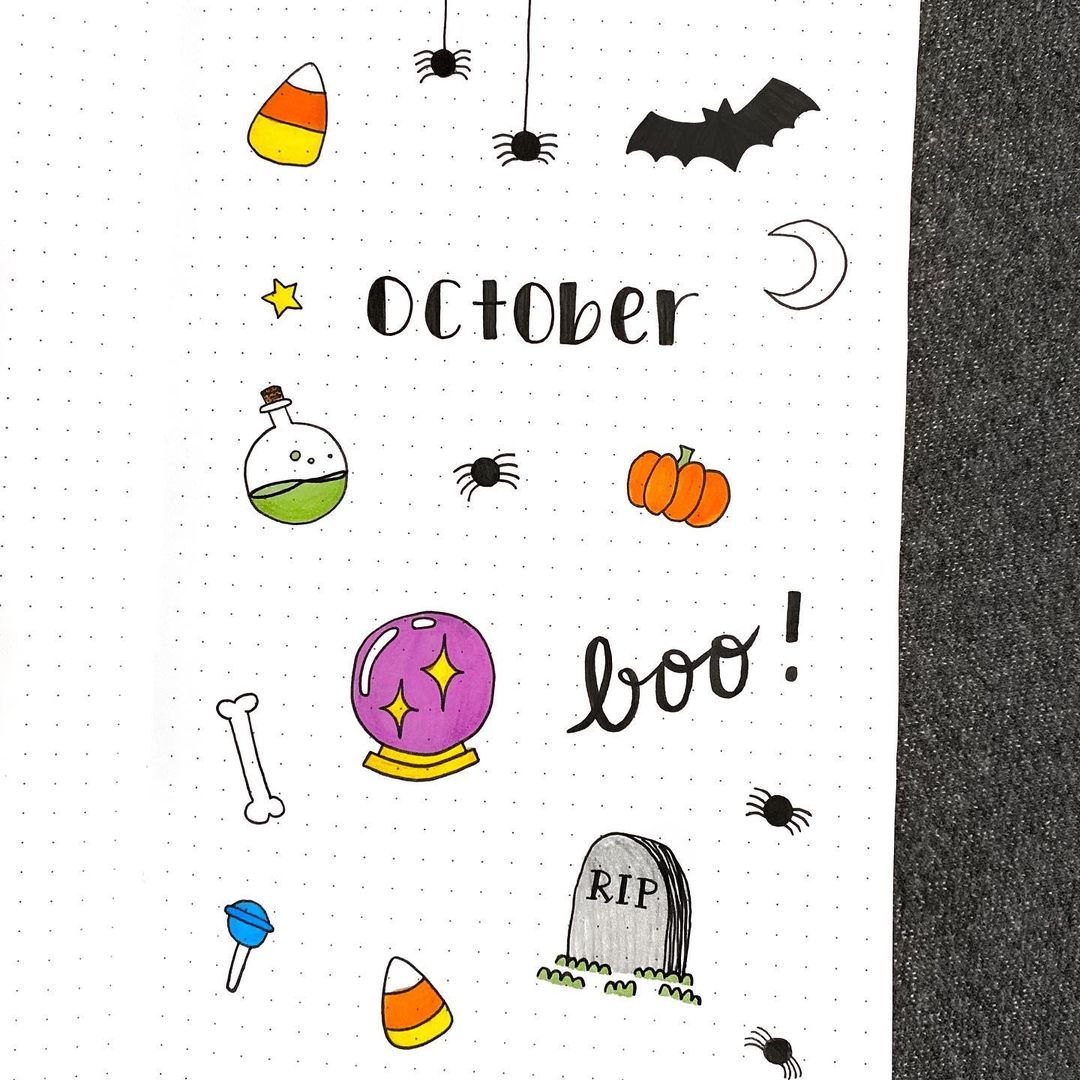 We love this spooky page because it just goes to show that Halloween bullet journal ideas don't have to be overly complicated to be amazing!
Halloween Mood Trackers
Mood trackers are one of our favorite bullet journal spreads, especially during the Halloween season!
A mood tracker helps you to see how you're feeling month on month so you know how things are going and whether you need to make improvements.
Of course, it's totally ok to have a few stressed, sad, and moody days!
But ultimately you want to have more happy, productive, and positive days filling up your mood tracker… and these spreads below will help you do just that…
11. We love this adorable ghostly mood tracker!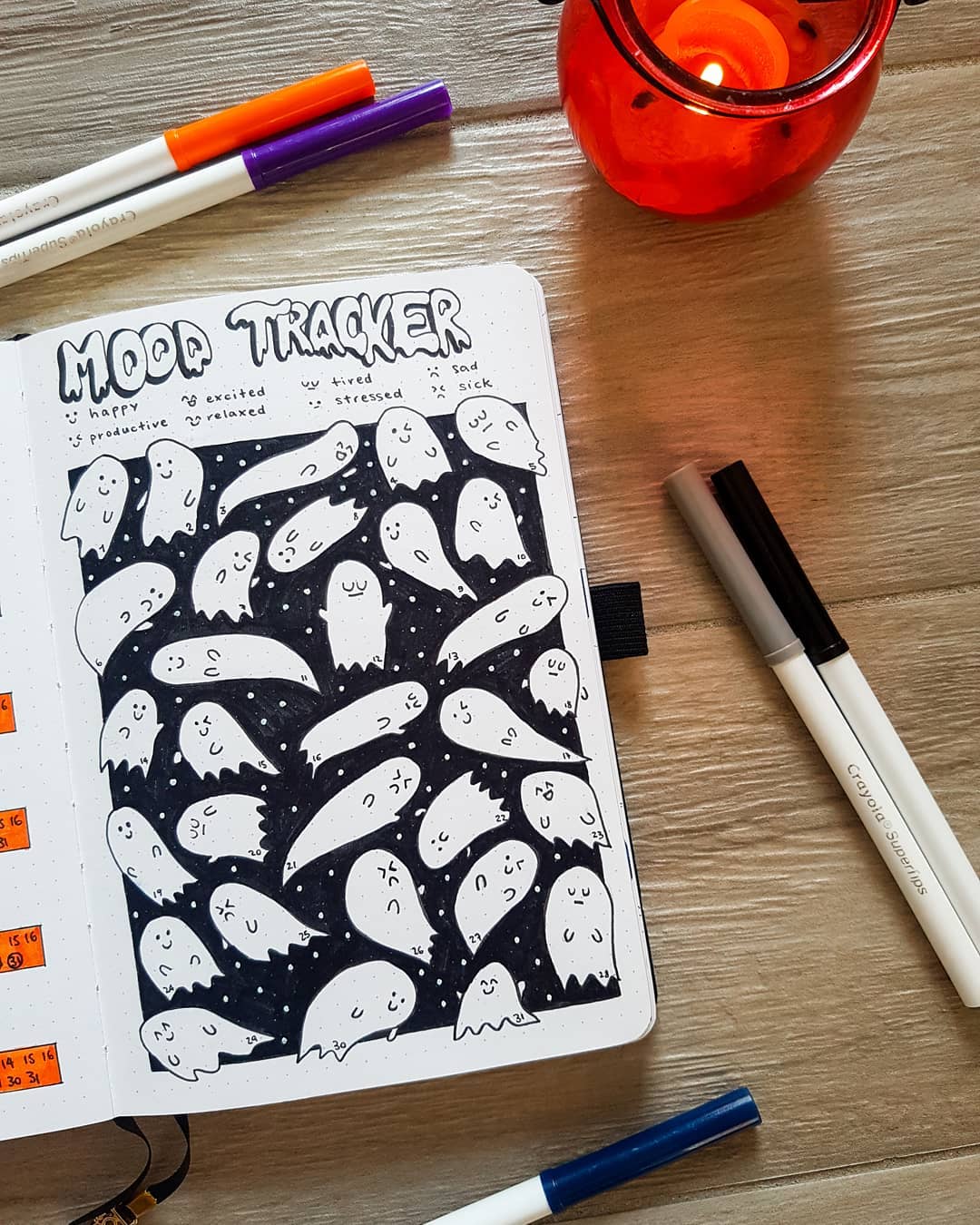 Simply draw your ghosts and fill in the most appropriate face for each day of the month.
12. Pumpkins make the perfect base for a Halloween mood tracker!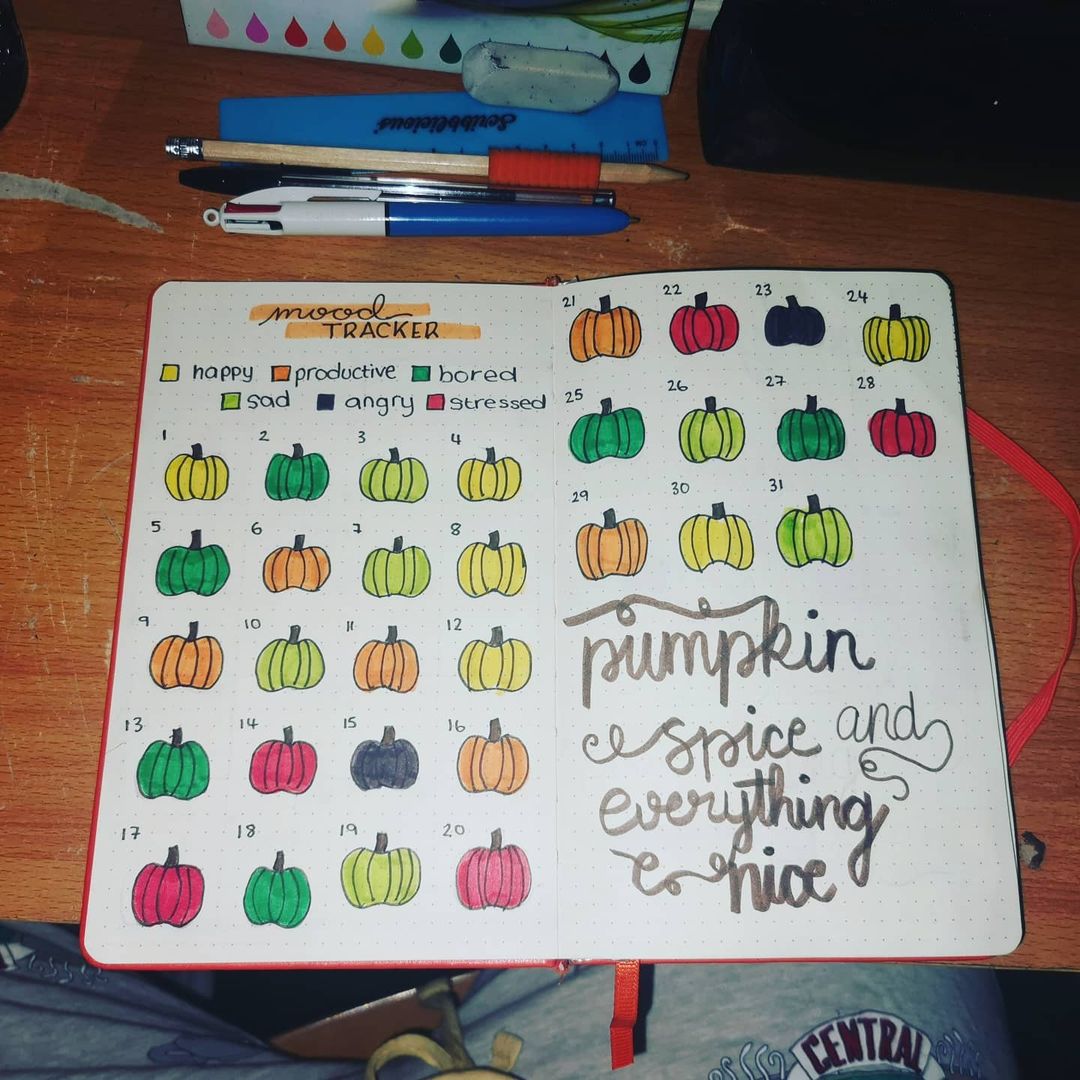 13. A cauldron bubbling with emotion is a perfect way to track your mood in October!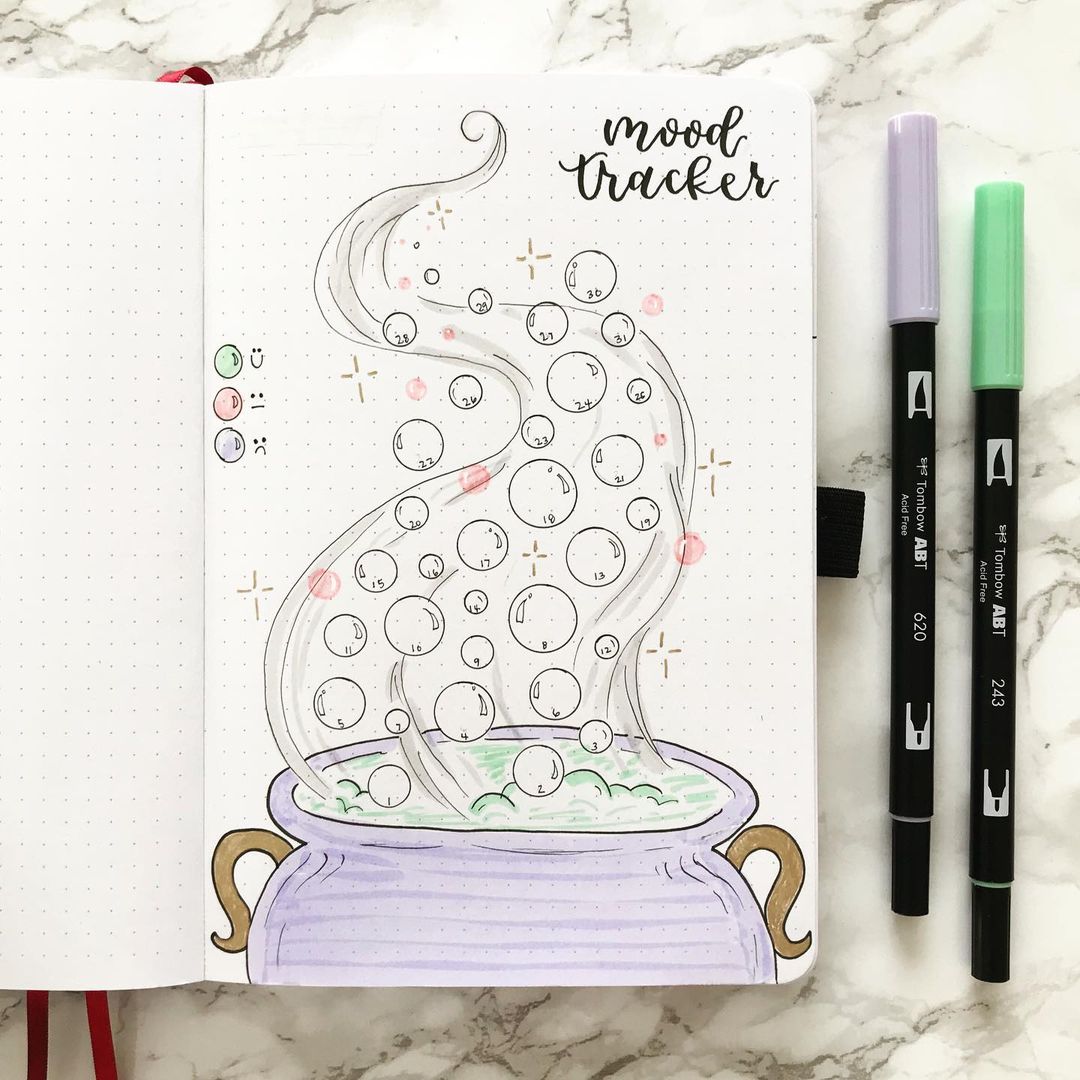 You can even mix up the colors to suit your own style!
14. What could be better than a bat-themed mood tracker on Halloween? Easy and fun to create!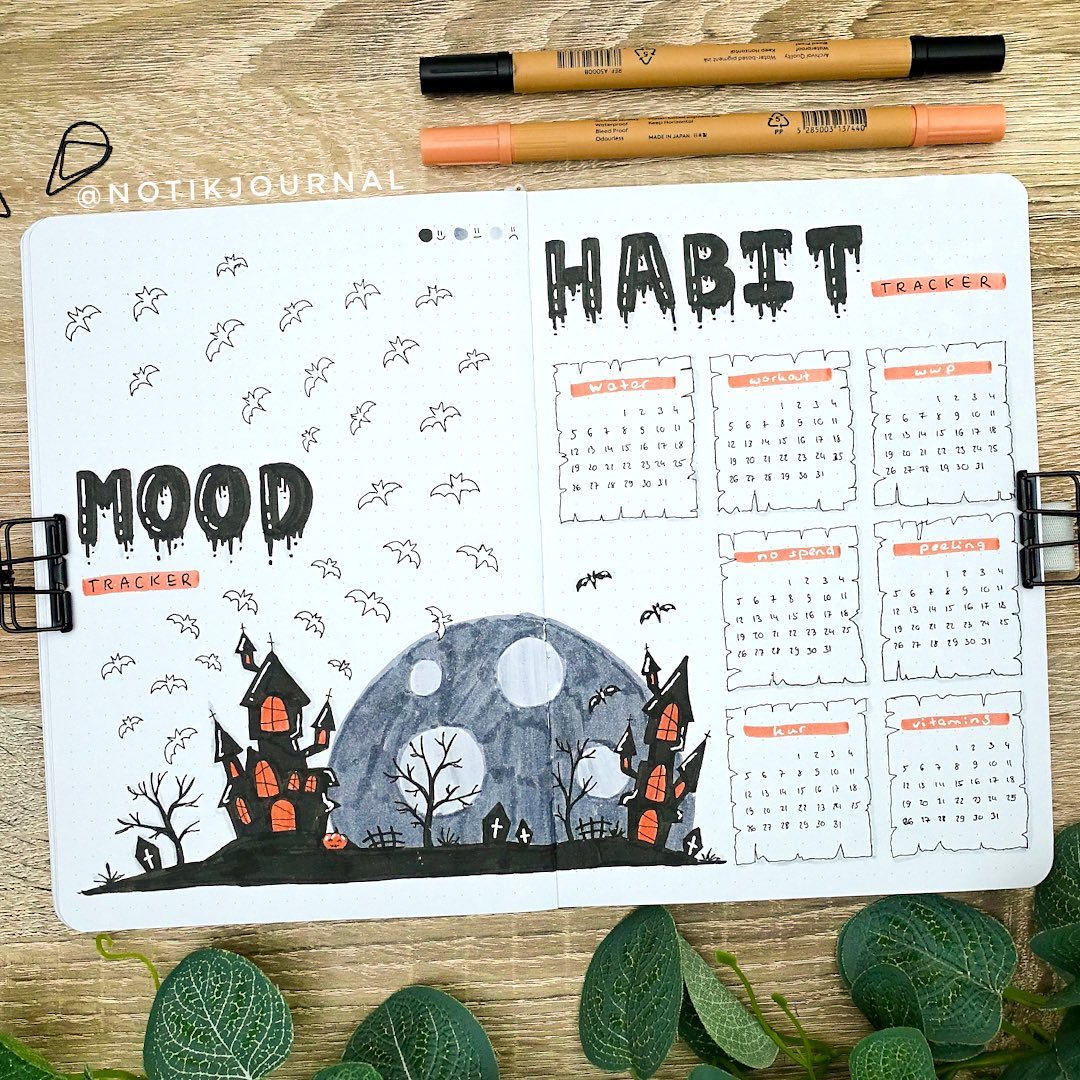 15. A mix of ghosts and pumpkins with different expressions can be a great way to keep track of how you're feeling in October.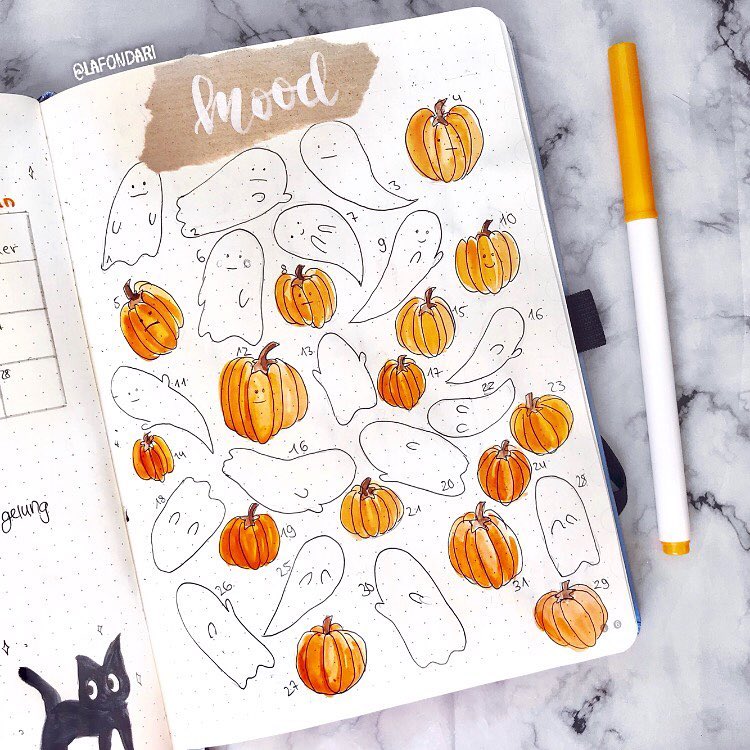 16. If you love witchcraft on Halloween then you'll adore this spooky mood tracker!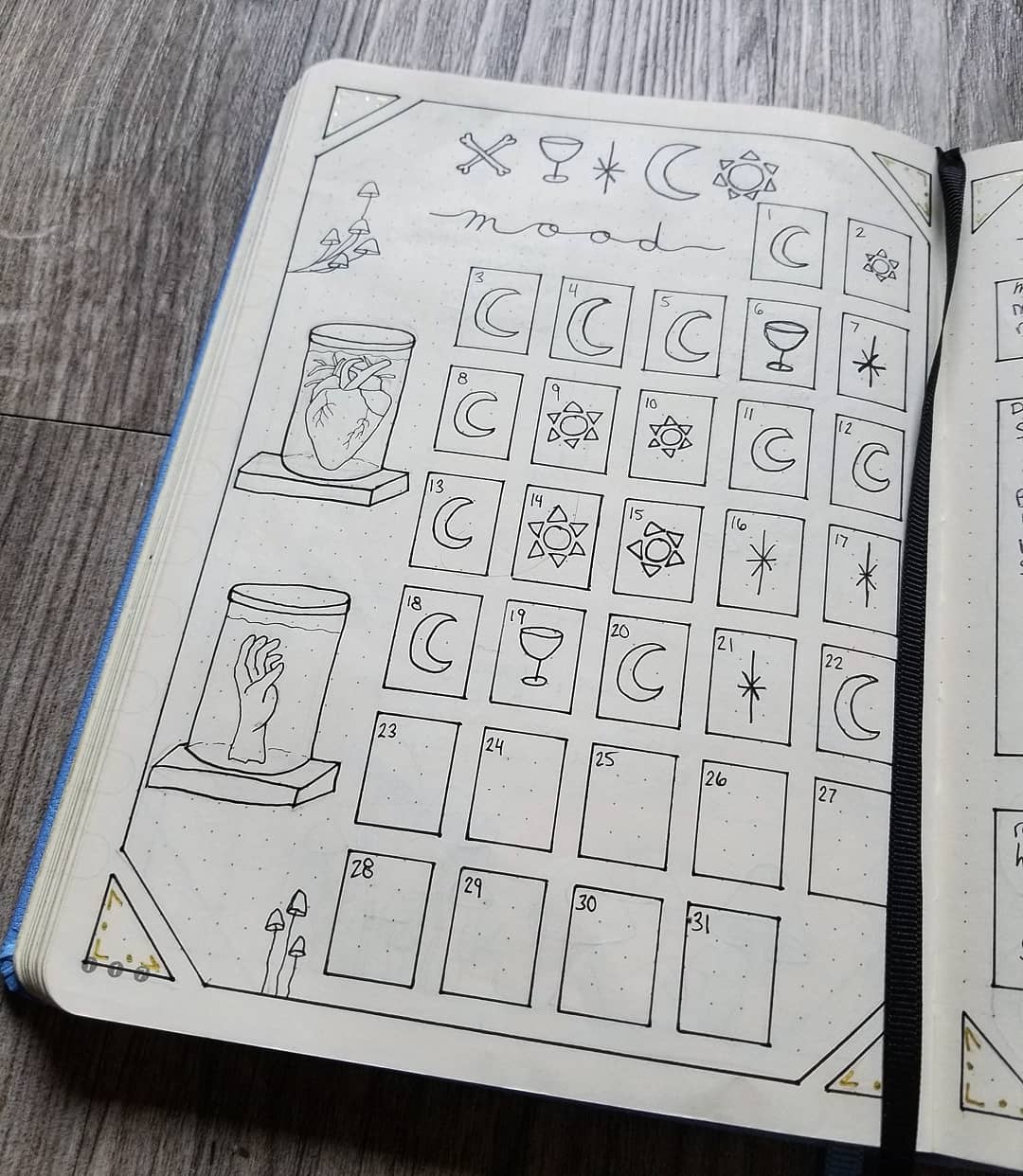 17. Get creative and colorful with this mood tracker page for your bullet journal!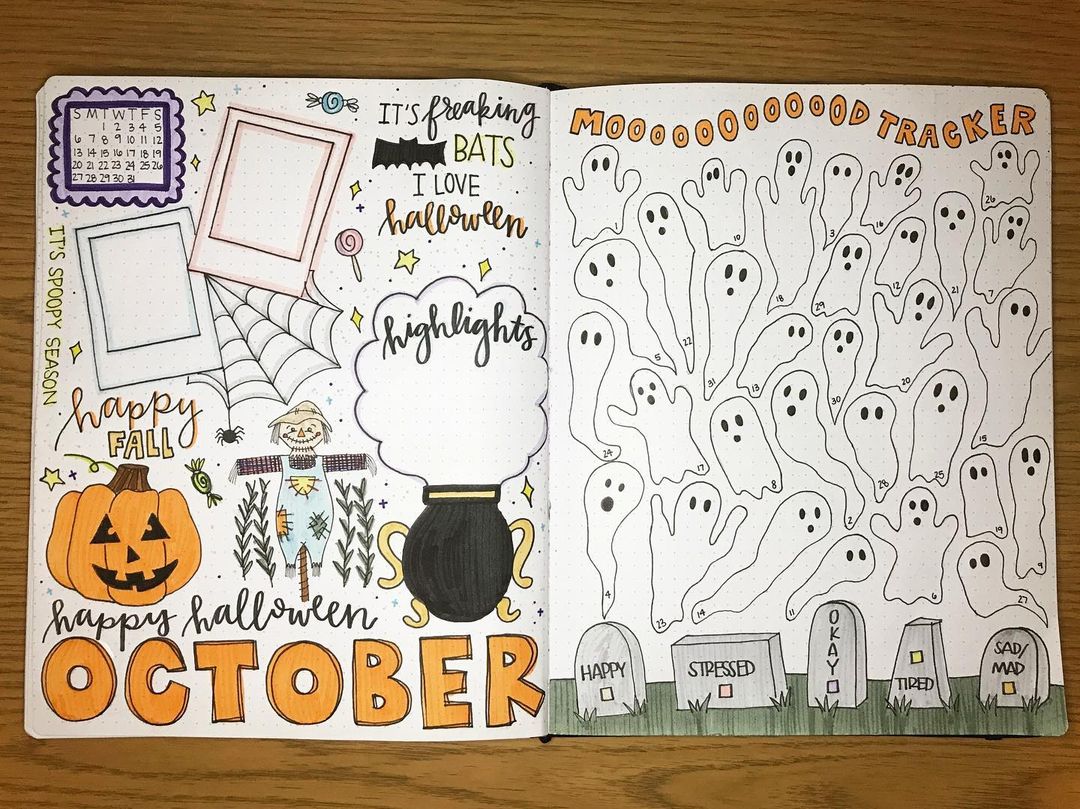 We think it will look even better when all the ghosts are colored in.
18. Embrace the season by using traditional fall colors for each mood on your mood tracker.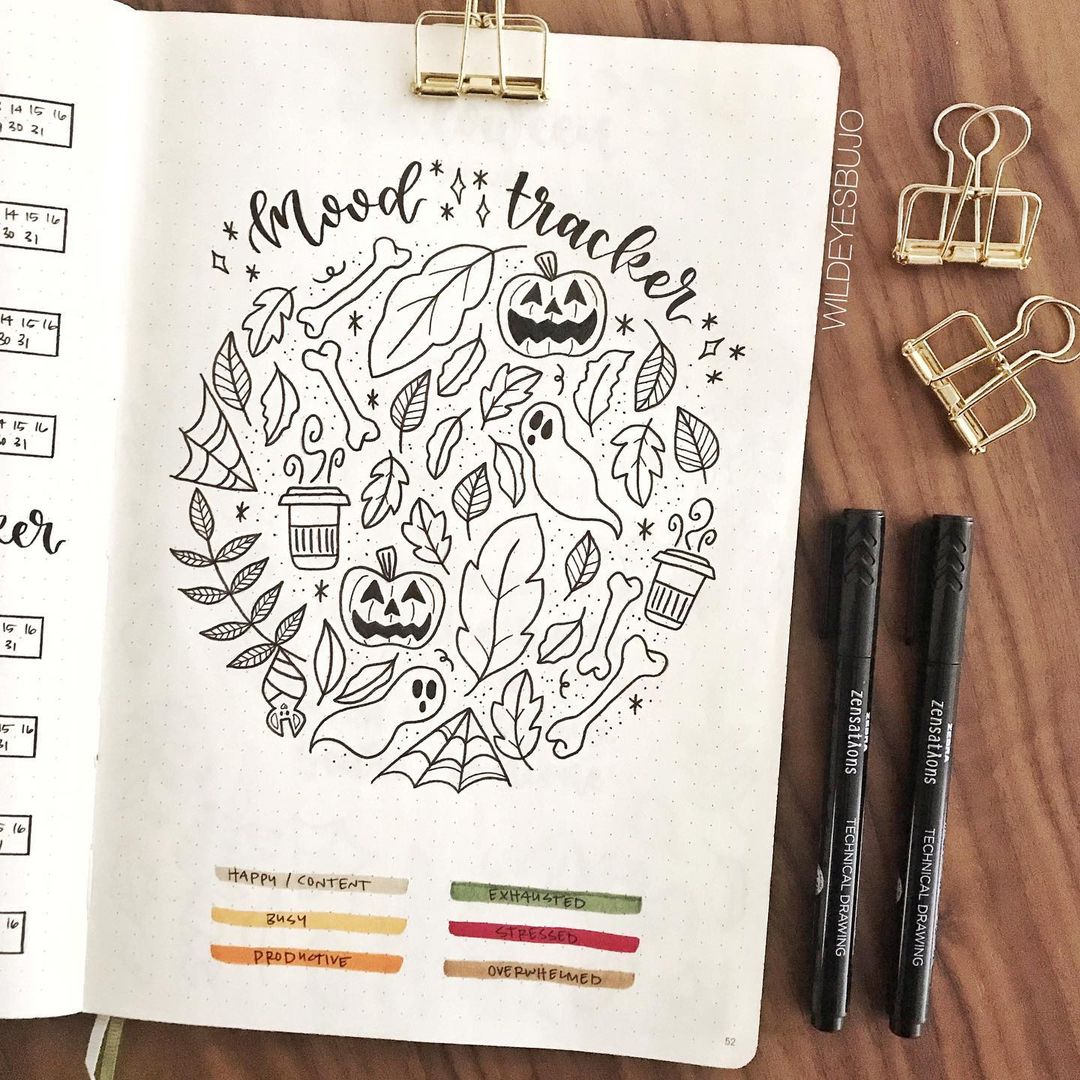 You can get a nice set of coloring pens on Amazon.
Halloween Weekly Spreads
Weekly spreads are a great way to stay on top of all your important weekly tasks and to-dos.
Here we have some of our favorite Halloween weekly spread ideas to inspire your October weekly pages!
19. If you love Disney, you'll love this bullet journal spread full of mickey inspired treats!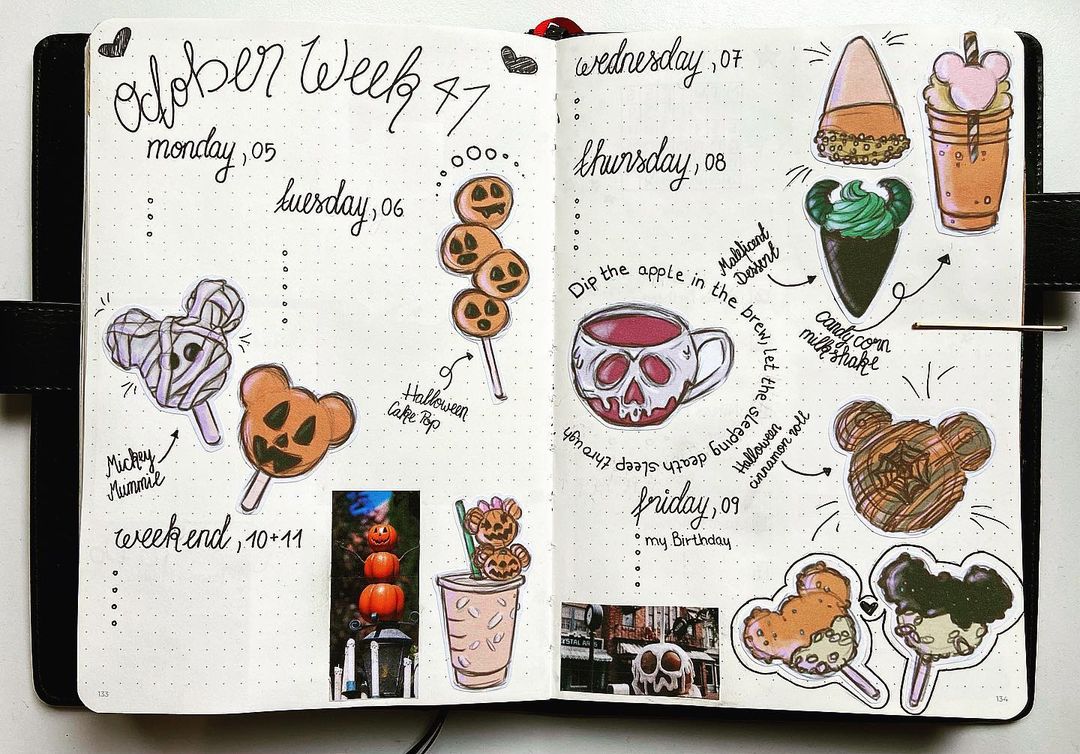 20. A vertical layout with a Halloween-inspired border is a great way to see your week ahead at a glance.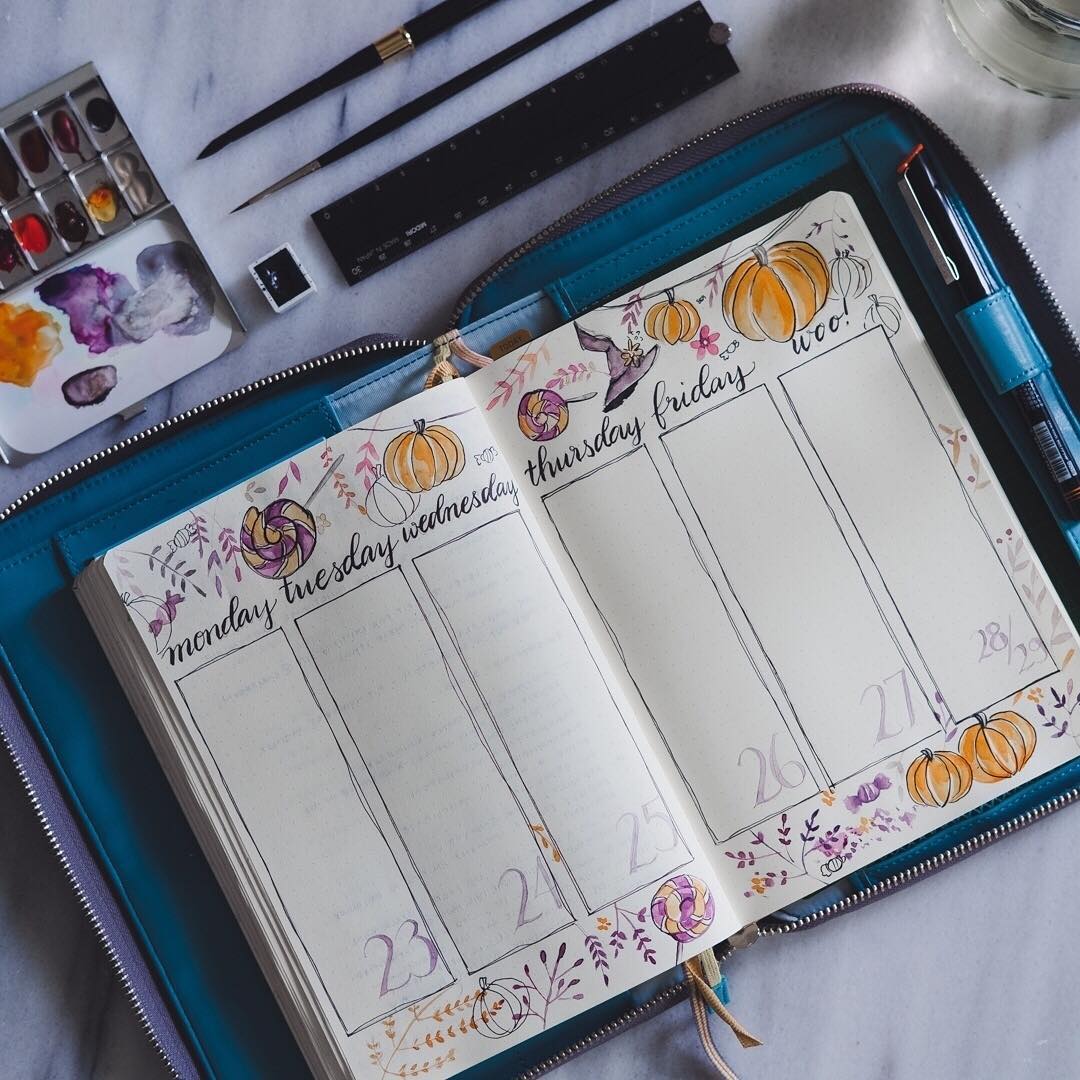 21. A grid layout gives you all the space you need to plan your important weekly tasks…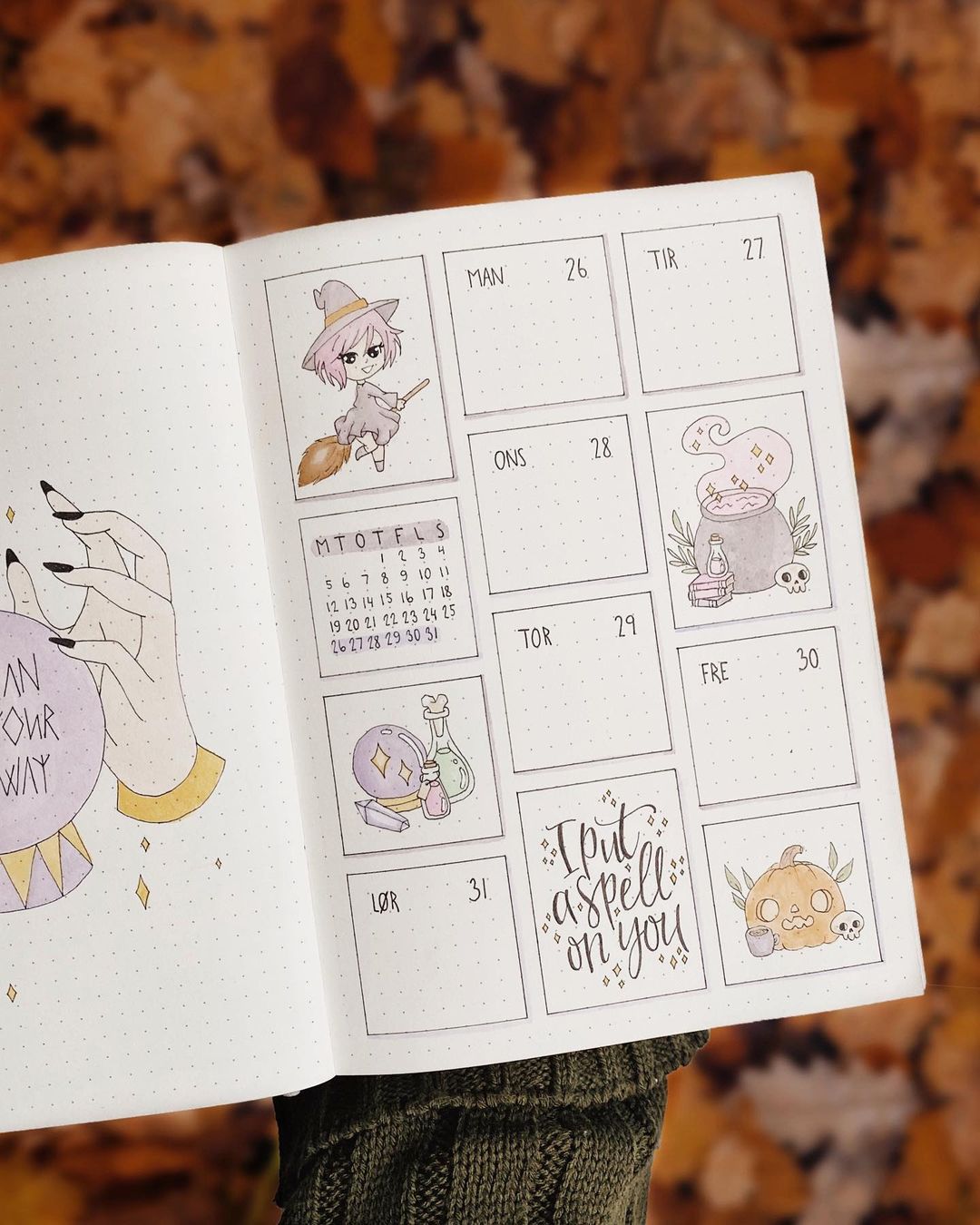 Remember to leave some grid spaces for adorable spooky doodles and quotes too!
22. Keep things simple with a title for each day followed by bullet points of things you have to do.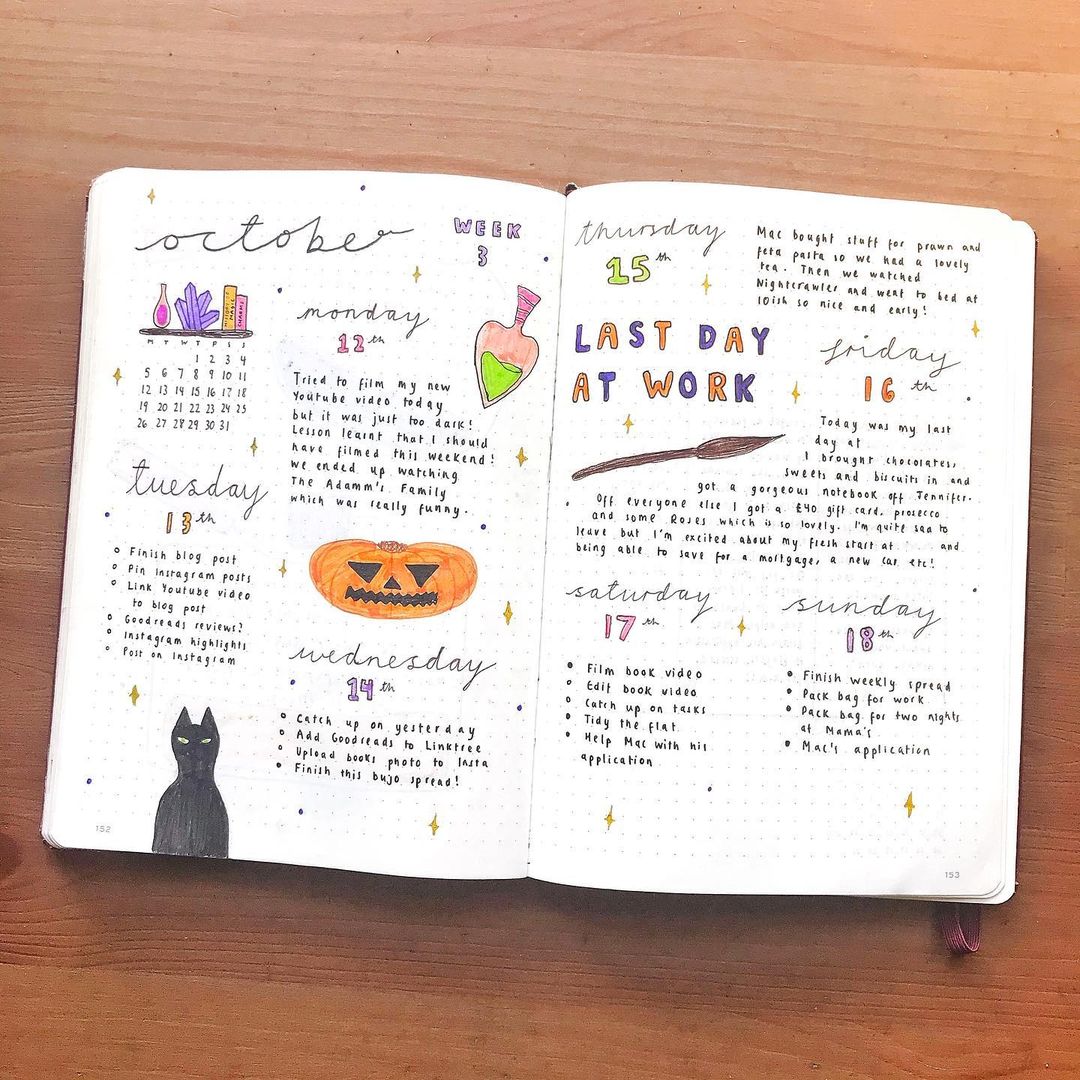 A weekly spread is also a great place to write a daily diary too!
23. A sunset background with black silhouettes can be a great way to bring on all the Halloween feels!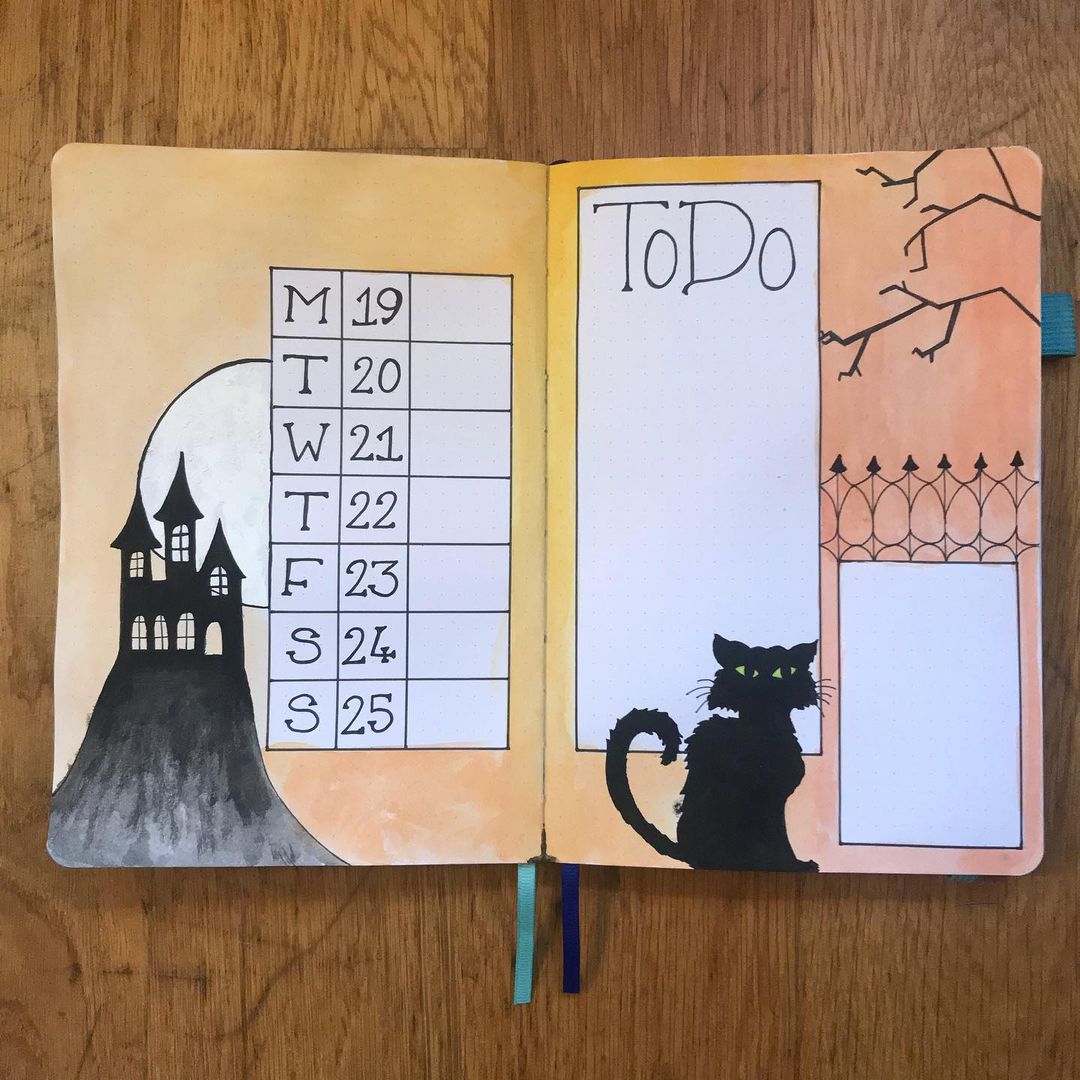 24. Decorate your weekly bullet journal spread with Halloween bunting, pumpkins, and of course, lots of spider webs!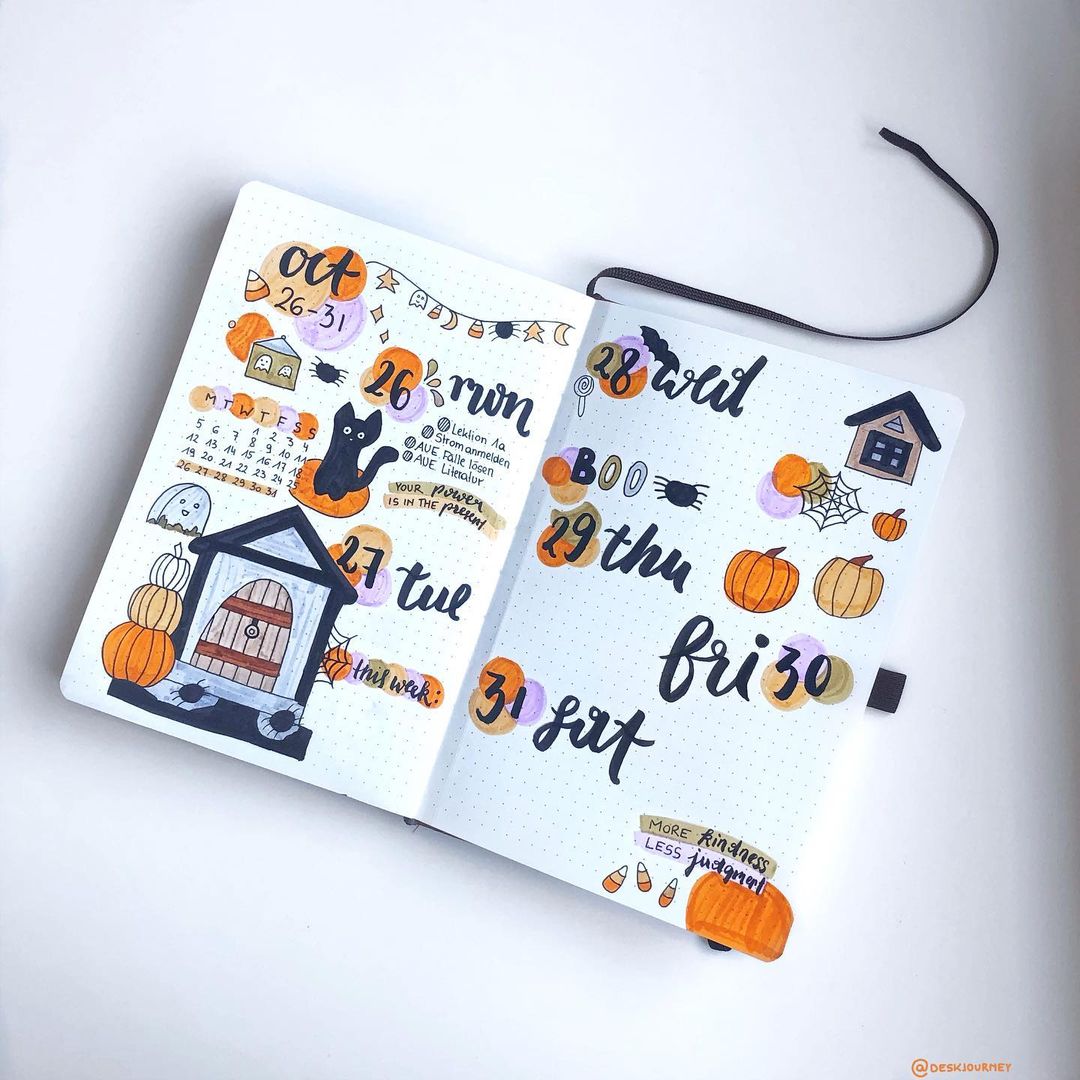 25. A monthly calendar on your weekly spread is a good way to keep track of where you are in the month.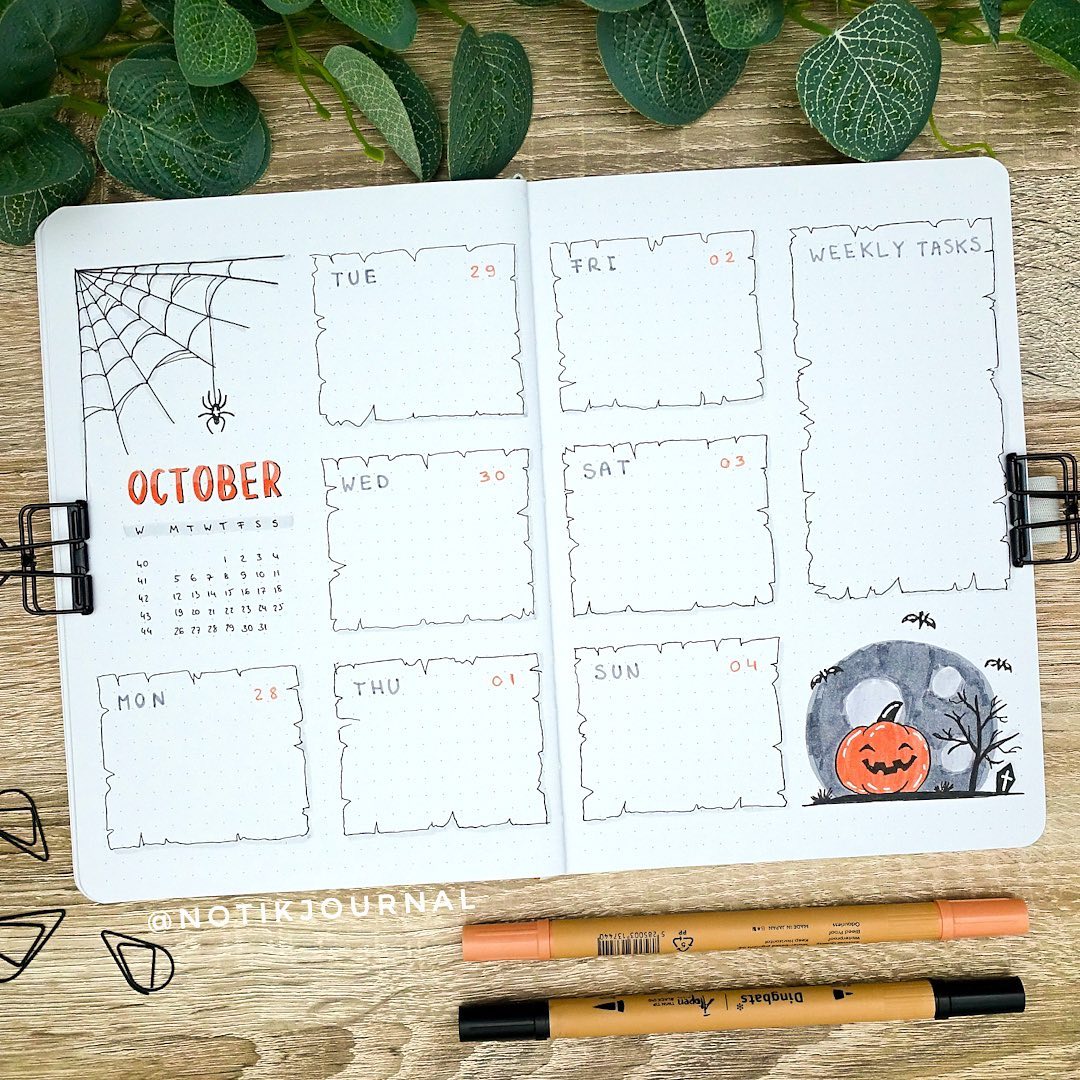 26. If you have a packed out schedule, then you need to have a page like this to ensure you don't get too overwhelmed.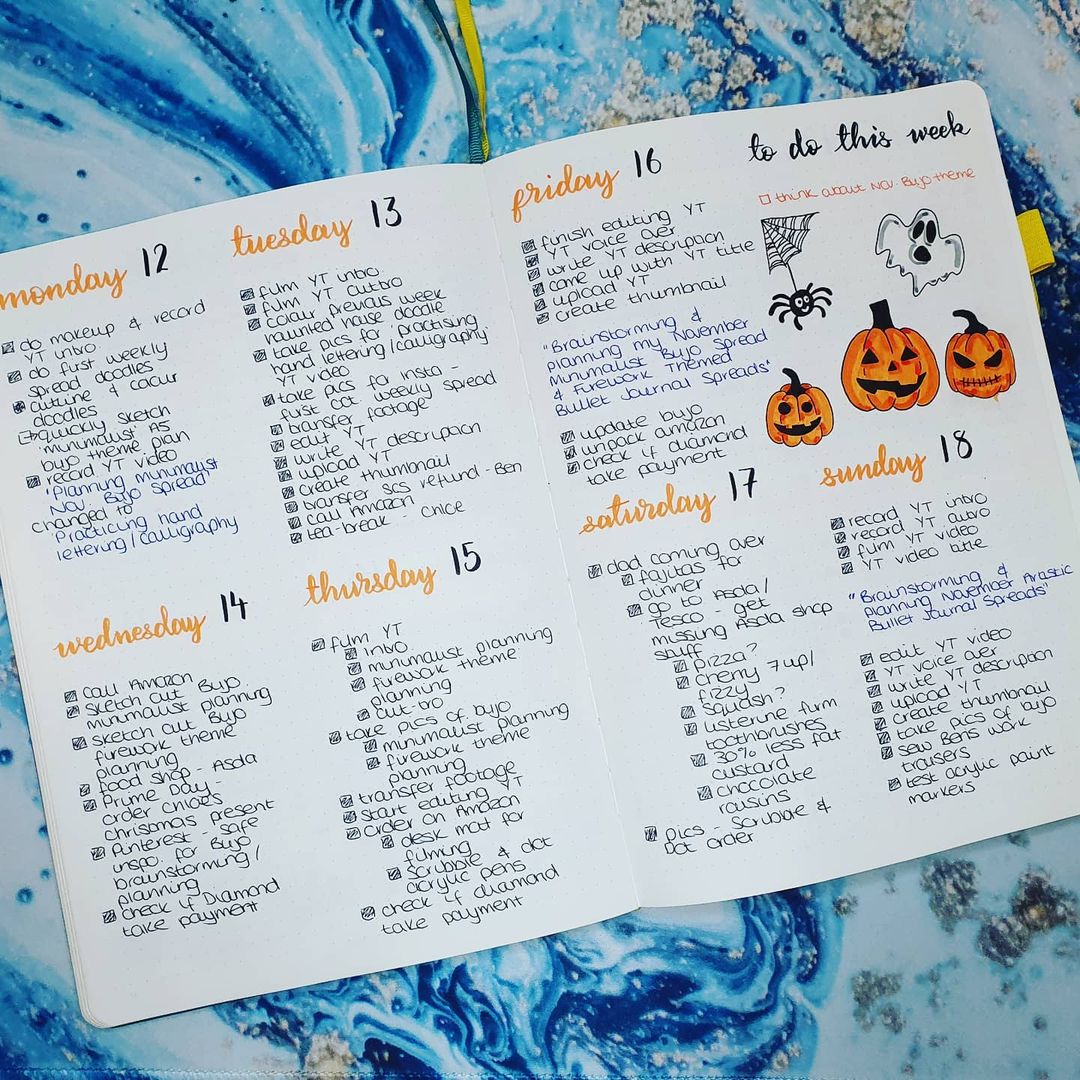 27. These squares look like torn pages from an old spell book.. perfect to get you in the Halloween mood!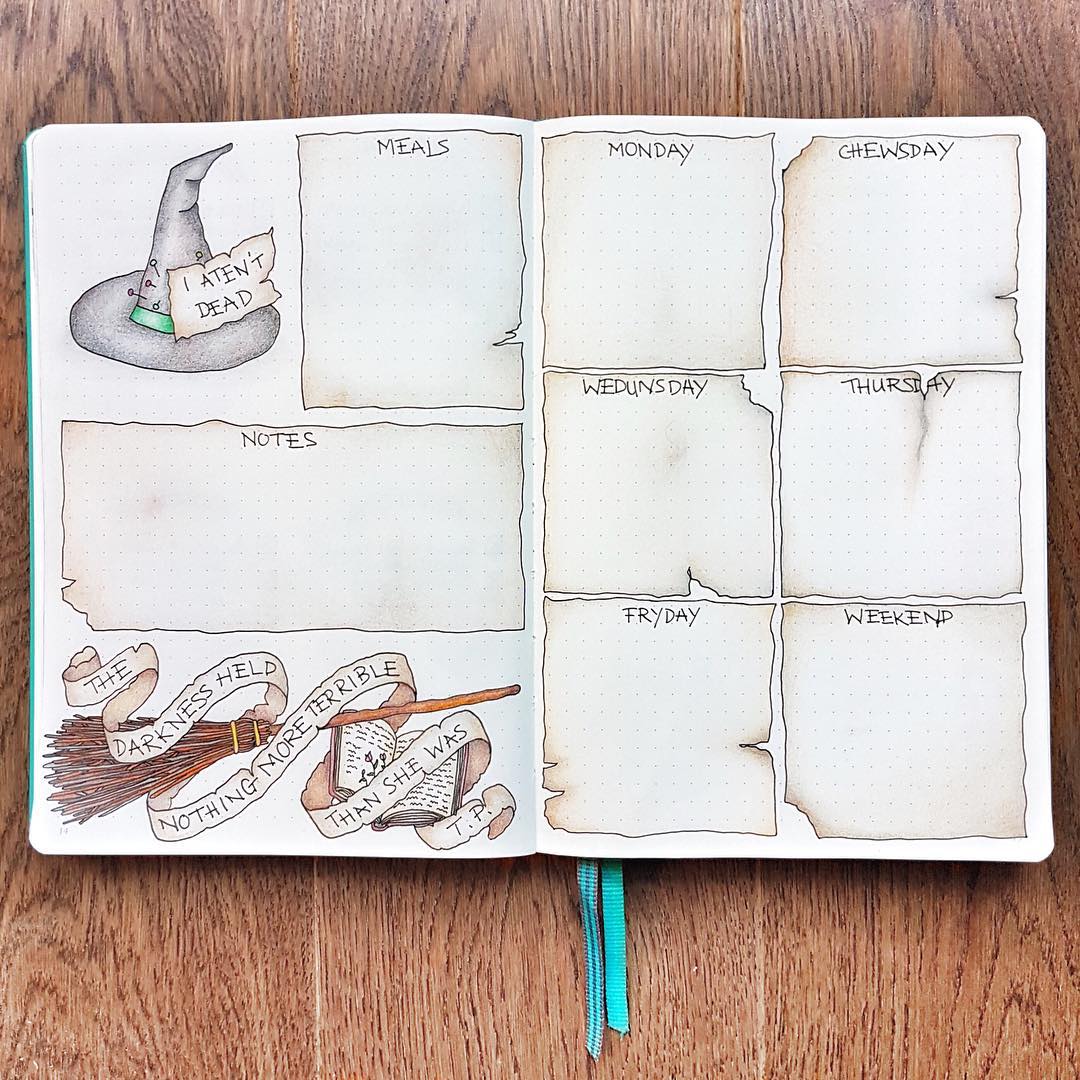 Halloween Cover Pages
One of the best things about creative journaling is being able to express yourself through art!
And what could be a better way to do that than a cover page?
A cover page is a unique page, usually containing the name of the month along with beautiful illustrations, doodles, and lettering.
Here we have some epic Halloween bullet journal cover pages that will inspire you this October…
28. Who would have thought a coffin could be so aesthetic?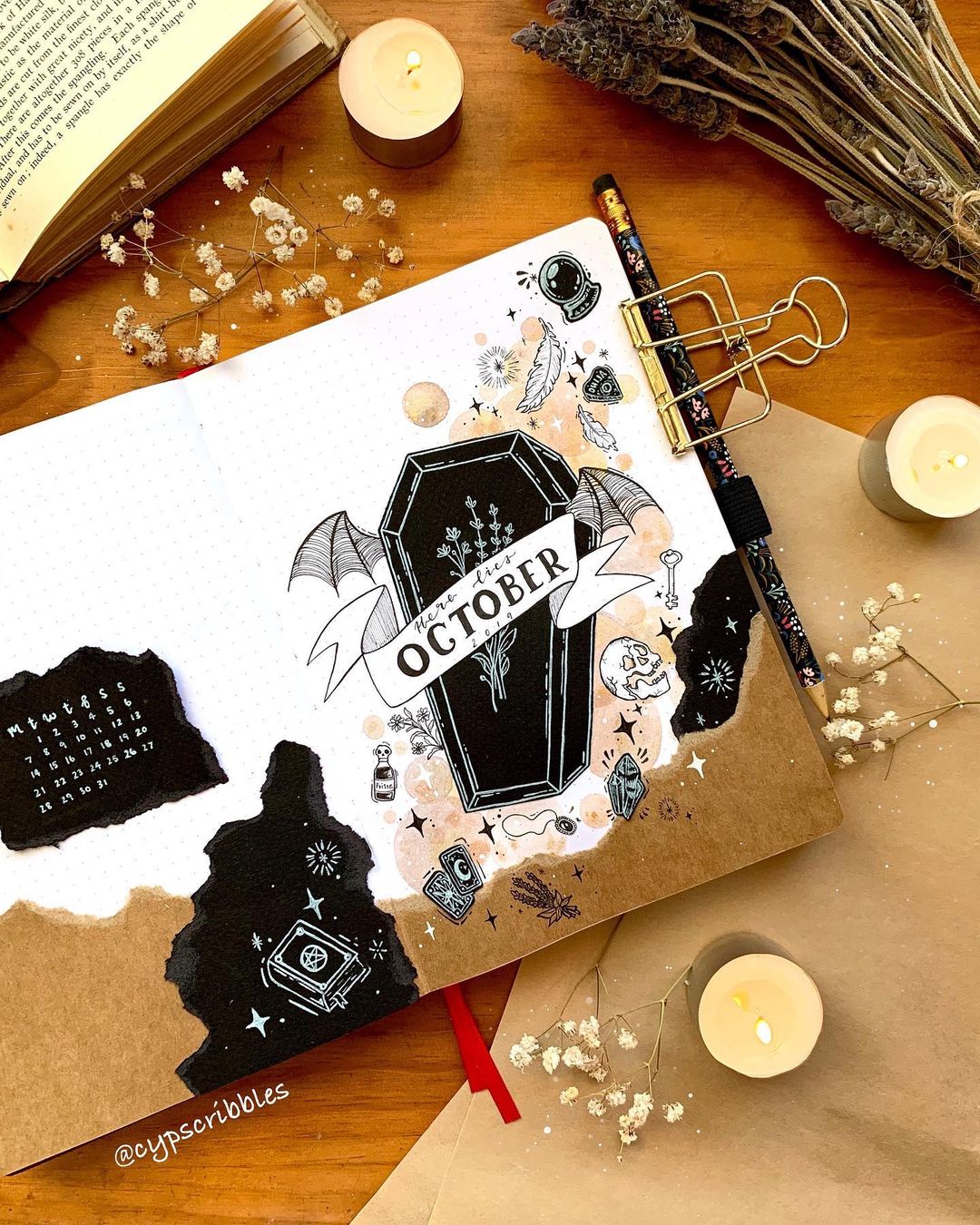 We love the contrasting brown and black paper with white ink… we think this page is beautiful!
29. Disney fans know that Mickey has many epic disguises…. especially spooky ones!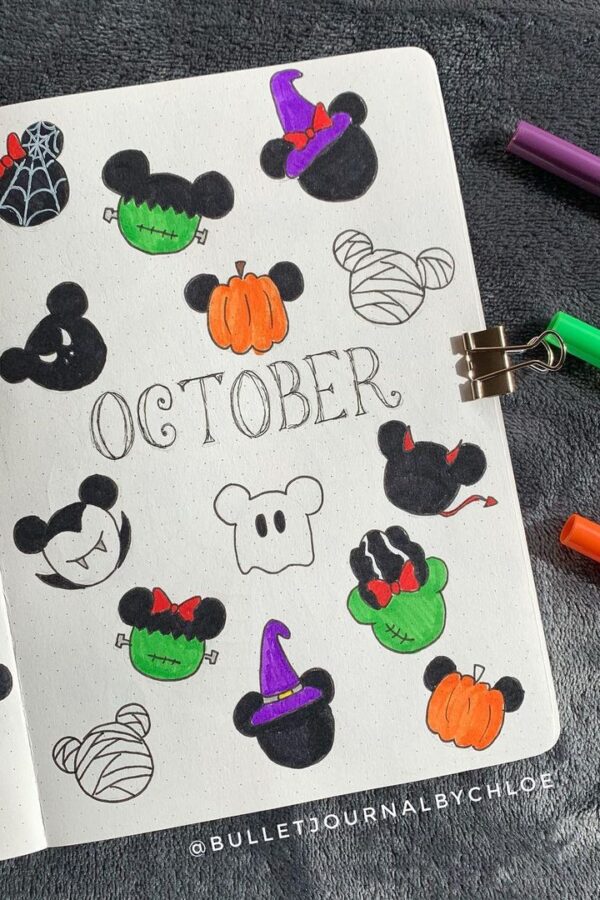 We just love how colorful this page is too!
30. A stunning crescent moon with subtle Halloween accents makes a great October cover page!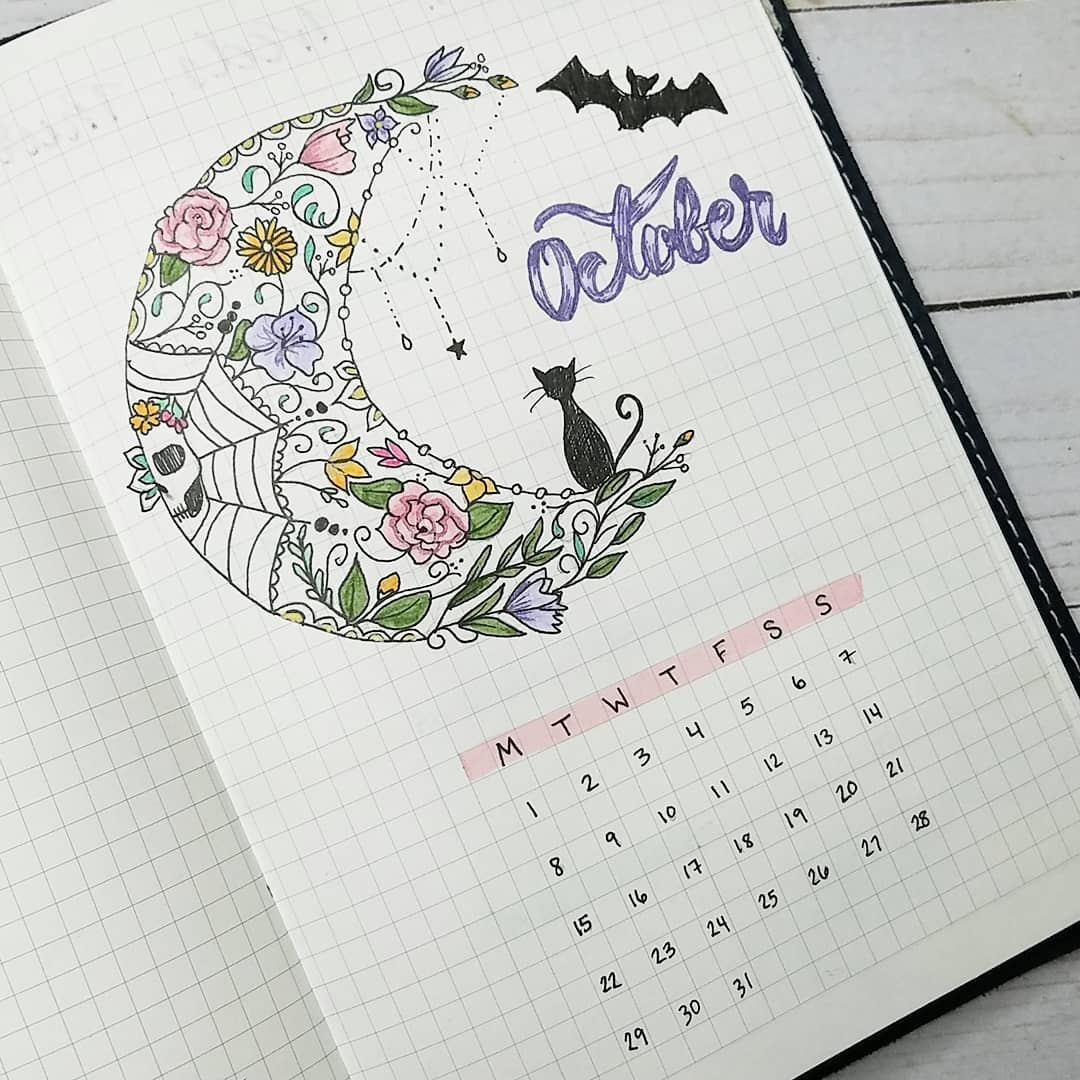 It's not necessary to include a monthly calendar on your cover page but it can be really helpful to see the month ahead at a glance!
31. Bold and bright colors are perfect for Halloween cover pages!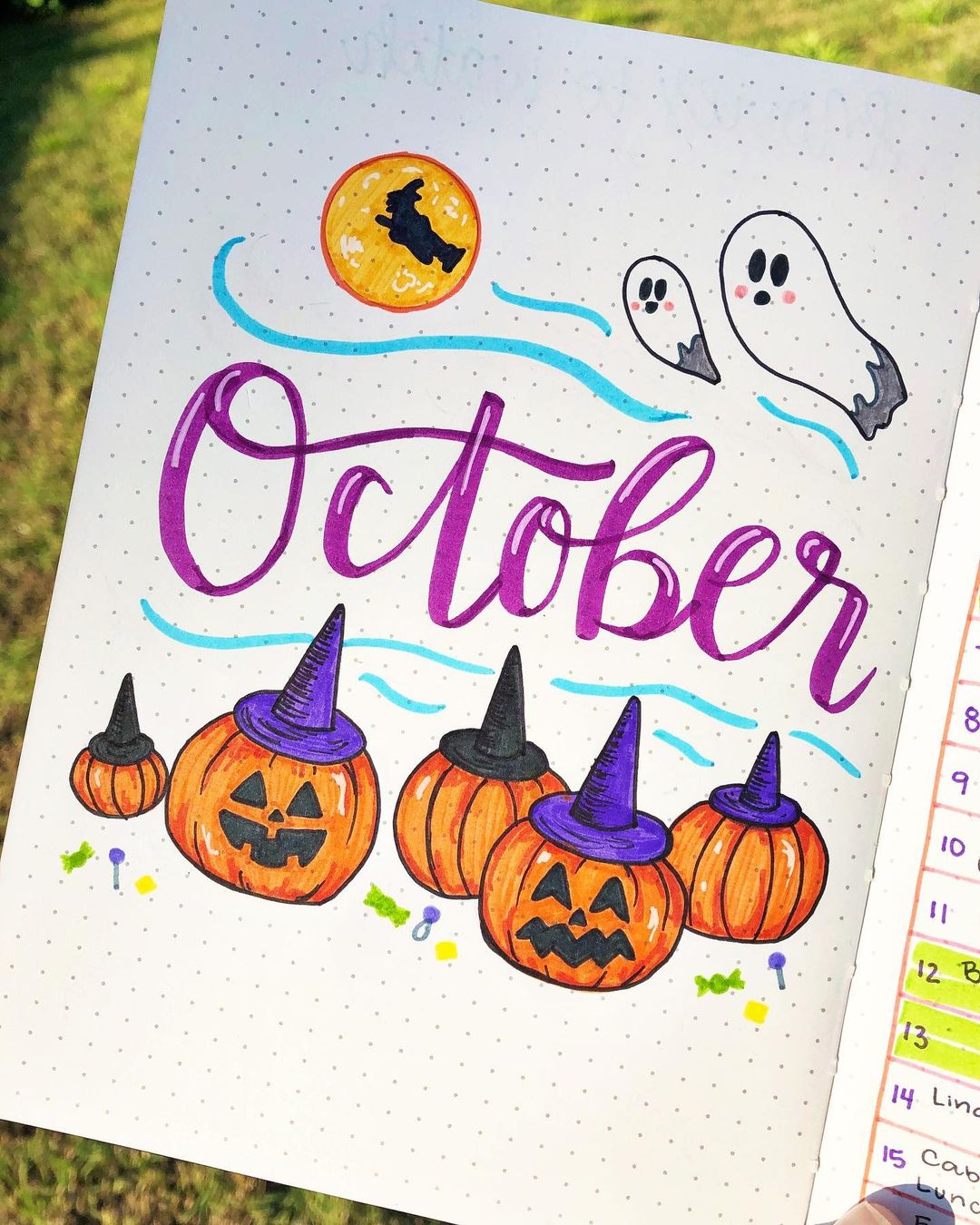 32. You can't go wrong with an aesthetic pumpkin for your October cover page.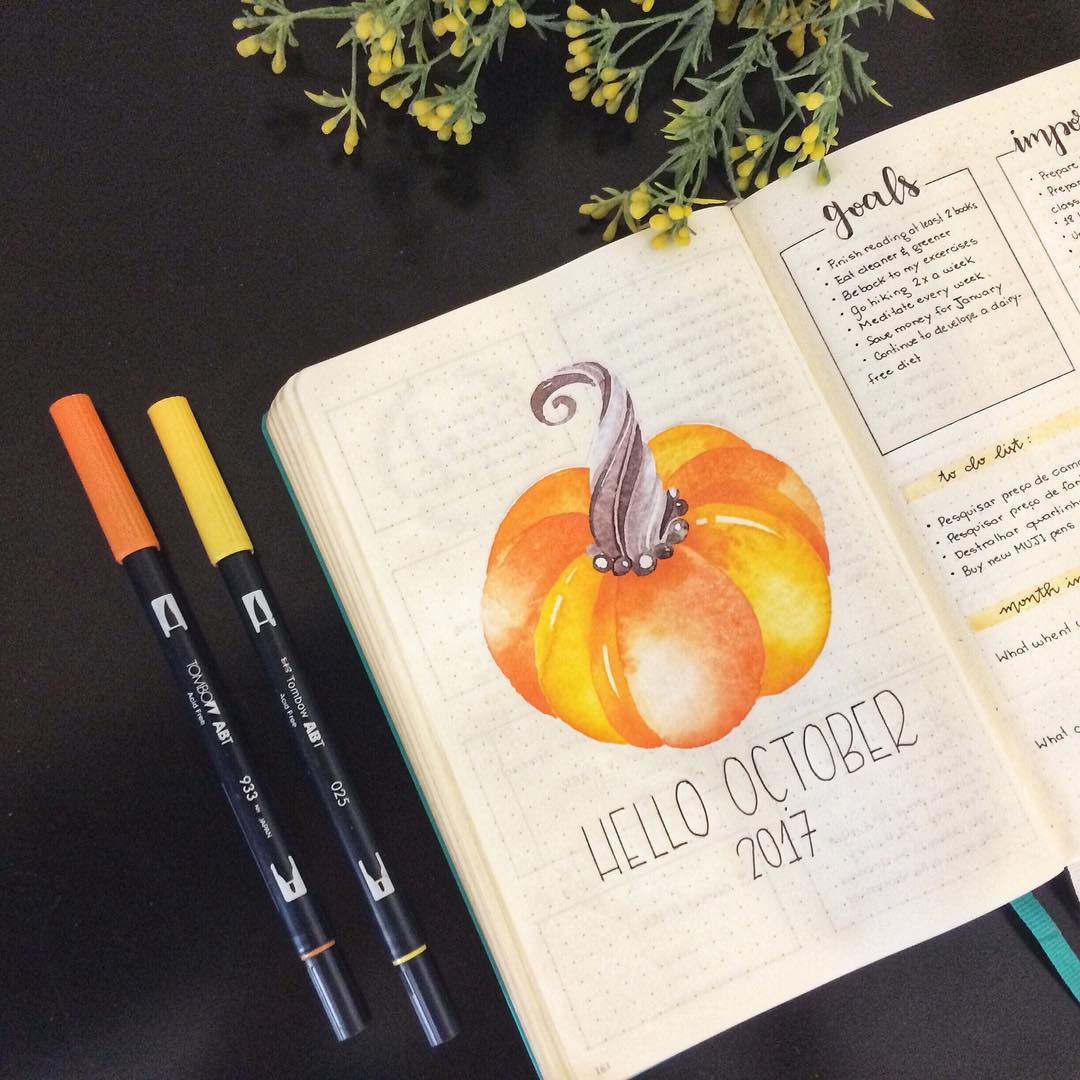 33. This stunning October cover page is bought to life with adorable Halloween doodles!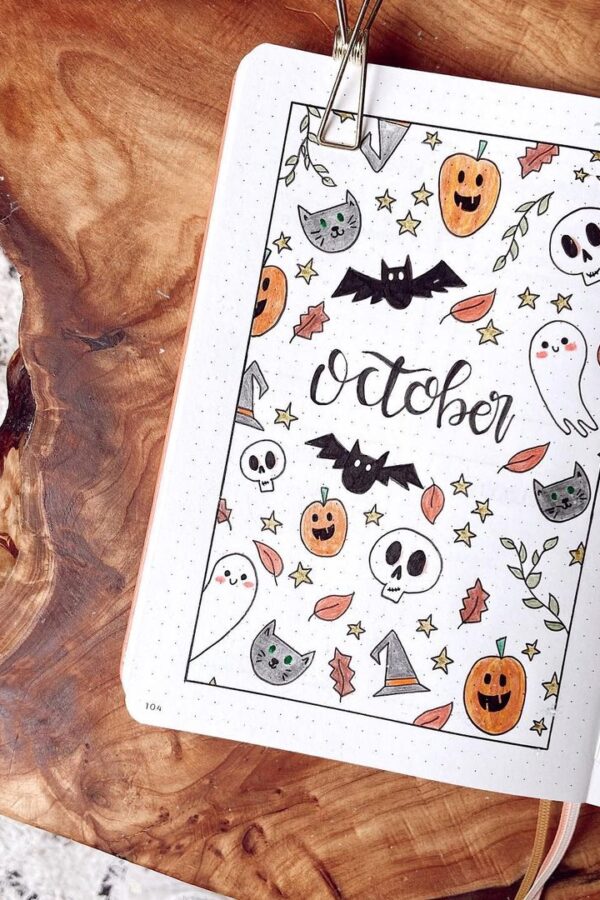 Don't you just love the combination of adorable spooky doodles and autumn leaves!
34. This spooktastic cover uses mostly black and white but has a pop of orange that really makes the pumpkin stand out!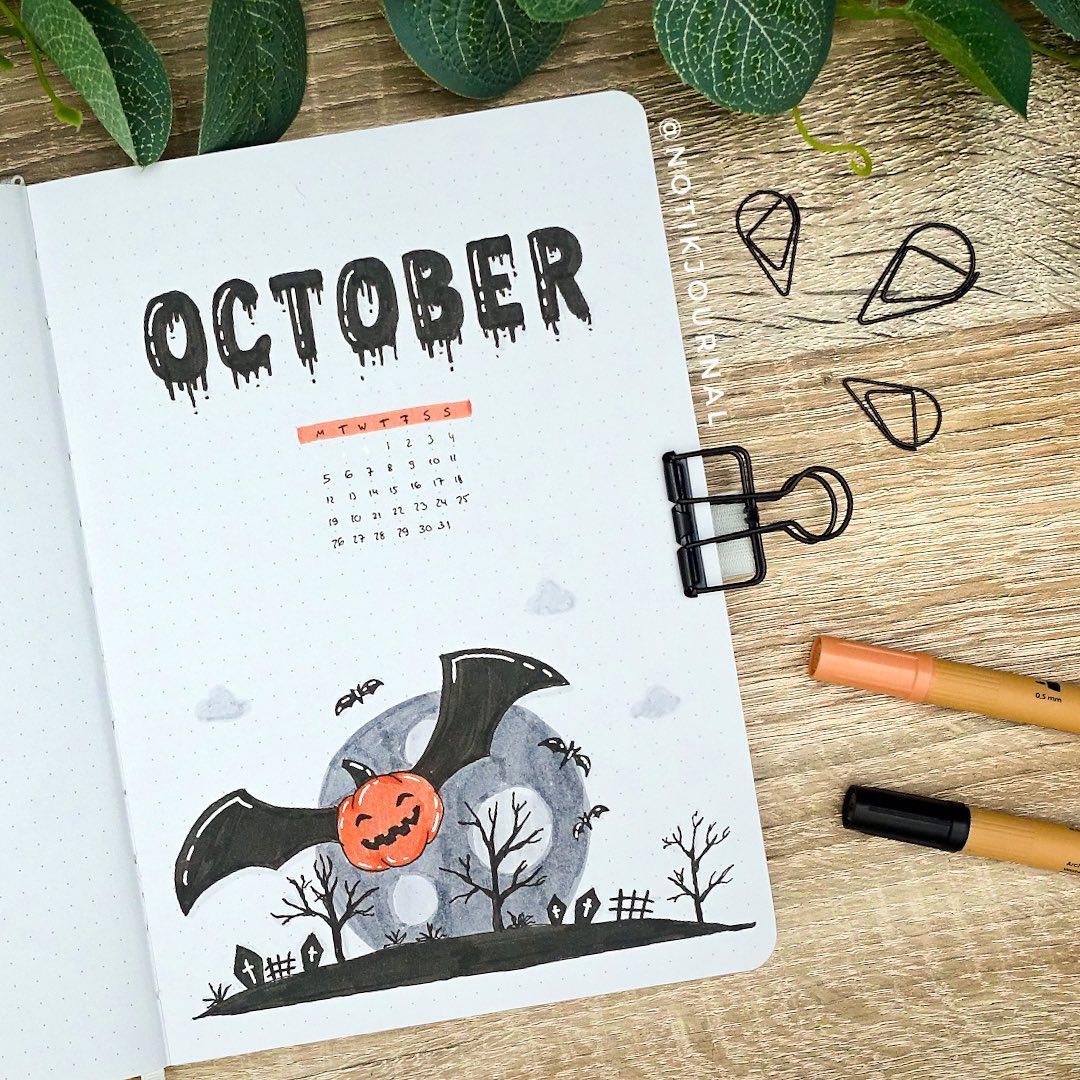 35. How much fun is this October page? It's packed full of cute Halloween doodles and vibrant pops of color!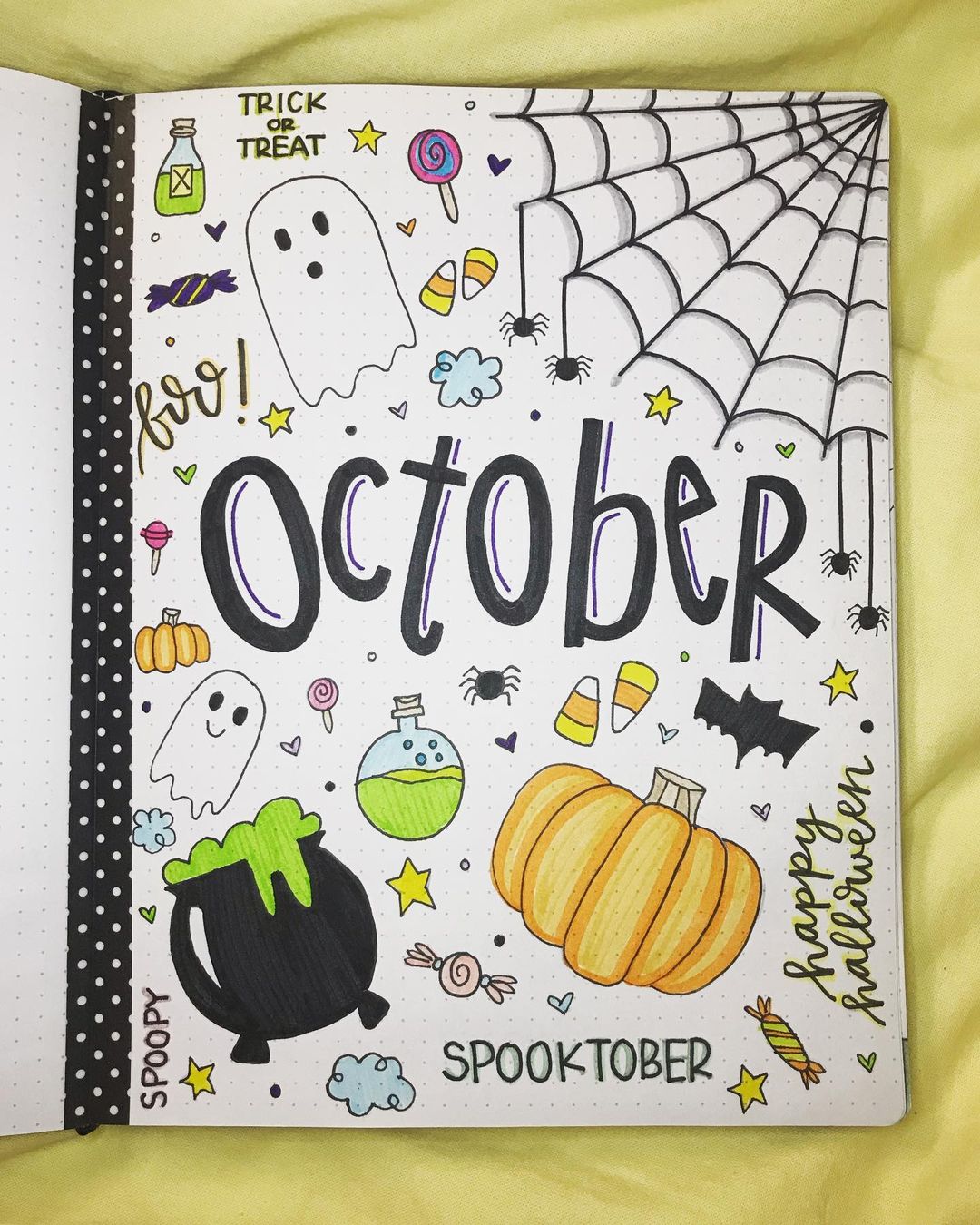 36. We love the unique look of this spooky page and it's super easy to replicate too!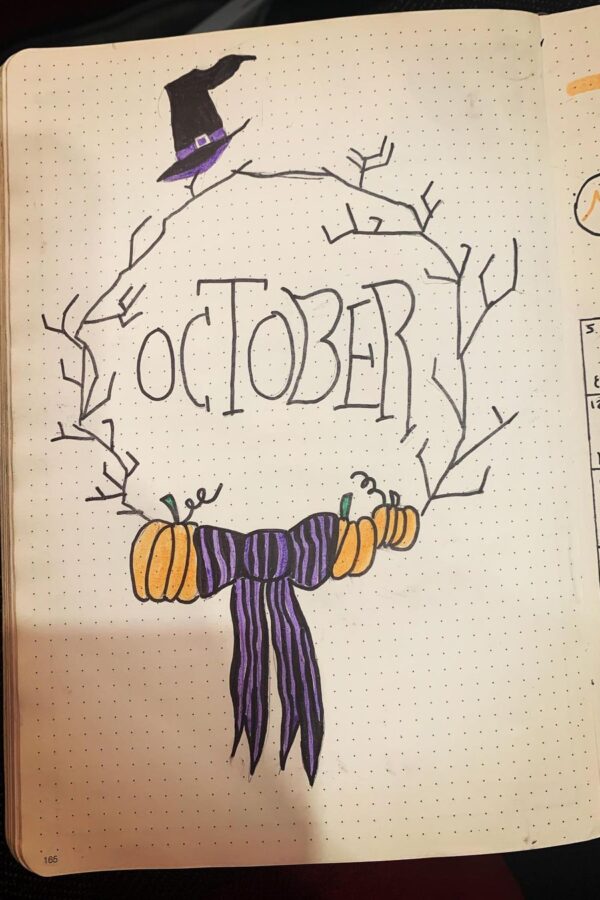 37. This aesthetic cover is truly mesmerizing and perfect for witches everywhere this Halloween!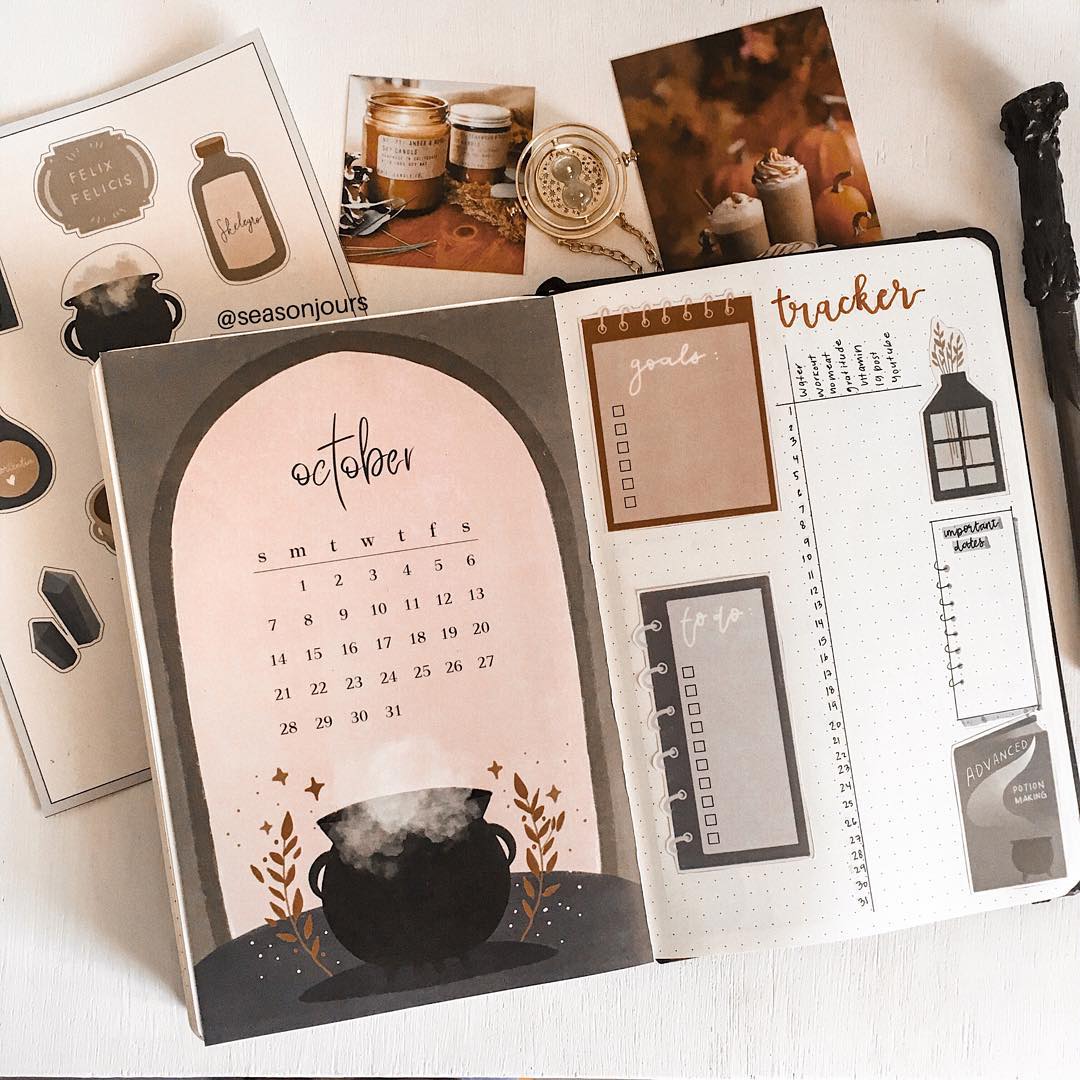 38. A double-page bullet journal cover page like this is a great way to give yourself enough room for lots of beautiful illustrations.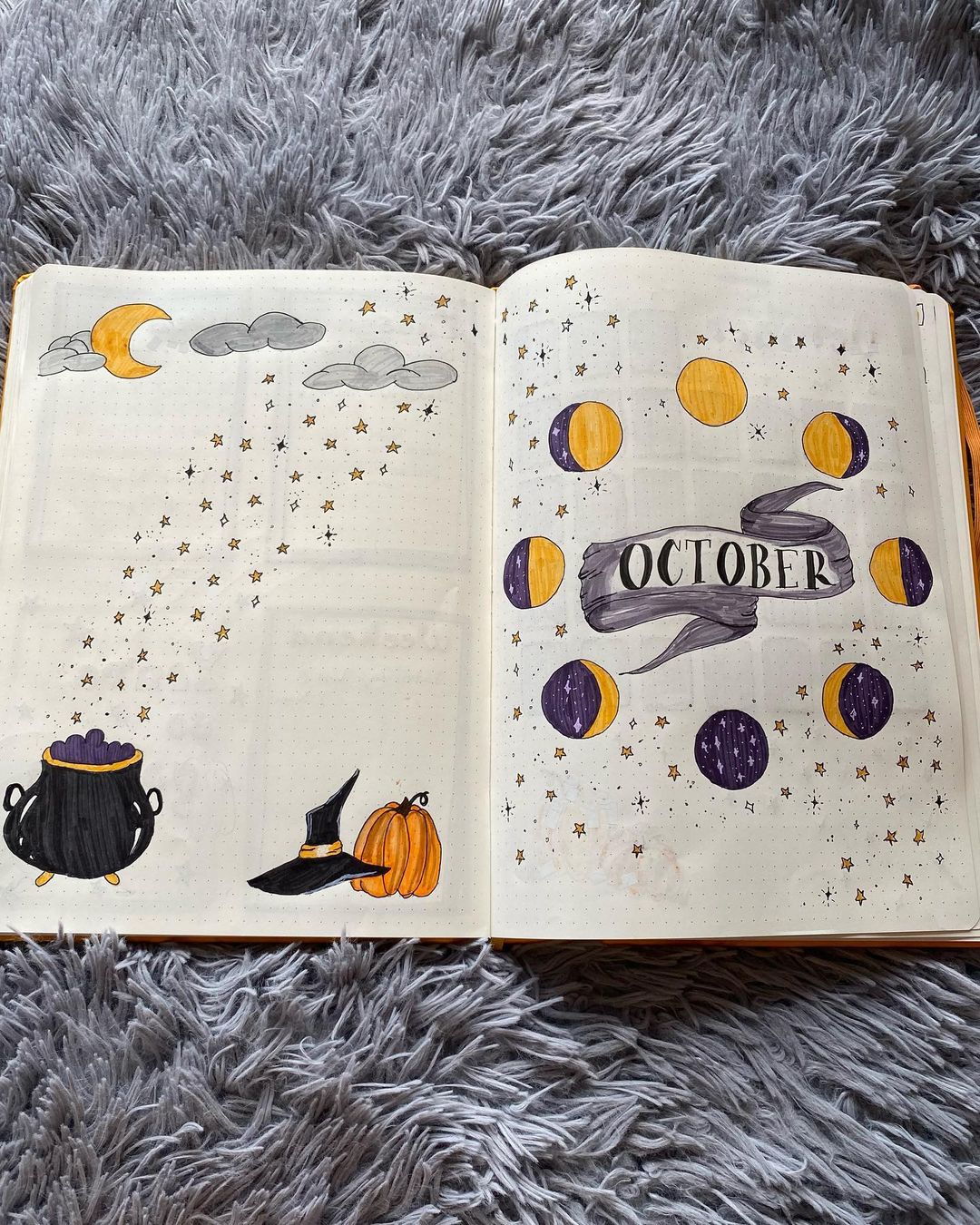 You can get yourself some incredible stencils to help streamline your creativity right here.
More Halloween Bullet Journal Ideas
The most wonderful thing about bullet journals is that there are no limits to what you can design and use the pages for.
From quote pages, illustrations, bucket lists, and must-watch movie lists!
Below we have some more incredible Halloween bullet journal ideas to give you some inspiration!
Let's take a look…
39. Halloween Art Page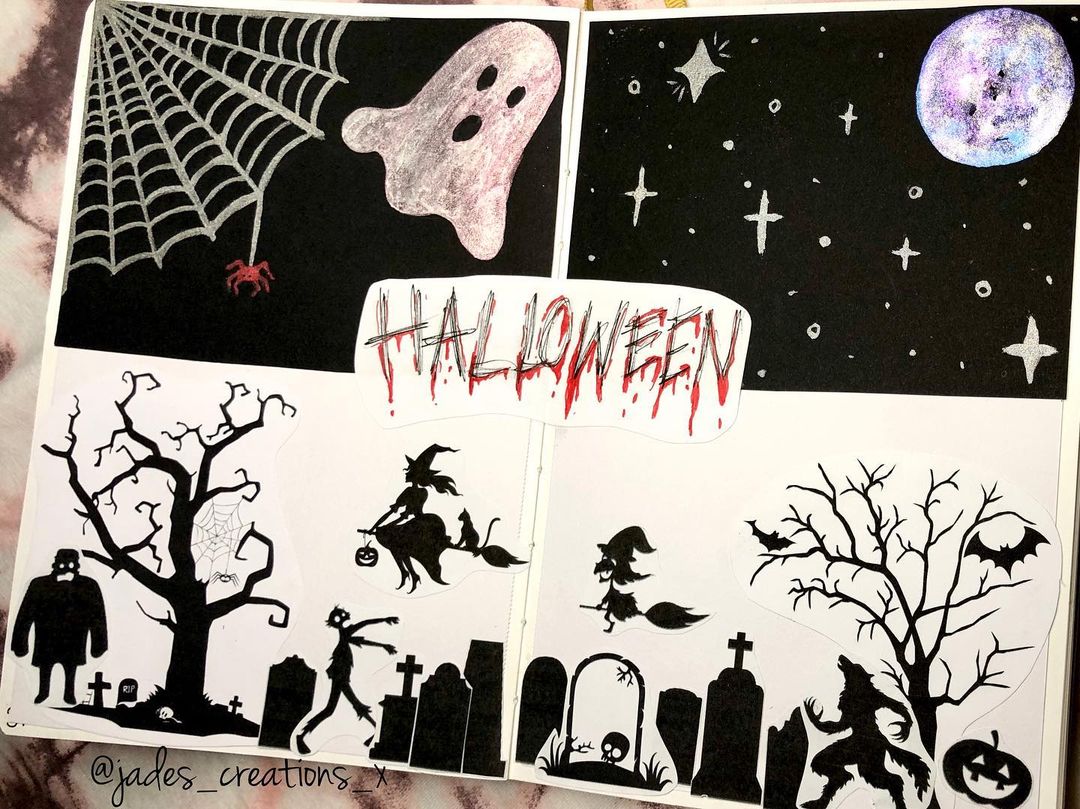 40. Happy Halloween Quote Page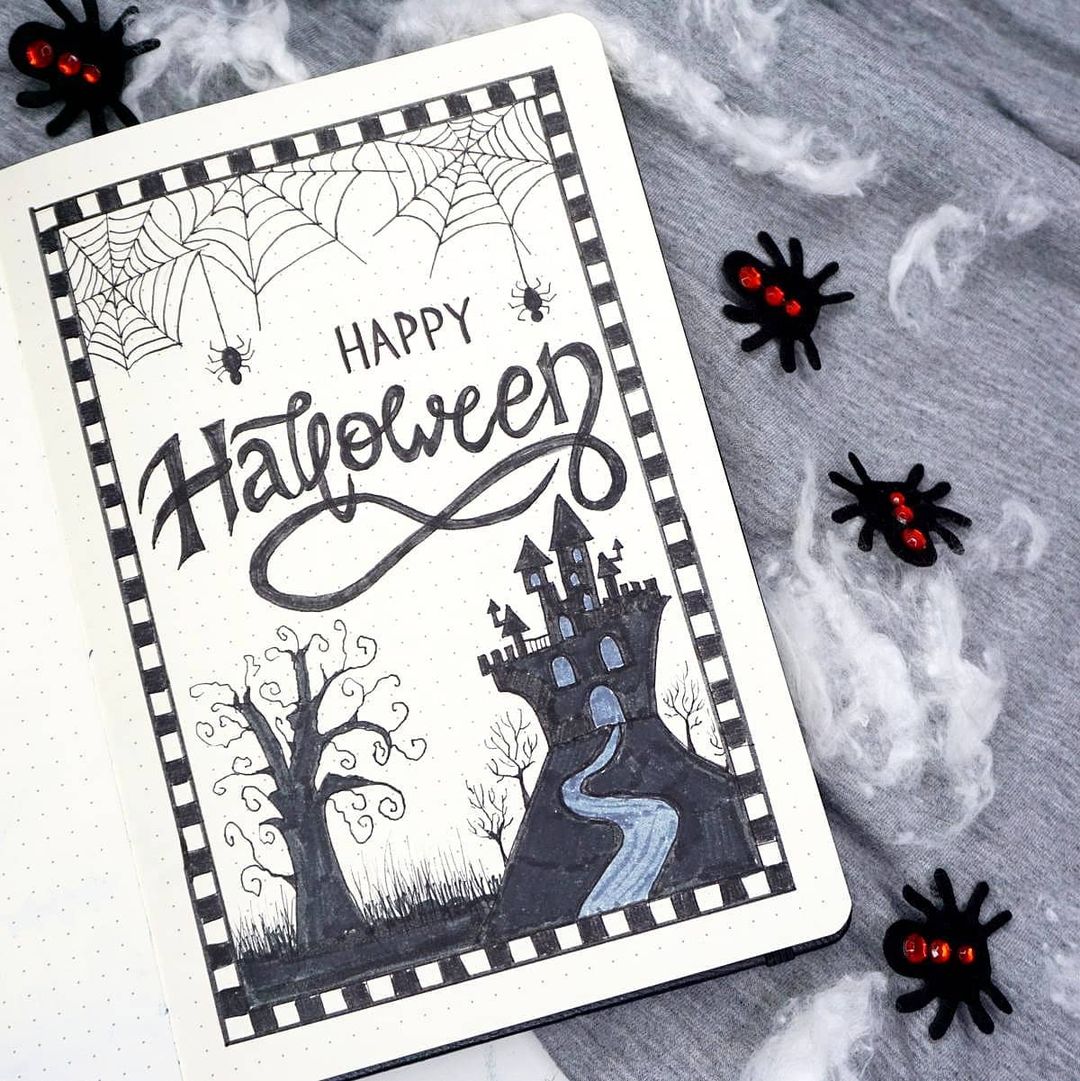 41. Double Spread Happy Halloween Illustration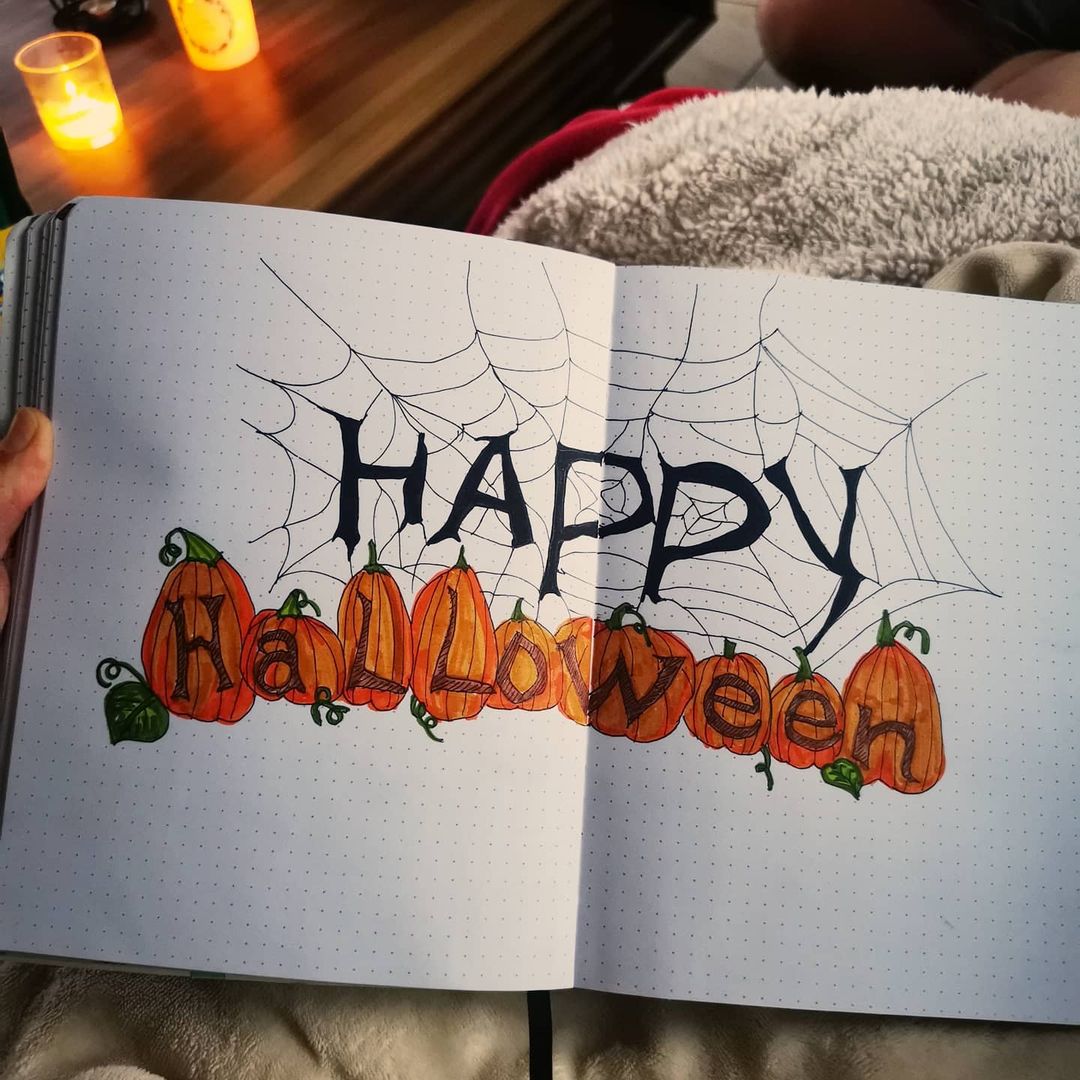 42. Simple Spooky Season Quote Page With Doodles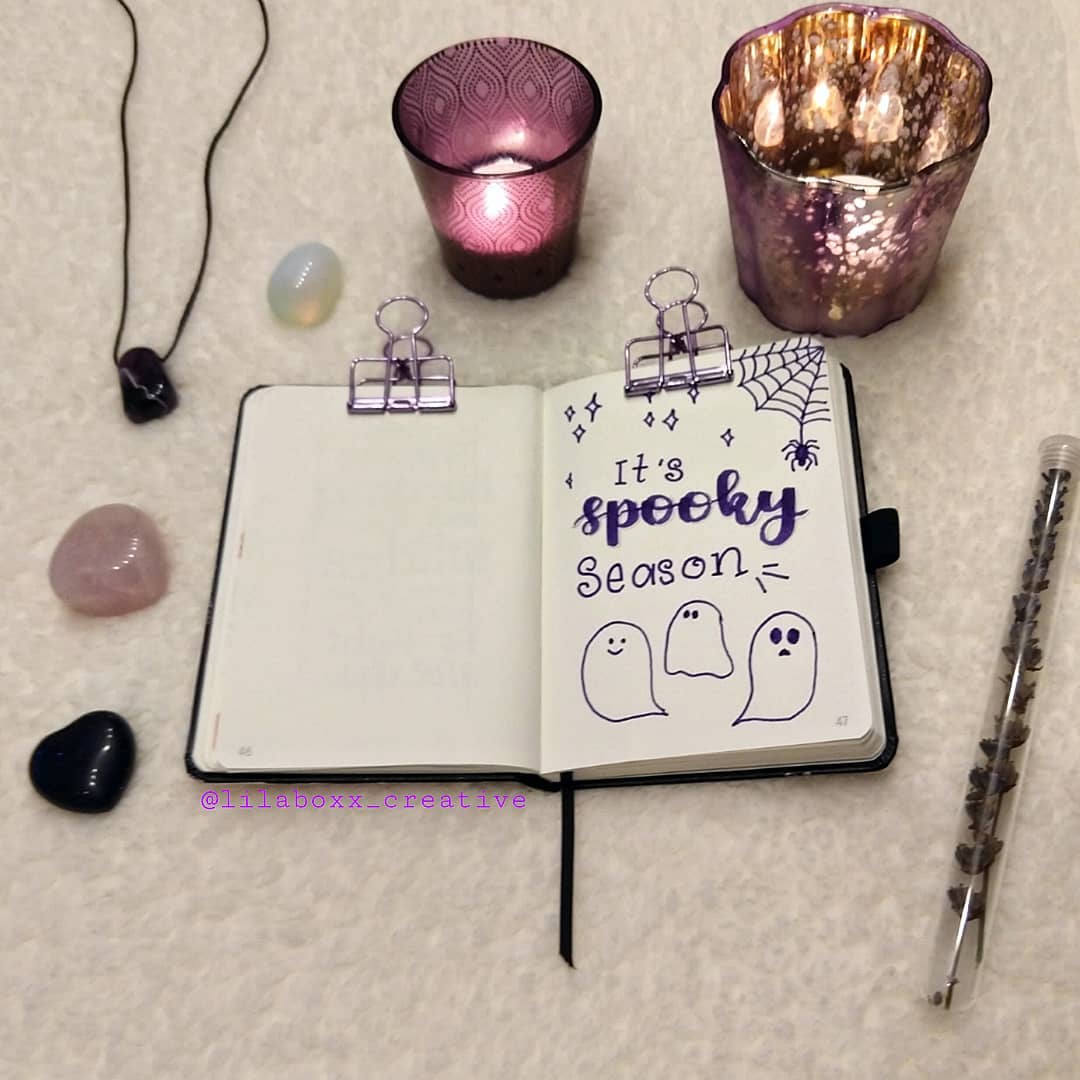 43. Monochrom Quote Page With Orange Accents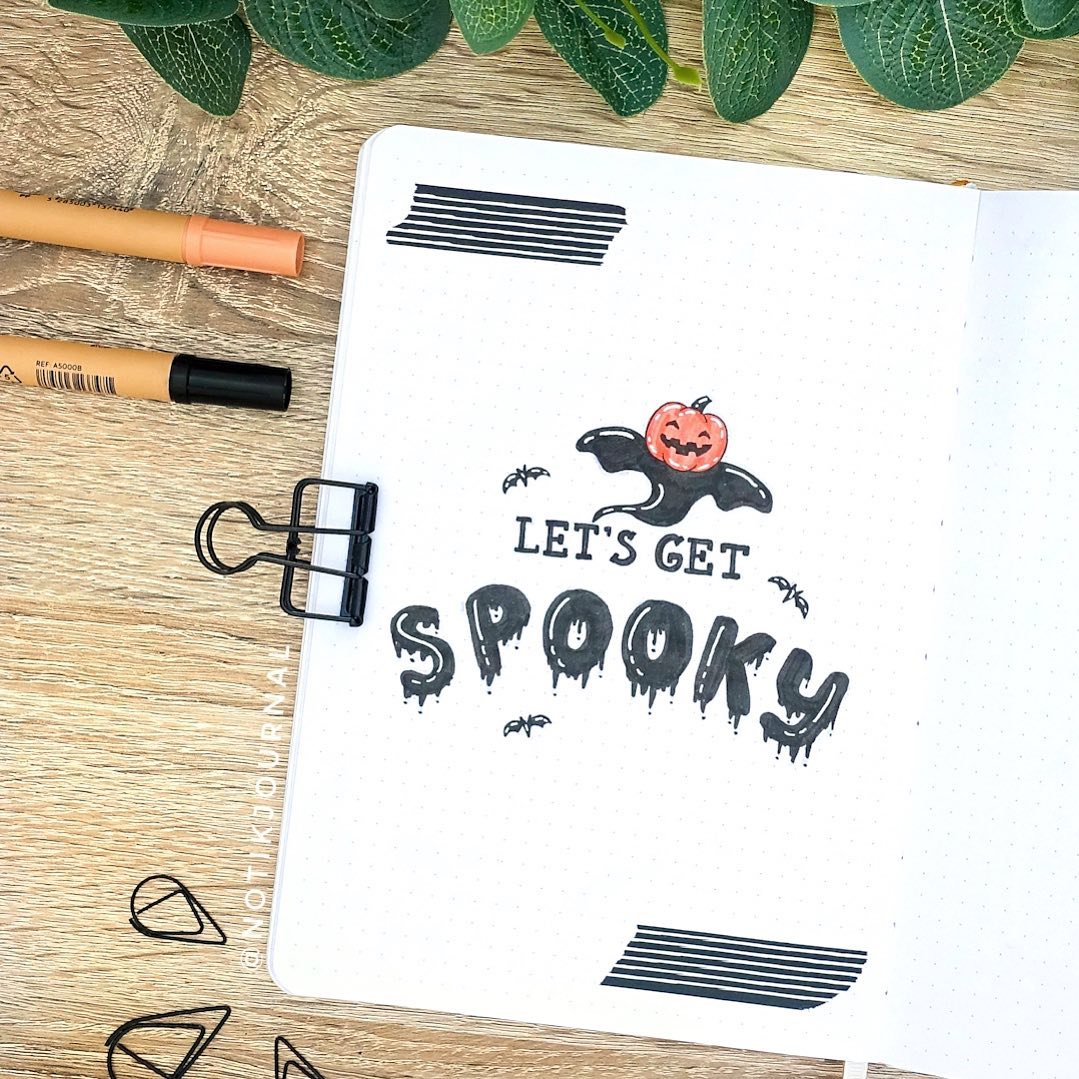 44. Bright And Colorful Haunted House Monthly Spread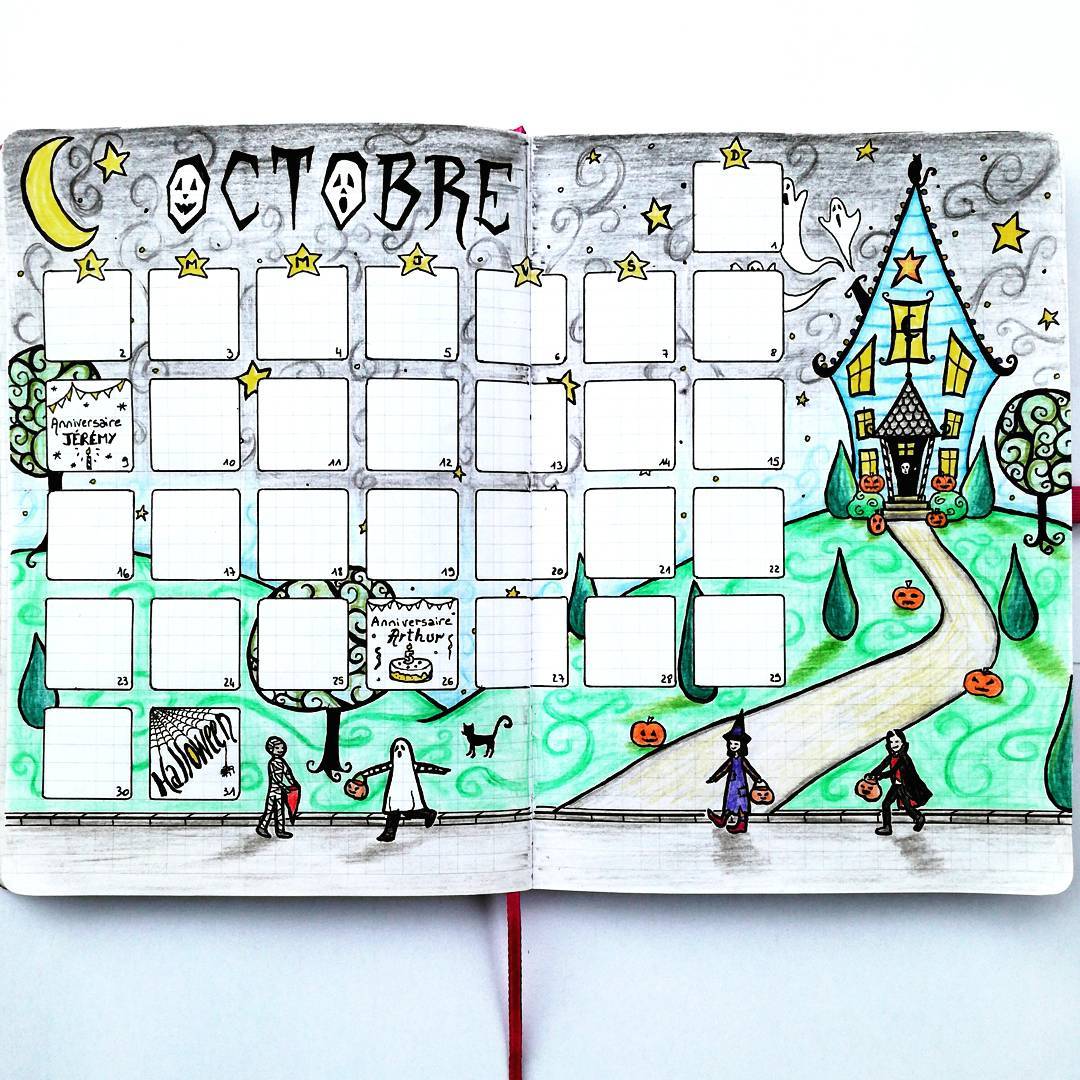 45. Halloween Themed Scrapbook Page… The Perfect Spooky Mood Board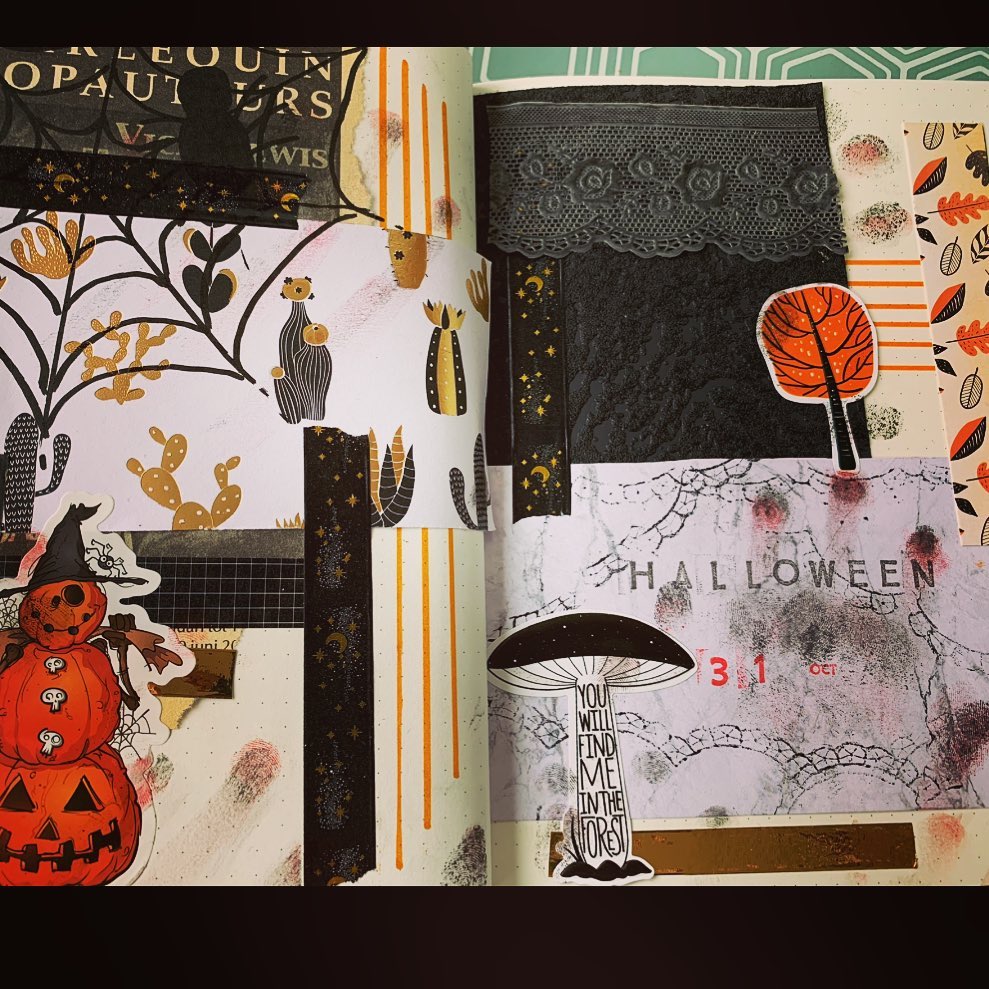 46. Fall Bucket List and Halloween Quote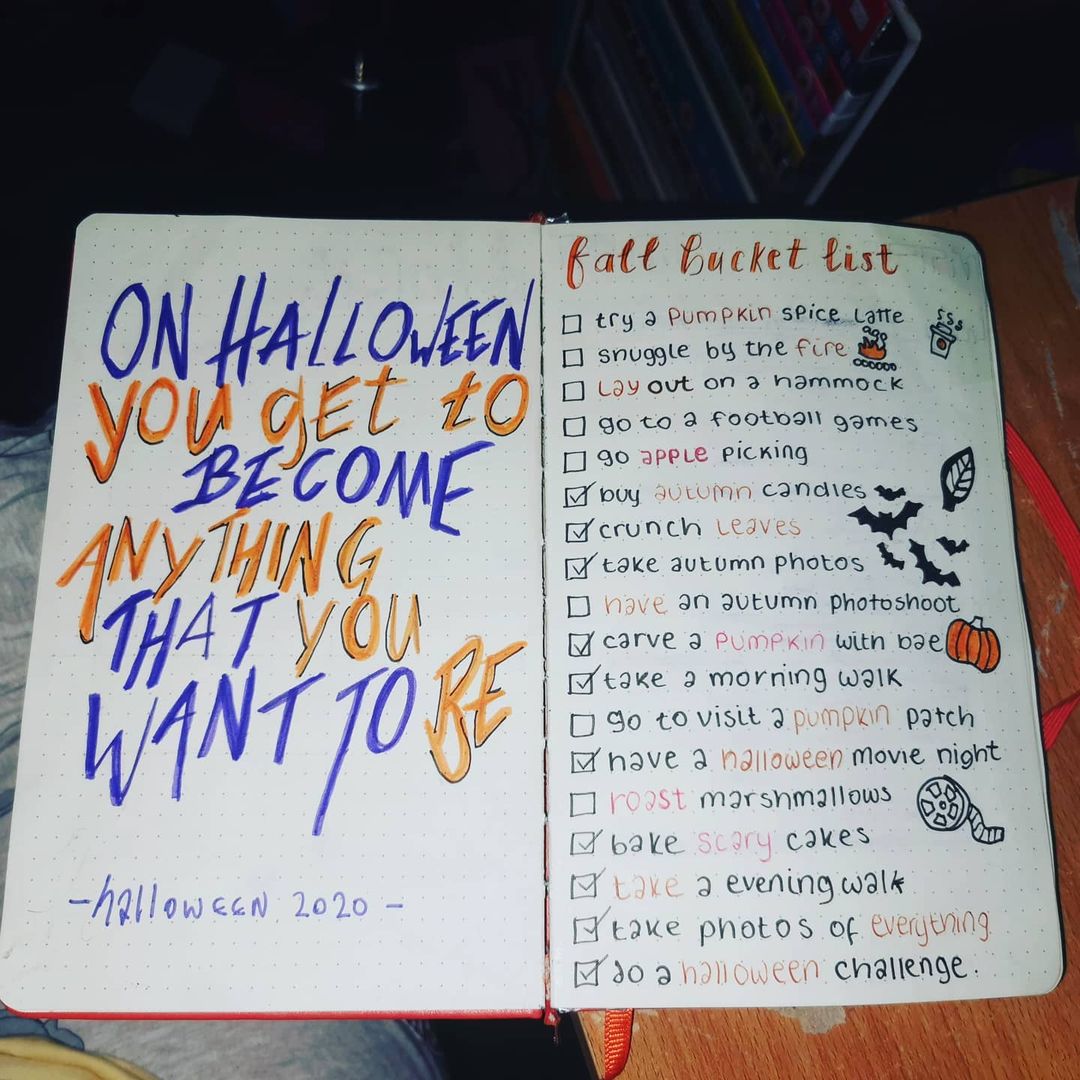 47. Fall Inspired Job Application Tracker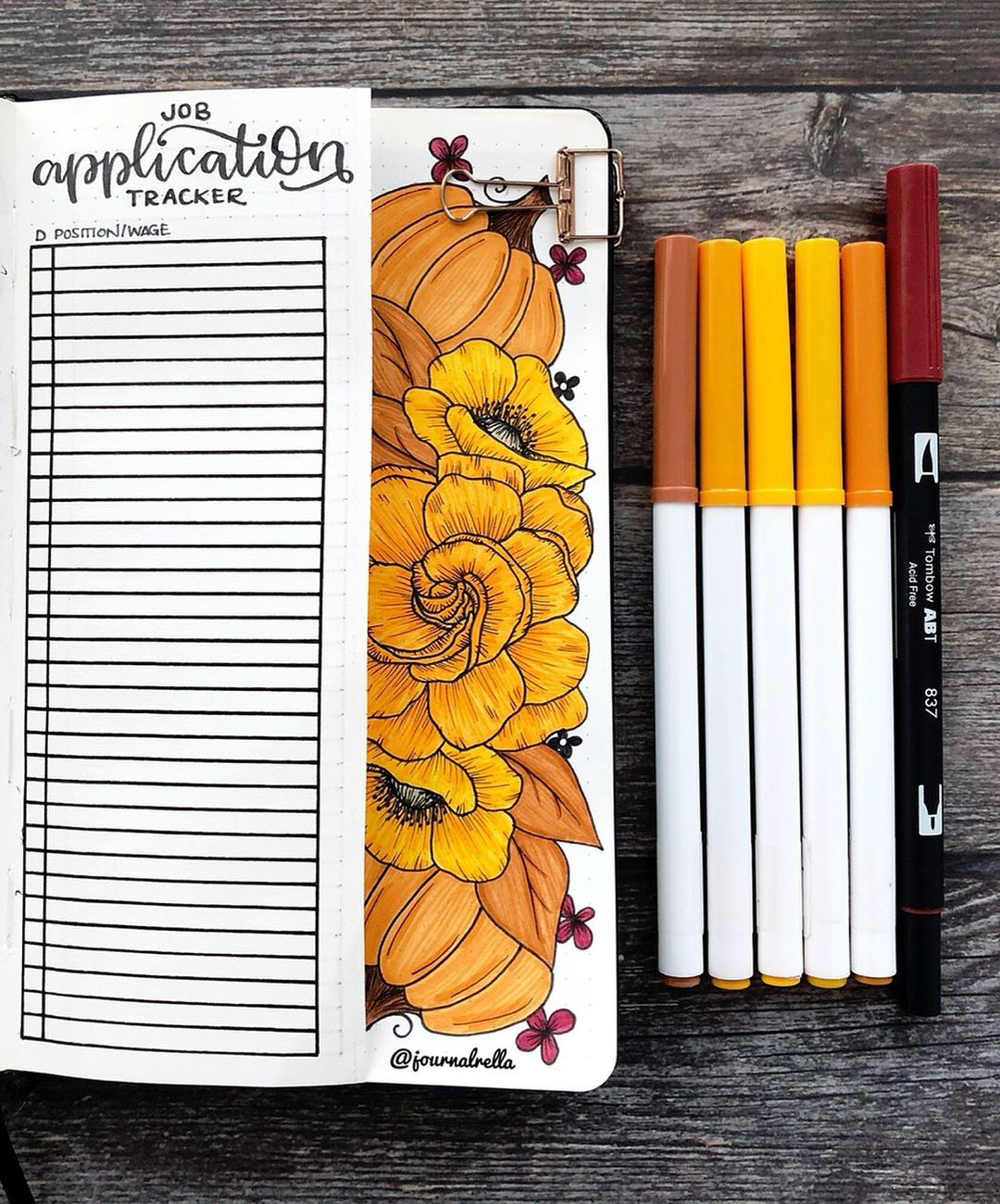 48. Hocus Pocus Themed Page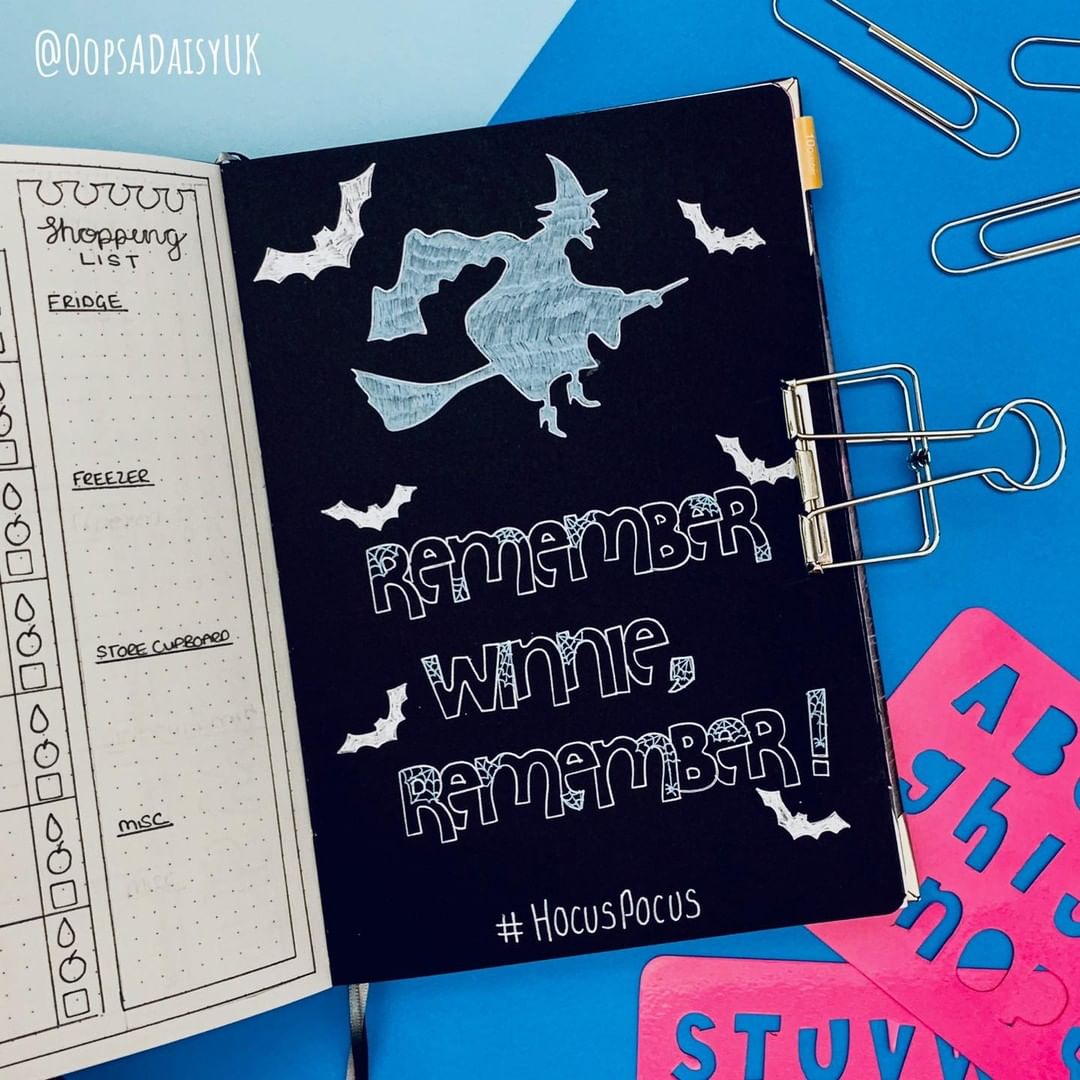 49. Sleep Log and Halloween Doodles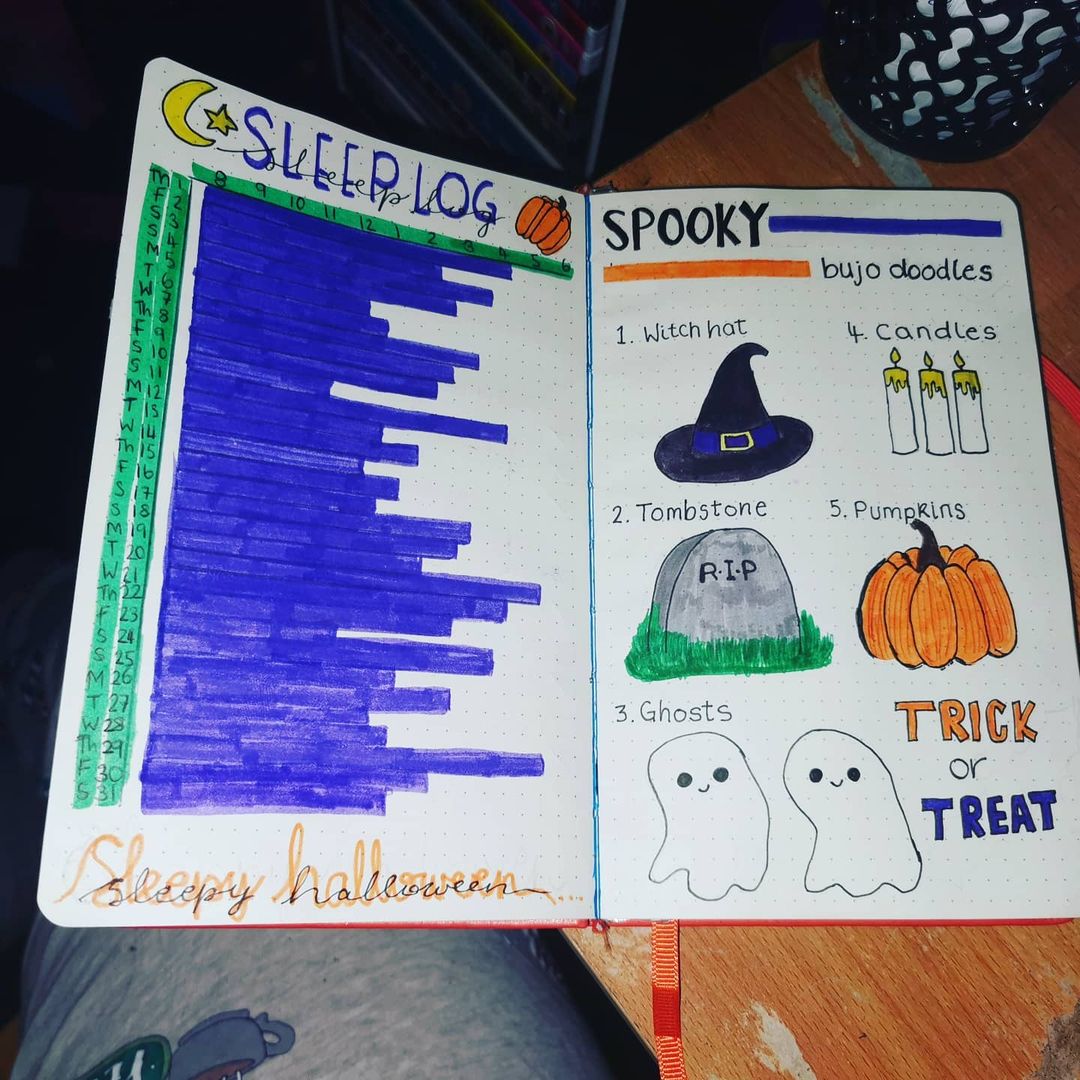 50. Water Tracker and Halloween Quote Art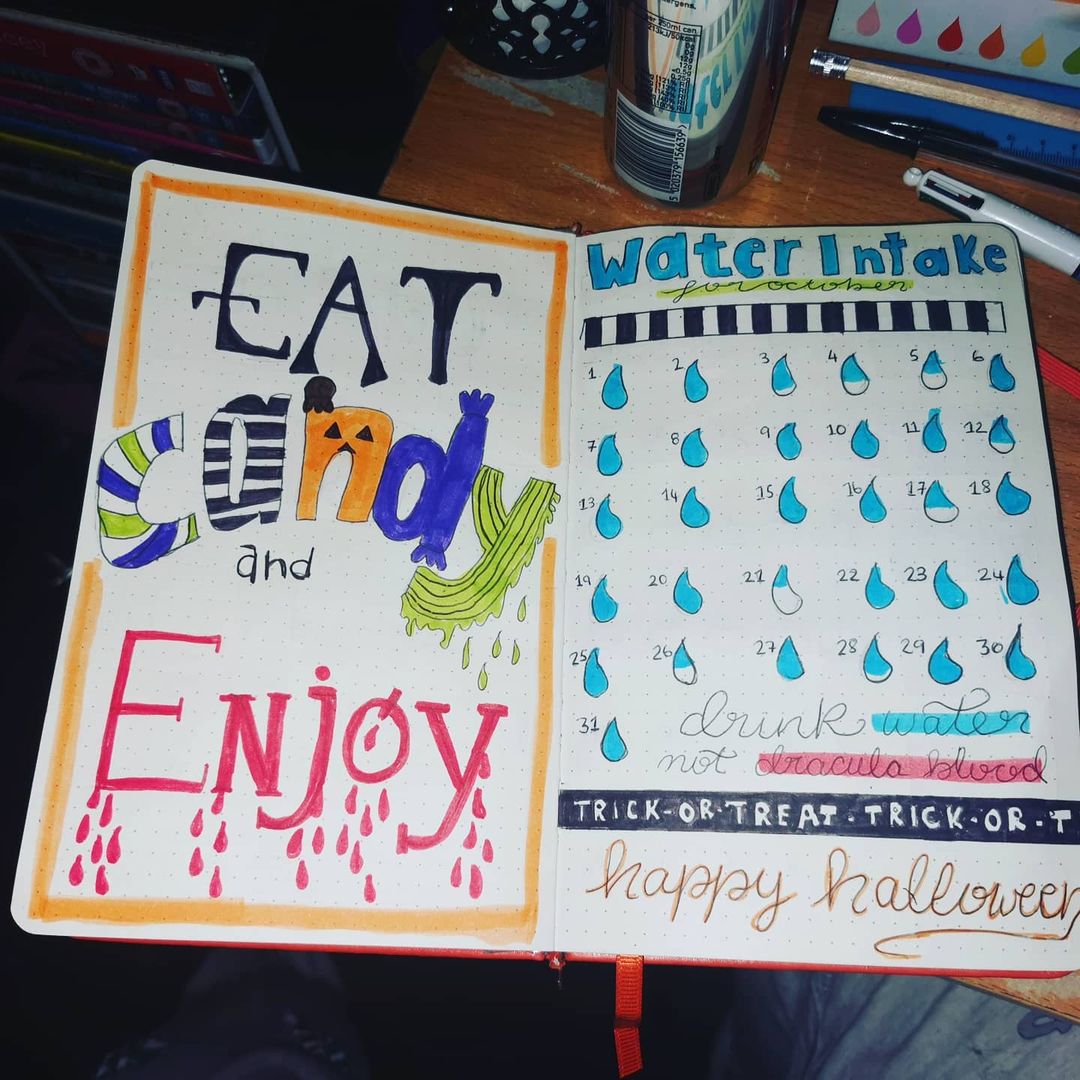 51. October Monthly Spread With Halloween Doodles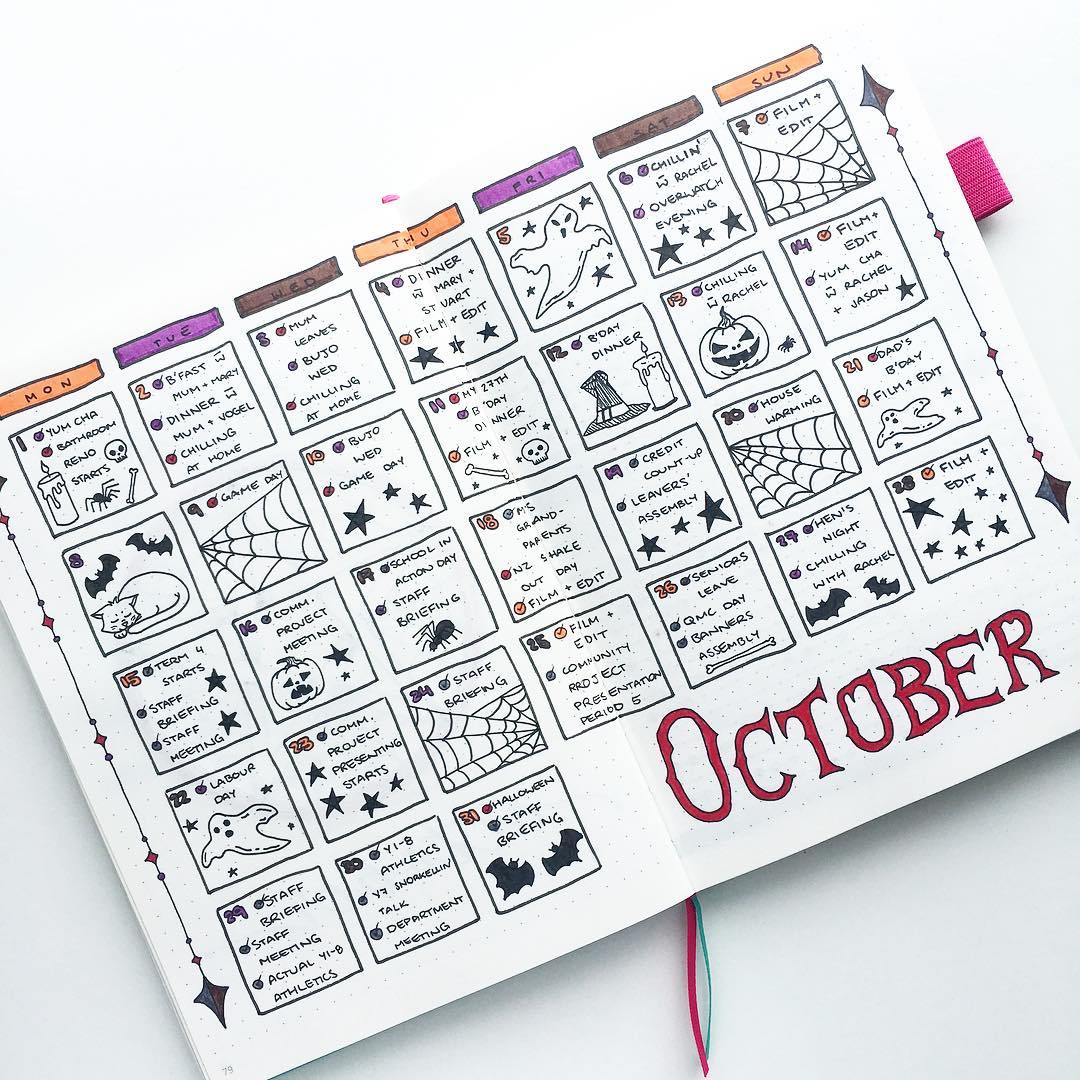 52. Autumn Nights Monthly Spread With Pumpkin Illustrations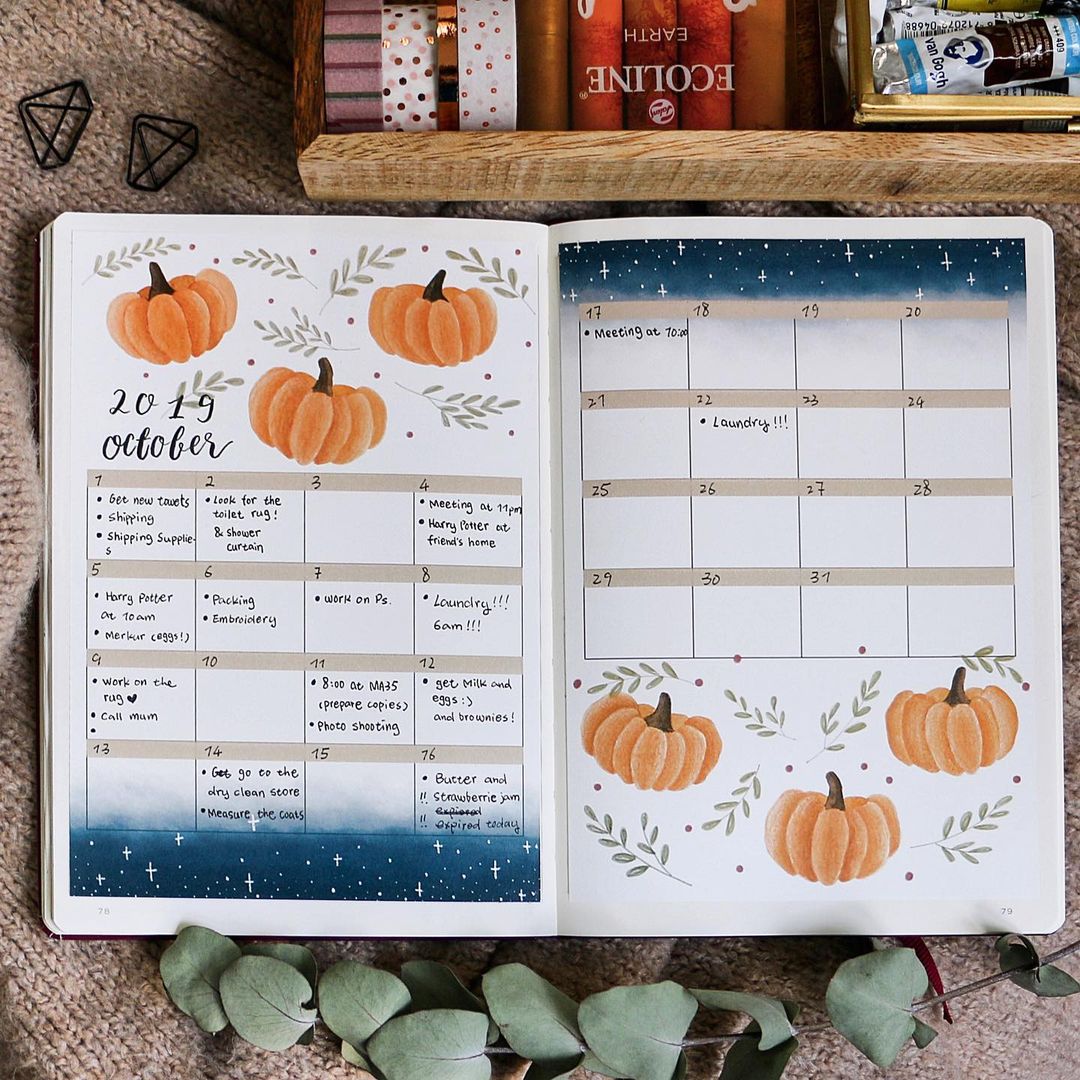 53. Candy Corn Bucket List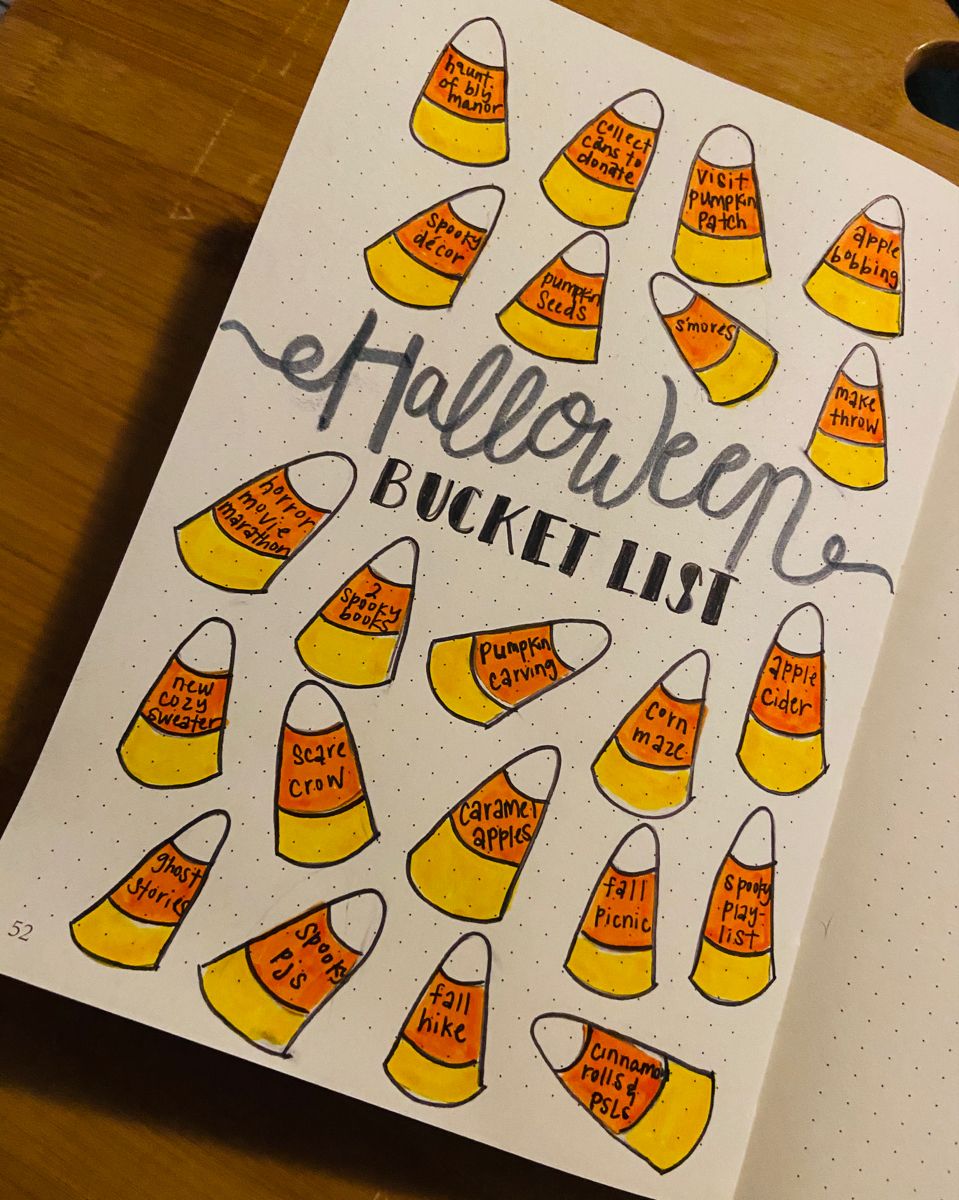 54. Halloween Comic Strip Double Spread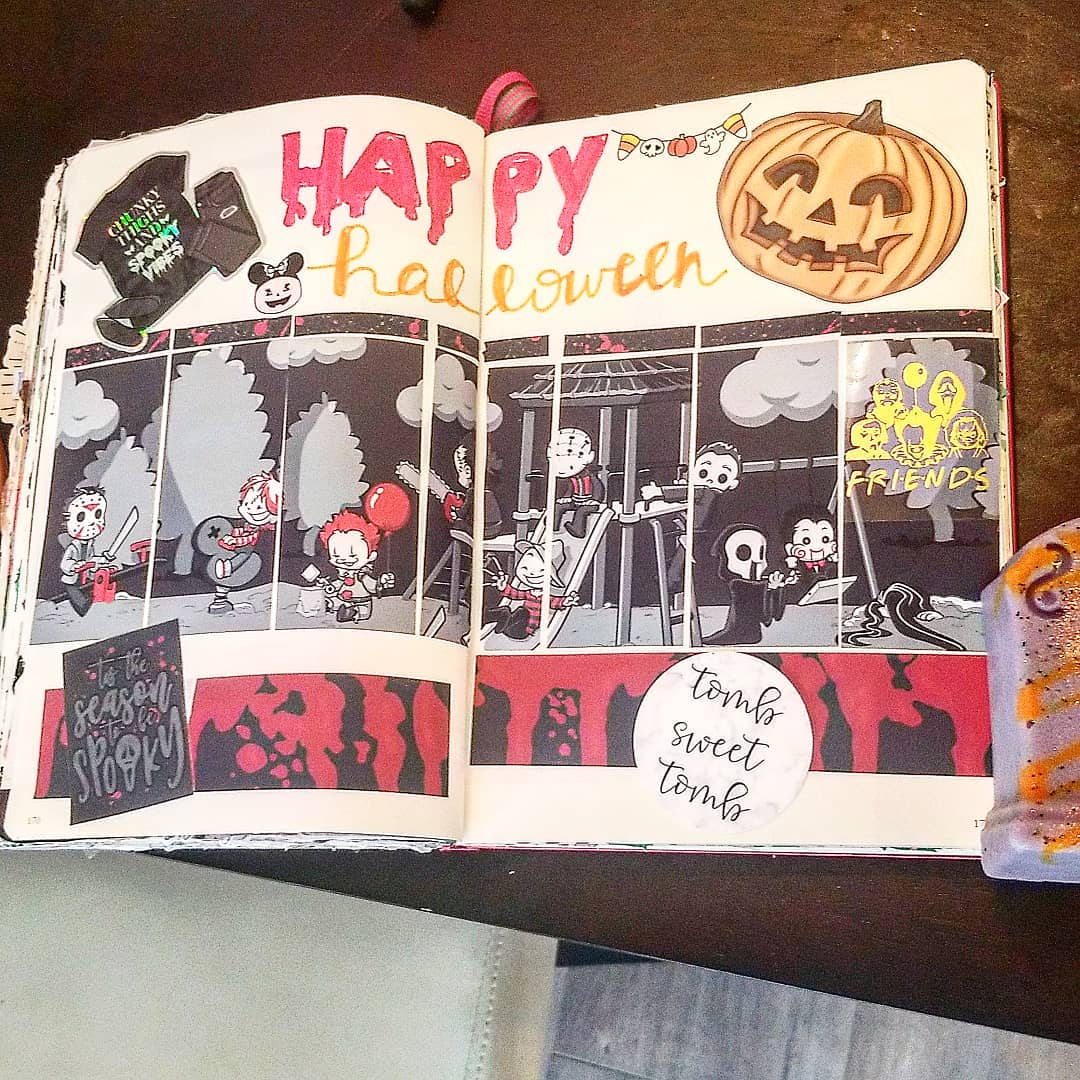 55. Spider Web Themed Monthly Spread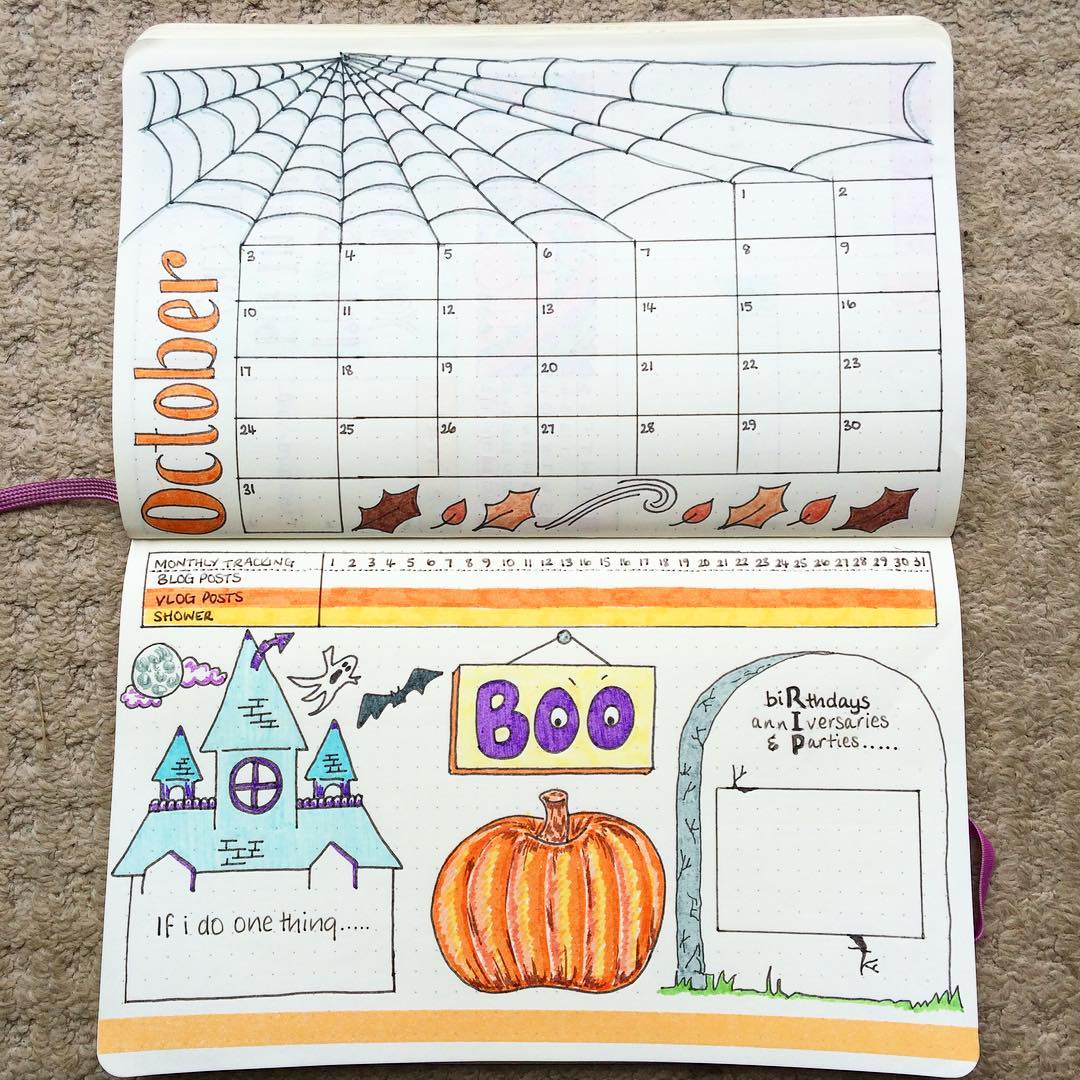 56. Halloween Illustration Page
57. Jack Skellington Illustration Page