These sometimes quotes are perfect for helping you feel better in those tough times in your life when all you need is some reassurance that you're not alone and everything will turn out just fine in the end.
P.S. Don't forget to click here to quickly save these beautiful sometimes quotes on Pinterest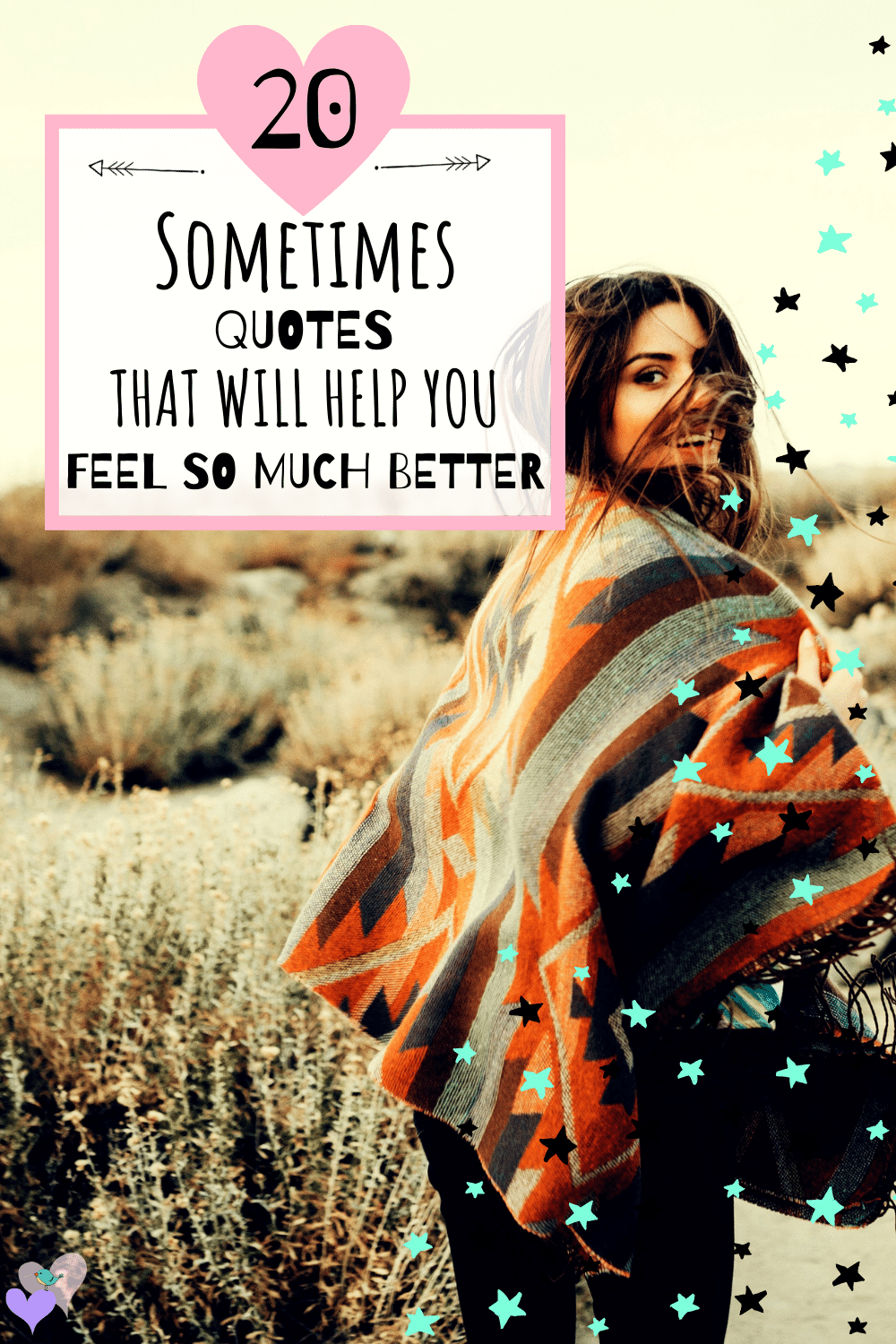 20 Sometimes Quotes That Will Help You Feel So Much Better
1. S

ometimes life doesn't give you what you want. N

ot because you don't deserve it, but because you deserve more

2. Sometimes you win, sometimes you learn

3. Sometimes they love you after losing you.

4. Sometimes plan B works out better than plan A ever could.

5. Sometimes it takes a good fall to find out where you stand.

6. Sometimes you have to do what you don't like to get where you want to be. Tori Amos

7. Sometimes the right path is not the easiest. Grandmother Willow

8. Winning and losing aren't everything. Sometimes, the journey is just as important as the outcome.

9. Sometimes you find yourself in the middle of nowhere and sometimes in the middle of nowhere you find yourself. Stacey Westfall

10. Sometimes sitting and doing nothing is the best something you can do. Karen Salmansohn

11. Sometimes good things fall apart so better things can fall together.

12. Sometimes the bravest and most important thing you can do is just show up. Brene Brown

13. Sometimes you will never the value of a moment until it becomes a memory. Dr Seuss

14. Sometimes it takes a heartbreak to shake us awake and help us see we are worth so much more than we're settling for. Mandy Hale

15. Sometimes the best therapy is a long drive and some good music.

16. Be selective with your battles. Sometimes peace is better than being right.

17. Remember that sometimes not getting what you want is a wonderful stroke of luck. Dalai Lama

18. Sometimes it's the smallest decision that can change your life forever.

19. Sometimes you have to drop your guard so your heart can breathe. Emma Xu

20. Sometimes you have to accept that someone's part in your story is over.

Conclusion
Sometimes all you need to feel a little better about your situation is a good quote like these 'sometimes quotes' above.
No matter what's going on for you right now, remember the situation is temporary and everything will be ok in the end.
Even More Quote Articles On Captivating Crazy
If you enjoyed this article then be sure to leave a comment or share it with your friends on Facebook using the button below.
You may also like these related articles by Captivating Crazy…
Connect With Captivating Crazy
At Captivating Crazy you're our fave person and we love nothing more than connecting with you!
Simply click here to sign up (free) for our VIP email so you'll be first to know about our new posts, offers, and more! It's totally free and you can easily unsubscribe at any time.