Valentine's day is just around the corner, and that means it's time to start planning out your bullet journal with these Valentine's day bullet journal ideas…
Valentine's Day Bullet Journal Inspiration
We've gathered 30 of the best cover pages, weekly spreads, trackers, and more beautiful spreads with Valentine's day themes that you're sure to fall in love with!
Whether you're looking for something simple or something a little more elaborate, we've got you covered.
So what are you waiting for?
Start planning out your own bullet journal that will give you all the Valentine feels this February!
P.S. Don't forget to click here to quickly save these Valentine's day bullet journal spreads to Pinterest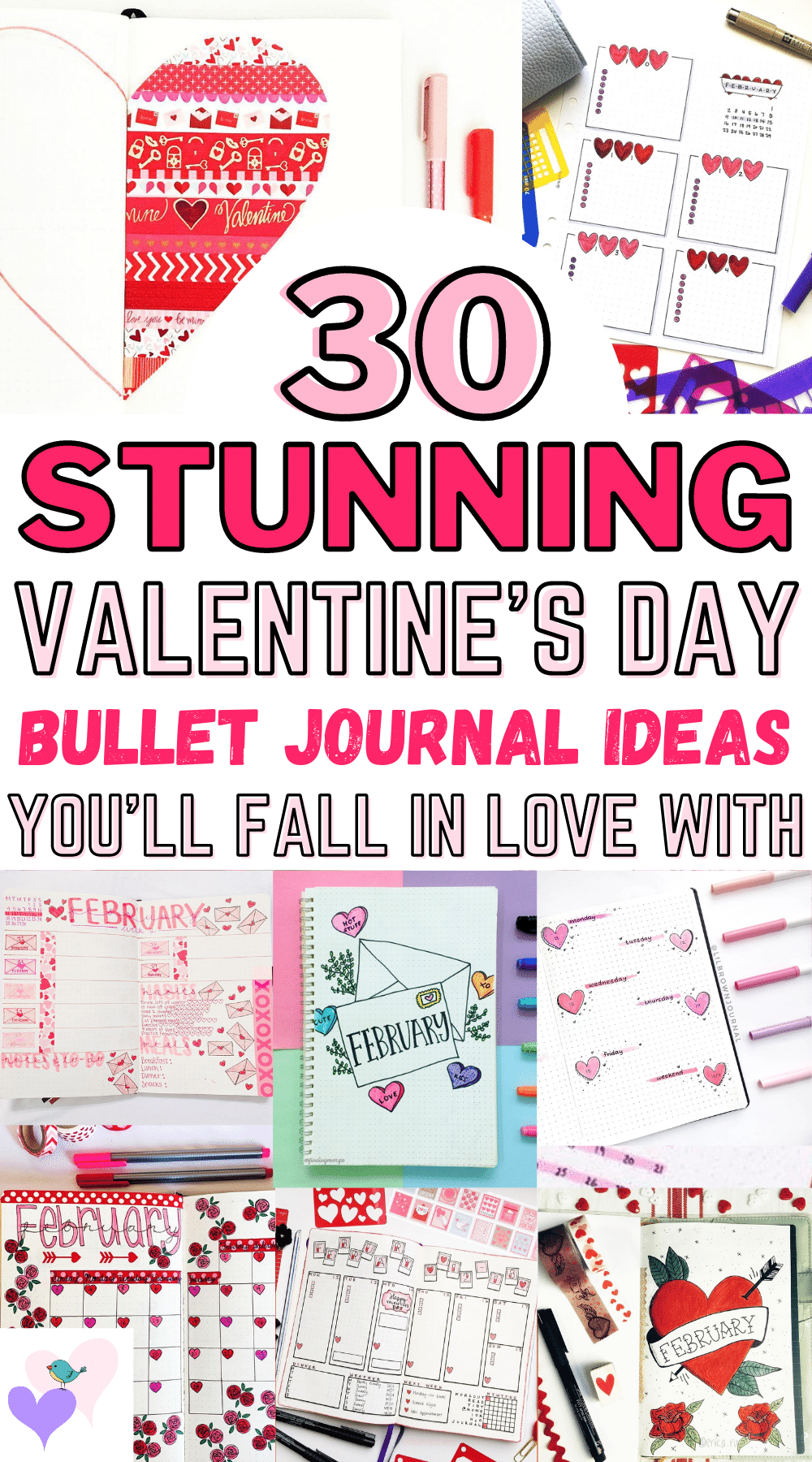 This post contains affiliate links, Find out more here. 
30 Valentine's Day Bullet Journal Ideas You'll Fall In Love With!
1. Be My Valentine
This beautiful spread is perfect for your next Valentines day cover page and only requires a few simple bullet journal supplies.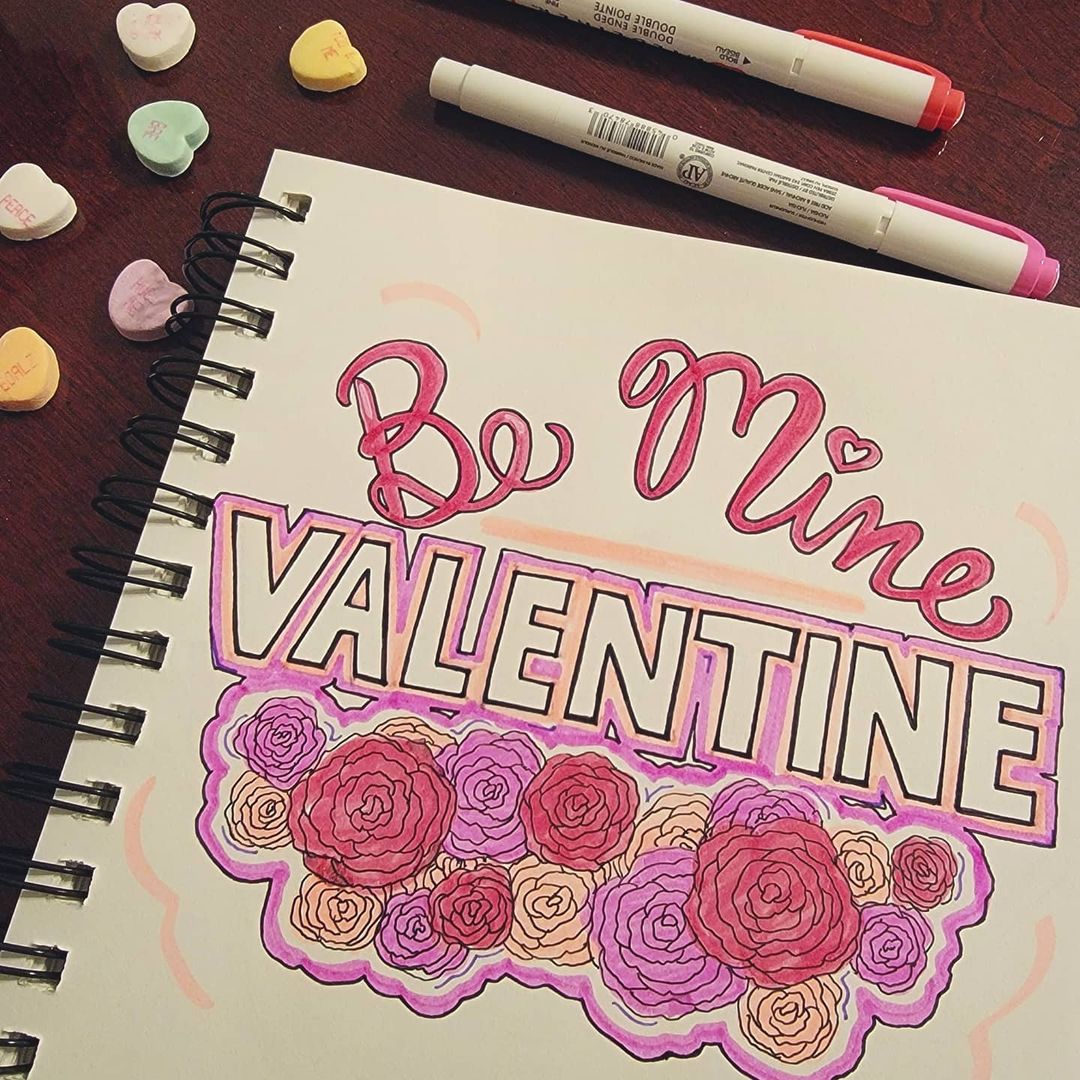 2. Love letter Cover Page
There are so many ways to design a cover page for Valentine's that you'll be spoilt for choice!
This cute cover page is filled with letters of love is the perfect option if you're looking for something that's beautiful but easy to recreate!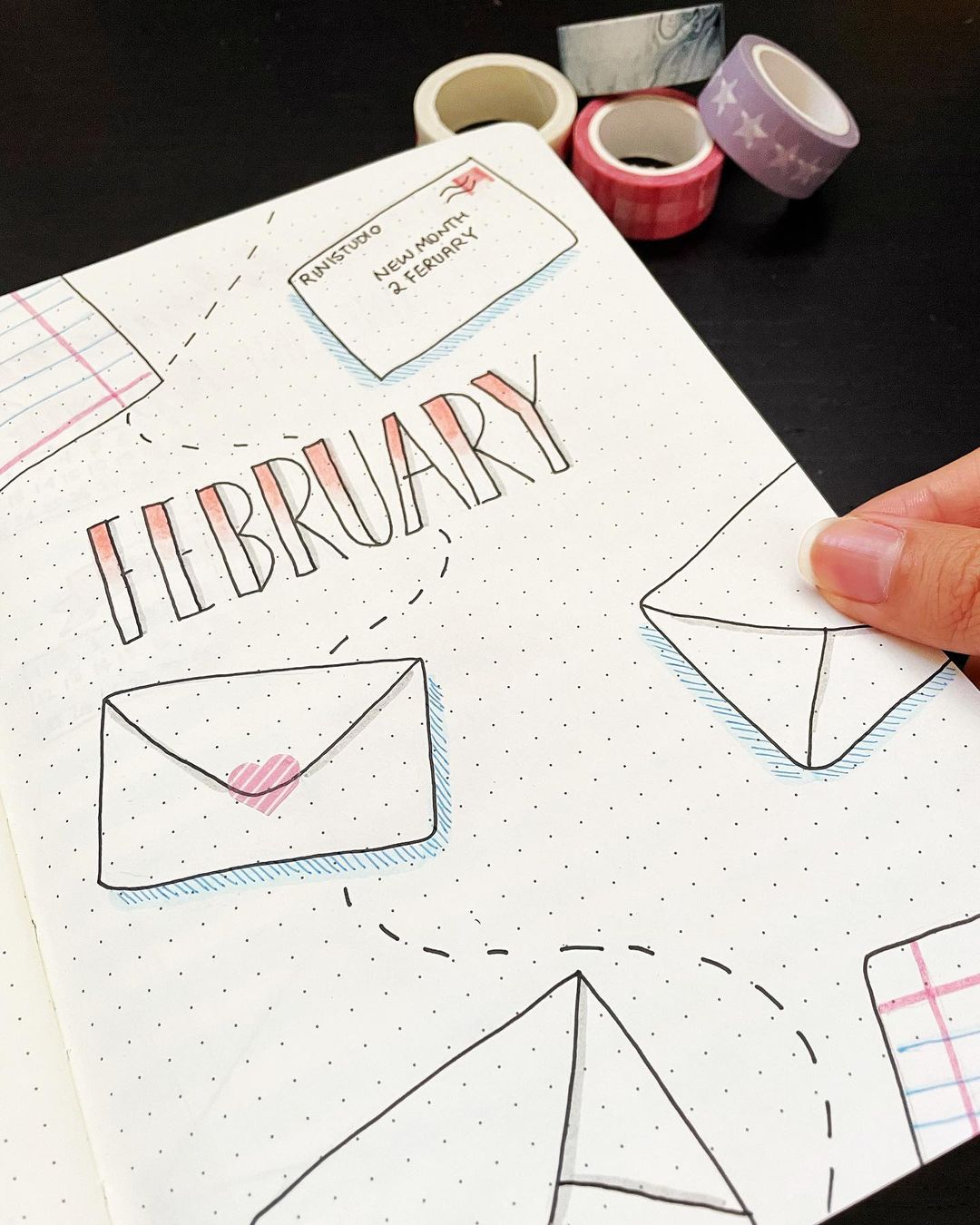 3. Valentine's To-Do List
This simple pink to-do list page just goes to show that you don't need complex designs or a lot of complicated work to achieve a cute Valentine's Day bullet journal theme.
All it takes is some hearts, highlighters, and a pretty pink border in order to create a lovely bujo page without any fuss at all!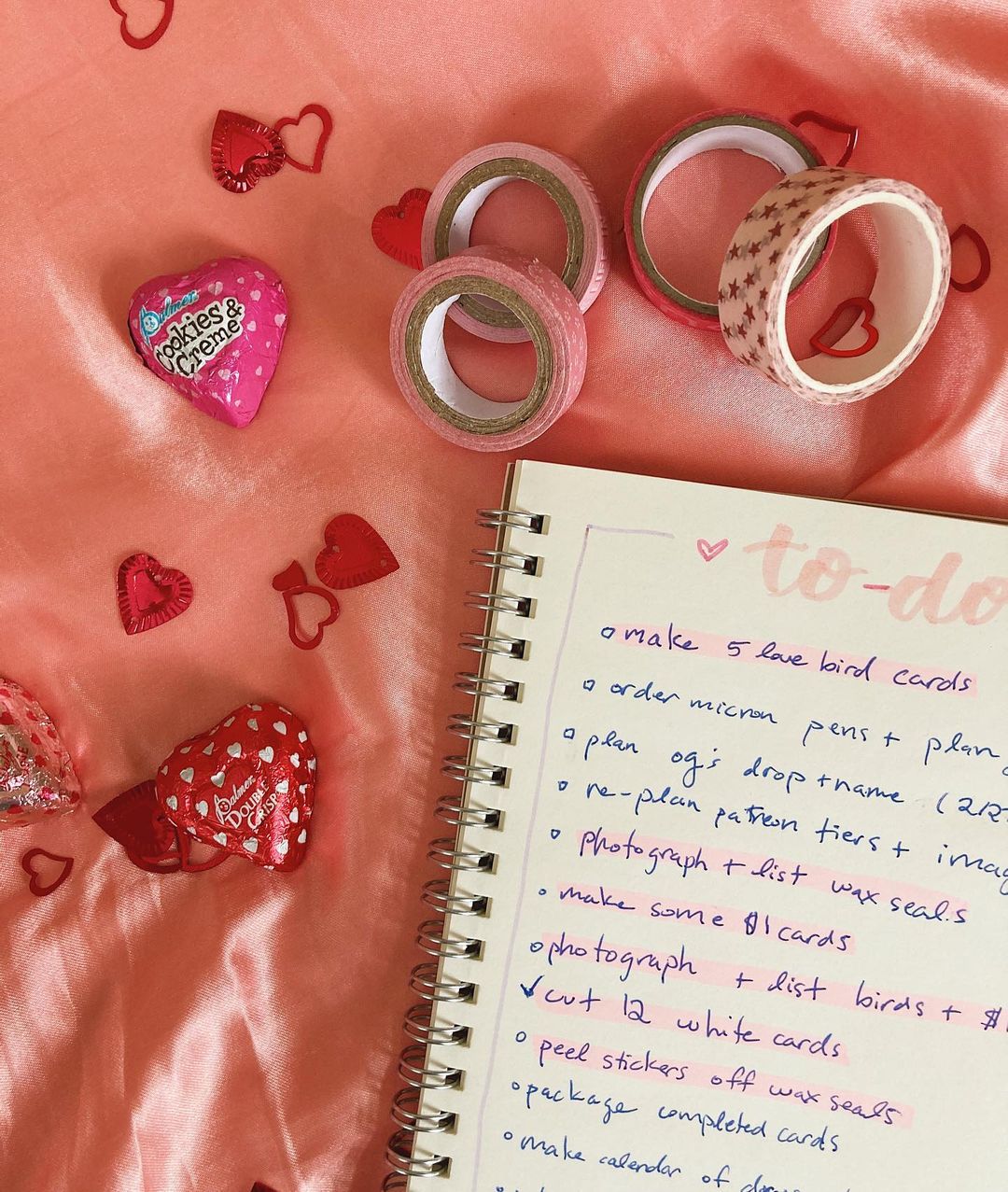 4. February Monthly Spread
We love this simple Valentine's day monthly spread… especially the affirmation in the bottom corner…
It's a great way to keep your intentions fresh and inspired for this coming month!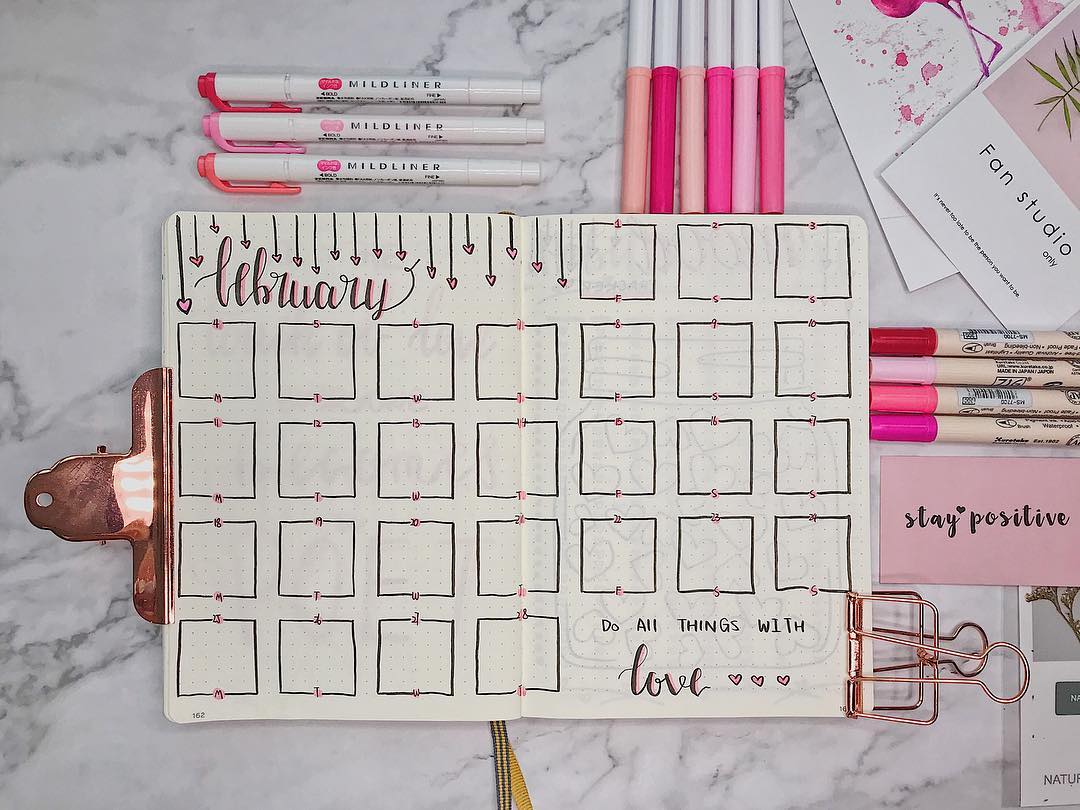 5. Heart Themed Habit Tracker
Give yourself the love you deserve this Valentine's day with this heart-themed habit tracker!
You can also check out more awesome habit trackers right here.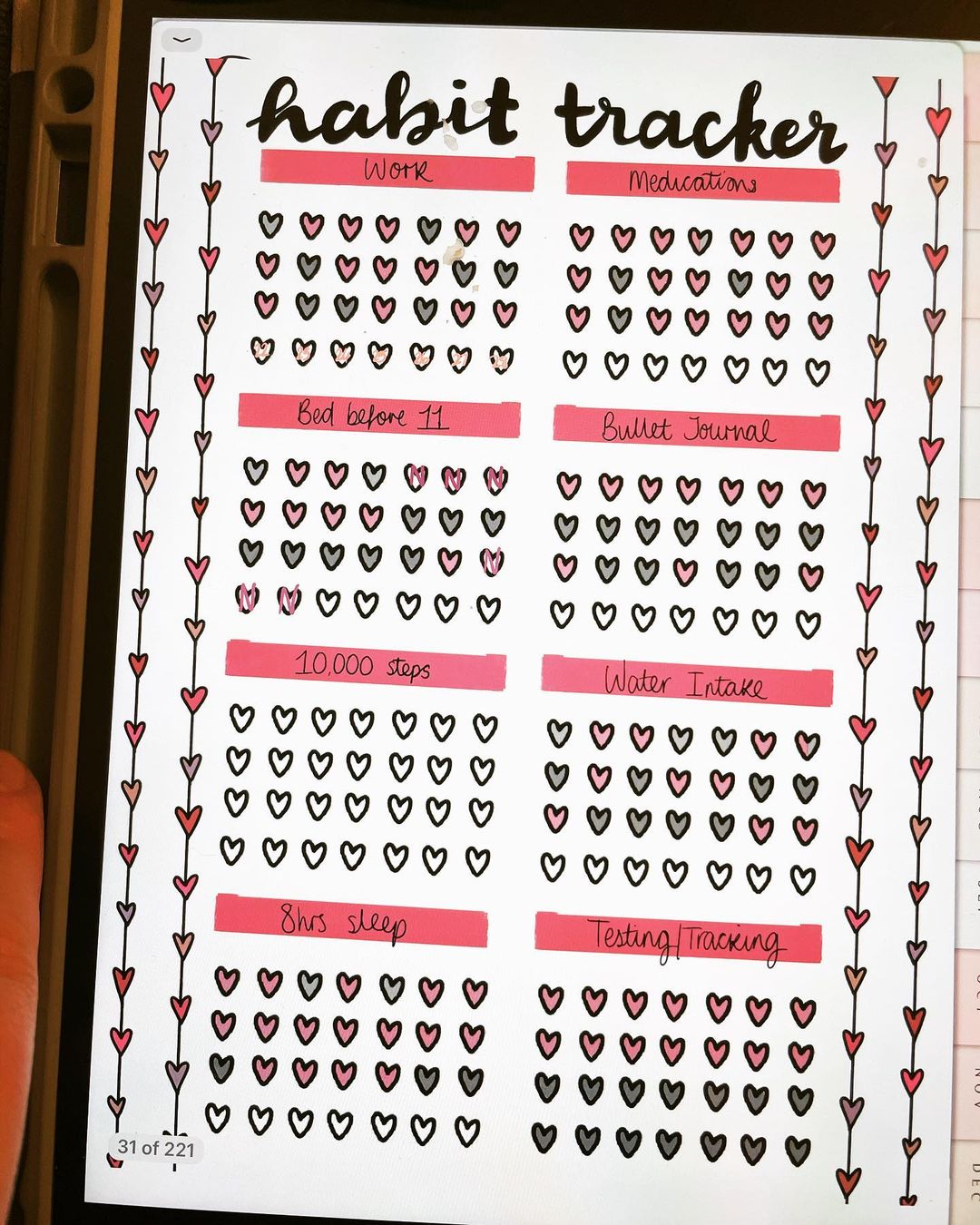 6. Love letter Weekly Planner
The digital bullet journal is perfect for those who love the flexibility of designing their own layouts and themes. You can create beautiful designs like this February weekly planner with a sweetheart theme!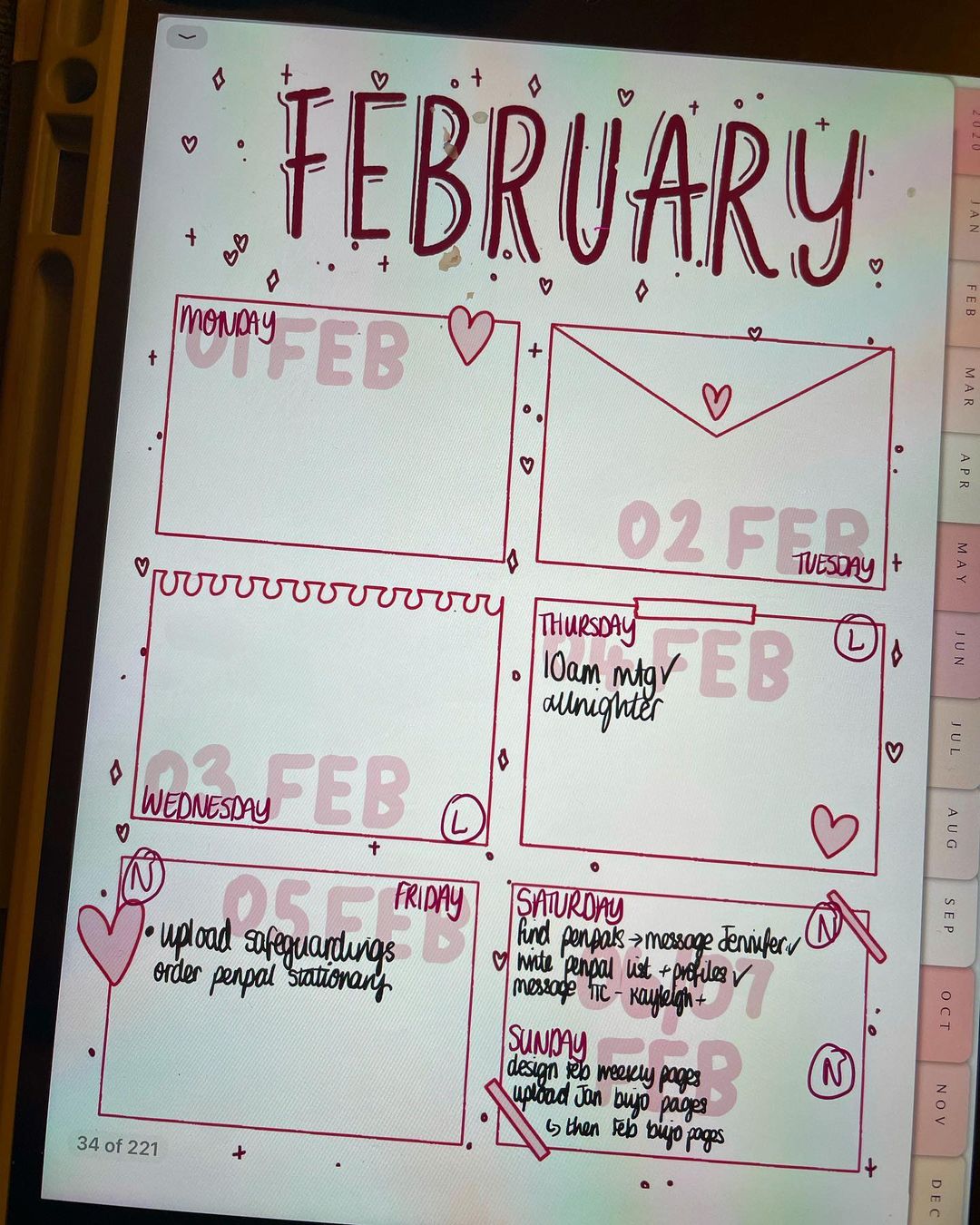 7. Creative Valentine Journal
You'll be able to organize all your thoughts and emotions this month with this amazing bullet journal spread… perfect for you if you love getting creative!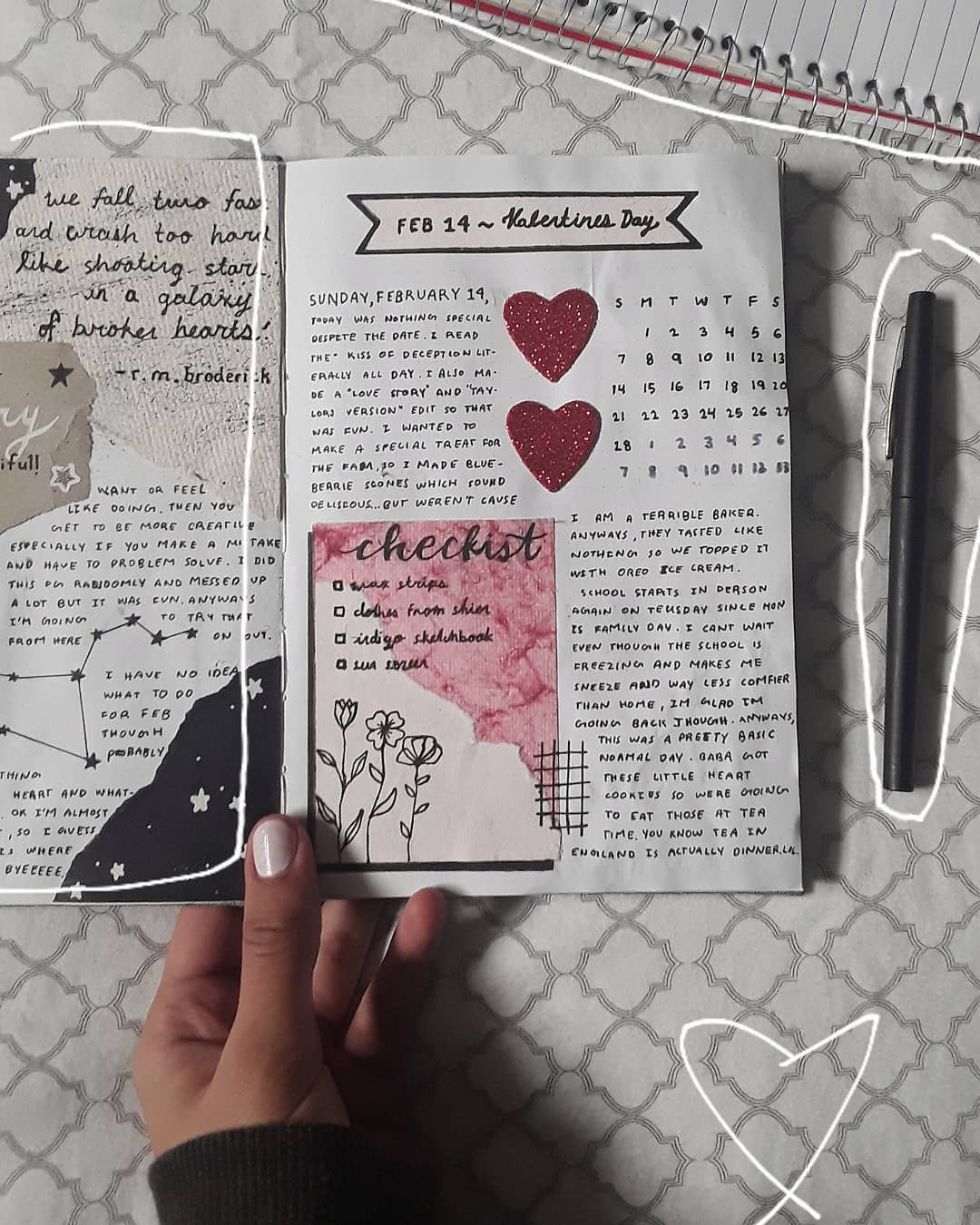 8. Valentine Mason Jar Mood Tracker
Keep a track of all your good, bad, and meh moods of the month with your own jar of hearts. Introduce your own sweet color scheme or keep it pink and red for a traditional Valentine's theme.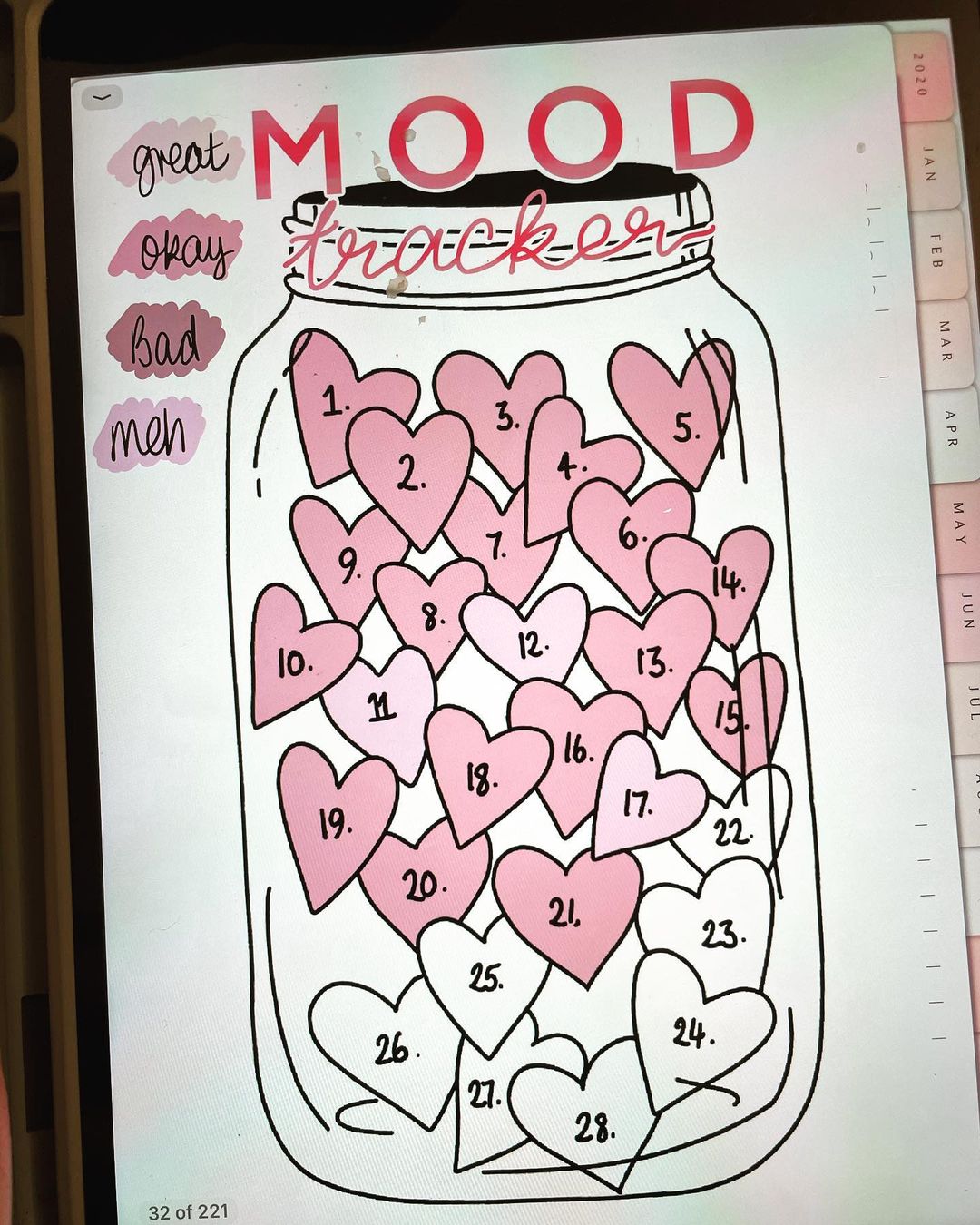 9. Valentine Quote Page
Quote pages belong in bullet journals, especially romantic Valentine's quotes like this one.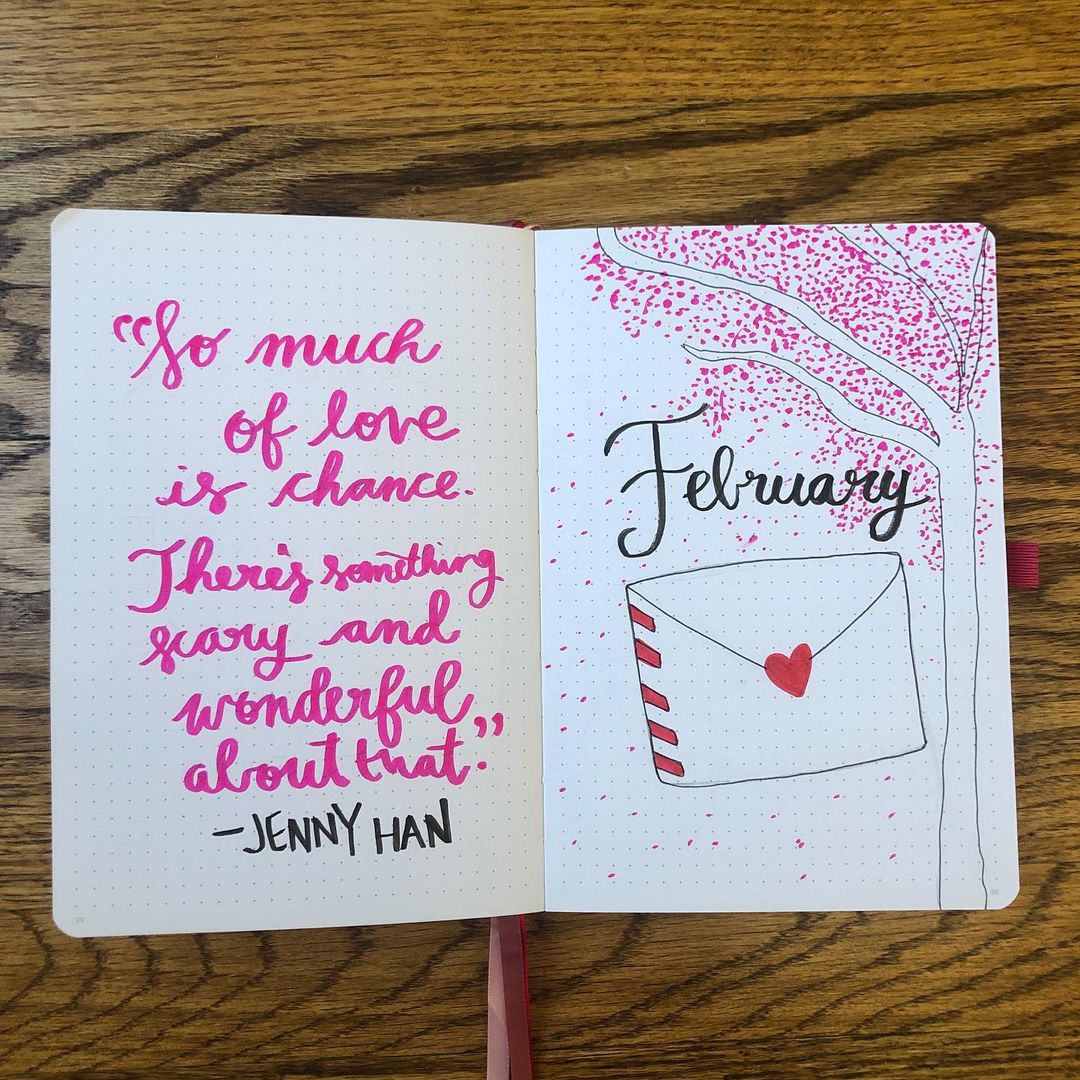 10. Pink Heart Weekly Planner
Get into the valentine spirit with this pink-inspired weekly planner. Complete with a habit tracker, to-do list, and even a pink meal planner, you'll be winning each and every day!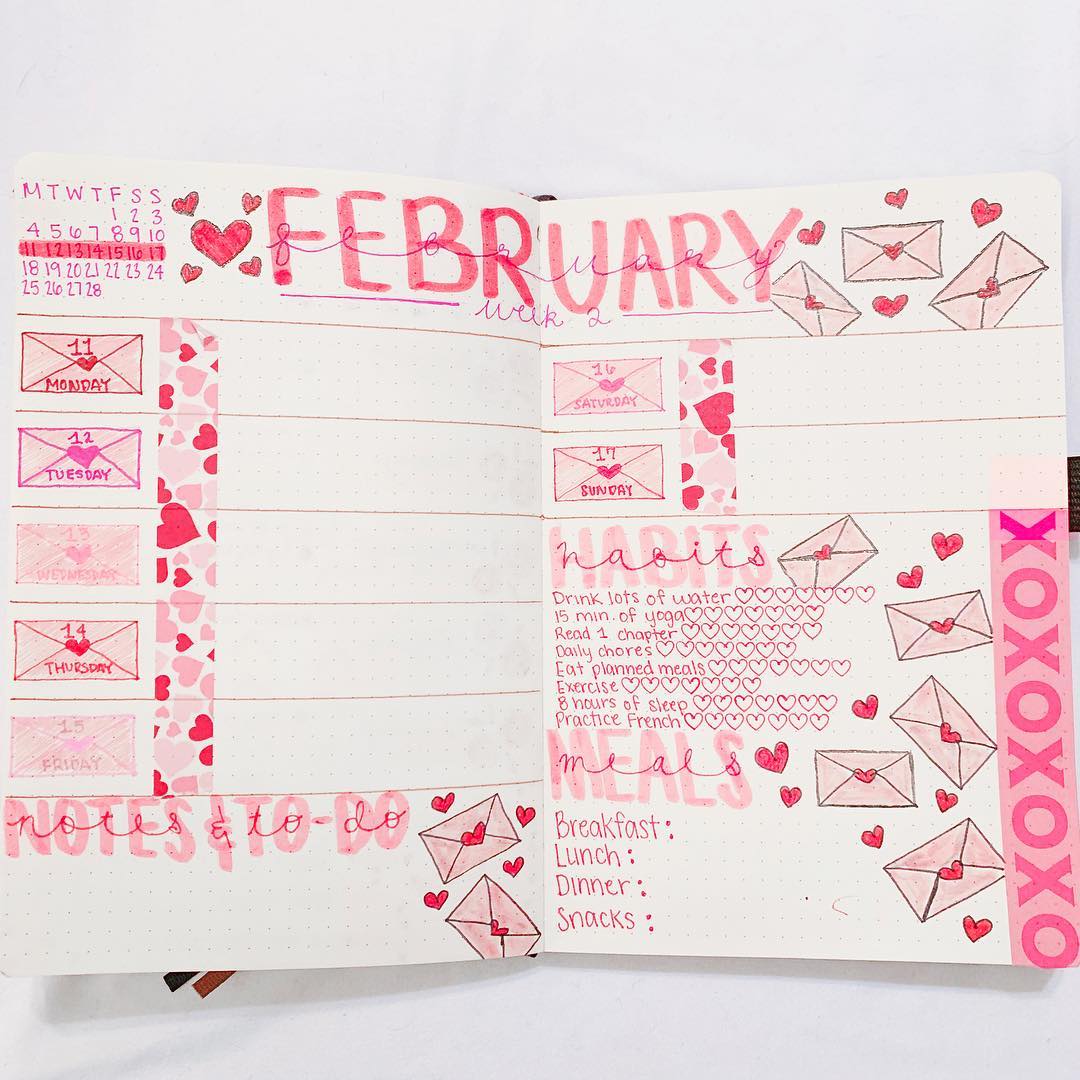 11. Valentine Gratitude Log
We love how this Valentine's Day gratitude log is so simple and yet elegant!
It's the perfect way to start your day off right – with some appreciation for all that you have.
Need more inspiration of things to feel thankful about? Check out our list 500 things to be grateful for!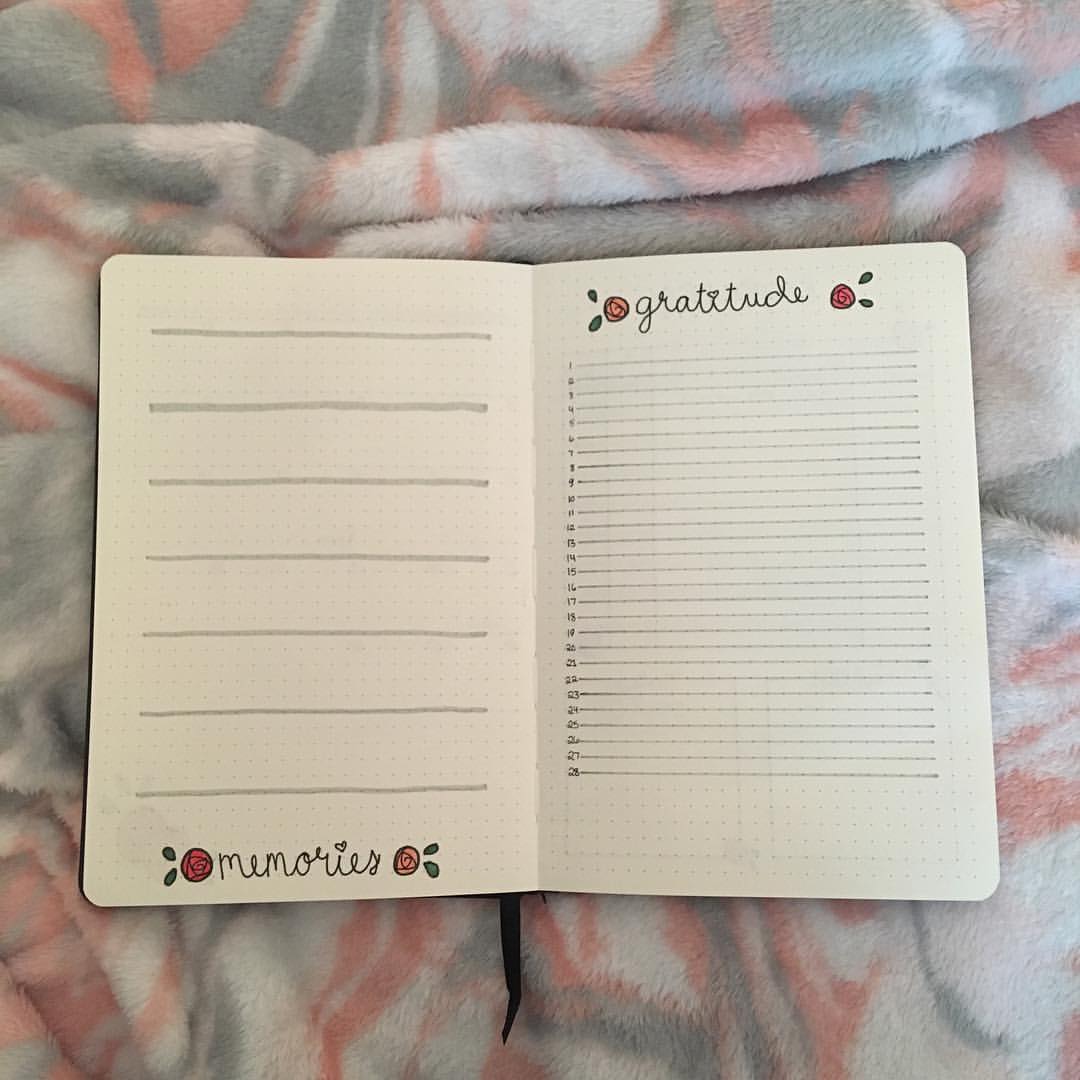 12. Pink Habit Tracker
Keep track of all your important habits with this beautiful habit tracker filled with adorable love hearts!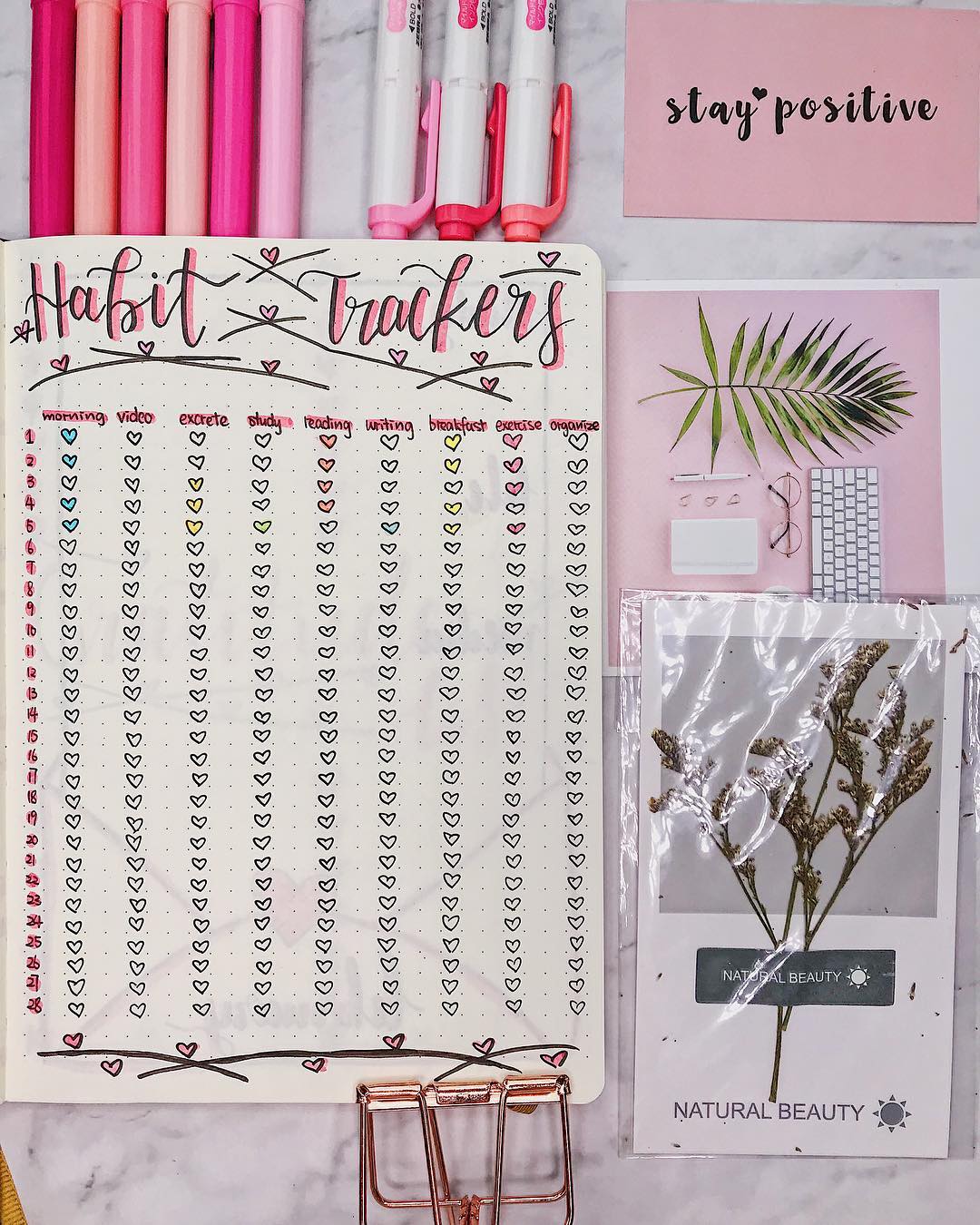 13. Rose Themed Monthly Spread
Deep red and pink roses bring all the valentines vibes to this Beautiful spread that will keep you on track for the whole month!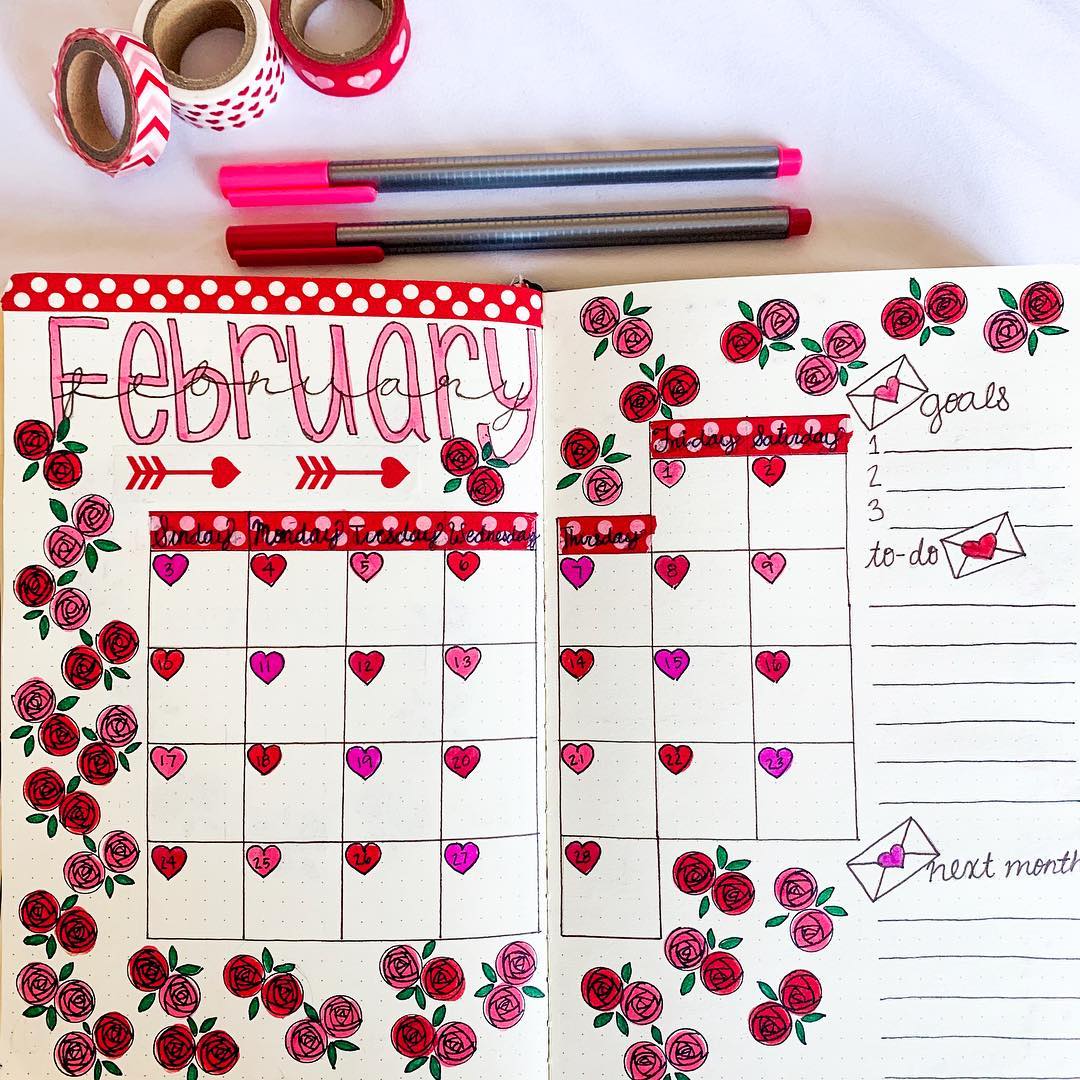 14. Valentine's Playlist Page
Get ready for some power ballads and love songs with this Valentine's Day playlist page for your bujo! It'll help you create your own list of favorite love songs to sing along with while journaling.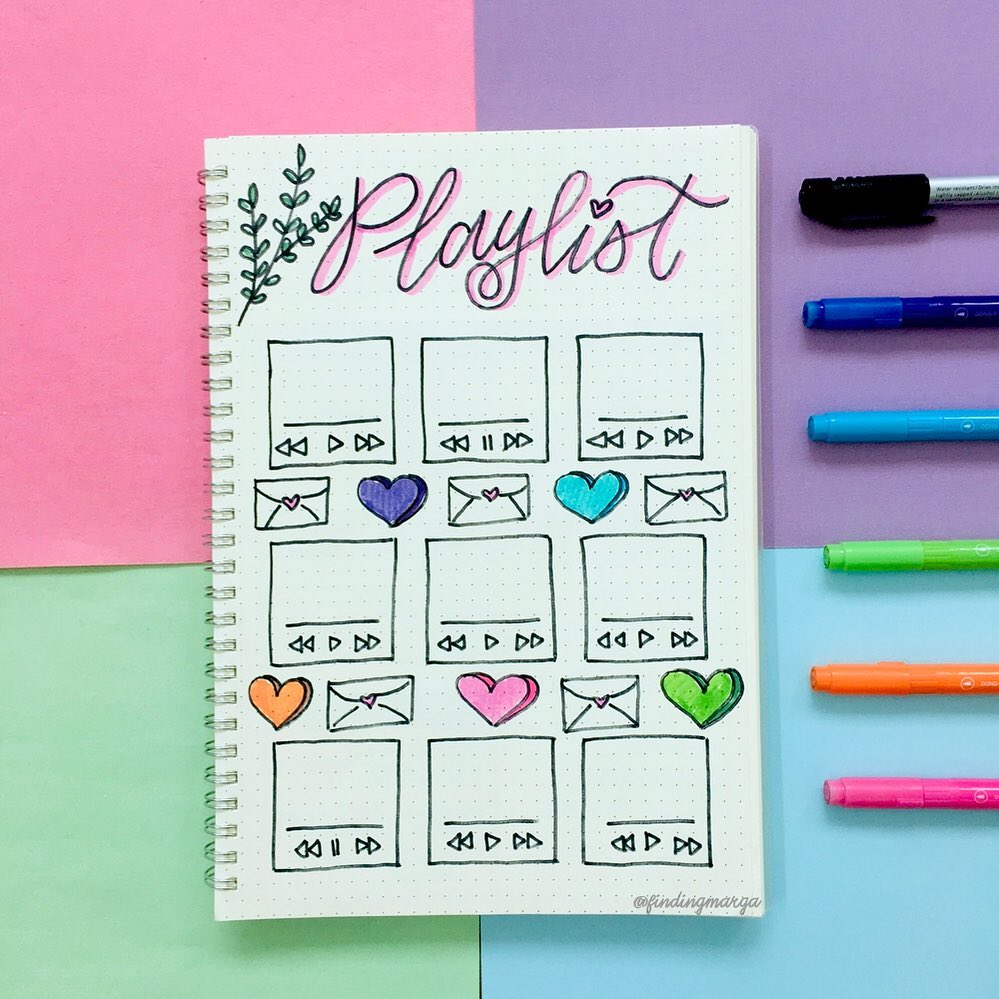 15. Love Letter Theme February Cover Page
Get into this romantic time of year with a cute love letter theme cover page like this one below…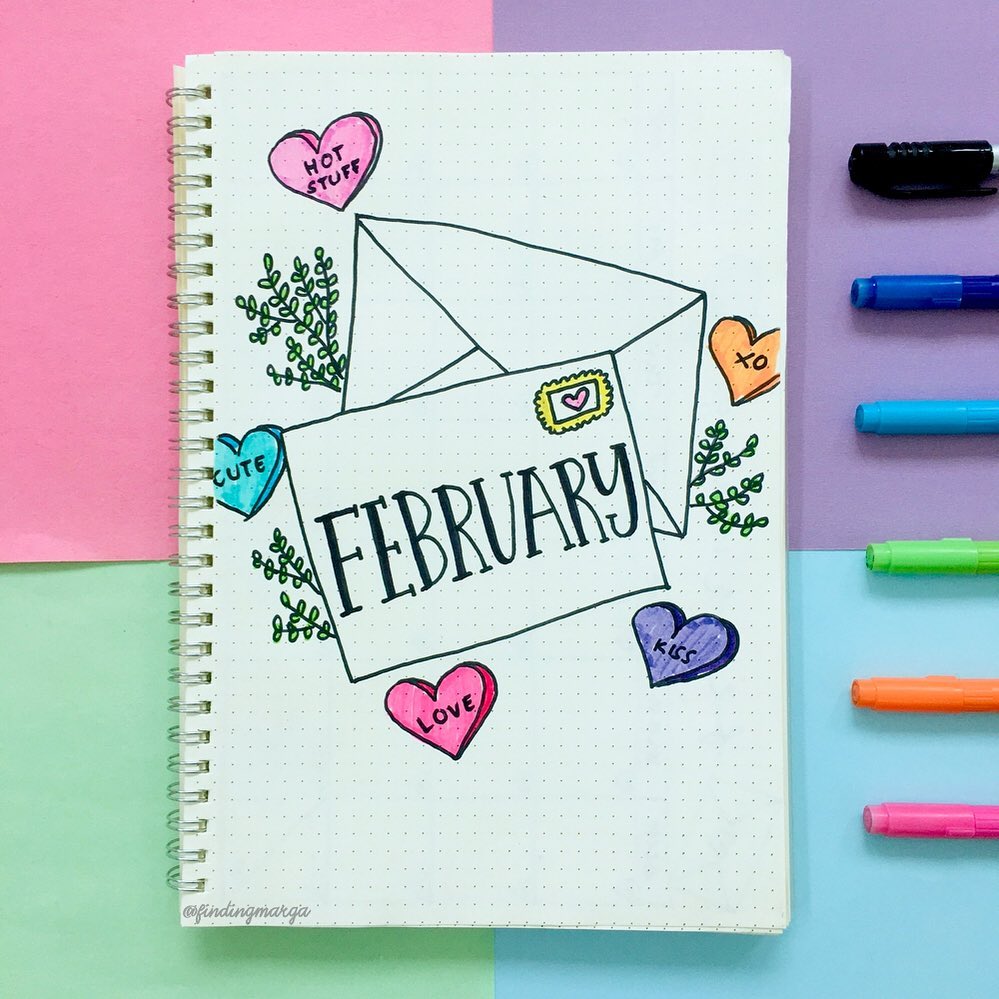 16. Heart Mood Tracker
With just a little bit of shading, you can give your habit tracker an adorable look that's simple to recreate.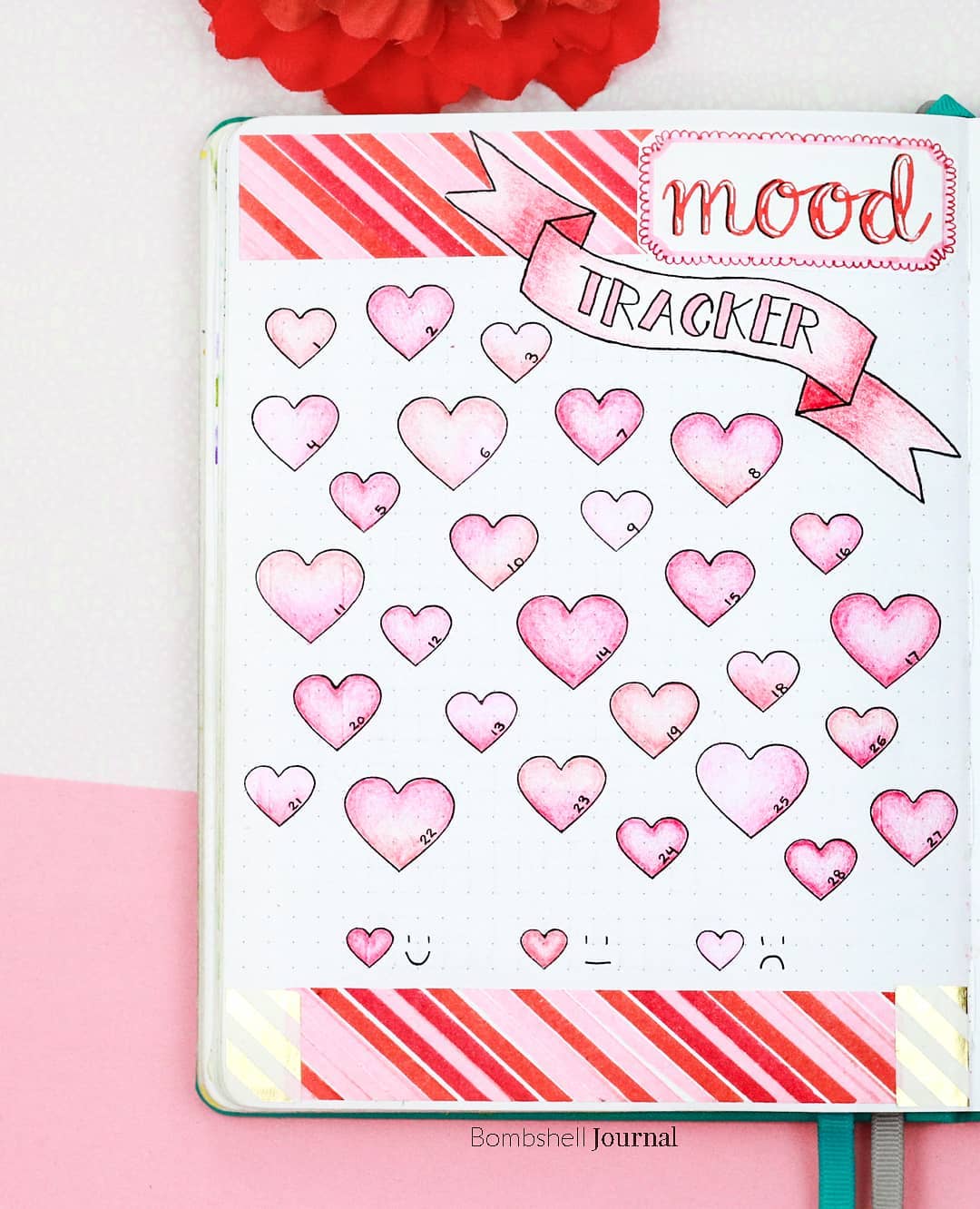 17. Valentine's Doodle
These simple doodles include love letters, chocolate-dipped strawberries, and a cupid's heart…
Perfect for a Valentine's bullet journal theme and super easy to recreate!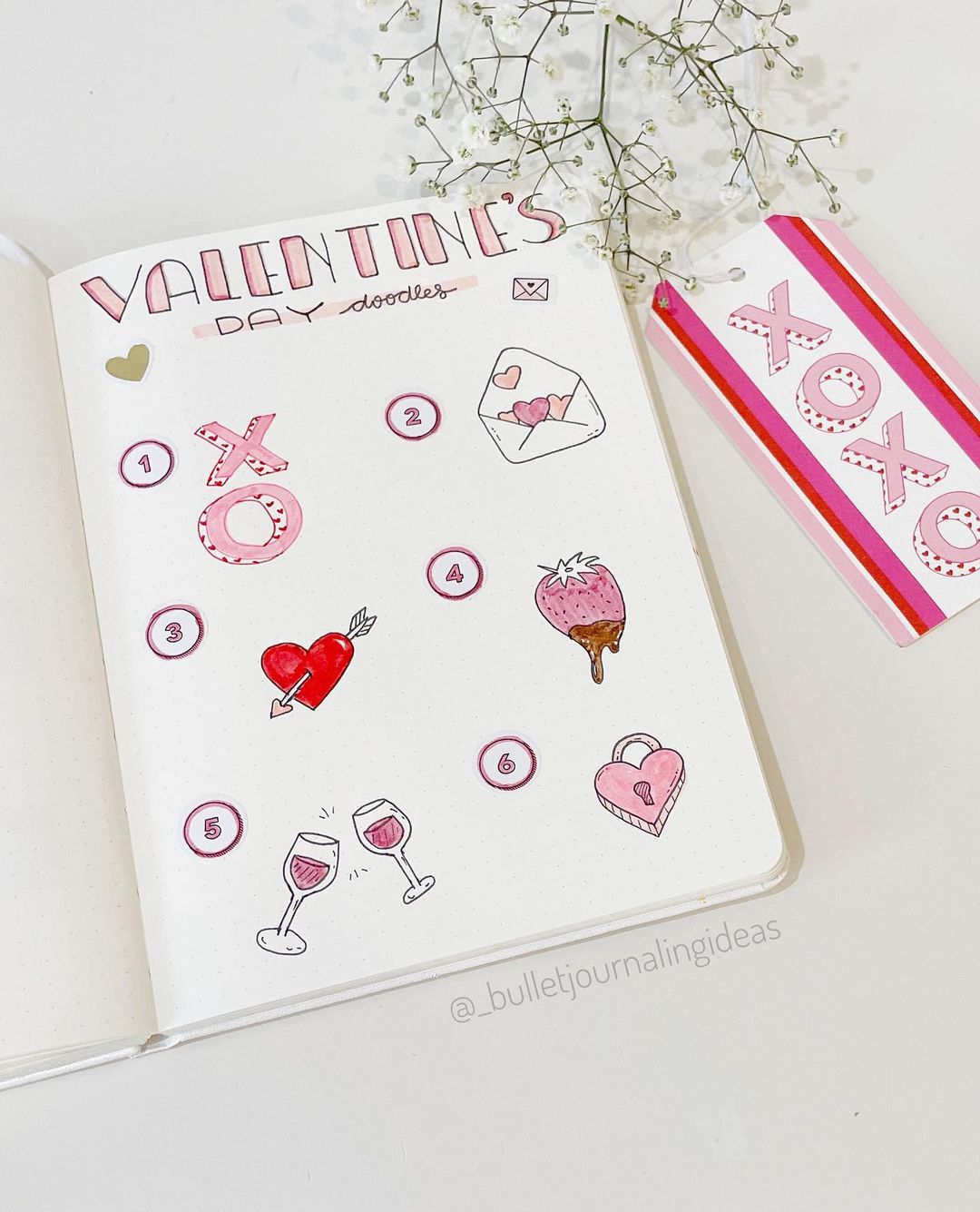 18. Pretty Hearts Cover Page
This cover page is pretty and elegant and makes the perfect valentine's day bullet journal spread!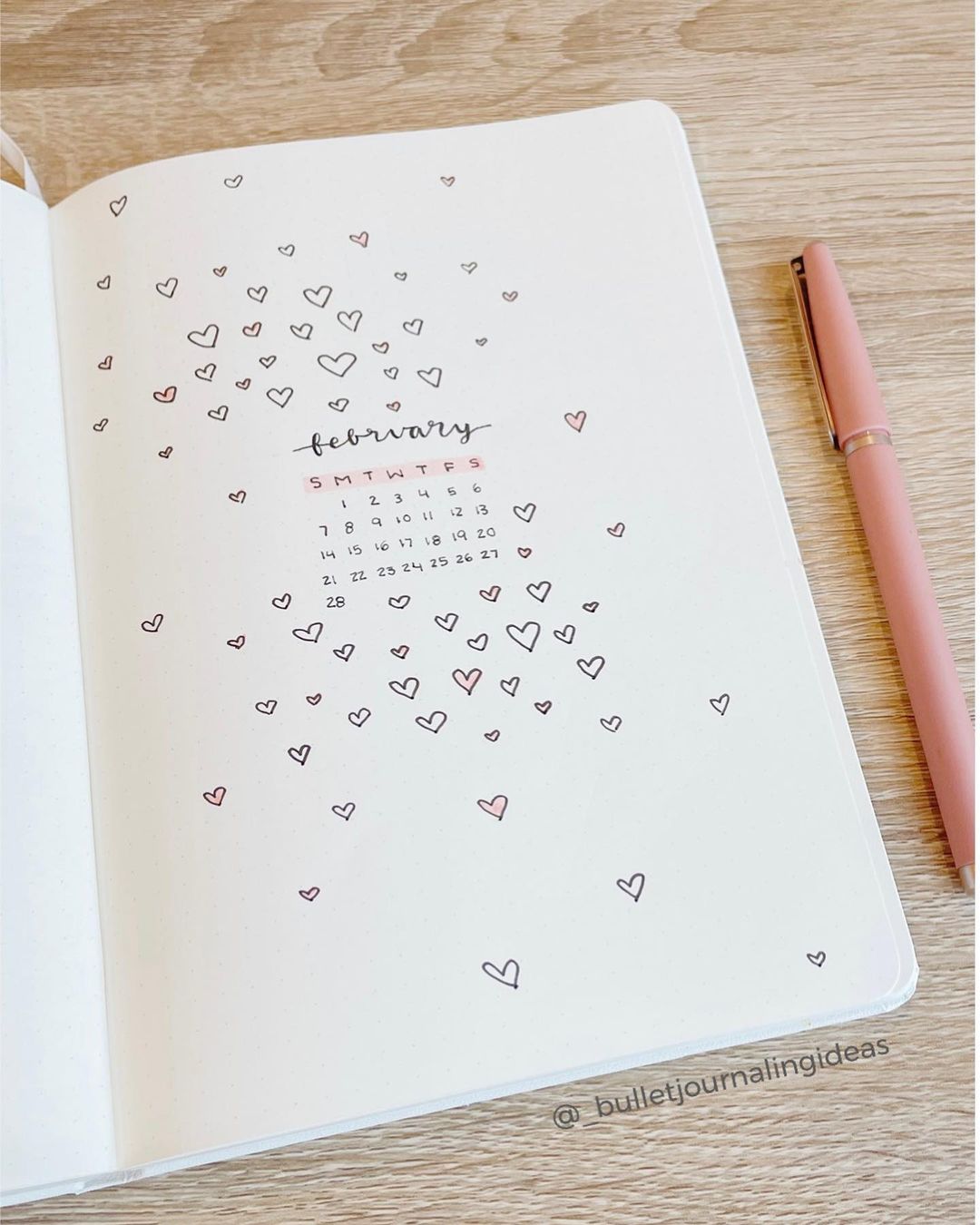 19. Flower Themed Cover Page
If you don't want a heart theme in your bullet journal this Valentine's day then why not draw some pretty flowers like this design?
20. Sweet Treats Cover Page With Washi Tape
Lollypops, chocolate-coated strawberries, and adorable tiny hearts make up this cute and minimalist bujo cover page…
We also love how the washi tape brings some effortless pops of color and interest to the page!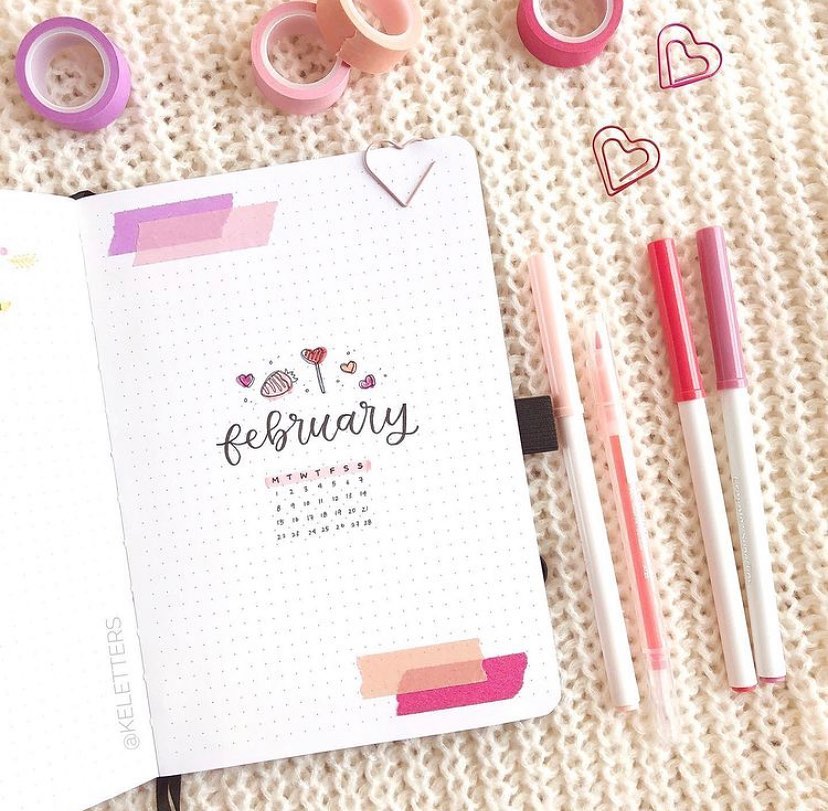 21. Self Love Quote Page
Not only do we love the bright colors of this self-love quote page But more than that, we want you to know that there isn't anything more important than self-love on valentines day!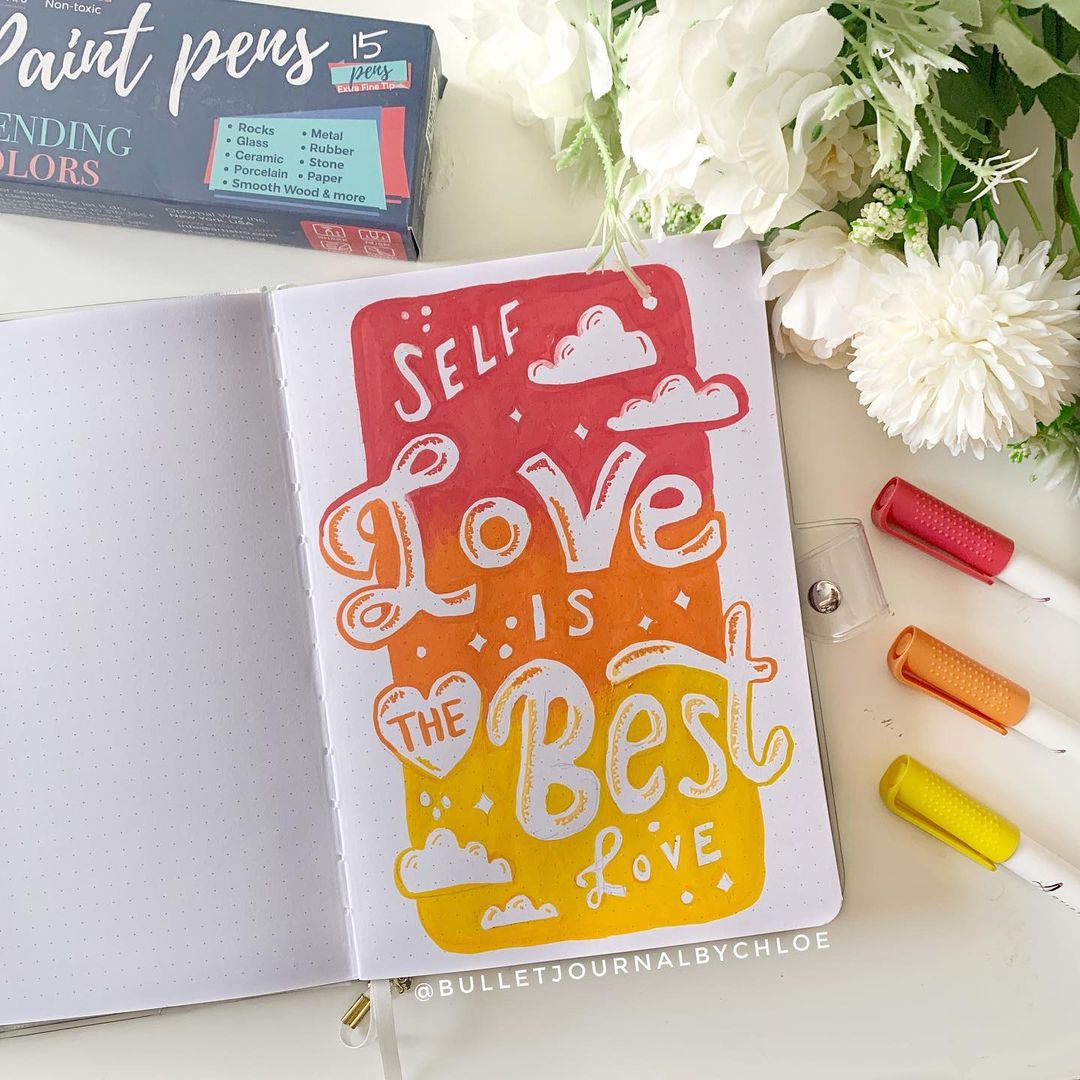 22. Heart Shaped Wreath Cover Page
How adorable is this pretty and elegant February cover page?
With a delicate heart-shaped wreath made up of beautiful baby pink roses and intricate corner details, this is surely a page you'll fall in love with!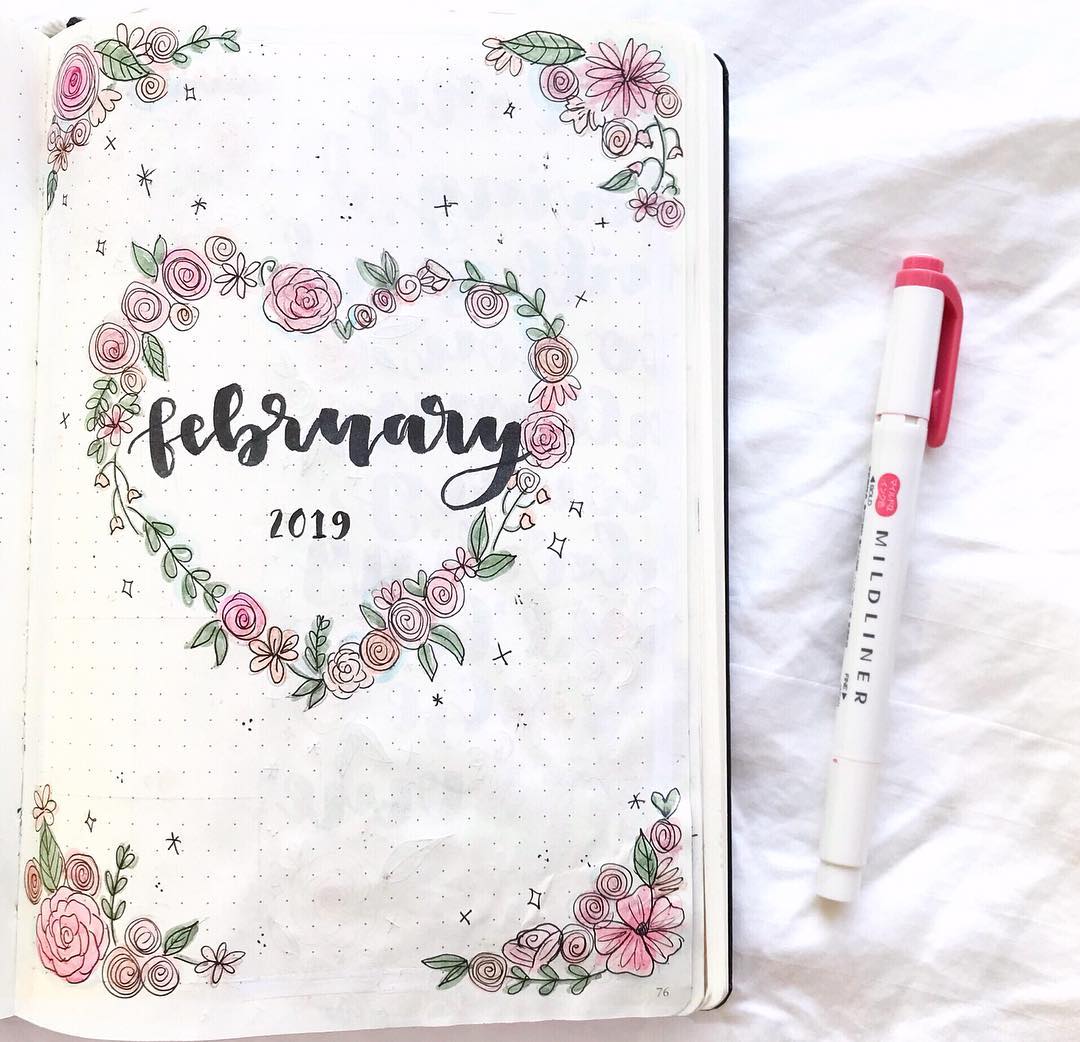 23. Red Heart Themed Planner
Get your Tombow dual brush pens ready for this cute red heart-themed planner… you can also get stencils to recreate a design like this here.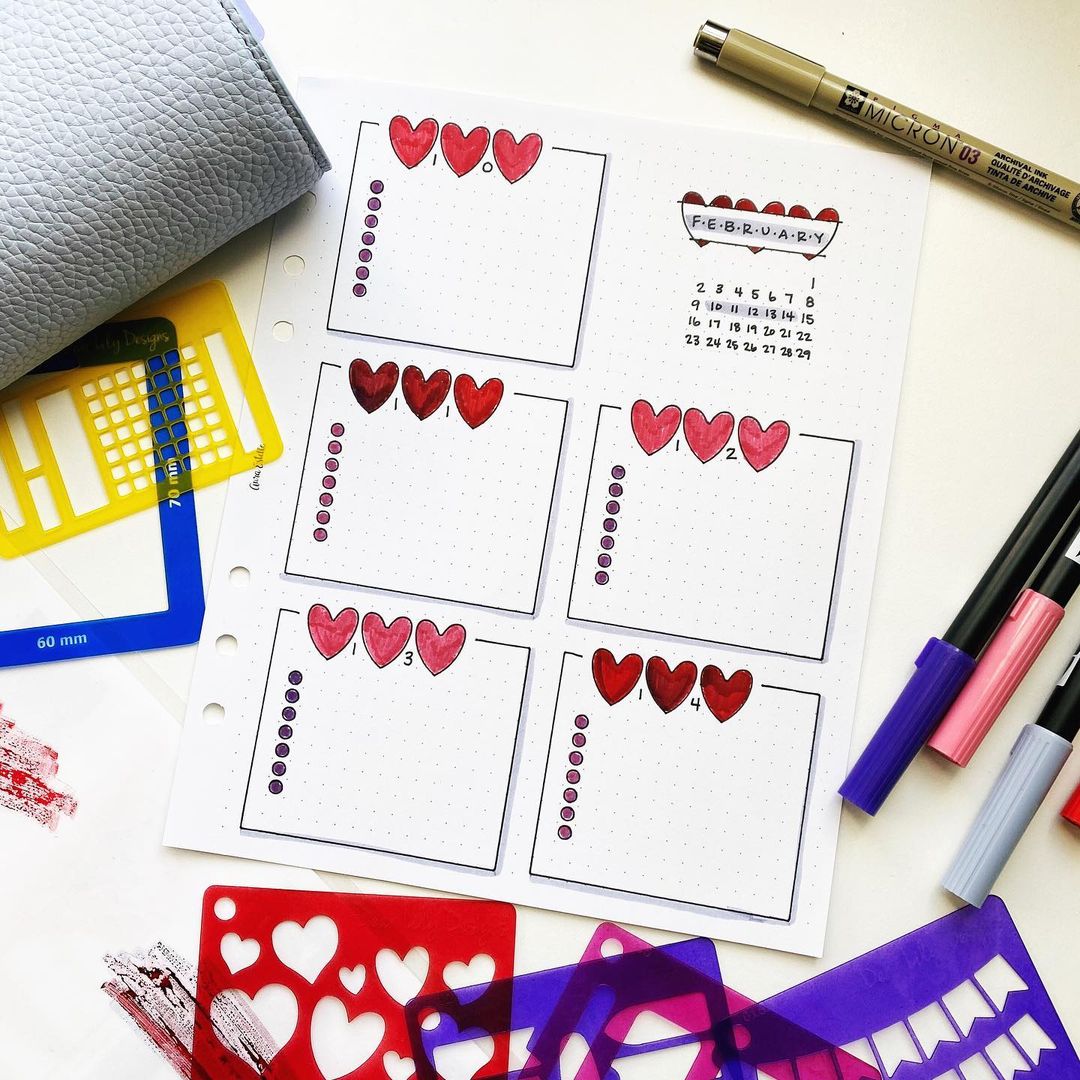 24. Washi Tape Heart Valentine's Day Bullet Journal Page
This awesome heart is made with a mix of beautiful Valentine-themed washi tape and we just love it!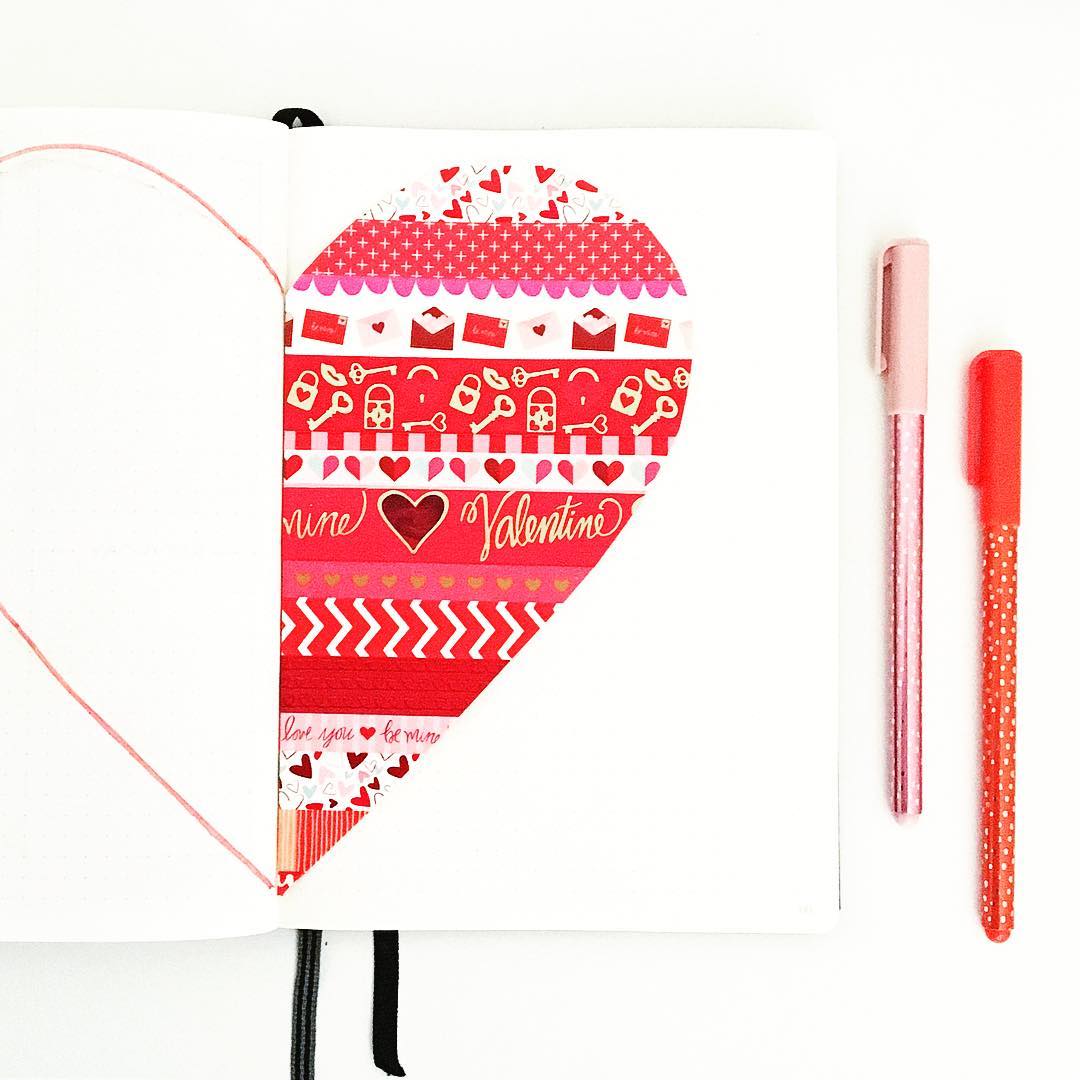 25. Owl Themed Weekly Planner
This is one of our favorite Valentine-themed weekly layouts.. we love the mix of red and pink hearts, love letter,s and heart garlands… adorable!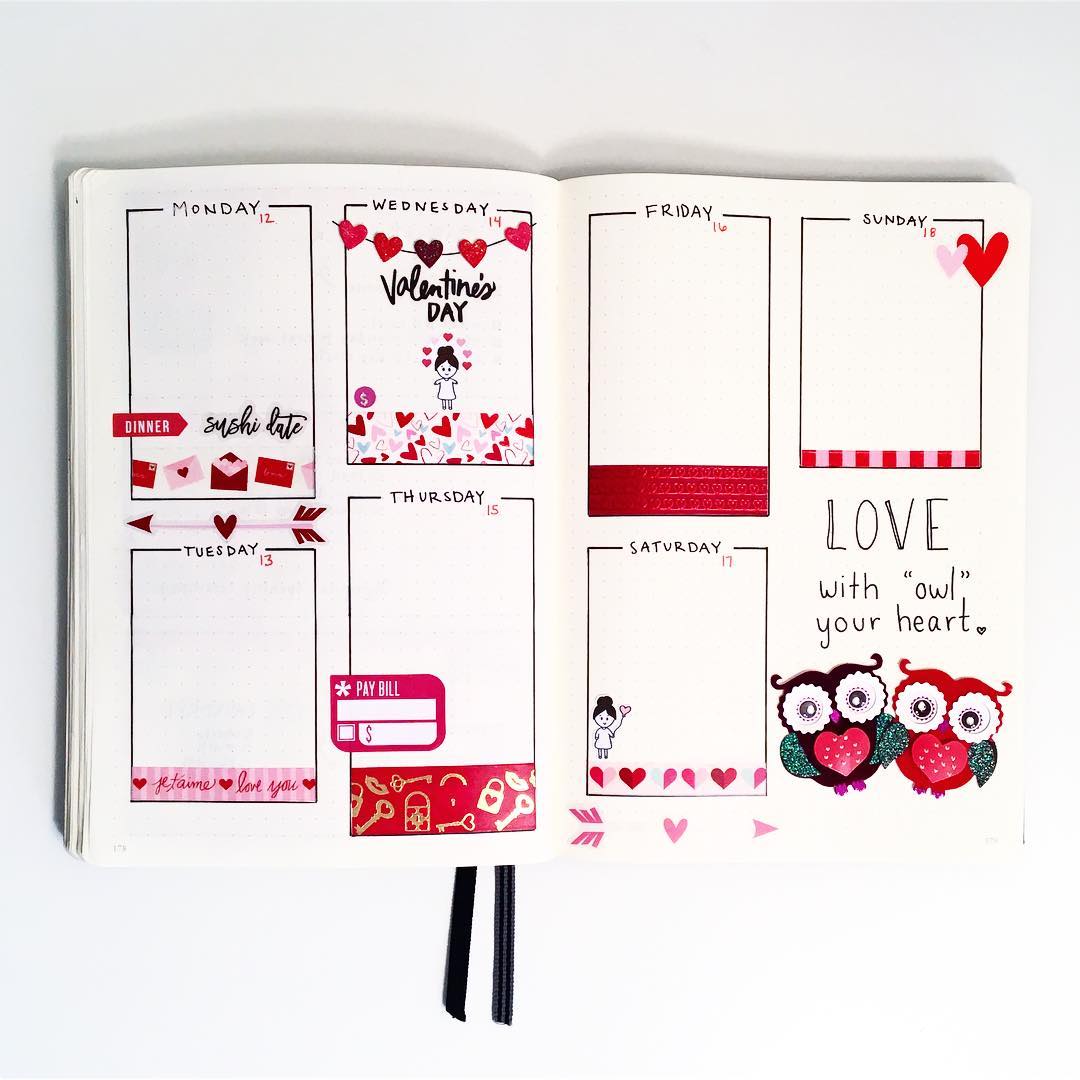 26. Cupids Heart Cover Page
This cupid's heart is a simple valentine's cover page that you can easily recreate!
If you want to draw some roses too, check out this how-to-draw a rose tutorial by easy peasy fun!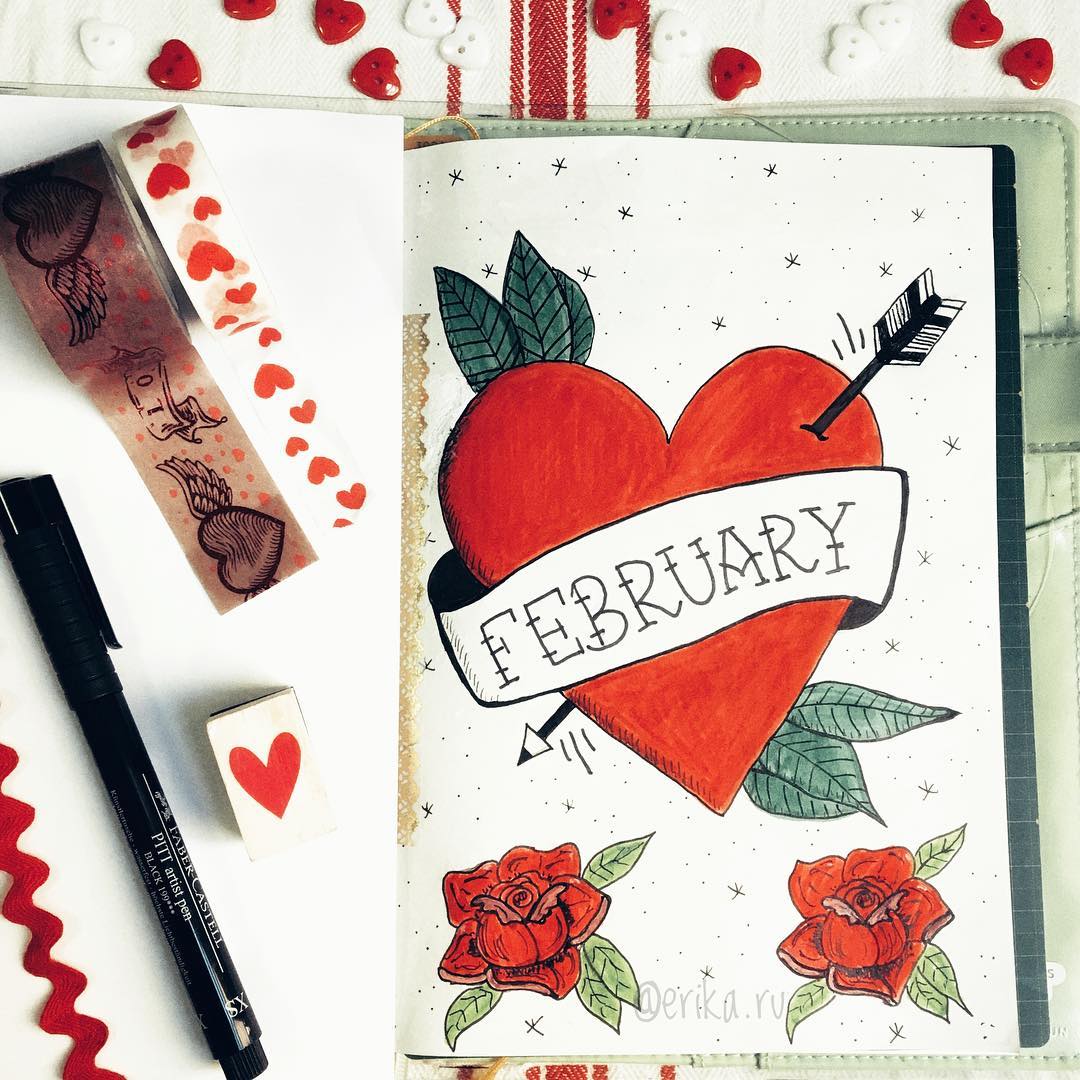 27. Mailbox Cover Spread
Here's a fun way to create your own secret valentines!
A cute little mailbox overflowing with secret valentines will make the perfect cover page for February!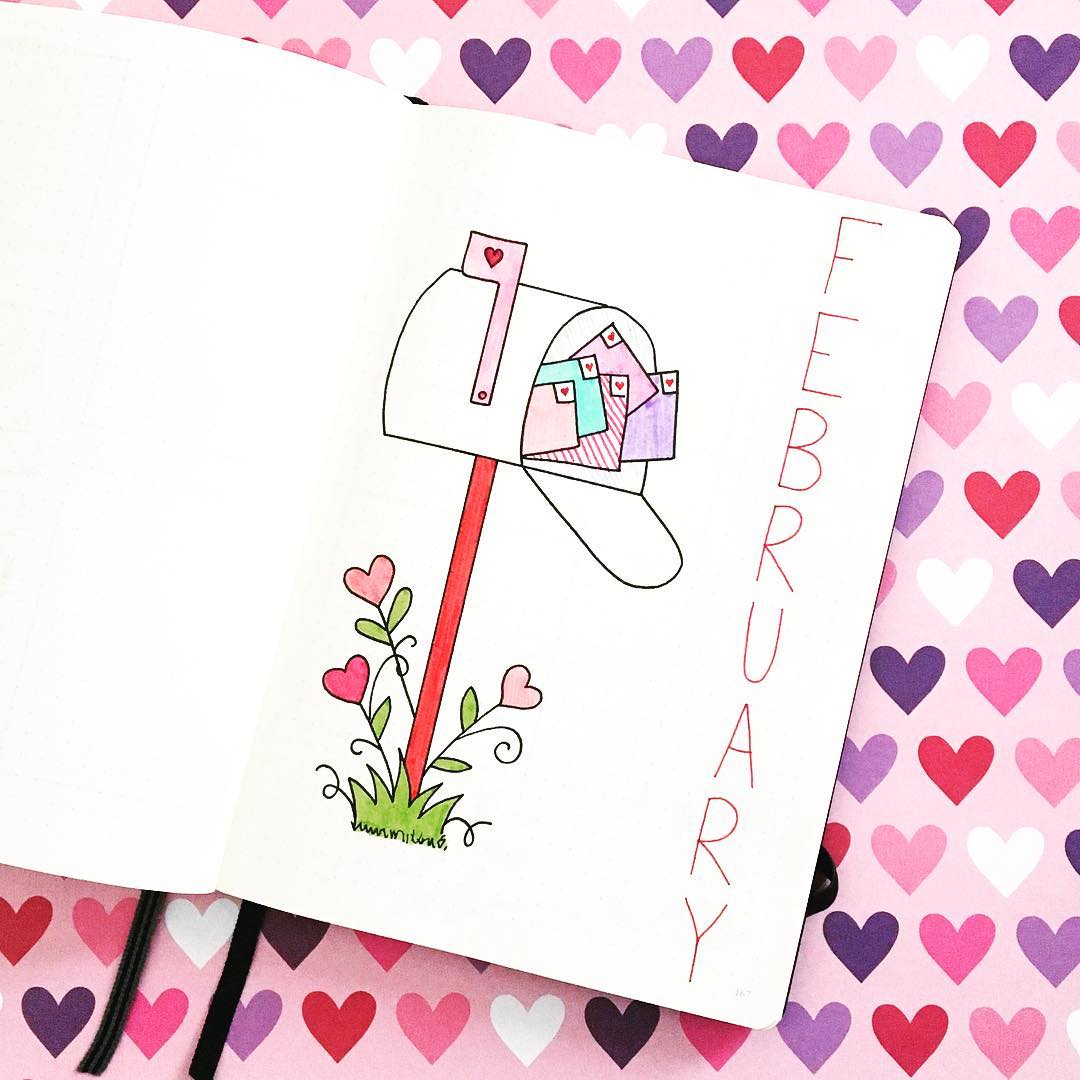 28. Love Heart Mood Tracker
Track your mood in a cute way with this fun love heart candy-themed bullet journal mood tracker.
Simply color each area of the page according to which emotion you're feeling that day with soft pastel colors!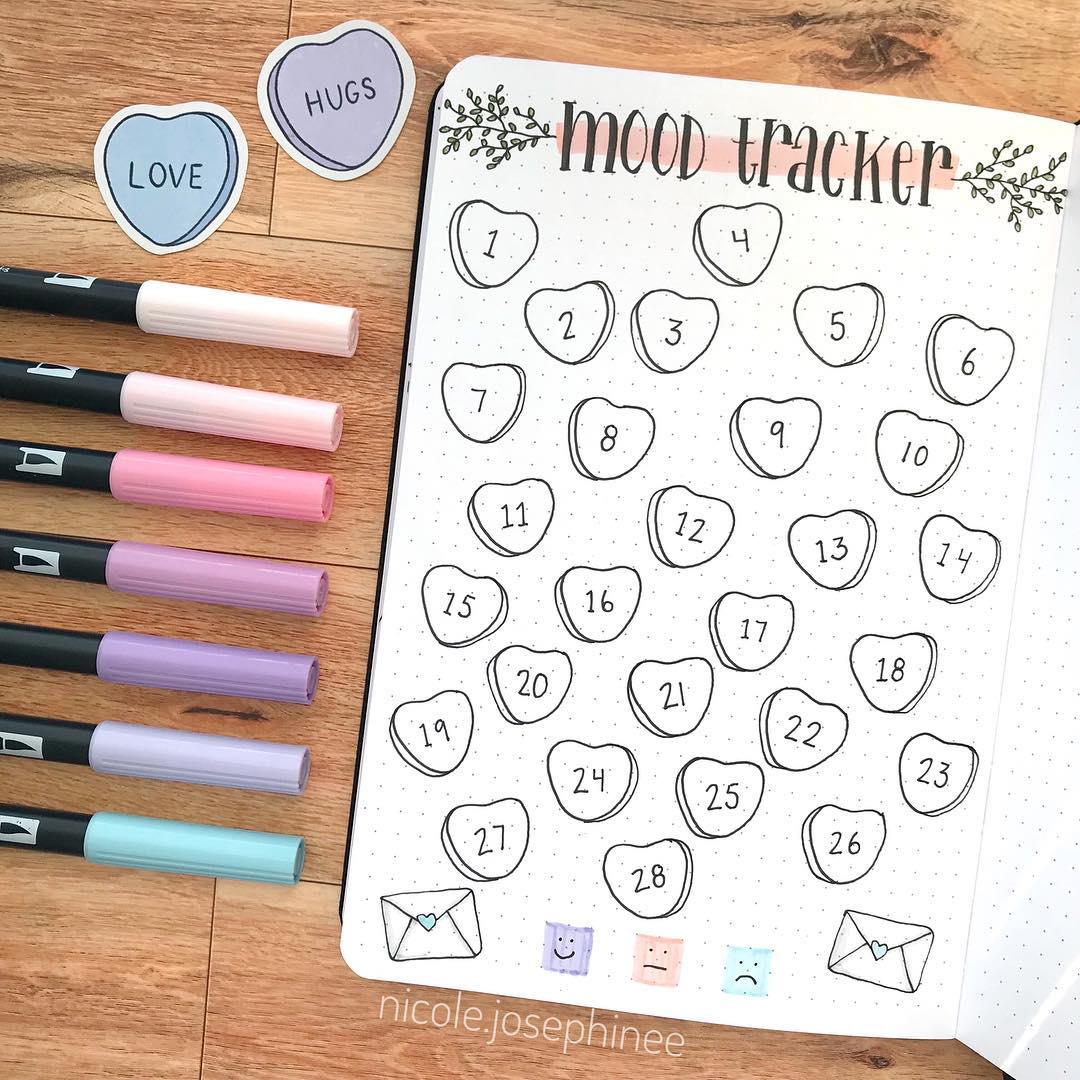 29. Love Heart Weekly Spread
This monthly layout is the perfect way to get extra organized this Valentine's!
You'll find yourself with lots of free time for self-care activities, making it a wonderful holiday filled with love and gratitude.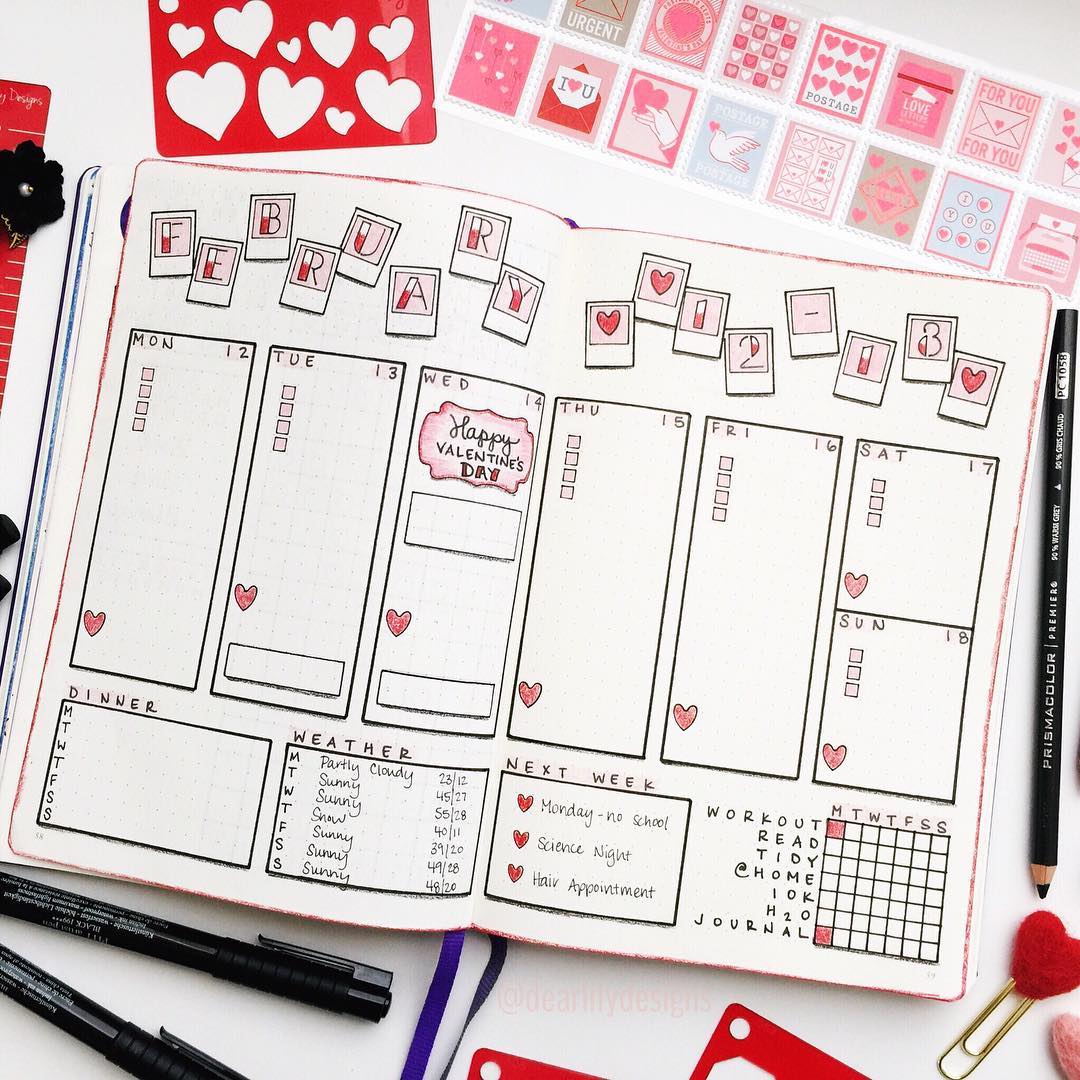 30. Simple Heart Weekly Planner
Plan your perfect week with this sweet design… The concept is simple but is overflowing with Valentine vibes!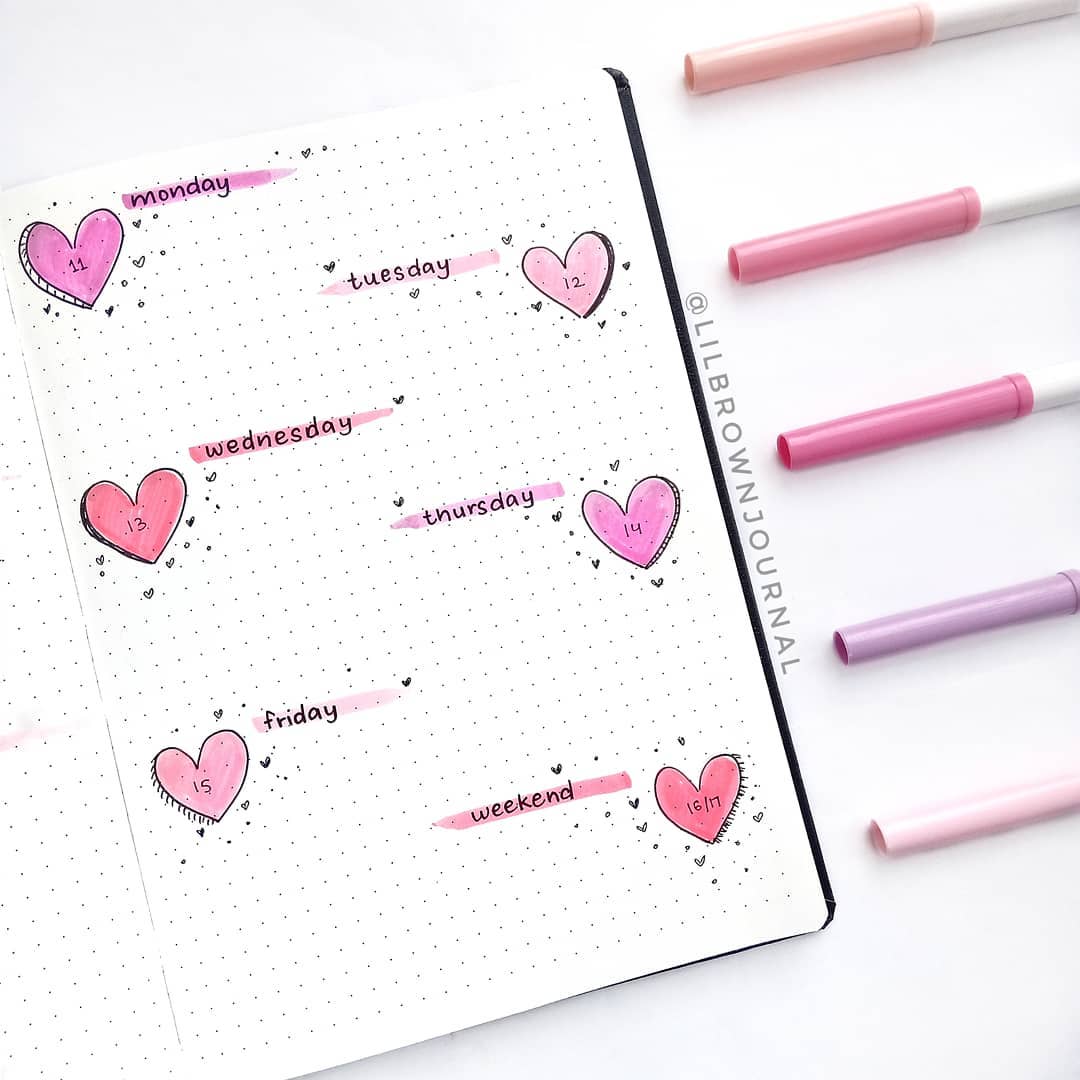 Conclusion
So are you ready to design your Valentine's day bullet journal? Which of the designs above did you fall in love with?
Let us know in the comments below…
Even More Self-Care Articles On Captivating Crazy
If you enjoyed this article and know someone who would love it then please help us get it to them by sharing it using the button below…
You may also like these related articles by Captivating Crazy
Connect With Captivating Crazy
At Captivating Crazy you're our fave person and we love nothing more than connecting with you!
Simply click here to sign up (free) for our VIP email so you'll be first to know about our new posts, offers, and more! It's totally free and you can easily unsubscribe at any time.